10 Most common home buyer inspection repairs in Seattle
Posted by Conor MacEvilly on Monday, February 13, 2023 at 9:30 AM
By Conor MacEvilly / February 13, 2023
Comment
If you are considering putting your greater Seattle area home on the market or if you are a buyer out looking at homes you will want to keep an eye open for some of the most common issues and needed repairs that appear in home buyer inspection reports. Alternatively, if you're a seller and decide to do a pre-listing inspection you will probably encounter some of these too.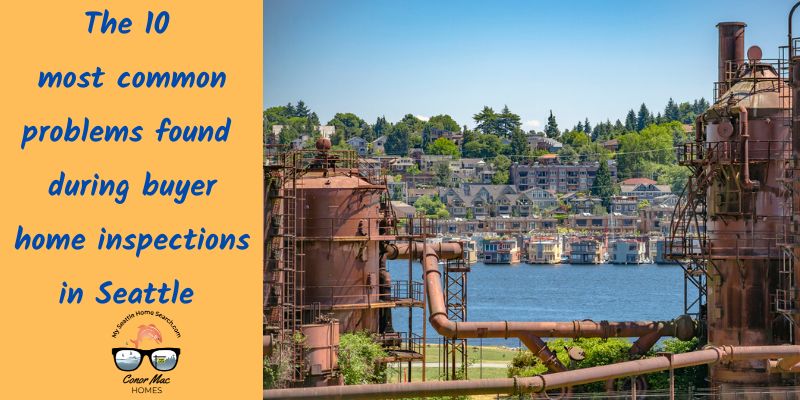 Seattle has a lot of older homes originating from the early 1900s through the 1950s and the older the home the greater the potential for discovering problems. No home is perfect but some homes are less perfect than others. Throw in the famous Northwest climate and then you have the possibility for some interesting findings during home inspections. Never a dull moment!
1. Mold in the attic.
Attic mold is a common issue found during home inspections in the Pacific Northwest. There are several causes of attic mold that essentially result from elevated levels of moisture and poor attic ventilation, resulting in moisture getting trapped in the attic and encouraging mold growth. Evidence of mold is usually visible on the underside of the plywood boards located directly above the rafters. When the mold is more extensive, it can also appear on the attic insulation.
Some roofs are just poorly installed and do not include adequate soffits and ridge vents to remove moisture and some roofs are at the end of their useful lifespan and are leaking moisture into the open attic space.
Another common source of mold in Seattle area attics is ductwork from bathroom and kitchen fans that are not connected to the exterior via the roof and instead just pump warm moist air into the attic space. As far as Mr. Mold is concerned, this is Shangrila! The simple fix is just connecting the ductwork to a roof line vent. However, make sure you hire somebody who knows what they're doing so you don't end up with a roof leak as well.
When they see mold, many home buyers will automatically think it's going to be highly toxic and unhealthy which may put them off purchasing the home. So if you are going to list your home make sure to stick your head in the attic before you stick her home on the market.
On a related note, though not related to moisture, when you're up in the attic keep an eye open for any potential mice or rat infestations. If your home has trees with branches that are close to the roofline critters can use these to get up on your roof and then try and get into your warm attic. It's a good idea to cut back those branches. Plus the roof will dry out faster and reduce moss growth.
2. Basement moisture problems.
The Seattle area has a lot of homes with basements and when originally built they were not meant to be super waterproof. Over time many homeowners have converted their basements into living spaces and some of them have left them unfinished. The Northwest gets a lot of rain compared to other parts of the country and that groundwater really wants to work its way into your basement
Basement issues range from a damp moldy smell to standing water after heavy rainfall. The foundation walls may show signs of efflorescence where water is slowly being forced through the foundation walls and evaporates on the inner surface leaving a flaky/crumbly residue.
These issues are always the worst during the rainy winter months and can be harder to discover for a buyer during the dryer summer months. That's why the best time of year to buy a home is during the rainy months because rain will help expose a property's vulnerabilities to moisture and bad drainage.
As a seller, you might be thinking; if I just list my home In summer then my leaky basement won't be an issue. However, you're still going to have to disclose that information to a potential buyer. If your basement has moisture issues there are a number of things you can do including making sure your downspouts and gutters or diverting water away from the foundation, or adding a French drain near the foundation. For a lot more information on this, read this helpful article.
3. Old plumbing and electrical systems.
Because a lot of homes in Seattle are on the older side many of them still have their original plumbing and electrical systems which includes old ungrounded wiring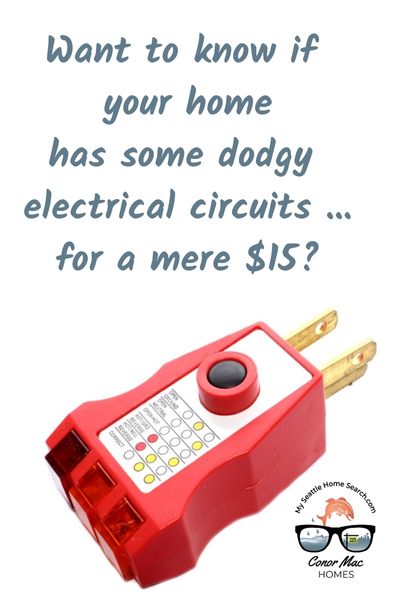 and unreliable galvanized plumbing. The latter is prone to eroding and leaking.
Some insurance companies will not provide insurance for homes that have knob-and-tube wiring because of the potential fire hazard. It's not uncommon to see knob-and-tune circuits up in the attic or if the ceiling in the basement is exposed you'll be able to see a lot of the home's electrical and plumbing lines.
Other common electrical issues in older homes include 3-pin outlets although the circuit is ungrounded plus outlets with reversed polarity. A simple $15 outlet tester from a hardware store is great for testing a home's outlets. For older homes that have had some updates the kitchen and bathrooms may have newer electrical grounded circuits whereas the living rooms and the bedrooms will have the original ungrounded circuits.
Sometimes you will see homes with really old electrical panels that have been recalled years ago because they are potential fire hazards. In those situations, the seller should replace it before going on the market because the buyer will definitely be asking for a new one. Zinsco panels installed in the 1970s are one example.
On a side note, just because a home has updated and modern plumbing does not mean that it's immune to leaks and other plumbing issues. It's only as good as a plumber who installed it in the first place.
4. Furnaces and water heaters that are clinging on for dear life.
The average furnace lasts for about 20 years and the average water here for about 10 years but plenty of homes will have 30-year-old furnaces and 18-year-old water heaters that are on their last legs.
The current code requires that water heaters have two seismic straps otherwise they will not pass an appraisal so make sure they are in place. Also, make sure there's a line drain line connected to the pressure release valve and ideally it drains to the exterior of the home or to an interior drain.
Even if your furnace is on the old side it's a good idea to get it serviced before you go on the market. Also, make sure to put in a new filter especially if you have pets cats and/or dogs. There's nothing worse than the home inspector opening the front panel to the furnace and seeing a filter that's been sitting there for 2 years and clogged with fur and the furnace working extra hard to push air through it. Plus it will give the buyer the impression that you don't take care of your home. The small things have a big subliminal impact on how buyers perceive your home.
5. The sewer line.
Some older Seattle homes still contain their original sewer lines made up of sections of clay pipe or concrete pipe and plenty of them are working just fine. However, the city has a lot of big trees with big roots that love trying to weave their way in between those joints to get access to water.
Most home buyers as part of their inspection contingency will run a camera down the sewer line to make sure the system is intact. Sewer repairs can be expensive and range between about $5,000 and $25,000.
6. The roof.
Just like water heaters and furnaces a lot of sellers will try and get the absolute maximum out of their roofs, sometimes way beyond their intended lifespan until it becomes a liability and is not protecting the Integrity of the home anymore.
Some sellers will try and power wash the roof to spruce it up and make it look prettier but that is not a good idea. Power washing will remove half of the remaining life left on the roof and dump it in the gutters instead. NEVER POWER WASH YOUR ROOF!
Yes, it's not cheap, but adding a new roof to a home has a major impact on both the street and buyer appeal of the home. What's more, if a roof is in poor condition, it might not pass an appraisal and the buyer may not be able to get financing for the home unless it is replaced before closing.
Chimneys poke up above the roof line and are exposed to all the elements and so are more vulnerable to aging and wear and tear over time. It is not uncommon to see chimneys with deteriorating brickwork and masonry and missing cement between the bricks. The cement crown of the chimney can be worn away and the top might be missing a spark arrestor. Poor flashing where the chimney meets the roofline can be a common source of roof leaks.
7. Wood rot.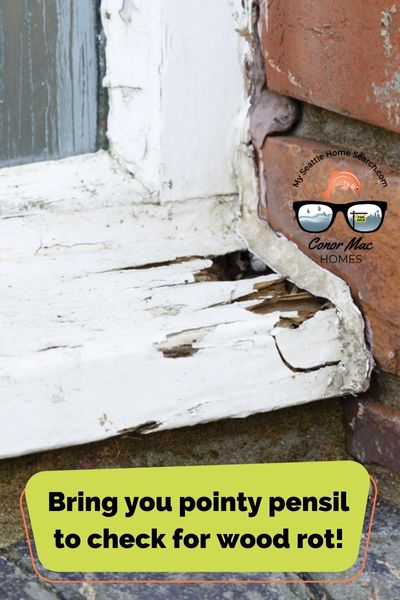 Because of the damp Northwest climate, it is not uncommon to see parts of the exterior that have some wood rot which tends to be more common in homes that have not been maintained and painted properly. It will be most obvious at the corner of the eaves, where exterior walls meet at corners, the wood framing around windows, especially if there is no flashing above the window, and water damage where the siding is in contact with the soil.
The south-facing side of homes tends to get the worst weather in the Seattle area and it's where you're most likely to see issues. In addition, if the home has trees and bushes close to the house they can keep that part of the home in perpetual shade leading to an increased risk of mushy wood.
Wood decks are a really common area for wood rot both on the deck itself and on support posts if they are not elevated off the ground and sitting on concrete footings. Most home inspectors recommend that you don't paint your deck or you'll be painting every year for the rest of your life. Also, make sure to leave a gap between the boards so the water can drain from the flat deck surface.
8. Lack of smoke and carbon monoxide detectors.
Building code requires that every bedroom has a smoke detector and that each floor of the home has a carbon monoxide detector installed. Also, homes with missing carbon monoxide detectors will not pass an appraisal. Just go to the hardware store and buy some! You can even get detectors that detect both carbon monoxide and smoke in one!
9. Crawl spaces.
Basements are a lot more common than crawl spaces for homes in the Seattle area but for homes that do have crawl spaces, they can be a home sale deal killer. Crawl spaces are most common in one-story Rambler-type homes and in townhomes. They are more common in areas surrounding area like Shoreline and further north and Eastside areas like Bellevue and Redmond.
Most homeowners rarely, if ever, venture into their crawlspaces, and who can blame them? As a real estate agent, it's not very often I've attended a home inspection where the inspector emerges from a hole in the side of the home and declares it all looks great down there! And it's always the last place the professional home inspector inspects s part of the inspection process because they have to suit up in a hazmat suit and a mask. Crawspaces can have some costly repairs.
The 3 most common crawlspace inspection issues are:
Pest infestations: These are really common especially in the colder months when mice, rats, and other critters are looking for somewhere warm. They really appreciate that warm insulation material between the floor joists or they just make a nest on the ground using that material They can squeeze in through tiny gaps in the foundation, the crawlspaces access door, or holes in the vent screens.
In the worst-case scenario, you will need to remove (and replace) all of the insulation and vapor barrier and then have to decontaminate the soil.
Standing water: this can be a major issue and a deal killer for home sales. Homes that sit on lots with the land sloping toward the foundation are more susceptible to water pooling in their crawlspaces. It can also be an issue for homes with high water tables and homes where the downspouts are dumping water right beside the foundation.
Adding a French drain near the foundation will capture rain runoff and divert it away from the home or you may have to add a sump pump inside the crawlspace which pumps the water to the outside.
The vapor barrier is a thick black plastic that sits directly on the soil and prevents moisture from evaporating up into the house. It is not uncommon for this to be in poor condition are completely missing from large parts of the crawlspace. Of these three issues, this one is a relatively simple and affordable fix.
10. Foundation and soil issues for homes on steep slopes.
Seattle is a very hilly city and is up there with San Francisco. Neighborhoods like Queen Anne and Magnolia have plenty of homes sitting on steep slopes and they usually have really good views of the Puget Sound, the mountains, or downtown. All homes shift and settle over time but those on slopes are a lot more prone to larger movements that can result in significant cracks in the foundation. Always walk around outside of these homes and inspect the foundation, particularly for ones where the seller has applied some filler material to try and patch it.
The home inspector should be able to a buyer if a crack in the foundation is significant or not and whether the home warrants an additional inspection by a qualified geotech engineer. For a lot more on buying a home on a steep home, please see this informative article.
To summarize The 10 Most Common Problems Found During Home Inspections in Seattle: throw in the famous Pacific NW weather with a combination of the different types of homes found in Seattle and the era they were built and you will start seeing some commonly recurring issues. Nearly all of them can be fixed.