10 potential home buyer cold feet warning signs.
Posted by Conor MacEvilly on Tuesday, October 3, 2017 at 5:10 AM
By Conor MacEvilly / October 3, 2017
Comment
Home buyer cold feet symptoms that sellers need to watch out for.
Once I make up my mind, I'm full of indecision!" Oscar Levant.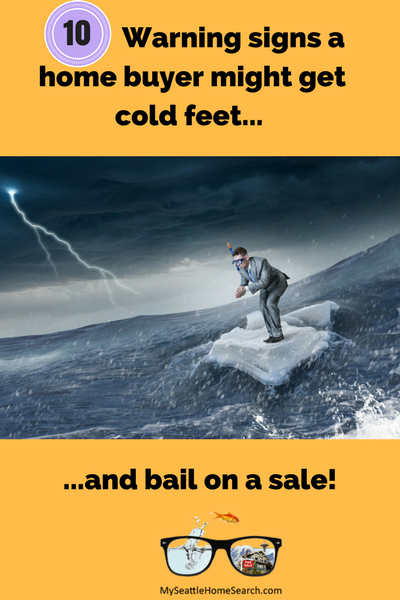 A seller puts their home on the market, gets an early offer and accepts it. A few days later, the home is back on the market. What went wrong?
I call the listing agent and they will say "the buyers got cold feet!"
The home goes back on the market and is now perceived differently by the home buying public. Even if the listing agent emphasizes that the buyer got cold feet and "didn't even do an inspection", it's human nature to suspect that maybe, just maybe, there's something wrong with the home. The home might be perfectly fine but try convincing everyone of that. The home has now lost a little of it's new listing luster.
So for you home sellers, how do you try and weed out those buyers that are more likely to bail on the sale for a little or no good reason?
There is no foolproof way to tell whether a buyer is guaranteed to bolt or not. However, there are certain warning signs that you should keep an eye open for that potentially will help you identify those buyers that are prone to the condition. You want to try and identify those buyers that are more likely to get buyers remorse and exit stage left BEFORE you get into a contract with them.
Many buyers bail on a sale for legitimate reasons. For example, the inspection revealed a lot of unexpected issues or the appraisal came in well below the sale price and the sellers are unwilling to drop the price. However, you are trying to avoid hitching yourself to a buyer who will bail on the sale for no solid reason other than getting cold feet.
Multiple offer situations:
If you get multiple offers on your home, you can afford to be choosy as to which offer you select. You can compare and contrast not just the offers themselves, but also the buyers who are making those offers. And remember, the highest offer is not always the best offer. You want to go with the offer that is a combination of the best price and highest probability of closing successfully. It's a little like golf: there's no point hitting a 300 yard drive if it ends up 50 yards into the tress. A 250 yard drive down the middle works a lot better!
Single offer situation:
When you get only one offer on your home, obviously you might have a lot less leverage compared to a multiple offer situation. If the buyer makes a low ball offer, you can counter them and if you don't get what you want, just move on and wait for a better offer.
It is important to remember though that in a single offer situation, where the offer is at the asking price and there are no unreasonable requests in the offer, then you have to accept that offer! Even if your gut is telling you "there's something about this buyer that makes me think there's a good chance they might bail after mutual acceptance" you still have to accept their offer.
However, if the offer contains unreasonable requests such as requesting you remodel the kitchen or repaint the whole interior, then you do not have to accept the offer, even if it matches the asking price.
The warning signs:
#1: Only one of the spouses has seen the home.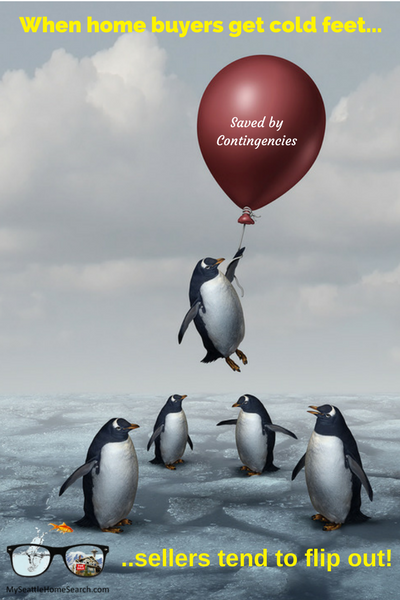 Homes in Seattle are selling like hot cakes and is currently the hottest real estate market in the country. Lots of people are relocating here for hi-tech and other jobs. It is not uncommon to meet the husband or wife at open houses, out looking for a new home in a hurry while the rest of the family are in another state busy packing. They need a home in a hurry before relocating.
There's a lot of pressure on the spouse both in terms of (1) finding a home in a crazy market and (2) finding one that the whole family will like. If you accept an offer on your listing from one of these buyers, you run the risk that the other spouse will not be amused when they get a look at the home after the contract has been signed. If wifey or hubby are not happy, they will probably be looking to get out of the sale.
#2: The buyers are not familliar with the neighborhood.
Home buyers tend to focus on a certain set of neighborhoods. Then after a couple of months, out of the blue they will call their agent and say "we found the perfect home!" "Where?" their agent asks. "15 miles away in Happyville". The buyers are in love with the home itself but might be unfamiliar with the area. After the offer is accepted, they discover they don't like the schools, the bars suck and the commute is hell. The buyers feet stat getting a little chilly!
#3: Buyers viewed the home once, on the morning of the offer review deadline.
Your listing agent has set a deadline for review of offers on Tuesday at 1pm. The home came on the market 7 days earlier plus your agent held two open houses at the weekend. On Tuesday morning, buyers and their agent go see the home for the first time and decide to make an offer.
It is never good to be forced into making a quick decision on a critical and life changing purchase. Buyers in these situations might not be comfortable with their decision and potentially might want to get out of the contract later on. A buyer who has had the time to prepare and study the home properly is less of a flight risk.
#4: Viewed the home too many times before making an offer.
At the opposite end of the spectrum are those buyers who view the home 3 or more times before deciding whether to make an offer. They bring friends, they bring family, they bring the local parish priest to get their opinions as to whether buying your home is a good idea. These kinds of buyers are indicating that either they are unsure that this really is the home for them or that they are likely to be extremely picky when it come time to the inspection.
#5: The buyers offer contains every conceivable contingency.
Contingencies are components of the buyer's offer which detail the conditions under which the buyer will buy your home. For example, there's a contingency covering the buyer's financing, title review, inspection contingency and review of the Home Owners Association (HOA). In a competitive situation with multiple offers, buyers will try to improve the appeal of their offers by reducing the number of contingencies. The fewer the contingencies, the fewer the number of hurdles that need to be cleared between accepting an offer and getting to closing day. The perfect offer is one that has almost no contingencies and the only way the buyer can get out of the contract is by forfeiting their earnest money.
If a buyer's offer has every possible contingency, they might be a little on the overly-cautious / paranoid side. Even if your listing agent had the Reasale Certificate and Title reports available in advance for buyers to review, but they still made their offers contingent on reviewing them, then the buyers might be less motivated and a lot more cautious. Of course, some of this will depend on how competent the buyer's agent is in putting a competitive offer together and in educating the buyers properly.
#6: Sees the home at the open house but never comes back for a private viewing with their agent.
The buyer goes to the open house without their Realtor and immediately falls in love with the home. However, they never come back for a private viewing with their agent. They submit an offer on your home.
Any buyer who makes an offer on a home should see the home at least once in the presence of their own agent. Their agent is there to help point out any issues with the home, is it a lemon or a good long term investment and advise them on whether it is priced properly. These kinds of buyers might discover stuff post mutual acceptance that might scare them away that would have been obvious had they seen the home with their agent before making the offer.
#7: Buyer doesn't have their own agent.
These buyers wander around open houses because that is the only way they can get to see homes. That, and unsuspecting agents who will drive out and open the door to their listings for them. They tell the listing agent doing your open houses that they love the home, want to make an offer but don't have their own agent yet.
If the buyer is not organized enough to have their own agent, then how serious a buyer can they be? When you are deciding which Realtor to go with as your listing agent, make sure you quizz them as to whether they practice dual agency or not. Dual agency is where the same agent (in this case, the one you hired) represents both the seller and the buyer on the same sale. Dual agency is a complete conflict of interest and a cash cow for your agent. Choose wisely who you hire
In these situations, your Realtor should tell the buyers they need to get their own agent.
#8: Lots of overly-picky questions before making an offer.
The buyers keep their agent busy calling your agent with endless questions of varying minutia before submitting an offer. Asking about when the roof was replaced or how old is the water heater are good questions and the buyers are thinking straight. But when they start asking about the wine stain on the living room floor, the hairlike crack in the kitchen ceiling and the dripping bathroom faucet before making an offer, you are probably going to end up with one extra picky buyer who will probably rake you over the coals once they do an inspection of the home.
#9: Offer submitted out of the blue with no prior contact from buyers agent.
In multiple offer situations, I will usually get a couple of offers from buyers who's agent submits the offers without ever calling me to ask some of the usual basic questions like "what are the sellers looking for? / what's most important to them?", / how many offers have been submitted?" / "Are there are preinspections"?
The vast majority of these offers tend to be the weakest offers. Also, the buyer's agent is revealing themselves as not being very competent and a good advocate for their client. How good will they be going forward if you accept that offer? And how serous are those buyers?
#10: "We just started looking yesterday".
Your listing agent meets the newbie buyers at the open house and they are full of new buyer enthusiasm. And why not! Buying a home is thrilling, scary and fun at the same time. They gush about how much they love the home and that they will be a back with their agent for a private viewing. They submit an offer.
In my experience, "just started looking" buyers are the most likely to get cold feet and bail on a sale. They haven't seen enough homes yet to know exactly which type of home will work best for them nor do they have a good grasp of what a particular home is worth. They are likely to start second guessing their decision and start getting cold feet in a hurry.
In conclusion:
There certain inconveniences when selling your home but having the sale fail because the buyers got cold feet is more than a simple inconvenience. When you list your home for sale, you want as smooth a sale process as possible. You want to try and avoid hitching your wagon to a buyer who has a higher likelihood on bailing on the sale leaving you in a lurch. If you hire a competent listing agent, the will be able to keep an eye out for the tell tale warning signs that going with a certain buyer could potentially be risky move.
Obviously, these are not iron clad guarantees that a buyer will bail on you. Plus there's no guarantee that a buyer who looks rock solid and really wants your home, doesn't subsequently turn around and kill the deal. You're just trying to improve your odds of getting over the finishing line at closing day by going with the best overall offer.... and that includes scrutinizing the buyer.
Here's a list of some great additional resources from other real estate pros that you may find useful:
The Highs and Lows of Evaluating Multiple Offers When Selling your Home from Dan Barcelon
20 Cold Hard Fact In Real Estate Home Buying from Lynn Pineda.
13 First Time Home Buyer Mistakes to Avoid from Luke Skar.
How to Know If It Is The Right Home For You from Anita Clark