10 signs of a shift from a Sellers to a Buyers market
Posted by Conor MacEvilly on Tuesday, July 5, 2022 at 11:12 AM
By Conor MacEvilly / July 5, 2022
Comment
There are a number of residential real estate market indicators that signal the shift from a seller's market to a buyer's market. Some of these include falling prices, more home sales contingent on inspections, listing price drops, and more buyers walking on the sale.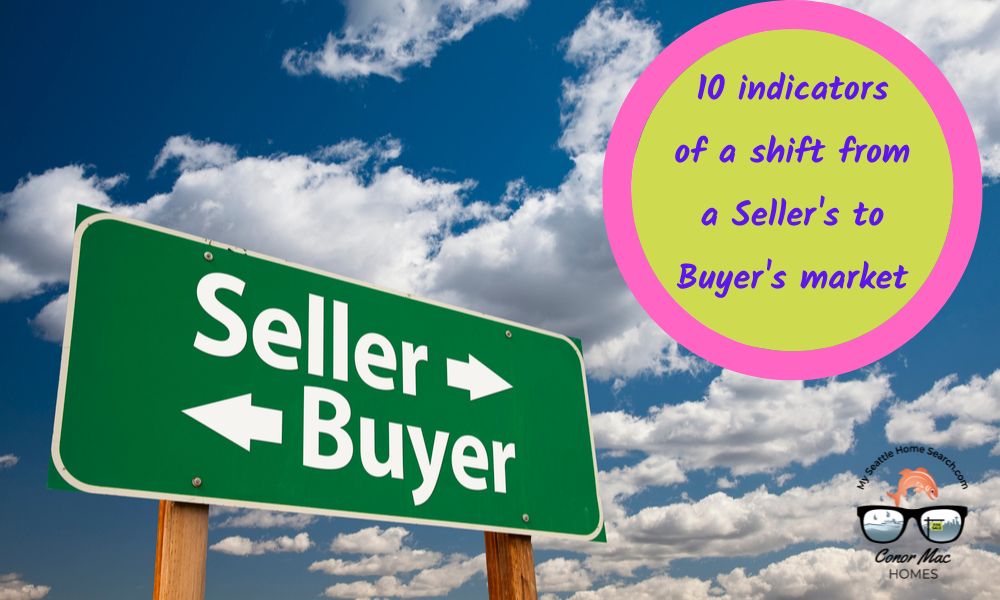 If the real estate market transitions from a strong home seller's market to a more balanced one or further to a market that favors the home buyer, here are the top 10 signs to keep an eye on and track over time.
1. Falling sale prices.
This is the most obvious one and the one that home buyers look forward to the most and the one that sellers fear the most.
Note that home prices go through an annual seasonal cycle of peaking in the spring months between March and May for the Seattle area and then dropping down to a low in December or January. This peak-to-trough can vary between 5% and 10% so for a genuine price drop for a buyer's market, that drop needs to be greater than that range.
2. More price drops while listed for sale.
You will see more listing cutting their prices when they fail to get any offers at the initial listing price. Many sellers will be slow to transition out of a seller's market mindset and want to list their homes at previously hot market prices.
However, the open market dictates what a home is worth. Realistic sellers will usually drop the list price after 2 to 3 weeks of coming on the market if the home fails to sell in that timeframe.
3. Fewer sales going straight to pending with more contingent on inspections.
In a hot seller's market, many buyers will do a pre-inspection of the home before submitting an offer and are willing to buy the home as-is to make their offer more competitive. In those situations, the listing status of the home would be listed as PENDING if the seller accepted an offer like that.
However, in transitioning to a buyer's market, more buyers will not be willing to do that anymore and will make their offers contingent on doing an inspection of the home AFTER mutual acceptance. This allows buyers to retain their number one way of getting out of the contract by walking on the sale if they don't like what they see during the inspection or if they simply change their minds and get cold feet. It also allows buyers to negotiate for a price drop or repairs.
The status of these homes will be listed as PENDING INSPECTION (PI). At the peak of the hot Seattle seller's market, about 90% or more of sales went straight to Pending.
4. Fewer listings with offer review dates.
As a home market cools down and sellers become less confident of their home getting an early offer it's likely that fewer listings will set an offer review date. In a hot market, sellers are almost guaranteed to get offers in their first week and many sellers in Seattle set a specific date to look at submitted offers to increase buyer competition and leverage one offer against another to maximize the potential sale price.
In a buyer's market, you will see a shift to fewer homes with review dates and more listings stating Offers Reviewed Upon Receipt.
5. Homes taking longer to sell.
One of the differences between a seller's and a buyer's market is that as the market slows, the best homes that are priced and marketed properly will still sell quickly. However, more and more homes will take longer to sell and the average for the market as a whole will start to increase.
6. Listing inventory should increase.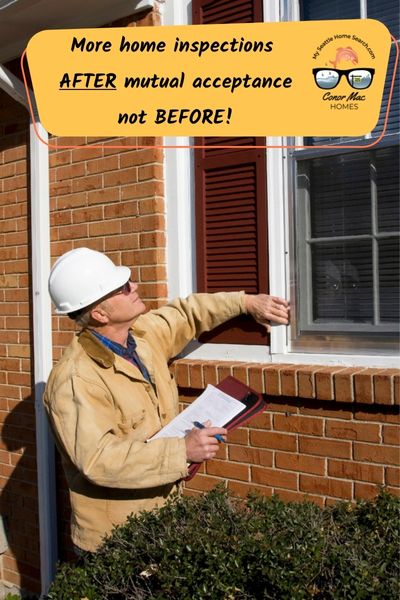 As homes take longer to sell and as new listings come on the market, the total number of homes for sale should start to grow. This will reduce competition between buyers for homes which prevents prices from being driven upward.
Some sellers may decide to wait and see what the market does but due to life changes like moving for a new job, there will always be plenty of owners who have to sell their homes regardless of prevailing market conditions.
Housing inventory is often measured in months of supply. For example, when there are 2 months of supply, that means that if no new homes came on the market, after 2 months there would be no homes for sale.
The general consensus is that a 6-months supply indicates a balanced sellers-buyers market. However, that doesn't work for all areas of the US, and for a city like Seattle a 3-month supply is probably more representative of a balanced market and anything over that is a buyer's market.
7. The ratio of the sale price to the original sale price will drop.
When the market is booming and homes are selling for well above the list price, the ratio of the final sale price to the original sale price will spike significantly above 100%. It's a measure of home much, on average, buyers are paying above the list price for homes and how competitive the market is.
This indicator will start dropping steeply as the market cools and likely start hovering around 100% or even a little below that baseline as homes sell for close to list price or below the original listing price.
Note that if a home drops its sale price by say 5% and then sells at the lower price the ratio of the sale price to the ORIGINAL list price is 95%, not 100%. If the market flips to a strong buyer's market you can expect the market average for this ratio to be below 100%. Over-priced homes in particular are likely to sit on the market and end up selling for less than the original asking price.
8. More offers with the full spectrum of contingencies.
When home buyers have more market leverage and there's less competition for homes, it makes it a lot easier for them to submit offers that provide them the most protection in the home purchase process.
In a hot market, buyers frequently have to consider waiving offer contingencies that are intended to protect them from buying a lemon. In a cooling market a lot fewer buyers will be willing to waive the property inspection, the title review, be willing to cover a low appraisal either partially or completely, and definitely not release their earner money early to the sellers.
You know, the way home sales are theoretically supposed to work!
9. More "Back on the market listings" (buyers walking on the sale).
With more buyers getting offers accepted that are contingent on an inspection, they have the opportunity after conducting the inspection to either (1) negotiate repairs, (2) negotiate a price drop, or (3) just walk on the sale and get their earnest money back.
If the sellers are not willing to negotiate and the buyers walk, the status of the listing will be updated to Back On The Market indicating to all other buyers that the first buyer walked on the sale. That home might, or might not, come back on the market with a price drop.
10. More sales contingent on the sale of the buyer's own home.
A contingent offer is one where the seller accepts an offer that is contingent on the buyer closing on the sale of their own home before they can close on the seller's home. It's a mini sales chain.
These can be complicated transactions and during a hot market, you had about as much chance of seeing a contingent sale as spotting a Sasquatch on a unicycle.
There is zero incentive for a home seller in a hot market to accept one of these offers when they are almost guaranteed to get a less risky conventional offer. However, as the shifts to the buyer's side, more sellers whose homes might be sitting on the market will be open to contingent offers.
In summary regarding the 10 Signs of a Shift From a Seller's to a Buyer's Market:
When a real estate market starts moving from the sellers being in control to either a more balanced market or one where buyers are in the driver's seat, there are a number of different market indicators that will help demonstrate that transition. Stay tuned!