Home buyer cold feet symptoms that sellers need to watch out for.
Once I make up my mind, I'm full of indecision!" Oscar Levant.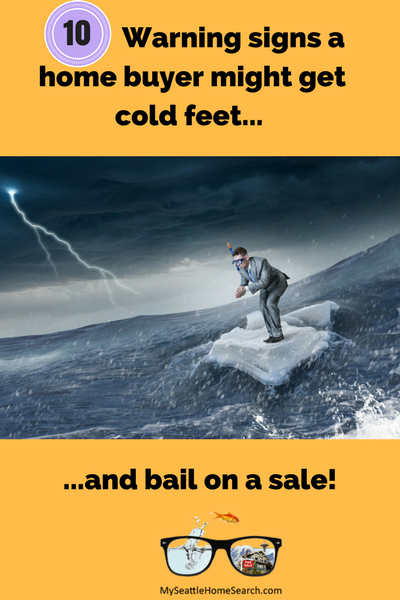 A seller puts their home on the market, gets an early offer and accepts it. A few days later, the home is back on the market. What went wrong?
I call the listing agent and they will say "the buyers got cold feet!"
The home goes back on the market and is now perceived differently by the home buying public. Even if the listing agent emphasizes that the buyer got cold feet and "didn't even do an inspection", it's human nature to suspect that maybe, just maybe, there's something wrong with the home. The home might be perfectly fine but try convincing everyone of that. The home has now lost a little of it's new listing luster.
So for you home sellers, how do you try and weed out those buyers that are more likely to bail on the sale for a little or no good reason?
There is no foolproof way to tell whether a buyer is guaranteed to bolt or not. However, there are certain warning signs that you should keep an eye open for that potentially will help you identify those buyers that are prone to the condition. You want to try and identify those buyers that are more likely to get buyers remorse and exit stage left BEFORE you get into a contract with them.
Many buyers bail on a sale for legitimate reasons. For example, the inspection revealed a lot of unexpected issues or the appraisal came in well below the sale price and the sellers are unwilling to drop the price. However, you are trying to avoid hitching...