Are low HOA fees always a good thing?
Posted by Conor MacEvilly on Monday, October 14, 2019 at 5:44 PM
By Conor MacEvilly / October 14, 2019
2 Comments
The pros and cons of low homeowner association fees.
Home Owner Association fees, or HOA fees for short, are part of life when you buy a condo and the majority of townhomes. Although nobody loves them or walks around wearing a t-shirt proclaiming I LOVE HOA FEES!, they still cover some of the stuff you would have to pay regardless of the type of home you purchase or own.
Note that, for Seattle real estate at least, 99% of house owners do not have to pay HOA dues since they were built before the advent of big cookie-cutter developments and private communities.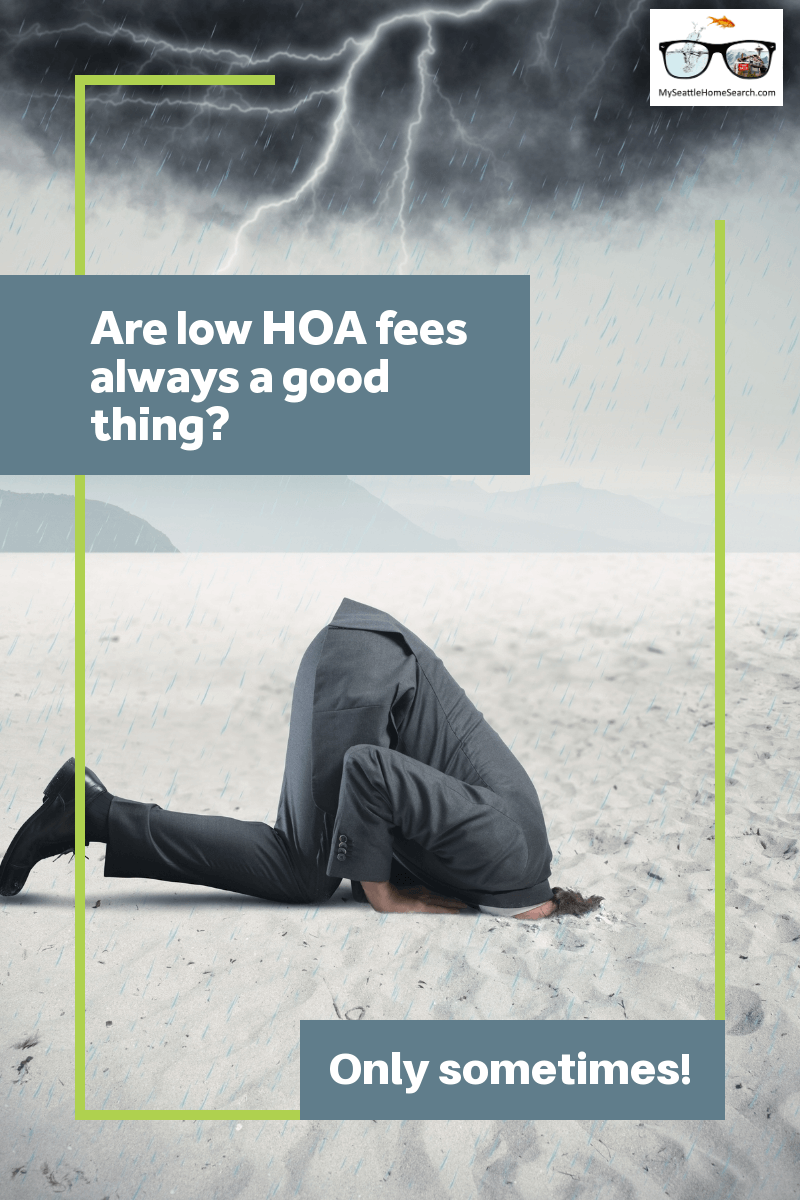 Condo HOA monthly fees will usually be a lot higher than those for townhomes and buyers will need to take this into consideration when calculating how much they can afford to buy and pay each month. For condos in Ballard Seattle dues for a 1-bedroom condo vary between $224 and $265/month and $200 to $994 for a 2-bedroom.
You need to add the homeowner association fees to the expected monthly principal + interest + property taxes + insurance (PITI) payments.
Buyers will naturally be attracted to homes with low HOA fees and be less keen on those with high monthly dues. However, buyer beware, just because the fees are low does not automatically mean it's a good thing
Just like property taxes, HOA fees rarely go down and usually go up over time and so knowing the financial health of the homeowners association and the overall health of the building itself are important. There are certain critical questions to ask when buying a condo and other homes that have homeowner association fees. The Resale Certificate will contain most of the information you need to make an informed decision.
What are HOA fees and what do they cover?
Homeowner association fees are collected each month from every unit owner and go toward the day-to-day maintenance of the property, insurance for the building plus some (but usually not all) of each owner's utility bills. A portion of each payment will go into the HOA's reserve funds that can be used for upcoming needed repairs, both the known ones and unexpected repairs.
The list of items covered by your HOA dues will vary from association to association and in different parts of the country. In Seattle for example, utilities such as water, sewer, and garbage, common area maintenance, building insurance, and sometimes expensive earthquake insurance are all included in HOA dues. Owners will usually pay their own electricity bills but in some condos, hot water will be included if they have a central hot water system.
If you own a house in a gated retirement community in Arizona with people whizzing around in golf carts and downing five o'clock martinis, with 24 hours security, a gym, a big swimming pool, and Disney-like pristine landscaping, then your dues will probably be a lot higher than a cookie-cutter housing development in New England freezing it's buns off in the middle of winter.


Reserve studies are reality checks for Home Owner Associations (and buyers).
Maintaining a large condo building with lots of units is expensive. The individual owners are not qualified to determine the necessary repairs the building needs to keep it in good shape. Nor do they know how much money they need to keep in their reserve account to meet those needs. The solution is that the homeowners association has a Reserve Study done every few years.
A reserve study is carried out by an independent consulting company that looks at the overall condition of the building and property, and determines what repairs and updates are needed in the near, short, and long terms.
But most importantly, the study report will establish whether the HOA has enough reserves in its checking account to meet all those needs. Does the building need a new roof, does the parking lot need repaving, or are the decks failing and need replacing? The Reserve Study is like a financial wellness check for the HOA and a structural checkup for the building and property it sits on.
If the HOA has healthy reserves of cash in the bank to take care of any projected repairs, then great. But if the HOA's checking account is a little anemic, then it and all the individual owners are in for a rude awakening. Somebody is going to have to pay for those repairs and those somebodies are the homeowners! Or, you the buyer, if you decide to buy that home.
Suddenly, those with low monthly fees and not collecting enough money to build up their reserves will come back to bite the HOA and all the unit owners. And now it's time for a painful special assessment!
Note that some associations are legally required to do a Reserve Study every few years and some might be exempt. For Seattle condos for example, if there are fewer than 10 units in the building, the HOA is not required to do a study. Condominiums with more than 10 units must do one every few years. The rationale is that reserve studies are not cheap and might be too big a financial burden on smaller associations.
What are special assessments?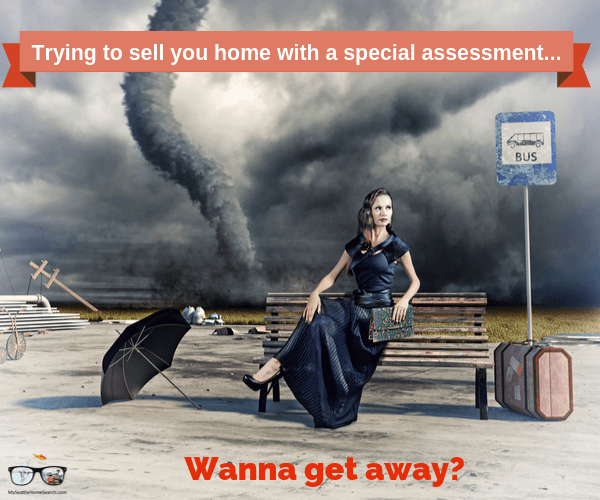 A special assessment is where the HOA needs to boost its reserve fund by collecting money above the usual monthly HOA fees from each unit owner. This can be done as either a one-off, large single payment or can be spread out over a set period of increased monthly dues.
Some special assessments can be very expensive. For example, if the siding, windows, and decks are all failing the builder warranty has expired, each owner can expect to pay $20,000+ if there is not enough money in the kitty.
A well-run HOA with a healthy balance sheet will be proactive and anticipate issues in advance. A badly run homeowner association will operate in a reactive mode, have low financial reserves and usually only fix something once it becomes an issue. The latter will rely on special assessments every few years rather than just facing reality and increasing monthly HOA fees.
One last note about special assessments: good luck trying to sell your home if there is a large current or upcoming special assessment and you are hoping to get the full list price. Buyers will expect you to pay it off at closing or more likely, avoid your home completely and look at other homes instead.
The ideal versus the less-than-ideal HOA and HOA fees.
The ideal scenario: healthy reserves that are at 80%+ of Reserve Study recommended levels, completed a Reserve Study within the past 3 years, there are no major current or upcoming repairs, the monthly HOA fees are average for the area, there are no current or upcoming special assessment or even better, a history of no special assessments. The HOA is PROACTIVE.
The non-ideal scenario: low HOA reserves, have not done a Reserve Study in years, or have never done one (because legally not required to do so), the building has obvious deferred maintenance issues, has low HOA dues, and has a history of special assessments. Plus the owners consistently vote at their annual HOA meeting NOT to increase their monthly HOA fees. The HOA is REACTIVE.
HOA Shangri-La: all of the ideal scenario criteria listed above, but also has low HOA dues.
To summarize on the topic of whether low HOA dues are a good thing: if you are a home buyer and the dues are enticingly low, maybe it is a win-win situation but make sure that you do your homework as part of the purchase process.
If you already own a home where the HOA fees are unrealistically low, the homeowner association reserve funds are clearly malnourished and the building has deferred maintenance, then be brave and stand up at the next HOA meeting and state the obvious..."We need to increase our monthly HOA dues!" Make sure to bring some free doughnuts for everyone. You're going to need them!

Here are some additional resources that are worth reading from other real estate bloggers.
Financing Your Condo Purchase from Michelle Gibson.
How To Be A Better Home Buyer from John Cunningham.
Can A Buyer Get Out Of A Contract To Buy A Home from Paul Sian.
Should You Hire a Property Manager For Your Condo from Jeff Nelson.
Common HOA Rules Worth Knowing from Bill Gassett.