Ballard Breweries. The Ultimate Updated Guide.
Posted by Conor MacEvilly on Wednesday, February 5, 2020 at 5:12 AM
By Conor MacEvilly / February 5, 2020
Comment
Seattle is well known for it's Ballard Breweries. The Ballard neighborhood is located NW of downtown and currently is home to a whopping twelve (12) active breweries with one more on the way. That's a figure that at least one writer has speculated as being the highest density of breweries in a single neighborhood in the whole of the US. The unique mix of residential and light industrial zoning in Ballard makes it an ideal area for both startup and more established breweries.
So whether you call them craft breweries, microbreweries or just plan breweries, that's completely up to you. Just don't ask for a Bud Lite!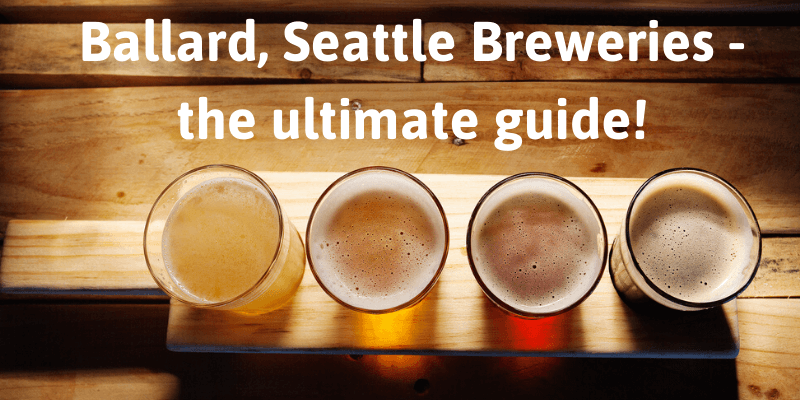 I do know that a reasonably fit person can walk from Peddler, the farthest west of the group, all the way to Hale's, the farthest east, stopping at all the others along the way. Now whether you're wise to consume a beer at each place is another matter.
This summary may help you decide which of the breweries in Ballard you may want to visit to have a beer or two. The breweries are laid out in the order in which they opened.
Urban Family was the most recent addition to the list, opened a new taproom in February 2020. Great Notion, a Portland brewery will be adding a Ballard taproom sometime in 2020.
Here's the current crop of breweries in Ballard.
But before we jump into the list, note that some establishments are family-friendly and some are not, many allow you to bring your furry four-legged friend (pet-friendly) and some have a food truck, (sometimes, but not always), parked out front to feed those with a surge of the munchies.
Two breweries, Maritime and Hale's have kitchens and cooks like regular pubs. With the exception of those two watering holes, all are fine with your bringing your own food or having some sustenance delivered while you imbibe.
And so you know what each brewery in Ballard is offering (besides beer), each has been tagged with some or none of the following badges: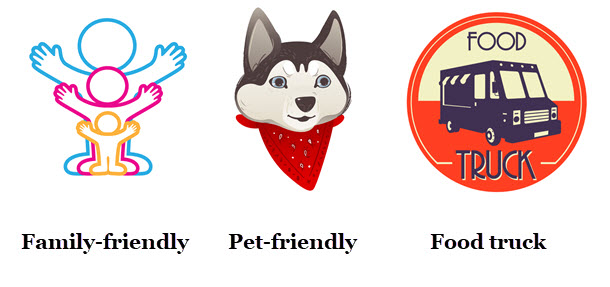 Maritime Pacific Brewing Company (aka Maritime)
1111 NW Ballard Way. Established in 1990.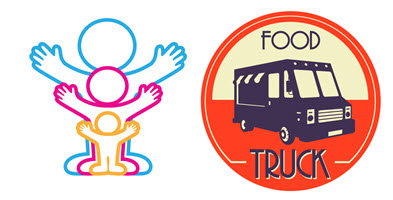 Maritime is the first truly Ballard brewery. Red Hook may have been first in the Frelard area, which is fringe Ballard (don't tell Hale's or Bad Jimmys), but they abdicated to Fremont and then to Woodinville.
Maritime set up brewing in 1990 in the space where Peddler now brews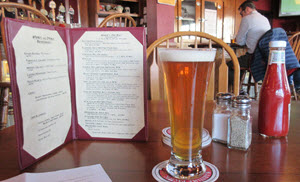 and started brewing English inspired ales (despite the Flagship being a German Alt style beer). They planted a flag in the building next door to open a taproom and later added a tiny kitchen. Once they outgrew that location they moved to the current, much larger, building on Ballard Avenue NW.
The new location has afforded a much larger taproom, an expanded kitchen, and added brewing capacity. The taproom is attractive (though the maroon walls may be a bit polarizing) with wood tables and chairs, nautical stuff on the walls, and big windows for natural light. The hard floor can make for a loud atmosphere if the room is crowded with talkative, inebriated people. An outdoor area with limited seating is available for use during nice weather.
The beer list is usually contemporary in style, usually includes the Flagship Alt beer, Islander Pale Ale, and Nightwatch (all containing wheat in the grist, which dries out the flavor) and often includes a cask-conditioned beer. Maritime remains a brewpub, and you can still get a lunch or dinner of pub food to cushion your beer intake. Check the winter hours to see if the kitchen will be open on any particular day.
Hale's Ales.
4301 Leary Way Northwest. Established in Colville 1983 then moved to Kirkland in 1987 and then it's current Ballard location 1995.

Hale's Ales moved into the Frelard area in 1995 after initially opening in Colville, Washington in 1983. Hale's lays claim to being the oldest extant brewery in Washington now that Burt Grant's Yakima Brewing and Malting has closed. The location on Leary Way includes a cozy pub area around the bar and an expansive adjacent eating area. An outdoor area with very limited seating is available for use during nice weather.
The beers started out and are still English ale inspired. The house yeast is distinctive and I have heard some disparaging remarks. I have brewed with that yeast and found it to have an identifiable flavor profile but not overwhelming. The kitchen no longer produces pub food as Mike Hale wanted to get out of the restaurant business. Instead, El Camion now occupies the kitchen and offers a full Mexican-style menu to pub patrons.
Orders are placed upon entering the pub and the food is brought to your table. The beer list usually includes ales (IPA, Porter, and Pale) and seasonals that veer severely from the English ale model.
Reuben's Brews (two locations!).
Established in August 2012. Rueben's has two locations in Ballard: The Taproom is located at 5010 14th Ave NW and The Brewtap is located at 800 NW 46th Street.

Reuben's started in a small space on 14th Avenue NW in which the taproom shared the area with the actual brewery. In 2015 they moved a few blocks down the street to a building with a roomier taproom and increased brewing capacity. Rueben's is definitely one of the most popular breweries in Ballard Seattle.
The beers started out as English inspired ales, all well executed. Their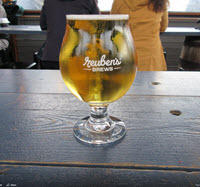 brewing prowess enabled them to get some buzz and grow the business into their larger quarters plus an additional taproom with expanded brewing capacity and a canning line. Every beer that Reuben's makes is well-made and the beers cover many styles new and old. They brew hazy IPAs, gose, sours, and lagers, as well as the usual IPAs, porter, brown ale, and pale ale.
The taproom on 14th Avenue NW is popular and often crowded even with abundant seating, while the 8th Ave NW has a more industrial feel with the same young crowd. The 14th Ave NW seating area extends into a canvas-covered outdoor seating area that is more than tolerable in winter. When the brewery releases canned hazy IPA in limited quantities, you can expect to wait in line to purchase your allotment.
Peddler Brewing Company.
1514 NW Leary Way. Established in March 2013.

Peddler opened in the building formerly occupied by Maritime and began brewing on a seven-barrel beer kit. A limited area taproom fronts the space with large windows lighting the area. The area behind Peddler is now a covered and heated in the winter beer garden with abundant seating.
The shop that was Maritime's taproom is now Mean Sandwich. Order a sandwich, get a buzzer, and go into Peddler to order a beer. Then go pick up your sandwich, or get a vegan bite from the food truck in the beer garden.
The brewery has a bicycling theme and you will often see bicycles locked up in front of the brewery when the weather is clement. The beers are mostly inspired by English styles and are appropriately fruity, showing off yeast esters. Nevertheless, the styles range all over from Pilsner and Kolsch through English styles to Belgian. When they opened on a very limited beer kit, the beers were a little rough. They have increased their brewing capacity and proficiency making the beers well worth buying.
Populuxe Brewing.
826 NW 49th Street. Established in March 2013.

When Populuxe opened it was in a building not much bigger than a large garage with a small, 1.5 BBL, beer kit. Since then they have expanded into the building to the east and turned the parking lot in between into a beer garden. The new expansion allowed them to put in a small pinball arcade and to add considerably more indoor seating.
The original taproom is now an event space and the new space retains the ad hoc feeling of the original space. The thrown-together feeling of the space reminds me of the saying that a messy desk is an indicator of an orderly mind. The beers have always leaned English style with a mix of Belgian and more modern IPAs. Almost all are well executed.
The décor is eclectic with a garage vibe and the atmosphere is friendly; I have often found myself in brief conversations with unknown (to me) fellow beer enthusiasts. Food is often available from trucks on-site, while any restaurants or fast food outlets are a fair hike away.
Stoup Brewing.
1108 NW 52nd Sreet. Established in October 2013.

Here's a caveat; I ponied up a small sum when Stoup opened so that I could become a "founder." At the time that meant a few perks and that the founders helped fund the beer garden expansion in some small way. By now, alas, the status means nothing.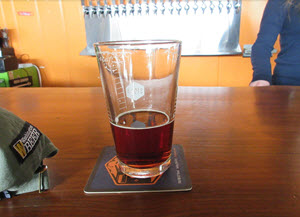 The brewery is in the same building in which it opened with brewing capacity expanded and added seating on the second floor which doubles as event space. The taproom ambiance is industrial warehouse with the brew-house clearly visible from the inside sitting area. When the taproom is sparsely populated, the brewery noises add to the ambiance. In warm weather, the outdoor seating areas get a lot of use.
The beers are English inspired with West Coast IPAs, and Pale Ales leading the way along with a few stouts and porters. In the winter additional beers lean German, and in the summer the beers are lower ABV. Limited food is offered in the taproom (a vending machine with snacks including jerky), but food trucks are usually present out front during the dinner hour.
The beers at Stoup started out well made and over the years the brewers have increased their prowess making them one of the acknowledged better breweries in Seattle. The taproom and beer garden are family and pet-friendly while the event space is 21+.
Bad Jimmy's Brewing Company.
4358 Leary Way NW. Established in December 2013.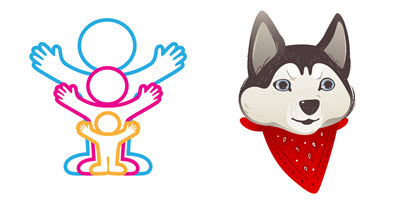 My friends and I were serendipitously present on the second night of business for Bad Jimmy's. The beer lineup at the time included big pale ales and bigger IPAs along with a stand out Habanero Amber red ale that burned all the way down. That amber is almost always on tap these days.
The brewery is bang across Leary Way from Hale's which makes for a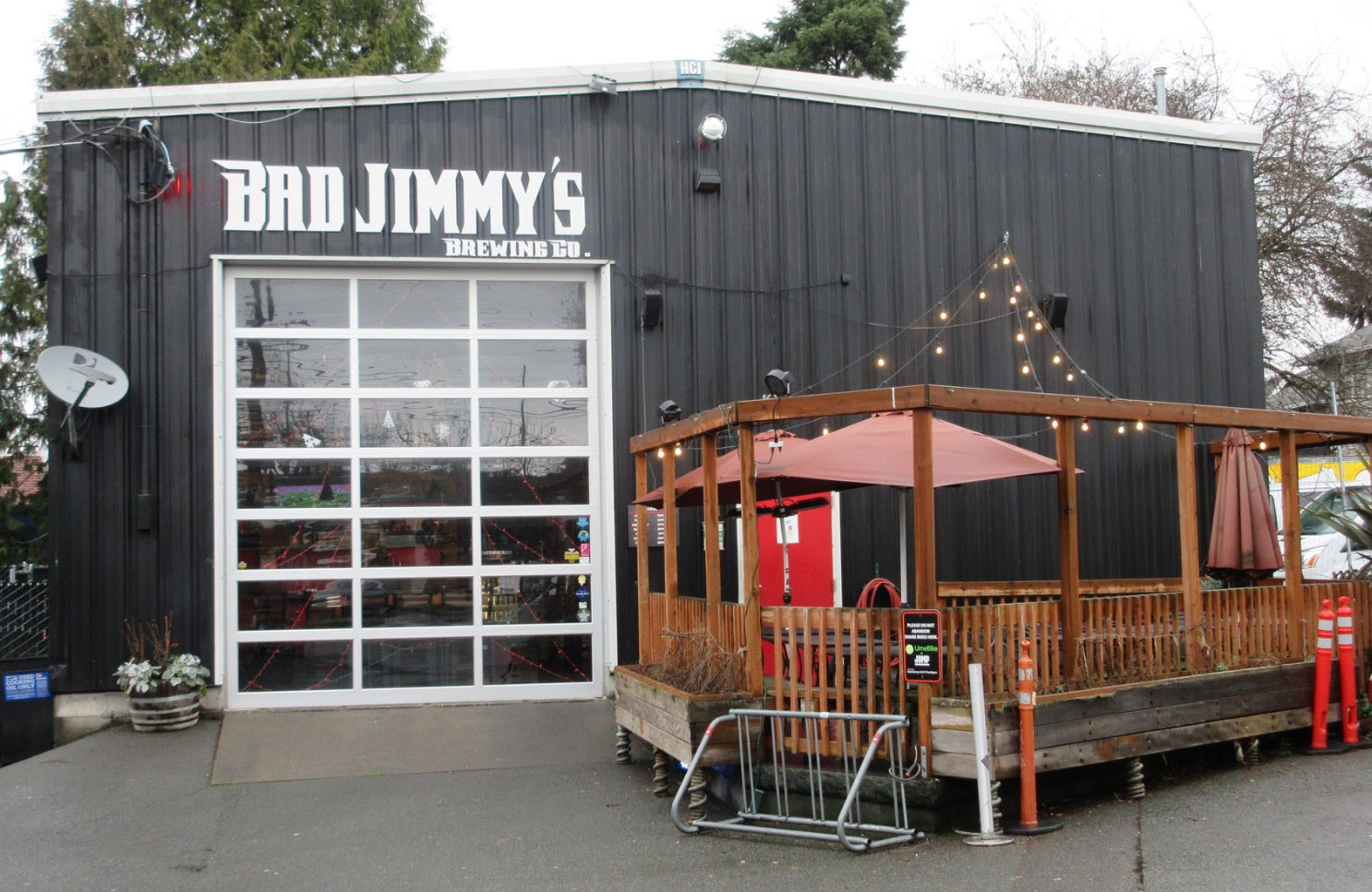 nice limited pub crawl. The ambiance is blue collar, glorified industrial garage with a cozy taproom and the bar clearly visible from the entrance. An outdoor area with limited seating is available for use during nice weather. Despite the austerity of the taproom the greeting and interaction from behind the bar are friendly and welcoming. No food is available in the taproom but the brewery is surrounded by eateries and Bad Jimmy's encourages patrons to bring in food or have it delivered.
Lucky Envelope.
907 NW 50th Street. Established in May 2015.

A Lucky Envelope refers to a Chinese custom of gifting money in a red envelope usually from the older generation to the younger. The brewery is housed in a utilitarian building of the usual Ballard warehouse or light industrial ilk. The taproom is a little cozier in feel due to the lowered ceilings while still being roomy. An outdoor seating area is available for use during nice weather.
Lucky Envelope drew notice right out of the gate by winning a medal at the Great American Beer Festival for their Helles Lager in 2015. The Lager, ENIAC Mosaic IPA, and the Raspberry sour are almost always on tap and worth a try. The beers on tap are usually split between ales and lagers and as with many Seattle breweries, have improved over the years as recipes and processes get dialed in.
The greeting from behind the bar is usually friendly and helpful. Some snacks are available, and food trucks are occasionally on-site but not reliably so. Check the website for the schedule.
Lagunitas Brewing.
1550 NW 49th Street. Ballard location opened in January 2017.

When Hilliard's Brewing was sold to Odin, the beer kit remained as a potential turn-key system. Lagunitas bought the building and put it in service to brew beers made on location. While they started with a couple of less than stellar on-site brews, the beer is much improved.
The taproom is roomy and well lit and an outdoor seating area is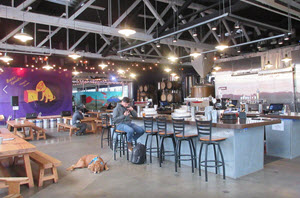 available for use during nice weather. A pool table is available toward the back of the seating area and the beer kit is visible from all parts of the taproom. The greeting from behind the bar is friendly, energetic, and helpful. They have a pub food menu to feed the hungry. Lagunitas is a fully owned subsidiary of Heineken.
Obec Brewing.
1144 NW 52nd Street. Established in August 2017.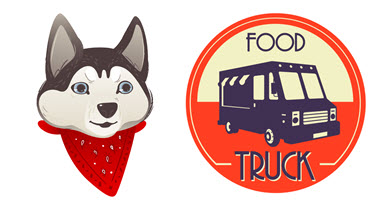 Obec, (pronounced oh-betz, Czech for community), is within plain sight of Stoup and just around the corner from Reuben's in yet another Ballard light industrial site. The taproom with its large seating area is L-shaped and yet feels cozy due to the liberal use of wood around the bar area. The lack of a TV lends to a laid-back feeling. I am always calmed when I visit Obec. The greeting from behind the bar is friendly and helpful. An outdoor seating area is available for use during nice weather.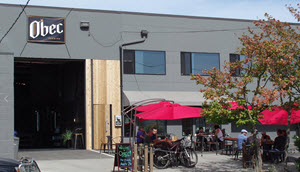 The tap list usually contains at least one Czech style beer – the Pils – and usually more. The ales lean toward IPAs, porters, and stouts with the occasional Belgian style triple or quad. Guest cider, wine, and cocktails are also available. The brewer has admitted that he didn't expect the Pils to be as big of a hit as it was from the beginning. It's is my favorite pilsner in Seattle even though it is sandwiched between the very fine pilsners from Stoup and Reuben's.
The taproom offers some snacks to appease you until the food truck arrives. Check the website for the food truck schedule – as with most places the truck shows up around 3 pm – and note the food trucks present at Stoup and Reubens, both just a short walk away. The taproom is 21+ and pet-friendly.
Fair Isle Brewing.
936 NW 49th Street. Established in January 2020
Fair Isle is the latest addition to the list of breweries in Ballard and a short walk from Lucky Envelope, Populuxe, and Reuben's Taproom. The new brewery is located in buildings that formerly held an electric company and an orchid farm.
The building is nondescript and painted Seattle camouflage gray. As you step in the door you see seating areas to your right and left and the bar in front of you. The space is appropriately barn-like (in feeling if not volume) with exposed wood beams and wood lath ceilings.
House beers are mostly saisons of varying strength and composition. Also available are guest beers, impressive in their range from lagers, ales, and mixed fermentation beers; guest wine; and guest ciders. Beers are available in various serving sizes from 0.18 liter to 0.5 liter. Flights are not available but you can get a splash of beer to taste to help you decide. Fair Isle bottles some of their beers. The atmosphere in the taproom is relaxed I think in part because of the lack of a television or loud sound system in addition to the warmth of the decor. Due to the types of permits that Fair Isle holds the taproom is 21+ and pets are not allowed inside.
Urban Family Brewing.
1103 NW 52nd Street, Seattle 98107.

Urban Family is the latest addition to the great Ballard brewery collection, opening in February 2020. However, they are not new to the neighborhood. Urban Family started in a small location on Ballard Avenue where they brewed their beers in a cramped space in the back. They then moved to the Magnolia neighborhood and now have come full circle and moved back to Ballard.
The new location is right in the center of the Ballard brewery scene: right across the street from Stoup Brewing, and a stone's throw from Rueben's.
Urban Family Brewing is known for it's Hazy IPA's and fruity sours plus they will be including some brews from some of the nearby "competition" in their tap list. The shiny new facility has a lower family-friendly floor and an over-21 loft area for those with an aversion to children.
And those Ballard breweries that passed on or moved on...
Ballard breweries that have closed include Hilliard's Brewing, which is now the site of Lagunitas; NW Peaks formerly located in the Bit Saloon, now housed in the former site of Spinnaker Bay Brewing in Columbia City; 2nd Chance Brewing, which never had a taproom so never made much of an impression; and, of course, Red Hook, which opened in an auto repair garage on Leary Way before absconding to Fremont decades ago.
Here are some useful additional resources on the subject of breweries in Ballard and beyond:
12 Essential Breweries in Seattle from Eater Seattle.
About the author of this guide, Denny Gmur:
Denny is a retired chemist who has lived in Ballard since 1976. He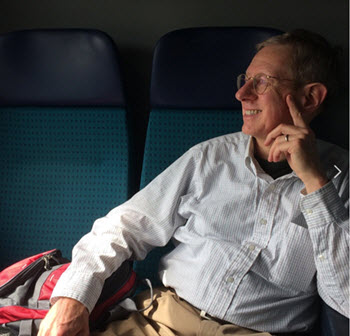 discovered an interest in beer and beer tasting at about the same time as he moved into the neighborhood. The interest led to craft beer starting with Anchor beers and Bert Grant's beers from Yakima Brewing and Malting. His wife started him down the path to homebrewing in the mid-80s. Since Redhook came into being, Denny has haunted almost every brewery in Seattle. You can read about Denny's beer adventures over on Brewery Trippin.