Ballard Seattle real estate 2007 versus 2017
Posted by Conor MacEvilly on Thursday, February 22, 2018 at 11:32 AM
By Conor MacEvilly / February 22, 2018
Comment
How does the current Ballard Seattle real estate market compare to the 2007 bubble market?
Around 10 years ago in 2007, the US real estate market began to implode and dragged Seattle along with it. The Seattle market was one of the last major cities to be affected and one of the first to emerge from the bottom of the market in 2012.
Today, the Ballard and Seattle real estate markets are booming, with Seattle consistently being at, or near, the top of US cities for home price increases.
Ballard Seattle is a sought after neighborhood by many home buyers. Ballard has it all! Just like all Seattle neighborhoods, Ballard Seattle homes for sale are attracting multiple offers and about 50% of Ballard homes selling for above list price.
So how does Ballard Seattle real estate in 2018 compare to the last price surge in 2007?
I looked at the following real estate statistics for between 2005 and 2017.
Median sale price.
Number of months of inventory.
Ratio of the sale price to the list price.
The number of homes for sale compared to the number of sold homes.
All data was taken from the North West Multiple Listing Service (NWMLS). Note that MLS data only goes back to 2005, no data is available for the years prior to that.
Ballard Seattle homes for sale price trend.
The graph below shows how the Ballard real estate market peaked in 2007 with a median sale price of $490,000 and subsequently dropped by 19% to $398,000 by early 2012.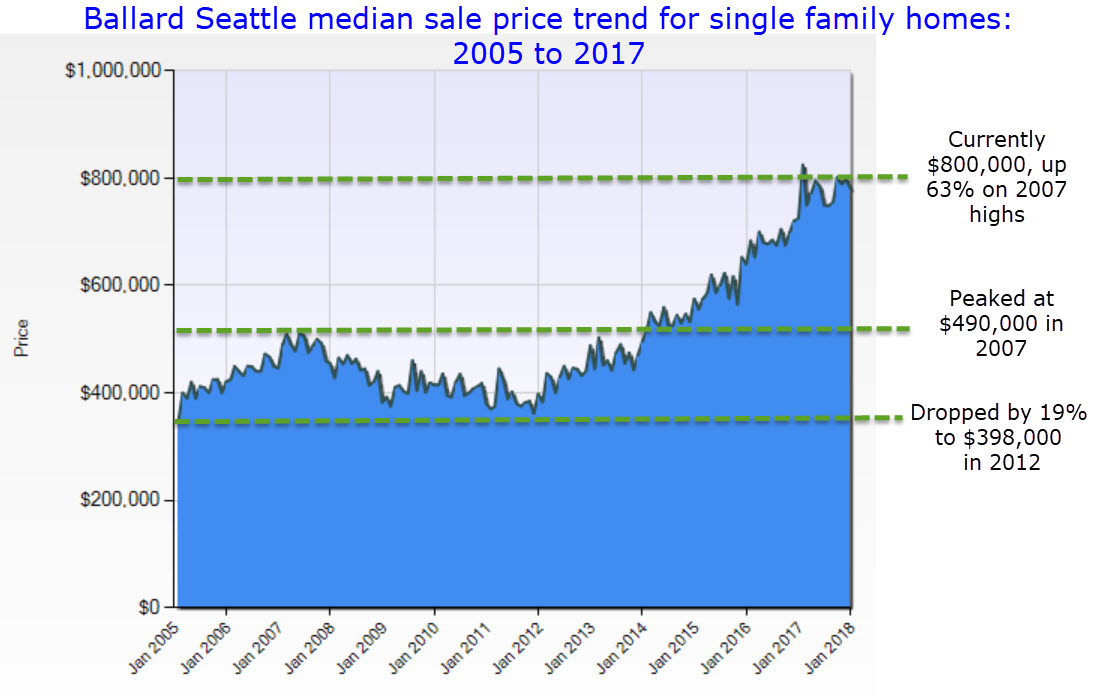 In the spring of 2012, home prices began to recover and currently, the median Ballard home price is around $800,000, a whopping 63% about 2007 prices. Prices are now double those seen at the bottom of the market in 2012. Yup, that was the time to buy! But as they say, foresight is a great thing.
So, obviously, compared to 2107, Ballard home prices are a lot higher in 2018. Not that you needed me to tell you that one.
Ballard Seattle homes for sale: inventory.
The number of months of available inventory is usually used as a measure of how fast homes are selling and how much supply there is. In a balanced buyers-sellers market, we would have 6 months of inventory. In this strong seller's market, however, we have only about a 2 week supply. This means that if no new listings came on the market, there would be no homes for sale within 2 weeks.
This is similar to what was seen in 2005 and 2006 when there was about a month's supply of homes. The number of homes for sale in Ballard Seattle and elsewhere in the Puget Sound area has been acutely low for the past few years. This has led to increased competition among buyers for the limited inventory, driving prices up to all time highs.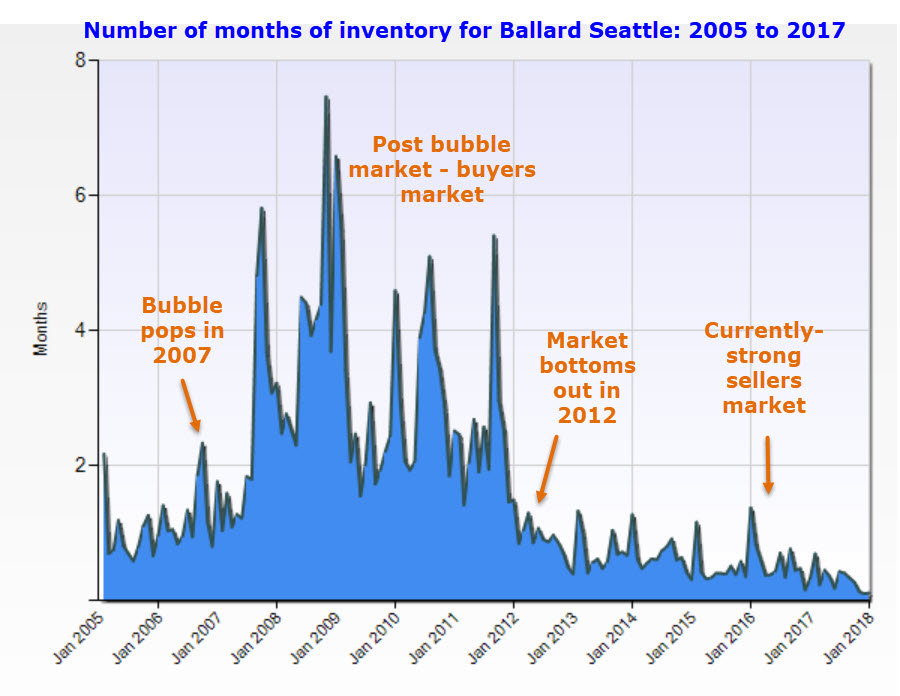 Comparison of the sale price to list price for Ballard homes.
The graph below shows the percent ratio of the sale price to the list price for single-family homes. In 2005, the ratio was 104%, which means, on average, homes were selling for 4% more than the asking price.
Since the market turned around in 2012, the ratio has continued to increase for less than 100% and currently, the average is about 8% above list price.
So compared to 2005 at least, Ballard homes are currently, on average, generating higher offers relative to the list price.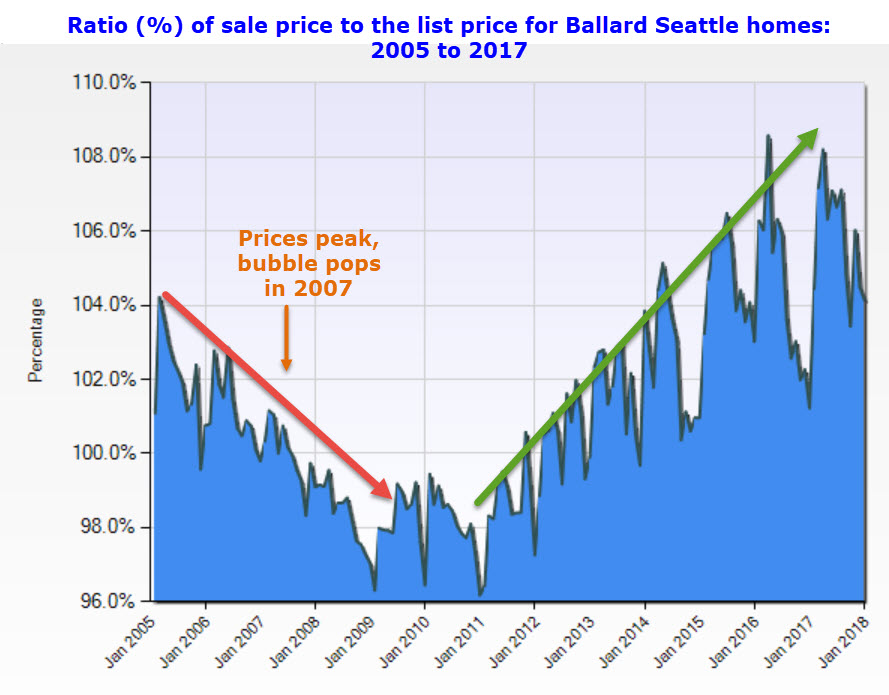 Note that I don't have data for the years prior to 2005. The dotcom bubble popped in 2001 followed by a drop in home prices which started back up around 2003.
Number of sales versus the number of listings for Ballard Seattle real estate market.
The graph below compares the number of Ballard home sales (green) compared to the number of homes that are listed for sale (red).
Just like 2005, almost all homes that are listed for sale will sell which is not unexpected when there are only 2 weeks of inventory (see above). In 2007 you can see that the supply of homes is starting to increase above demand levels.
After the bubble popped in 2007, the number of homes that sold exceeded the number of listings. If only we had that number of homes for sale right now in 2018! Would help a lot of buyers and they would probably all still sell quickly.
So, are we in another real estate bubble?
Foresight is a great thing and it's easy to look back and say "that's where the market started to change". However, nobody knows for sure what the market will do over the next few years.
Will we continue upward, plateau, or drop sharply like 2007? Regardless of what happens, home prices cannot continue on the same upward trajectory at the same pace, eventually, only 10% of Seattle will be able to afford to buy a home,
The real estate market trends to go in 7-year cycles. This one started in 2012 when Ballard home prices started going back up again. Based on that, the current cycle would be "expected" to end around 2019.
However, Seattle is now a different town, booming with Hitech companies, with people flocking here. So the old rules might not apply, or not apply to the same extent. But If homes become too expensive in relation to salaries, Seattle might lose some of its gloss?
Even if the market does go in the opposite direction for a while, it (allegedly) will be nothing like 2007. Back in the "good old days" any Tom, Dick, or Harry was approved for a mortgage with dodgy sub-prime lending and could purchase a home way beyond their means. Where art thou now Washington Mutual?
To get a mortgage now, you have to have solid credit, stable employment, and usually need to make a substantial downpayment (20%) to be competitive in the Ballard real estate market. Plus, about 15% of Ballard listings are bought with cash. This should make home buyers more resilient if the market does "correct" a little compared to 2007.
The 2007 market implosion was accelerated by those buyers who had little or no equity because of low, or no, downpayment loans which meant that they were quickly upside down on their loans and in short sale territory.
Only time will tell, however. Will be interesting to see what happens with Ballard Seattle real estate over the next few years. The world is hyperconnected now and world economies can change quickly.
Stay tuned!