Ballard Seattle Real Estate Market Update September 2018
Posted by Conor MacEvilly on Thursday, September 27, 2018 at 11:40 AM
By Conor MacEvilly / September 27, 2018
Comment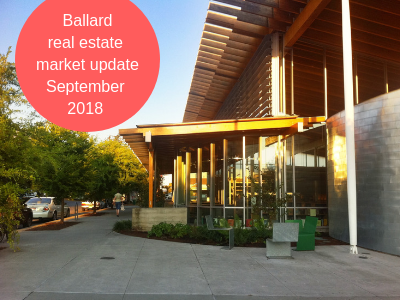 The Ballard neighborhood Seattle is a popular choice for many home buyers and like much of Seattle has seen a strong seller's market since the market started heading upward in 2012.
However, over the past few months Ballard real estate, like the rest of Seattle, has started to show signs of slowing down.
So what's the current state of affairs?
If you are interested in Ballard Seattle homes for sale, this post provides you with an update on the most recent numbers and will give you a good idea of how the real estate market is doing in this Seattle neighborhood.
I looked at the sales of both Ballard single-family homes (houses and townhomes) and Ballard condos. For more reliable real estate statistics, it is always better to look at a larger area and longer-term trends than focusing in on any single month. All data was taken from the Northwest Multiple Listing Service (NWMLS) and includes the latest data (August 2018).
Note: for the purposes of this post, I combined data for the neighborhoods shown in the map below. Yes, this is not just Ballard but if you look at just Ballard sales in isolation there would have been too few sales to generate reliable statistics. Plus, these adjacent neighborhoods would be expected to behave in a similar manner to Ballard home sales.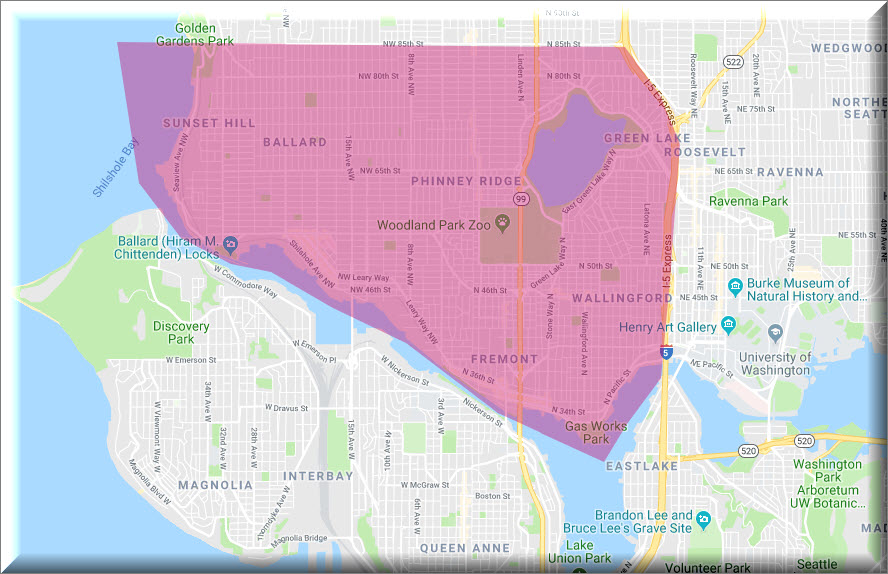 First, let's take a look at Ballard home prices.
The graph below shows how the monthly median sale price of both single family homes (houses and townhomes) and condos has varied over the past 10 years.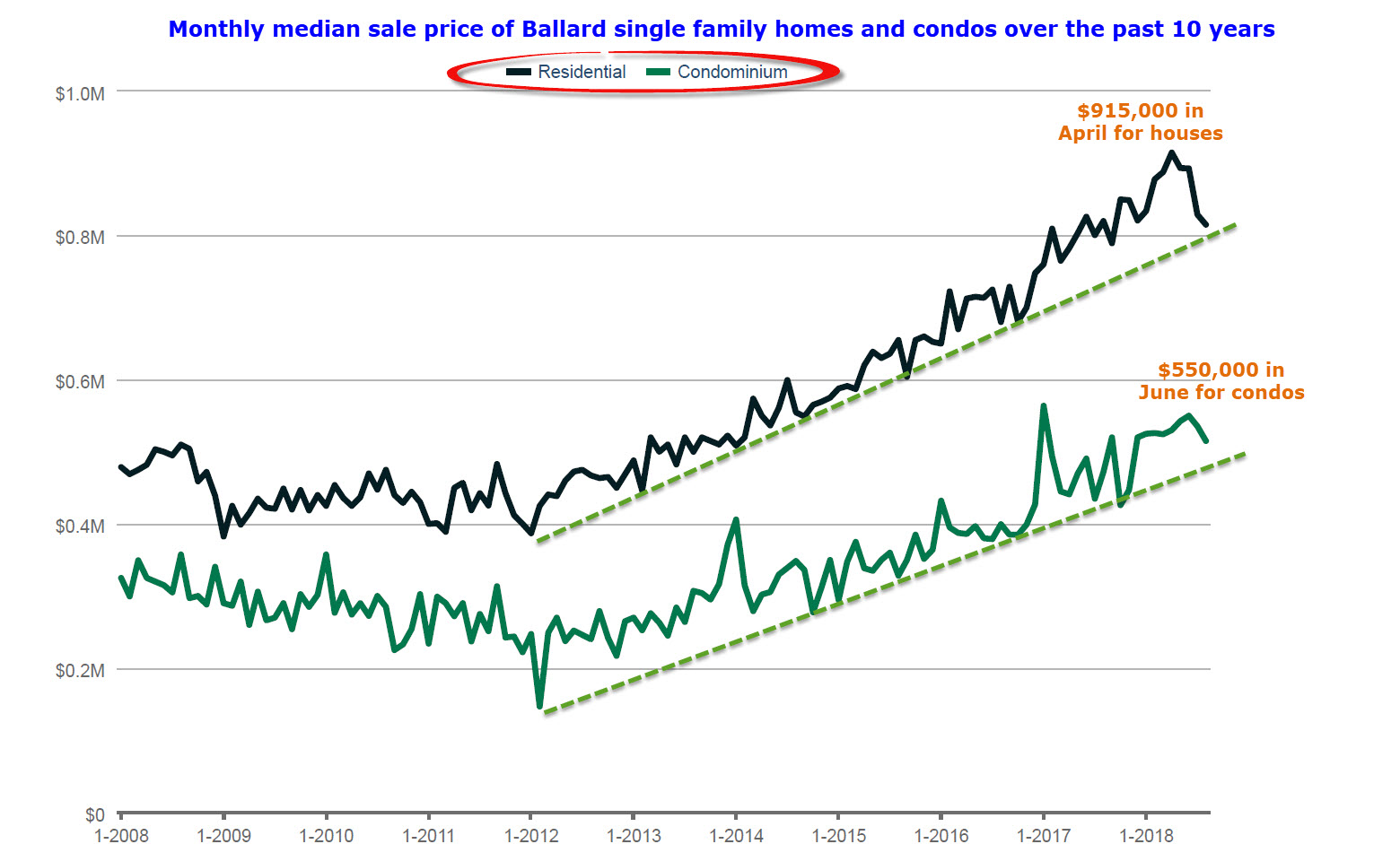 Since 2012 when post-bubble prices bottomed out, sale prices for both houses and condos have been trending upward. Home prices do not go up in a straight line but tend to trend in a certain direction while bouncing up and down within that trend depending on the time of year. All the more reason not to obsess over / over-analyze a single month's data.
For the Ballard Seattle, median sale prices for both single-family homes and condos have been trending upward and bouncing off a lower level trend line.
The longer-term trend has been upward, but the shorter term trend has been downward. House prices have dropped for the past 4 months since peaking in April. However, August median sale prices are still above the upward trend line.
My prediction is that if prices drop below the trend line for 3 consecutive months, then the market will head downward for a longer period.
Next up, let's look at Ballard housing inventory.
Housing inventory is measured in months. For example, 2 months of inventory means that if no new listings came on the market, there would be no homes for sale after 2 months.
The plot below shows how the inventory of homes for sale in Ballard has varied over the past 5 years.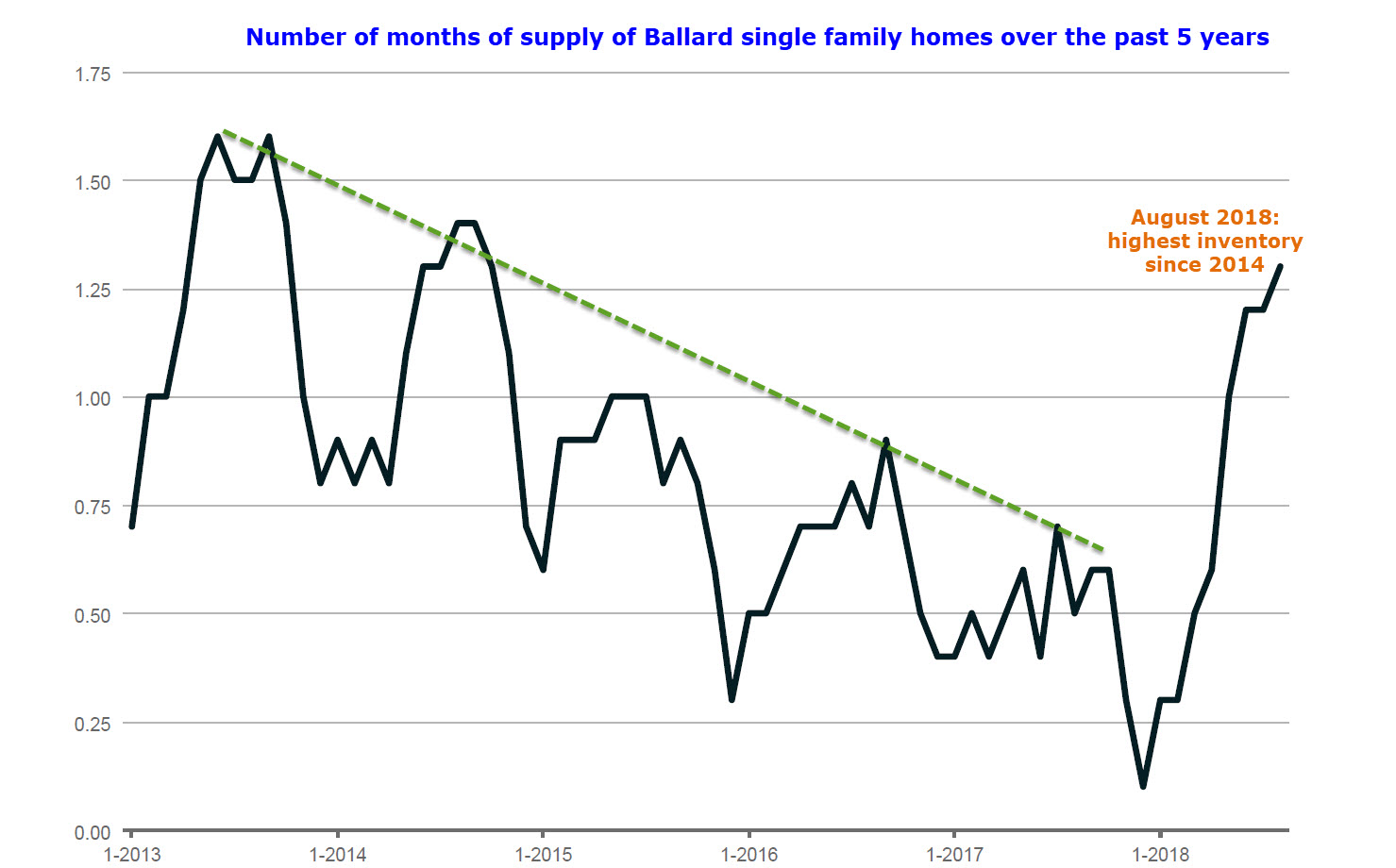 Since 2013 the inventory had been trending downward as prices trended in the opposite direction. In the last few months, the supply of homes for sale has broken out of that downward trend and currently, we have the most homes for sale since 2014.
This is not because there are a lot more new listings coming on the market. The recent increase is due to homes taking longer to sell and cumulating on the market. Definitely, good news if you are on the buyer side of the equation.
How much are Ballard homes selling for relative to the listing price?
When the market was booming, most homes were selling quickly and many for well over asking price.
The graph below shows how the ratio (%) of the sale price to the list price has varied over the past 5 years for the Ballard Seattle real estate.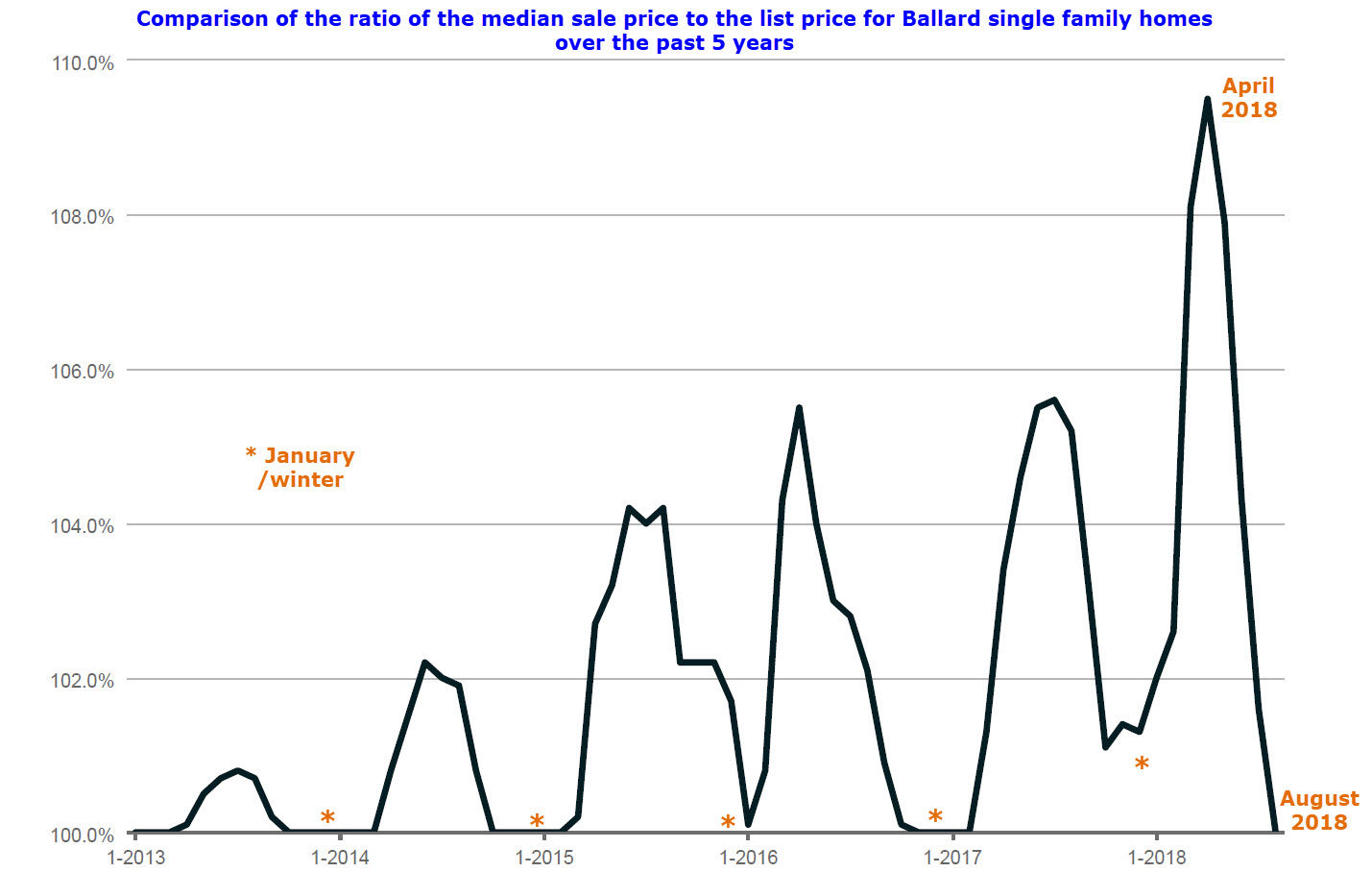 Since 2013, homes were, on average, selling for more than list price during the peak spring and summer months and the ratio has been trending upward, hitting about 110% in this spring of this year. Over that same time period, during the winter months, homes sold for, on average, at list price. (100%).
Interestingly, for August 2018, the ratio has already dropped to "winter levels", i.e. 100%.
So what's the market going to do next?
The quick answer is, nobody knows for sure. Foresight is a great thing. Regardless, we are at an interesting stage in the market.
Previously, all the market signals indicated an upward market; increasing, falling inventor and homes selling for more and more above list price.
Currently, although Ballard home prices are still above the upward trend line, the last 4 months of price drops combined with the increased inventory of homes for sale, plus more homes selling for closer to list price, indicate that the market might be plateauing, softening or about to head downward.
For home buyers, this is probably music to their ears after years of bidding wars and missing out of homes.
For Ballard sellers, although the market might be softening, don't forget, that your home has accumulated a lot of equity over the past 6 years and have essentially doubled in value since 2012.
We will need a few more months data to see if these trends will continue. Should be interesting to see what happens.
Stay tuned!

The above article was written by Conor MacEvilly. Conor is a Realtor living in the Ballard neighborhood of Seattle. He works with both home buyers and sellers in the greater Seattle real estate market and on the Eastside in neighborhoods like Redmond, Bellevue, and Kirkland.
Conor can be contacted directly via his cell at 206-349-8477 or via email at conor@remaxonmarket.com. To learn more about what makes Conor tick, click here.