Beware Of These 5 Common Real Estate Ads
Posted by Conor MacEvilly on Tuesday, October 24, 2017 at 5:50 AM
By Conor MacEvilly / October 24, 2017
Comment
Beware of real estate advertizing with lots of astericks!
The first law of advertising is to avoid the concrete promise and cultivate the delightfully vague. John Crosby.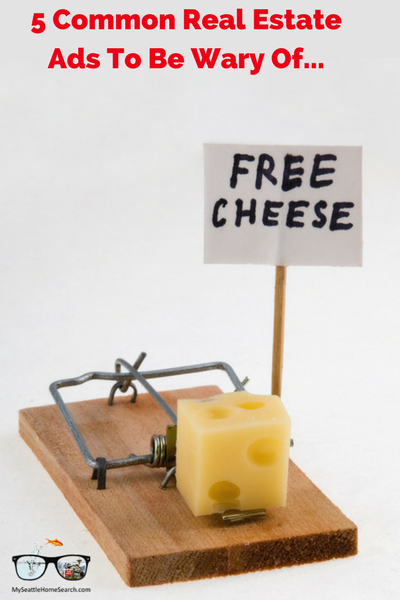 As with all advertising and advertisers' attempts to get you to buy their products and use their services, the real estate world is not immune to, let's say, over embellishing. In an ocean of advertising, you have to do something to stand out I suppose. They need to hook your attention and hook it quickly before your short attention span, advertising-jaded mind, stumbles to the next exciting, act now offer.
Some embellishment is fine in general, but we're talking about real estate here, not a pair of striped socks for $4.99 on Amazon! This is your home and potentially involves thousands of your dollars, or worse, if you make a bad judgement call.
Here are some common types of real estate advertising targeted mainly at home owners that could potentially lead you down the garden path (and not in a good way).
Ad #1: Increadible low interest rates, refinance today!
The little brightly colored ad in the sidebar on your online newspaper, proclaims it can get you a 30 year fixed rate mortgage of 3.25%.
Amazing, you think to yourself. My bank just quoted me 4.0%. I should check these guys out.
You call the 1-800 number and someone in a state 2,000 miles away answers and then the sale pitch begins..... "Thank you for calling Too Good To Be True Mortgages, my name is Mark. Looks like you saw our great interest rate offer..... yada, yada yada!"
Mark now starts attempting to ingratiate himself to you. Eventually, after pulling teeth for 20 mins with Mark, you realize that the 3.25% rate is never going to happen, even if you had the financial stability of Bill Gates. The only way you might get it is by spending tens of thousands to buy down the rate by paying points (not a good idea).
It's highly likely that you will be quoted something akin to what your local bank or mortgage broker was quoting you. Also, God only knows what fees they would be charging you to refinance your mortgage. Plus more importantly, WHO ARE THESE GUYS? Basically, just a "company"you found on the internet with a bait and switch, highly misleading ad to sucker you in to call them. Screw that! Go local and decided if you want to go with a mortgage broker or a bank for a your refinance.
Regardless, whenever considering whether to refinance your home loan, you need to crunch all the numbers and decide whether it's really worth the effort and cost. Too many people boast about their interest rate like a badge of honor, but how much did it cost them to get that low rate? How much are the closing costs, will you be paying points to buy down the rate, how many months or years will it take you to see the benefit of the lower monthly payments? And, don't forget, unless you go for a reduced payment period (10 or 15 years) you will be back to a 30 years mortgage again.
Ad #2: If your home doesn't sell in 60 days, I'll buy it myself!
These kinds of Realtor ads have more asterisks than Barry Bond's batting statistics!
Basically, the agent is promising that in the event that your home fails to sell within an agreed upon number of weeks, for an agreed upon sale price, they will have to buy your home themselves.
"Sounds good. Where's the details" you ask?
"See our website for details" they say.
You go to the website. Good luck finding that information on their website. They will probably have something like Order a FREE special report on Your Home Sold for a Guaranteed Price, or *Restrictions apply, Call 1-800-xxx-xxx for details.
And then at the bottom of the page will sit *Seller and agent must agree on price and terms. I bet those terms and conditions are stacked in favor of you know who. How much will that agent pay for your home compared to what it was listed for in the first place?
It's a sales gimmick, pure and simple. Statistics show that about 70% of home sellers go with the first agent they speak with. Gimmicky agent wants to make sure that he is that agent by hooking you in with a trinket.
If trinket agent can't sell you home in 60 days in market where homes are selling in 3 weeks, why would you go with that agent? Do you trust the pricing that a buy-back agent quotes you compared to an agent who does not offer that "benefit".
You are better off just going with an agent who has a proven track record and doesn't need gimmicks to keep their business ticking. Ask your friends for recommendations, learn how to interview Realtors, interview 3 of them and go with the one who is the best fit for you.
Ad #3: Reverse Mortgages- the solution to all your financial problems!
You're over the age of 62 and either own your home outright or are close to paying off the mortgage. You are sitting on a big chunk of untapped, juicy equity. It's likely you are getting lots of mailers targeted at you to avail of a reverse mortgage.
If you don't have a lot of fluid cash in your checking account, those reverse mortgage mailers can seem like an easy fix to covering some expenses like expensive medical bills or replacing that leaking roof. The most common reverse mortgage program is the FHA-insured Home Equity Conversion Mortgage (HECM) and this year it was updated with added protection for borrowers.
Reverse mortgages can be a perfect fit for many older home owners but you need to know what you are getting into and be wary of whom you are getting advice from. Get advice from a government approved counselling agent who will have your best interests at heart. Be wary of a reverse mortgage salesman who might tout theses loans as the solution to all your problems, encourage you to borrow more than you need or to use your new found cash for stuff you may not need… like long term care insurance or annuities.
It's your home and your hard earned equity. Don't have someone pressure you as to how you should use it. If you don't understand the costs or features of a reverse mortgage, then you should walk away. Also, if you feel like you are being pressured to quickly complete the deal then you should walk away too.
Ad #4: We'll Buy Your Home for Cash!
No doubt you've seen them before. Those cheap looking, handmade signs stuck in the grass beside the road proclaiming We Buy Ugly Homes for Cash or We'll pay Cash for Your Home, Call this number today!
Or you might have been bombarded by mailers declaring the same thing. You are being targeted because your home sits in a good location and investors / developers know that, for the right price, they might be able to flip your home for a nice healthy profit. Or they might just bulldoze your home and build a new monster sized one there. As they say, they're not making any more land, especially in big cities.
Do these investors have your best interests at heart? Probably not.
Are they trying to get your home for as little as possible? Does Pinocchio have wooded balls?
Despite that, for some people, these companies might be a good fit for their particular needs for where they are in their lives right now. There are pros and cons to selling your home to cash investors. On the upside, you get a quick cash sale, you'll be selling the home as-is and not have to do any repairs, there's no appraisal to worry about plus you won't have to pay any Realtor fees.
On the downside, you might get a lot more for you home if you listed it for sale on the open market, even allowing for agent fees etc. You probably won't have any personal representation advising you what to do. Are you getting completely suckered by these guys and giving away home for a lot less than it's worth?
If you do consider selling your home to an investor, make sure to get two other, independent pricing opinions and then compare your NET profit for the each scenario. If there's not a big difference and you don't want the hassle of putting your home on the market, then go for it. But if it looks like you could make a lot more net profit by going the conventional Realtor route, then you may want to reconsider.
Ad #5: Overly hyped or plain misleading real estate listings.
As they say, let him without sin cast the first stone.
And so, although of the lesser sin variety, I do have to give us Realtors a wee slap on the wrist for some of our overly-hyped, overly-embellished real estate listing descriptions. Sure, we're just trying to do our best to serve our sellers and make sure the home sells but do we have to hype the bejasus out of every home. DON'T YOU LOVE THOSE LISTINGS WHERE THE PROPERTY DESCRIPTION IS ALL IN UPPER CASE LETTERS?
Over-selling a home is one thing, but intentionally misleading potential home buyers about a home is another thing. Some examples include:
Taking photos at odd angles to hide something they don't want you to see like big power lines, a shipping warehouse behind the home or the 6 story condo development under construction next door.
Adding a bed and dresser in the basement and saying that it's a bedroom too.
Minutes to downtown when in reality it's 45mins on a good day.
Including the garage in the total finished square footage.
"Newer roof" for a roof that was installed 12 years ago.
Not disclosing issues with the home that are clearly obvious when the home is viewed by a buyer or an agent.
These listings are not a financial risk per se, just more of a nuisance than anything. You'll vote with your feet the minute you go see the home. However, the listing agent has wasted your time and has managed to perpetuate the ever fantastic view the public has of us real estate agents.
To avoid wasting your time on these deceptive listings, learn how to read between the lines of online listings. There's a lot you can tell from carefully looking at the photos and using some Google tools like Streetview and Google Earth to see the stuff they might not want you to see.
In summary, sometimes, somethings are just too good to be true, as much as you might want them to be true. Take all advertising, be that real estate or otherwise, with a large grain of salt and question everything.

Here are some great additional sage advice from other real estate industry experts:
Top 10 Real Esate Myths Debunked from Kyle Hiscosk.
Can St. Joseph Help You Sell Your Home? from Joe Boylan.
The 6 Common Home Seller Mistakes To Avoid from Maria Mastrolanardo.

The above article "Beware of These 5 Common Real Estate Ads" was written by Conor MacEvilly. Conor is a Realtor living in the Ballard neighborhood of Seattle. He works with both home buyers and sellers in the greater Seattle real estate market and on and on the Eastside in neighborhoods like Redmond, Bellevue and Kirkland.
Conor can be contacted directly via his cell at 206-349-8477 or via email at conormacevilly@gmail.com. To learn more about what makes Conor tick, click here.