Ballard real estate market update for houses: May through November 2017

Ballard Seattle is a popular choice for many home buyers and like much of Seattle, has seen a strong sellers market over the past few years. Obviously that's good news for sellers but it makes for a tough market for home buyers looking to get into the Ballard neighborhood.
If you are interetsed in Ballard Seattle homes for sale, or more specifically a Ballard house, here's an update on all the numbers you will need to give you a good idea idea of how the real esate market is doing in this Seattle neighborhood.
I looked at the sales of Ballard single family homes (houses only, excludes townhomes and condos) over the 6 month period covering May through October 2017. For reliable real estate statistics, it is always better to look at larger time periods rather than focusing in on any single month. All data was take form the Northwest Multiple Listing Service (NWMLS).
This update specifically looks at houses only. Separate updates for Ballard condos and townhomes will follow in sepatate posts.
What's the average sale price of houses in Ballard?
I looked at the sale price of single family homes based on the number of bedrooms. Not unexpectedly, as the number of bedrooms increases, so does the average sale price. As shown below, prices averaged from $684,000 for 2-bedroom homes to $1,043,000 for Ballard houses with 4 or more bedrooms. Three bedroom single family homes sold for $816,000.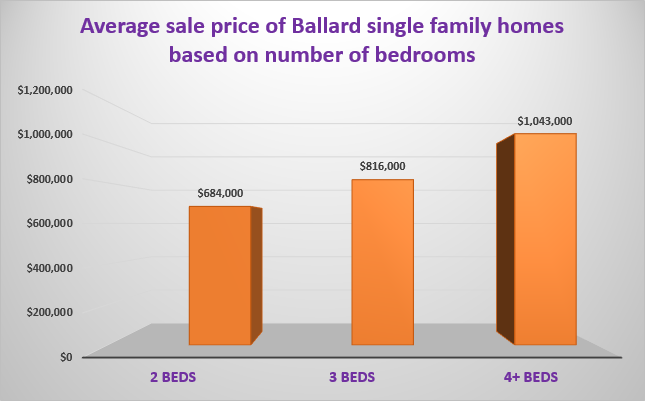 ...