Christmas tree lots in Ballard Seattle for 2020
Posted by Conor MacEvilly on Thursday, November 19, 2020 at 2:32 PM
By Conor MacEvilly / November 19, 2020
Comment
Where can I buy a (real) Christmas tree in the Ballard area?
There's no experience quite like cutting your own live Christmas tree out of your neighbor's yard. ― Dan Florence, Zombies Love Pizza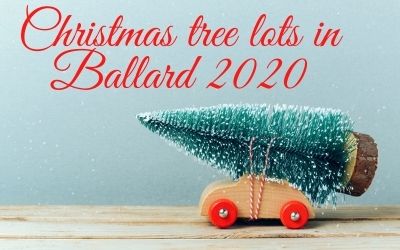 Or, failing that...
...if you live in the Ballard neighborhood and want to get yourself a tree for the holidays, here's a handy list, a map, and details of all the local Christmas tree lots in Ballard.
Whether you buy "the perfect" tree the day after Thanksgiving or a "that's all there was left" tree slightly intoxicated on Christmas eve, there are plenty of Christmas tree lots in the area. Also, whether you want to call it a Christmas Tree or a Holiday Tree, I'll leave that up to you. Just have fun regardless.
Top Banana.
Located right next to Ballard's legendary Top Banana fruit and veggie store, this lot always has a friendly, cheerful crew but the site can be a bit of a squeeze. If you need a really tall tree, this is the place to go.
Address: 6501 15th Ave NW, Seattle 98117.
Phone: 206-783-7786.
Hours: 9 am to 9 pm.
Starts selling trees on November 20th.
Years at this location: Forever!
Types of trees sold: Nobel, Douglas, Grant, Frazier, and Nordmann fir.
Where do you get your trees? Shelton and Chehalis.
SWANSON'S NURSERY.
Local institution Swansons Nursery, where gardening enthusiasts openly salivate for most of the year, also sells Christmas trees. They guarantee any plants they sell will survive or you can return them, but I'm guessing that doesn't apply to their Christmas trees.
You will probably pay a little more for a tree at Swansons compared to the seasonal pop-up lots. However, you can't beat the setting and the ambiance.. cool light displays, a big snowy scene train set, a cozy cafe, and lots of other goodies to ogle at and try to resist buying. Alas, no reindeer this year because of COVID, but they will be back next year.
Address: 9701 15th Ave NW, Seattle, WA 98117.
Phone: 206-782-2543.
Website: https://www.swansonsnursery.com/
Hours: 9am to 8pm November 27th to December 13th and then 9am to 6pm up to Christmas. Open from 9am to 3pm on Christmas eve.
Types of trees sold: Burton Blue, Noble Fir, Nordmann Fir, and Fraiser Fir. Trees are available in three different densities - Alpine, Forest Edge, and Town Square. Real fancy!
Most popular selling tree? "Probably the Nordmann fir".
St. Alphonsus Middle School and the 77-Scouts and Crew 100G.
This is the 64th year that the Scouts have been selling trees in Ballard. This year the 77-Scouts (boys) will be joined by Crew 100G (girls). Proceeds from the sale go to various scout activities plus a portion goes to local charities.
Located just to the north of Ballard Market in the schoolyard of St. Alphonsus. Do your grocery shopping and then pick up a tree. It's a nice big lot so you can get a good 360-degree look at the trees before picking "the one". Note that this lot is closed Monday through Wednesday.
Address: 15th Avenue NW between NW 57th Street & NW 58th Street.
Website: http://troop100seattle.com/tree-lot-2/.
Starts selling trees: Friday, November 27th (until all the trees are gone).
Hours: Saturday and Sunday from 9am to 9pm, Thursday and Friday 2pm to 8pm, closed Monday through Wednesday.
Types of trees sold: Nobel Fir, Nordmann Fir, Douglas Fir, and their allegedly famous "Charlie Brown" trees.
When you find the perfect tree...
Donna's Trees.
Hit a bucket of golf balls at the driving range or play a quick 9 holes at Interbay Golf Center and then pick up a tree in the parking lot.
Address: 2501 15th Ave W, Seattle 98119
Phone: 206-307-2023.
Website: http://www.donnastrees.com/

From November 21st through December 23rd.
Hours: 9am to 8pm.
Types of trees sold: Noble fir​​, Nordmann fir, Douglas fir, Grand fir, Fraser fir, and Alpine fir.
Curry Family Christmas Trees.
Wedged into an appropriately wedged-shaped lot at 3rd Ave NW and Holman Road opposite QFC, this is another small lot but gets the job done. They always seem to order too many trees and have a bunch left on Christmas Eve.
Address: 8728 Holman Road NW, Seattle 98107.
Phone: 206-719-2583.
Hours: 9am to 8pm.
Types of trees sold: Noble fir​​, Nordmann fir, Douglas fir, Grand fir, Fraser fir, and Alpine fir.
Other, less "festive" spots to buy a Christmas tree in Ballard.
And if you just want a tree and be done with it and are not into agonizing over which one to pick like normal people, try the various supermarkets. Fred Myers has a decent selection in its garden centers or check out Ballard Market and Safeway for more moderately proportioned species (i.e. small trees).
Here's an alternative... get a permit and go cut one yourself in the mountains!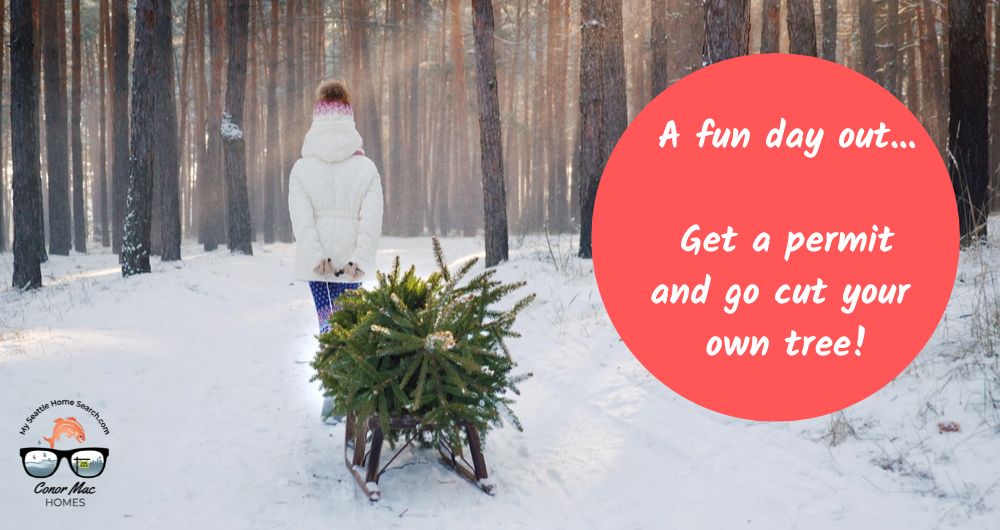 If you want to make a day of it, walk in the snow, and save a bunch of money (minus the cost of gas), then consider getting a permit and a bow saw. Then get your snow boots on and off you go. This is not the same as going to a tree farm with tractor rides and peppermint cocoa and crowds.
For just $10 you can cut a tree up to 15 feet tall in the beautiful silence of a snowy forest. It may not be perfectly shaped like the ones you can buy elsewhere (courtesy of some chainsaw trimming), but it will probably smell really good. It will definitely be better than Charlie Brown's tree! You don't have to drive too far from Seattle and can get one near the North Bend area.
For more information on cutting your own tree and how to get a permit, click here.
Have fun and Happy Christmas/Holidays!
This post was written by Conor MacEvilly, a Ballard Realtor since 2008 and a dedicated Christmas tree fan!