Do Solar Panels Increase a Home's Value
Posted by Conor MacEvilly on Wednesday, July 27, 2022 at 1:33 PM
By Conor MacEvilly / July 27, 2022
1 Comment
Solar panels are good for the planet and will make you feel good that you are doing something to help offset your carbon footprint with a green energy upgrade. They definitely add value in terms of greater energy independence but do they add any RESALE VALUE to your home? Will a home with solar panels sell for more than a similar home that does not have them?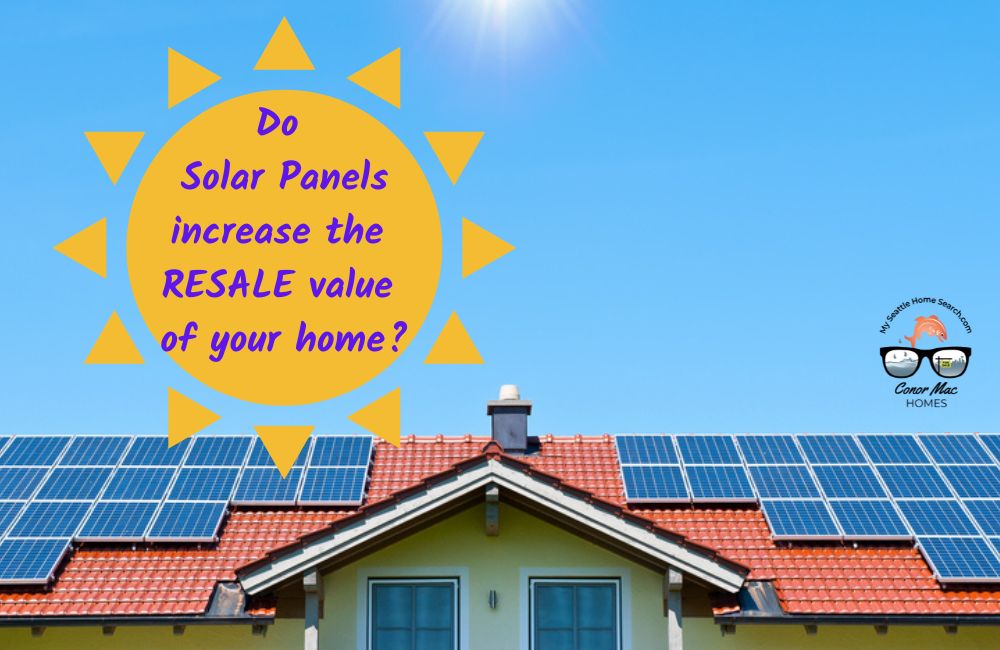 For this article, I asked real estate agents and professional appraisers in a different parts of the US for their opinions on the subject.
The answer as to whether solar panel installations increase the resale value of homes appears to depend on who you ask (solar companies versus Realtors and appraisers) and which part of the country the home is located (the sunny southwest versus the cloudier Pacific northwest including Seattle). And even where there is a stated impact on resale value, the return on investment is probably significantly less than the cost of the system.
But first, which US cities have the most solar panel installations?
By scanning satellite photos for solar panels on homes, a Californian company, Cape Analytics, came up with a list of "the most solar places in America". The data is from 2019.
San Diego: 10,195
San Francisco: 6,031
Riverside: 5,863
San Jose: 5,415
Los Angeles: 3,981
Phoenix: 3,644
Tampa Bay: 2,591
Denver: 1,776
Miami: 1,352
New York City: 1,190
Philadelphia: 913
Boston: 849
Washington, DC: 769
Seattle: 657
Dallas: 202
St Louis: 140
Minneapolis: 117
Houston: 110
Chicago: 75
Atlanta: 64
Detroit: 59
Cities in California tale the top spots with Phoenix in 6th and Seattle in 14th place.
Cape Analytics suggest that income and wealth had a lot to do with the list which explains why famously cloudy, but high-income Seattle has a lot more homes with solar than sunny Atlanta.
What the solar panel industry says about the impact of solar power on a home's value.
Many websites for solar panel companies tout the benefits of installing solar panels, just like how we Realtors tout the benefits of buying a home.
Companies repeatedly refer to two studies that show the benefit of solar installations on home values.
A Berkley study, from 2009, based on home sales in California found that solar energy systems increased a home's value by 3-4%.
A National Bureau of Economic Research (NBER) study from 2011 found that solar installations increased the value of homes by about 3.5% and was based on home sales in San Diego and California.
Using both hedonics and a repeat sales index approach we find that solar panels are capitalized at roughly a 3.5% premium. This premium is larger in communities with a greater share of college graduates and of registered Prius hybrid vehicles.
And yes, I had to look up what hedonics means.
Limitations of these studies:
Both of these studies only looked at home sales in California which, in general, has a lot sunnier climate than many parts of the US.
Californians are probably more environmentally conscious and pro-green energy than the average American.
Homes with solar power are likely more common in California.
These results were obtained back in 2009 and 201 when the real estate market was completely different and the bubble had burst so these numbers may not automatically translate to today's market or the rest of the country.
What real estate agents say about solar panels and home values: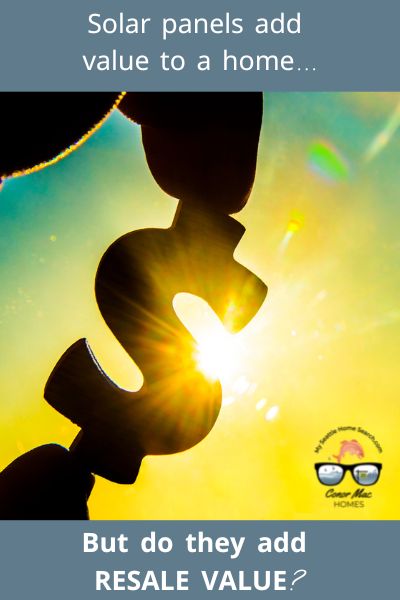 Personally, I listed a home in North Seattle about 5 years ago with a newer $25,000 solar panel installation sitting on the roof. The seller assumed that the installation would be a major selling point in the environmentally conscious Pacific Northwest. However, once the home hit the market, buyers showed little interest in the solar panels and were much more focused on the location of the home, local schools, and the amenities in the home.
That was 5 years ago and I have my own opinions on the subject but I checked with other agents in my office for their input. The general feedback was that when working with home buyers, few if any buyers express interest in wanting a home with solar energy. In addition, when they did view homes with solar, again the buyers didn't add much weight to the fact that the home had solar panels installed.
So what about Realtors who live in sunnier parts of the country?
Vicki Moore, a Realtor based in Pacifica in California (on the coast SW of San Francisco) says: "More people are talking about them and buying them. However, the number of homes that have come up for sale with solar is not significant. It's certainly a positive for marketing. Because of the sky-high home prices we've had for so long and the few houses that have them, it would be hard to separate out the dollars for solar".
John Cunningham, a real estate agent in hot and sunny Phoenix says: Solar has really taken off in Phoenix. Drive down just about any street and it seems like 1 in 4 houses have it. That's probably exaggerated, but not by much. Yes, it increases value. There's an addendum created by a certified appraiser that plugs in numbers to arrange at a fair and accurate value based on how productive the panels are, age of the panels, size of the system, etc."
What do appraisers say about solar panels and home values?
When you get a mortgage to purchase a home the lender will require that you pay for an appraisal to determine the market value of the property, regardless of what you might have paid for it. Professional home appraisers have their finger on the pulse as to what factors affect a home's overall value so I asked appraisers in three different states for their opinions.
Note that appraisers can only take into account solar panel installations that are owned by the seller. They cannot include leased systems when evaluating a home's market value.
Seattle appraisers:
Joe Anglin of Anglin Appraisal, when asked if solar panels add to a home's resale value answered..."at this stage probably not. The limited inventory of homes for sale and the location are way more important factors than items like down the pecking order in terms of impact on the sale value. It's too early in the game and there are not enough Seattle homes with solar so that buyers have the option of choosing between homes with and without them. Maybe down the road when a neighborhood has at 50% solar then it will be easier to determine a difference".
Seattle appraiser Henry Kieneker with Vantage Point Appraisals says that currently for the Puget Sound area that solar panels do not have a measurable impact on market values. There are not enough homes with solar upgrades and therefore there is a lack of comparable homes when trying to determine a home's current market value. He also mentioned that in the Seattle area, systems only sell electricity back to the grid during the relatively short summer months.
A Phoenix Appraiser
In perpetually sunny Phoenix, AZ, Jay Joseph with Josephs Appraisal Group says approximately one in eight homes have a solar system and that number is higher in newer developments. He says that panels can add between $5,000 and $10,000 to the value of a home which depends on a number of factors:
The kilowatt output of the system/number of panels.
The age of the system.
The neighborhood the home is located in.
Note that, even for the sunny SW, a solar setup is probably going to cost a lot more than $5,000 to $10,000, so even if it increases the value of a home, the return on investment is significantly below what the system costs.
A California Appraiser.
Not all of California is sunny all the time. Some parts can be reliably sunny while just 20 miles away it will lot cooler and shrouded in clouds or coastal fog like parts of San Mateo county where real estate appraiser Amber Rice works. She said that solar panels are becoming more and more common and around two years ago she started taking panels into consideration when evaluating homes.
Reliably sunnier areas like San Carlos will have about 1 in 4 homes with solar whereas more cloudy Pacifica and Half Moon bay will have about 1 in 9 with solar. It's becoming a requirement now for new green homes to have solar systems installed plus they are increasingly common for larger, higher-end homes.
On average she said solar installations add about $15,000 to the value of a home for areas with a higher concentration of solar installations.
THE PROS AND CONS OF ADDING SOLAR PANELS TO YOUR HOME
As with most things in life, solar installations have their pros and cons.
The pros of solar panels.
You'll feel good that you are doing something that is reducing your dependence on a larger utility company using green energy.
The system will pay for itself over time through the money you save on electricity bills and credits for selling excess energy back to the grid. The number of years to break even will depend on the cost of installation versus how much electricity it generates. Cloudy Seattle will take longer compared to perpetually sunny Phoenix. Also, the higher your local electricity rates, the faster the system will pay you back.
Many states have financial incentives and rebates to encourage homeowners to install them.
They're low maintenance.
The Cons of solar panels:
Depending on the size of the system, solar installations are not cheap and upfront costs can be between about $15,000 and $30,000.
It takes time to recoup your initial investment and the payback period is dependent on a number of different factors.
Not all homes are suited for solar panels because of the size of their roofs and the amount of light the roof gets.
Some owners will lease a system rather than buying it outright. However, a home with leased solar panels can make it more complicated when it comes to selling the home. If the panels cannot be moved, or the lease cannot be transferred to the new owner, then the seller may have to pay the remaining balance on the lease to get out of the lease agreement. Also, if a home has a leased system, appraisers are not allowed to take the solar system into consideration when assessing the value of the home.
If you are going to install panels and your roof is older you will probably need to install a new roof as well. Otherwise, a few years down the road, you will have to remove the panels, the old roof, add a new roof and then add the solar panels back again.
Solar panels have a limited lifespan.
The impact on the resale value of a home is questionable.
Panels can reduce the curb appeal of a home for some potential buyers. Also, some buyers might think to themselves "how do I take care of that thing?!" Basically, buyers' lack of familiarity with these systems and/or not having a favorable opinion of green energy might make the home less appealing to some buyers.
So what does all of this mean for your home's resale value and solar panels?
Currently, solar panels are likely to add resale value to a home in cities where panels are more common and have a sunnier climate like San Diego and Phoenix.
Currently, cities like Seattle where they are less common probably do not benefit as much, if at all. However, that may change as more homes add solar systems and appraisers can start adding value to them.
In areas where appraisers say solar adds value to homes like in California, the increase in the resale value of about $15,000 is still relatively small compared to the sale price of those homes and is probably recoupling about half of the installation costs. But as mentioned previously, many home upgrades and remodels do not give a 100% return on investment when you sell your home.
In metropolitan areas where home prices and competition are high, the cost to buy a home can diminish the impact of whether the home has solar panels or not. While panels might be a "nice-to-have" other aspects like the price of the home, the location, and schools are probably a lot more important considerations for buyers.
As with home upgrades and remodels, few generate 100% or more return on the initial investment when selling the home and solar is no exception.
Solar panels add VALUE to your home regardless in that they generate green energy and pay for themselves over time. Not everything home update has to add resale value and going green has plenty of other benefits. But if it does add some market value, then that's an added plus.