Don't list your home in August, wait until September!
Posted by Conor MacEvilly on Wednesday, June 21, 2023 at 5:00 PM
By Conor MacEvilly / June 21, 2023
Comment
But it can be a great time to buy a home!
There are a number of reasons for not listing your home for sale in the month of August and waiting one more month until September. And historically, the market seems to agree.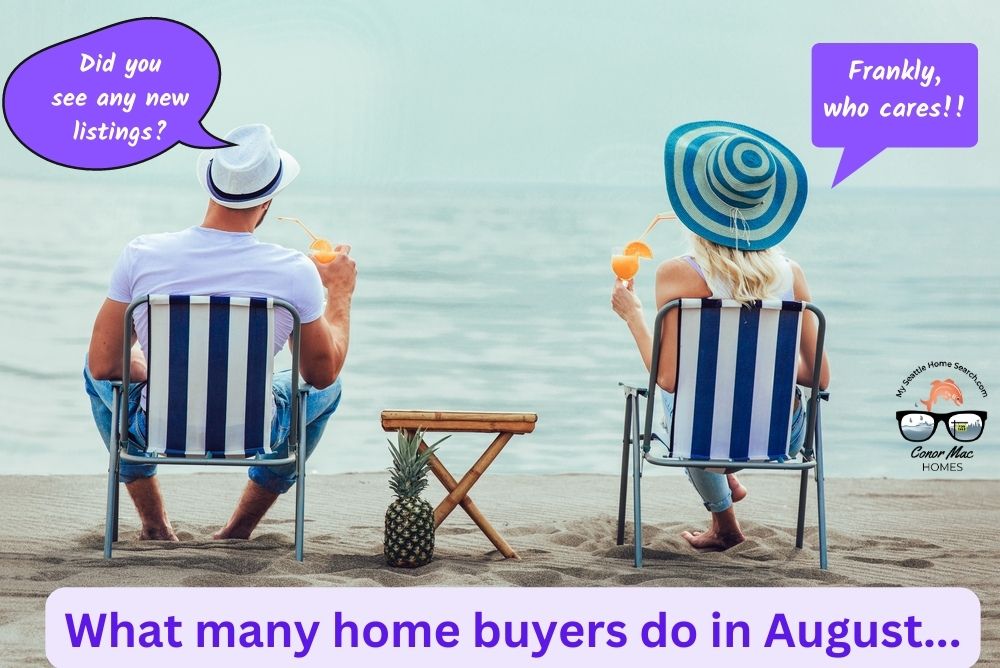 For the Seattle area at least, the real estate market follows a repeating annual pattern of the market coming out of winter hibernation, peaking in the spring months and then dropping off over the remainder of the year...with one last hurrah in September! One part of the process when selling your home is picking the right time to go on the market and August might not be it.
Reasons for not listing a home for sale in August.
There are only four weeks left before the kids go back to school and the weather starts changing. People just want to enjoy the outdoors and the end of summer and not be indoors looking at homes. Even buyers who don't have kids just want to enjoy the end of summer and do some travel or just slack off.
Families with kids who we're looking to move into new neighborhoods usually focus on the spring months because they want to be in place before the new school year starts. They're not going to look for a home in August.
Buyers who have potentially missed out on multiple homes in the competitive spring months may just want to take a break from all things real estate for a while.
Historically, if you look at the last 10 years for the Seattle area the number of NEW LISTINGS coming on the market peaks around May and then drops June through August then jumps up again in September. It's extremely consistent! And after September, prices and the number of listings drop through the winter months. With the exception of 2020, for every other year, the number of new Seattle listings bottomed out in August after peaking in the spring but was then followed by a jump in new listings in September. The COVID pandemic started in the spring of 2020 and resulted in the peak market getting pushed out to the summer months.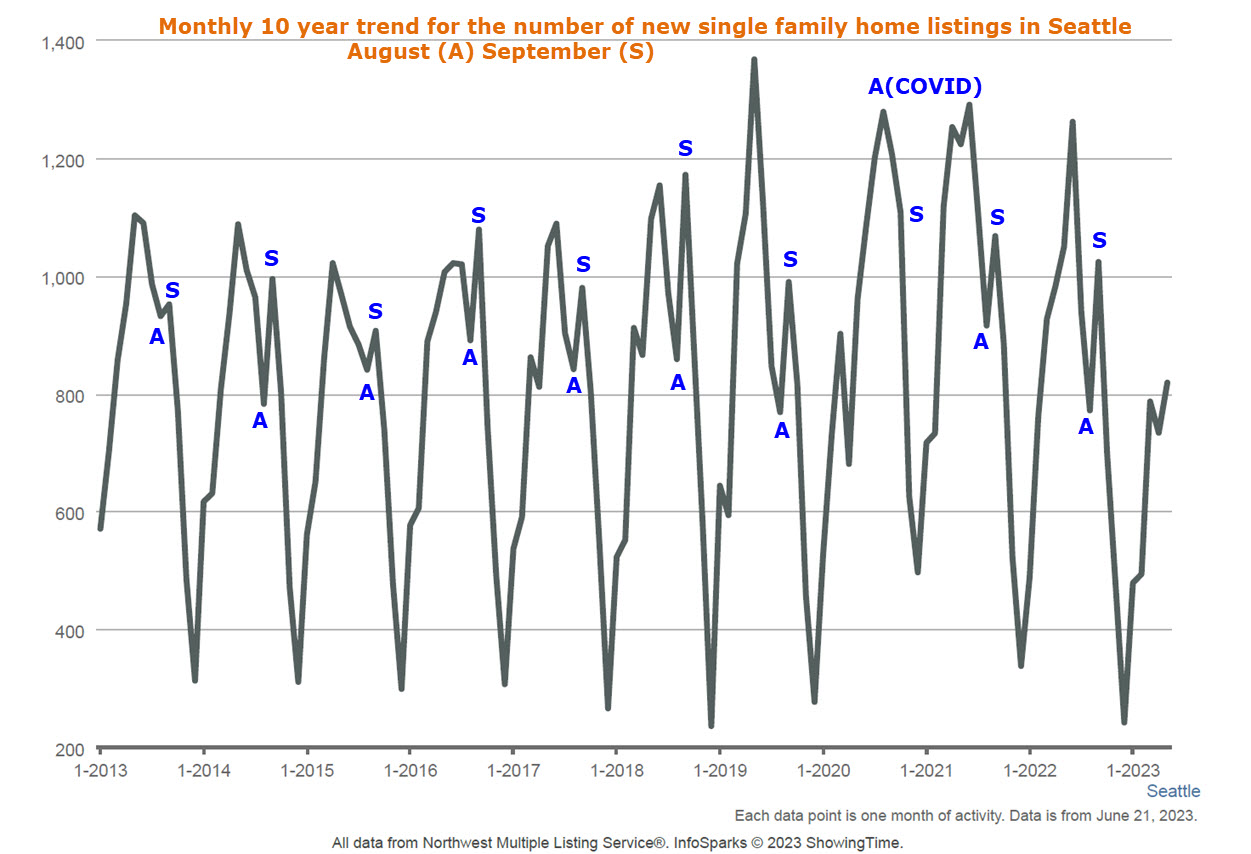 Although homes may still sell in August, because there will be less competition for those homes, sellers may potentially get more offers that are contingent on inspections and other contingencies compared to earlier months. In other words, they might get "less clean" offers with more hurdles to clear before closing.
Also, when you look at the number of total sales in August compared to September, allowing for 30 days to close, there were fewer home sales in August compared to September.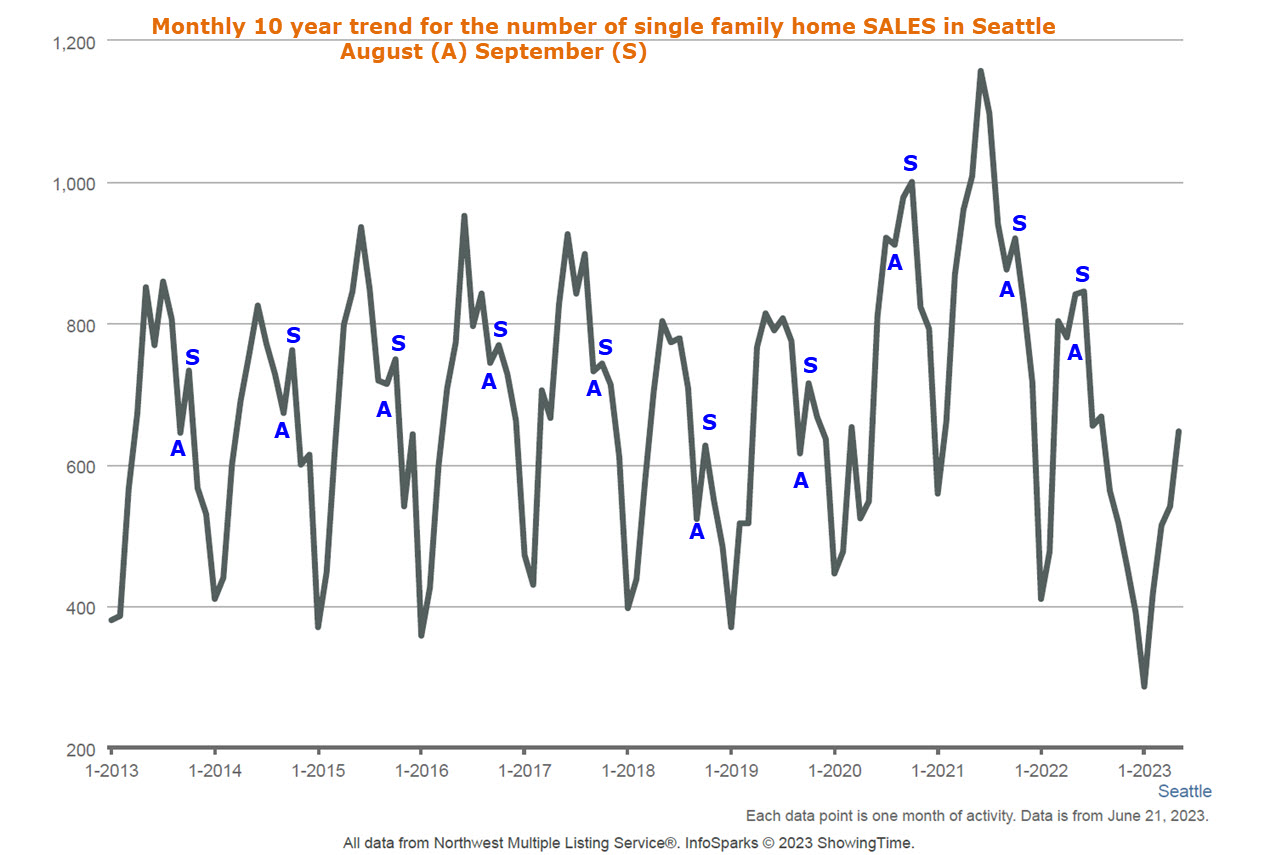 All real estate is local so what happens in the Pacific NW may not necessarily be the same places like Florida and Arizona which have totally different climates.
Buy hey, August is a great time to buy a home!
I bought my own home in the month of August and didn't have to compete with other buyers.
There tends to be less competition for homes even there though fewer new listings come on the market in August. The best homes will still have some competition but probably not to the same extent as you would see back in the springtime. Some August listings will just get1 or 2 or maybe no offers so if you're a buyer who got run over by the spring market, stay patent and wait for August... and sometimes that slowdown can kick in early in mid-July. No guarantees, but every bit helps when you're trying to buy a home.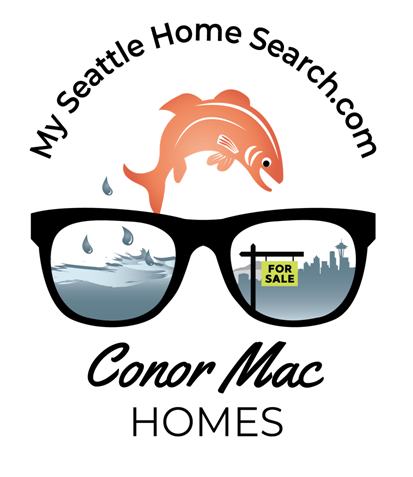 This article was written by Seattle and Eastside Realtor Conor MacEvilly who has been in the business since 2008. I hope you enjoyed the post and thanks for visiting my website. If you have any questions about Puget Sounds area residential real estate feel free to contact me. I'm happy to help. My direct line (cell) is 206-349-8477.