How do you know if a home will get multiple offers?
Posted by Conor MacEvilly on Tuesday, March 17, 2020 at 11:43 AM
By Conor MacEvilly / March 17, 2020
Comment
Telltale signs that a listing will get lots of offers.
When the real estate market is strongly skewed in favor of the seller side of the equation, those sellers can expect their homes to sell quickly, and usually with multiple offers.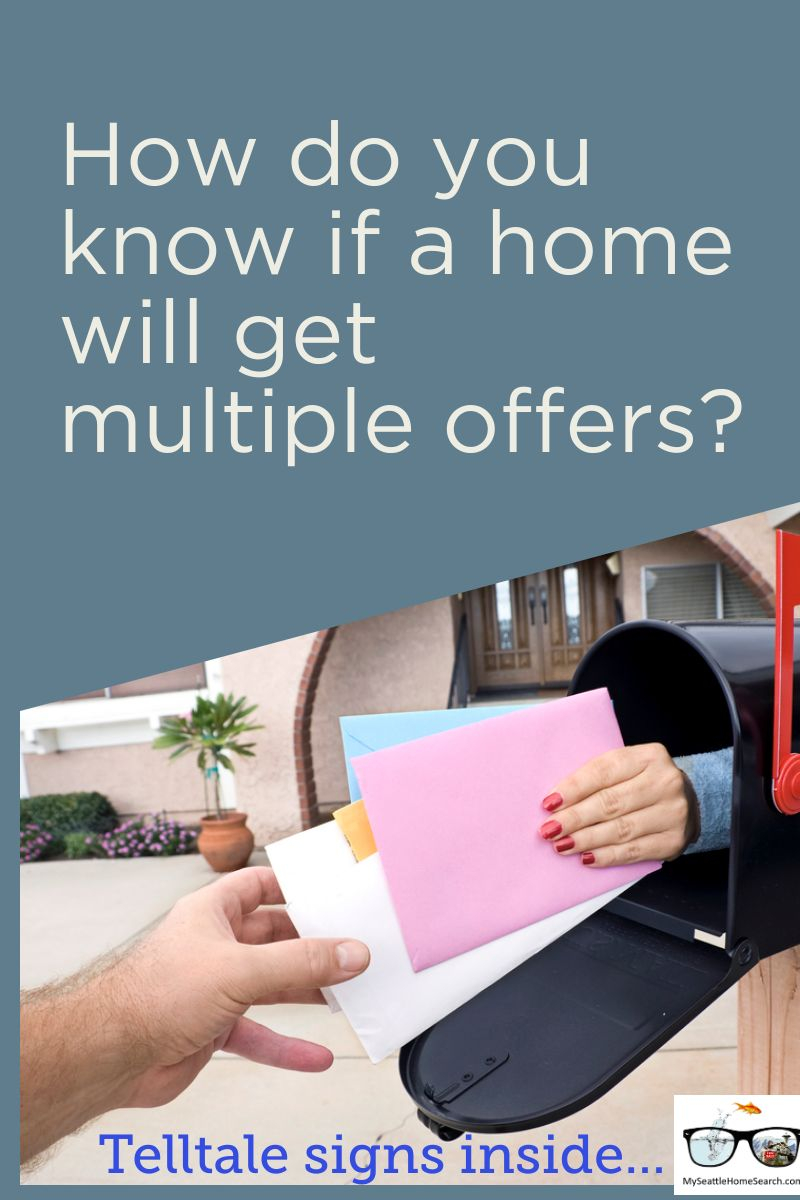 Buyers need to adapt accordingly, both in terms of how they look for homes (hint: don't wait for the open houses at the weekend) and in how they structure their offers.
One major factor in determining how a buyer should structure their offer is "how many other offers are there on the home?"
Based on that number, the buyer can decide if they can load up their offer with lots of contingencies or maybe have to make a slightly risky offer in order to win the bidding.
But first, a quick note on the two main ways sellers decide to review offers on their homes:
The sellers set an offer review deadline about a week after the home is listed for sale. The home will usually come on the market in the middle of the week, have open houses at the weekend and set the following Tuesday or Wednesday to review submitted offers. This is common is a hot real estate market but will less common when the market slows down.
The sellers are hoping to leverage buyer enthusiasm and generate offers with waived contingencies, particularly the inspection contingency.
Caveat: the sellers retain the right to accept an offer before the offer review deadline.
The other set of sellers will state that they will review offers upon receipt. Basically, it's a case of first come, first served and the sellers are likely to accept the first good offer that matches their expectations.
Caveat: sometimes home sellers who get a couple of early offers and will then set an offer review deadline to leverage those early offers to get a better offer.
It is totally up to the sellers as to how they want to handle reviewing offers on their home. It's their home and basically, they can do as they please. But if you are a home seller, it is always a good idea to decide on an offer review strategy before you list the home for sale.
So, what are some of the telltale signs that a home will end up getting multiple offers?
It's a great home. Duh!
It's a really nice home, in a great location compared and priced correctly. Regardless of the prevailing market conditions, the best homes that are priced correctly will always sell even in a slow market.
The sucker listing price.... and personal rant!
The home is clearly under-priced to draw in lots of buyers and generate a buyer frenzy. Not just by 2 to 3%, but by 10% or more!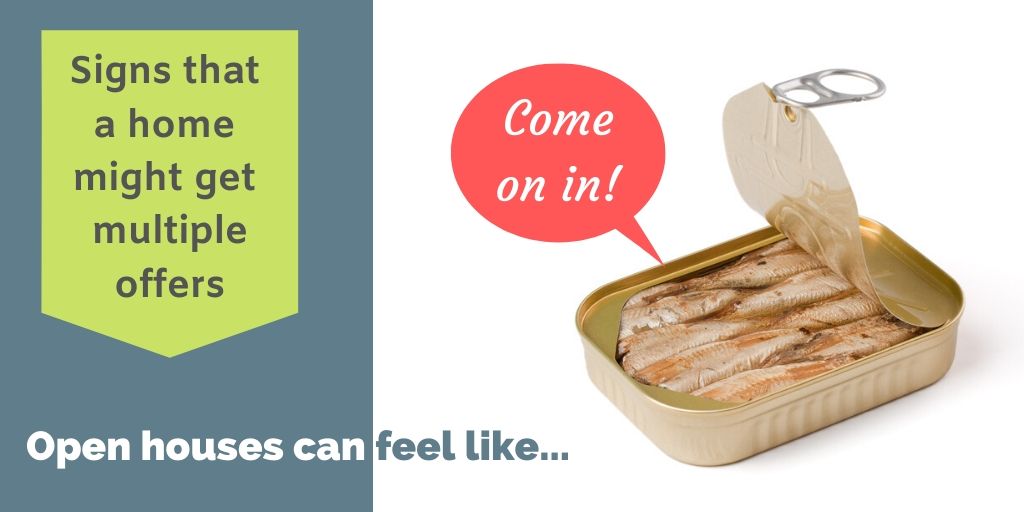 A personal rant: I have little respect for agents who try this tactic as it raises the hopes of too many home buyers who then spend hard-earned money on pre-inspections with little hope of ever getting the home. Listing a home for a few percent below the market value is fine, but not by 10%+.
I represented a buyer on one such home a few years ago and despite my advice to avoid it, the listing price was just too tempting to resist. When we did our pre-inspection and walked up to the home with our inspector, there were 3 other inspectors crawling over the property. One inspector was doing his 2nd inspection on the property.
And did my buyer get the home? Of course not. If got 47! offers, sold for WAAAY over asking and make the local newspaper. The only people who did well from this farce were the sellers and all those home inspectors, and the unscrupulous listing agents.
Sometimes a home can be way under-priced because of listing agent incompetence. The Realtor isn't familiar with the local market or just plain bad at determining the current market value of a home.
A stack of Realtor business cards.
When you go to see the home there's a big stack of Realtor business cards on the kitchen table (or hiding in the kitchen drawer). Every time a real estate agent either previews a home (goes to see it by themselves) or show the home to one of their buyers, they are required to leave one of their business cards.
So, the more cards that are sitting on the kitchen table, the viewings it has had and the greater the potential for a multiple offer situation.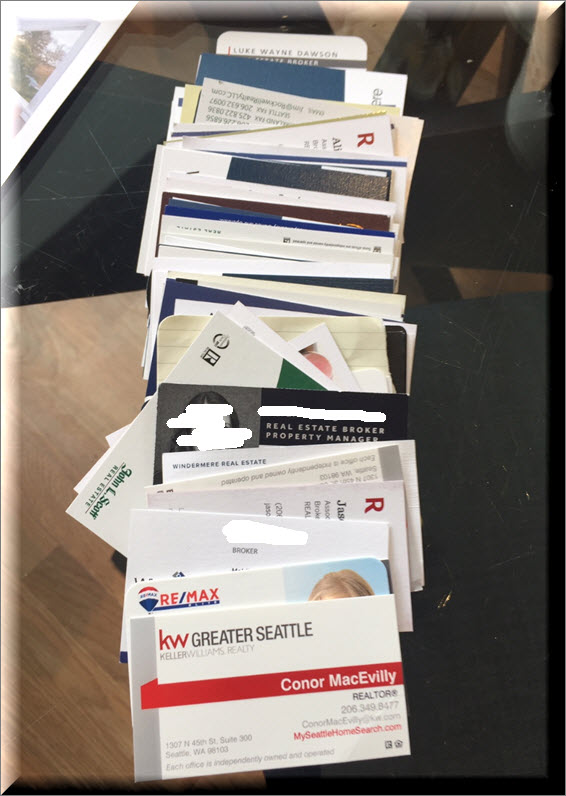 However, just because there's a stack of agent business cards staring up at you does not automatically mean that the home will get lots of offers. Here's an example of a Seattle home that I showed to a buyer couple that has a lot of cards on the kitchen (see table (see picture)...but it only got ONE offer!
The home had some issues so it was good to see that buyers knew their limits and knew when to walk away and keep looking.
One caveat to the stack of cards theory is that just because you don't see a stack of cards doesn't mean that the home has not had a lot of viewings. Personally, for my listings, I leave out about 10 agent cards and remove the rest. I don't want buyers thinking they haven't got a proverbial snowball's chance in hell of getting the home. Plus, as the example above proves, multiple viewings do not always equate to multiple offers on a home.
So if you don't see a lot of business cards when you think there should either you like the home a lot more than everyone else or the rest of the cards are hidden someplace. Try one of the kitchen drawers.
Jam-packed open houses.
You wait until the weekend to go see the home, walk up to the home and there are 10 pairs of shoes sitting on the ground beside the front door. You sigh to yourself and walk inside, bracing yourself for the hoards within. Your catchphrase is "excuse me" as you squeeze/navigate your way around the home.
Note that serious home buyers will not wait until the weekend open houses and will want to go see the home as soon as it hits the market.
You have to share the home even for "private" viewings.
Hoping to avoid the open houses crowds, you go for a private viewing in the middle of the week with your own Realtor but you still end up having to share the home with other buyers.
You walk around the home trying to gauge the competition and listen in on what they are saying. Their body language will usually give away their interest level.
There's a home inspector on the roof!
You preview the home with your Realtor and there's a ladder up against the side of the home and some guy is walking on the roof. Is the roof leaking? Maybe. However, it's more likely that it's another buyer doing a pre-inspection of the home.
In order to make their offers more competitive, some home buyers will pre-inspect the home before making their offer and agree to buy the home as-is and not ask the seller dor any repairs. Unless the home has major issues, that buyer will be making an offer.
The easiest way: just ask the listing agent!
And the most obvious way is to have your Realtor call the listing agent and ask the following questions (1) how many offers have been submitted so far (2) how many total offers are you expecting and (3) how many pre-inspections have been completed or are scheduled?
Listing agents will nearly always share that information because they want to increase the sense of competition and get the best price for their clients. Will some listing agents "massage the facts"? Maybe, but an experienced buyer agent can usually sniff out listing agent hype.
Note that many buyer agents will wait until an hour or so before the offer review deadline to submit the offer. They want to wait and get the most information possible so they can position the offer to have the best chance of beating the competition.
To summarize as to "how do you know if a home will get multiple offers?"...watch out for the telltale signs listed about, or failing that just have your agent contact the listing agent and modify your offer accordingly. Good luck!.

Here are some additional useful resources that you might find helpful:
Buyer's Remorse and How to Avoid It. Luke Skar provides advice on how to avoid closing on a home and then discovering that your commute is way too long and your home is too small.
Advice for Millennial Home Buyers. Kevin Vitali provides some savvy advice such as whether you should pay off your student loans first and deciding as to whether you are trying to buy a starter home or your forever home.
What Exactly Is It That Realtors Do? Glenn Shelhamer details all the stuff a GOOD Realtor does to help their buyer clients find the right home and protect them from buying a lemon.
25 Questions to Ask When Selecting a Lender. You should spend as much time choosing your lender when buying a home as you do when chooing your Realtor. Eric Jeanette provides you with a long list of questions that you can use to ensure you end up with a reliable lender.