How much is my home worth? EXACTLY what somebody is willing to pay for it.
Posted by Conor MacEvilly on Tuesday, October 30, 2018 at 5:22 AM
By Conor MacEvilly / October 30, 2018
Comment
The real answer to "how much is my home worth" is by actually listing it for sale.
Everything else is just a guesstimate of varying degrees of accuracy and believability.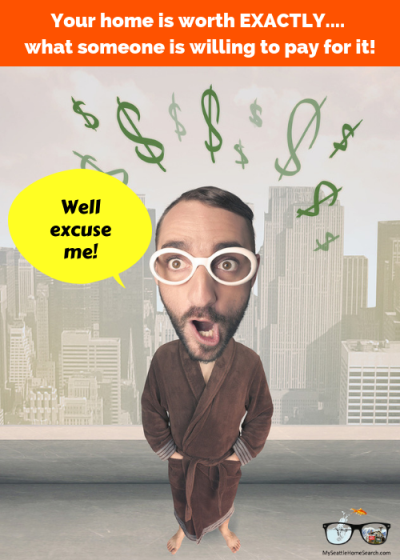 So, how much IS your home worth?
The short answer is that it's worth whatever a buyer is willing to pay for it.
The longer answer is that your home is worth...
What someone is willing to pay for it.
If listed for sale on the open market.
Will depend on how well your home has been prepared for market, the marketing exposure it gets and whether you selected a competent Realtor or not.
The prevailing market conditions at the time your list your home.
And potentially on whether it's an all-cash offer or not.
Pretty simple, huh?
Obviously, putting your home on the market just to determine it's current market value is a little extreme.
So, how can a homeowner find out how much their home is "worth"? And what are their limitations?
(1) Online home evaluations.
The granddaddy of these is the infamous Zestimate from Zillow.
When owners are thinking of selling their home they will enter your address and within a few milliseconds, voila, up pops the current market value of your home. So easy and convenient, right?
Easy and convenient it might be but it's about as reliable as the Seattle Marines making the playoffs!
Zillow has never set foot in your home, has no idea if your kitchen is original, if your roof and furnace need replacing or if you remodeled the kitchen and bathrooms last year and added a swimming pool and a deck at the back.
It's better to think of the Zestimate as being for amusement purposes only. Actually, make that, STRICTLY for amusement purposes only.
As the legend goes, when the CEO of Zillow went to sell his own home, it sold for well below list price and when he bought his next home, he paid well above asking. Oh, the humanity!
From playing around with numbers, from what I can see, the Zestimate is basically the following formula:
(Last known sale price of the home) X (how much the market has gone up or down since then).
Try it for yourself.
Watch how a home's Zestimate automatically readjusts when the home is actually listed for sale for a price that is well below or above the Zestimate. If Zillow was so confident in their algorithm, their estimated market value would not change the day a home hits the market.
It's Zillow admitting that they trust the listing agent's evaluation a lot more than their own. It basically proves that Zillow knows it's Zestimate is a just a gimmick to get homeowners to their website...and the Realtors have to clean up the mess when they sit down with price-delusional home sellers.
In defense of Zillow, there are plenty of other useless online home evaluation magic buttons out there.
(2) Homeowner intuition with no basis in reality.
The fact that the vast majority of FSBO's, For Sale By Owner, homes fail to sell is a good indication that the average homeowner, (no offense to homeowners), has no idea what the true market value of their home is. There is obviously a lot more to selling a home that just getting the list price correct, but going on the market at the correct list price is CRITICAL.
Price is one of the three critical P's when selling your home, the other two being preparation and professional photography.
(3) Comparative Market Analysis.
A comparative market analysis (CMA) is where a Realtor determines the current market value of your home based on the sale of comparable homes in your immediate neighborhood. The CMA will take into consideration the condition of your home, any remodeling, and updates you have done to the home and any major repairs or issues with the home.
A competent agent, who is familiar with your neighborhood and your type of home (house, condo or a townhome) should be able to generate a good estimation of the current market value of your home to within about 3% of its true market value. A professionally done CMA will be the most accurate estimate of your home's value (without actually listing it for sale).
The CMA should provide you with the following:
Recommended list price.
Potential sale price range.
Although a comparative market analysis is performed by a "human" versus an algorithm, that doesn't guarantee that the CMA is going to be accurate.
How detailed is that evaluation and what is the rationale to back up that recommended list price? Does the report contain a list of comparable recent sales (aka comps) or is the CMA just a bloated self-promotion for the agent and their brokerage with a suggested listing price that somebody pulled out of their butt?

Beware of evaluation reports where the agent just plugged your address into a paid program that spits out a nice shiny report that's aimed to amaze and dazzle you. Those CMA's are no better than plugging your address into the Zillow!
Ask the agent how they generated their evaluation. Did their office assistant generate it or did they get out there and drive past and visit homes?
Some agents will be very familiar with your neighborhood, have viewed most of the recent homes for sale in your area and have an excellent track record of selling homes. And some agents might be setting foot in your neighborhood for the first time. Ask lots of questions!.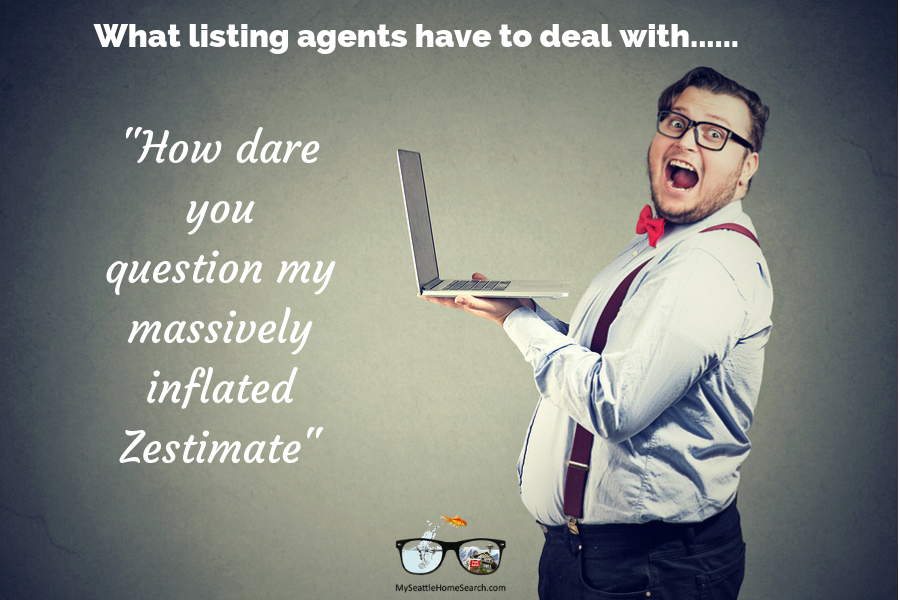 (4) Your Tax assessment
Once a year you'll get that little postcard in the mail (in Washington State at least) stating what your property taxes will be for the upcoming year... and a revised assessment of the value of your home.
The tax assessed value of your home is about as accurate as the Zestimate. The taxman doesn't actually go into your home and if your home hasn't been on the market for years, the city has no idea if you've added new bedrooms, combined 2 bedrooms into one or added an addition.
Over the past few years for booming Ballard Seattle real estate, for example, tax assessed values have been well below what homes are actually selling for because the market was moving so fast. Of course, once a home does sell, the city now knows the true market value of it so, in a hot market, the new owners can expect a sizeable jump in their property taxes in year two.
So why did I add the "all-cash buyer" caveat at beginning of this article?
Because of appraisals!
Say you list your home for sale and get multiple offers driving the price upward. You listed for it $500,000 and accepted an offer for $550,000, 10% over list price. Woohoo!
If the buyer is relying on lender financing to buy your home, part of that process involves a lender-required appraisal of your home's current market value.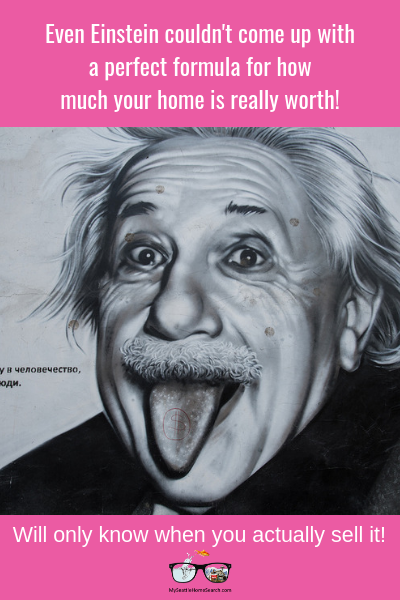 Although yes, although the true market value of your home is what a buyer is willing to pay for your home, a lender doesn't quite see it the same way. They want to make sure that in the event that that buyer defaults on their mortgage payments and they have to repossess the home that they will be able to recoup their investment, i.e. the money they loaned the buyer.
Appraisals, like CMA's, are subjective and 10 different appraisers might come back with 10 different values. If the appraised value comes in below the agreed to the sale price and the buyer is not willing to make up the difference by bringing extra cash to closing, then you have a problem.
With an all-cash offer, there is no lender involved in the purchase process and hence there's no appraisal to worry about. Sometimes you might be better off going with a slightly lower cash offer because when selling your home since the highest offer is not always the best offer.
A caveat to the all-cash caveat: You might be contacted by a property investor/ developer who wants to buy your home without you listing it for sale. Although yes, this is an all-cash offer, you need to ask yourself whether you would get more for your home by listing it for sale on the open market where it gets full exposure and potentially multiple offers (minus the costs involved in selling your home).
So to summarize in regards to "how much is my home worth": although yes, listing your home for sale just to find out how much it is REALLY worth is not practical, you should be aware that online automated pricing evaluations, your own gut instinct, your over-the-fence neighbor Bob's opinion, your tax assessed value etc should all be treated with varying doses of skepticism.
While it's tempting to automatically believe a flattering high number - Why yes, of course, my home is fantastic and unique - in reality would you get that much for your home if you tried to sell it today under prevailing market conditions?
Here are some additional useful resources on the subject of "how much is my home worth?"
7 Reasons Why Overpricing May Result In Detrimental Effects from Sharon Paxon
Are Zillow Home Estimates Accurate? from Bill Gassett.
More BS Facts About Real Estate That Just Won't Die! from Karen Highland.
Real Estate Marketing Tips For Sellers from Patra Norris.
Reasons You Home Is Not Selling, Plus Your Options from Luke Skar.

The above article was written by Conor MacEvilly. Conor is a Realtor with RE/MAX on Market and lives in the Ballard neighborhood of Seattle. He works with both home buyers and sellers in the greater Seattle real estate market and on the Eastside in neighborhoods like Redmond, Bellevue, and Kirkland.
Conor can be contacted directly via his cell at 206-349-8477 or via email at conor@remaxonmarket.com.