How Realistic is Buying and Selling a Home at the Same Time?
Posted by Conor MacEvilly on Monday, February 28, 2022 at 2:11 PM
By Conor MacEvilly / February 28, 2022
Comment
The short answer is...not very!
The reality: you are probably going to have to buy first, then sell. Or sell first, then buy.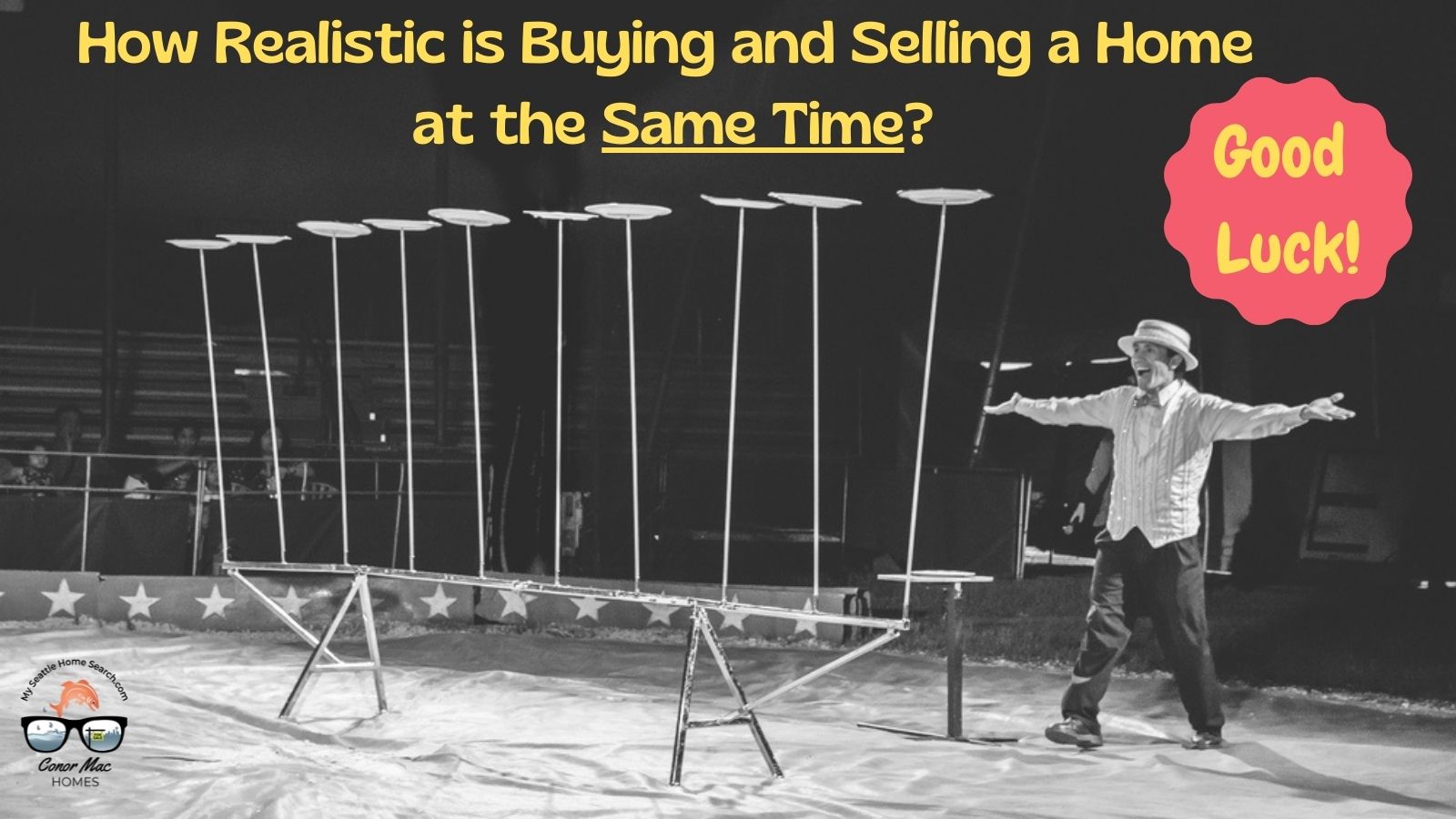 What does buying and selling a home at the SAME TIME mean? In the ideal scenario, you would close on the sale of your current home, use the proceeds from that sale toward your next home, and close on the two sales within a day or two of each other. You would only have to move or hire a moving company once. However, very few sellers ever achieve that level of timing perfection.
Every home seller would like to seamlessly transition from their existing home into their new home with as little overlap and stress as possible.
When selling your Seattle home in a strong seller's market, a lot of homeowners are wary of selling because they know that although it's easy to sell their own home, soon after closing they will be battling it out with all the other buyers competing for a limited inventory of homes. One minute you're King of the Castle and the next you're in a scene from Fight Club.
In the Seattle area, the majority of homes that are listed for sale are vacant when they hit the market which means the sellers have already moved on to their next location.
The advantages of (trying to) buy and sell at the same time.
You get to smoothly transition from your old home
You potentially avoid having to carry two separate mortgages plus an additional short-term loan (depending on your finances).
You will only have to move once. If you can line up the closing dates of your existing and new home within a couple of days of each other, then you only need that moving company (or your buddies) one time.
Avoid having to pay and deal with the hassle of moving your possessions into storage while you find your next home.
It removes a huge amount of stress worrying about where you are going to live next.
If you buy first, you can do any needed repairs, updates, or remodeling in your new home before moving in. You get to avoid the chaos usually associated with living in the middle of remodeling hell.

If possible, the best route is to buy first, then sell.
Depending on your financial situation, the best way to go is to buy a new home first, move in, and then put your old home on the market.
This allows you time to be fussy as to which home you buy rather than being forced into buying a home that you may not particularly love if you're trying to buy and sell at the same time.
Buying a home first removes the major stress of "where are we going to move to next once we sell our home?"
You can move out of your old home, throw the keys to your real estate agent and let them take care of everything.
You are probably thinking what if we buy a home first and then fail to sell our first home? Obviously, some of that will depend on the prevailing market conditions but a home that is prepared properly, marketed properly, and most importantly, priced properly will sell in any market regardless of the prevailing market conditions. Make sure to hire a competent Realtor who knows your local market and has a proven history of successful listing sales.

Selling first and then buying your next home.
Not all homeowners have the financial means to buy their next home before selling their current house so they are going to have to sell first, move out, and then buy the next one.
For owners in this situation their main concern is going to be where they are going to live and how long will it take to buy a new home? They may have to move twice and find some short-term or potential longer-term accommodation depending on what the local market is doing.
On the upside, these sellers avoid having to pay two mortgages or a bridging loan and have all the proceeds from the sale of their initial home sitting in their bank account ready to go. Then again, you could argue that living in a rental property for a while is a short-term "mortgage".
If you are relocating to a whole new area maybe you could just rent for a year get to know that area really well and spend the time to find your ideal next home. Too many people buy their next home based on some whimsical impression of an area they barely know and then end up with buyer's remorse.
WHAT ABOUT BUYING A HOME CONTINGENT ON THE SALE OF MY CURRENT HOME?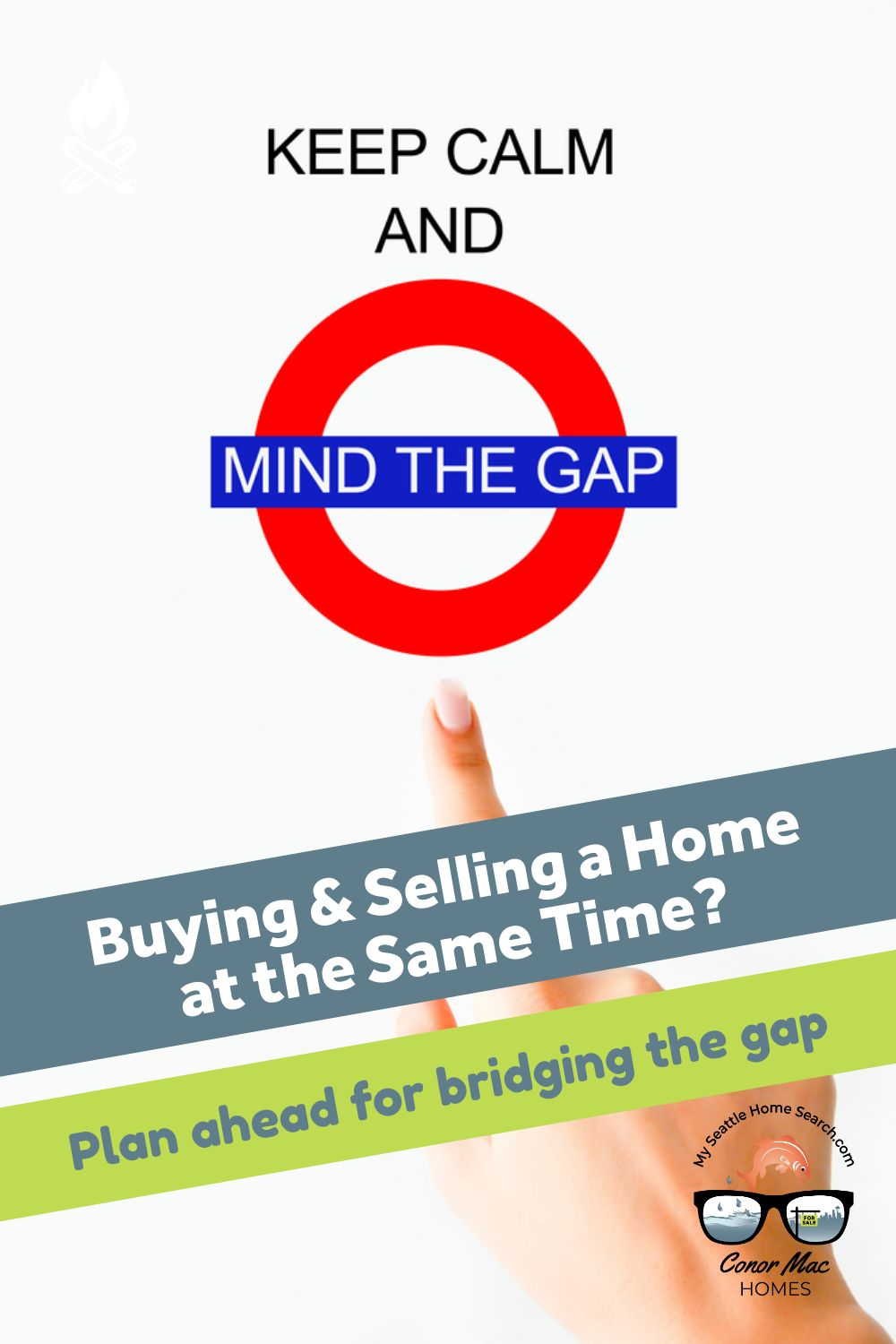 Buying a home contingent on the sale of your own home means that the owner of the home you are buying agrees to sell to you conditioned on you being able to sell your current home.
The seller is taking a risk accepting a contingency sale because there are no guarantees that you will sell your home. The further you are along the process of selling your own home, the better the chance that they might accept your offer. The pecking order is as follows: pending/scheduled to close > pending appraisal > pending inspection > just listed > not even on the market yet.
In a hot market very few sellers will be willing to accept a contingent offer and why would they? Sellers want a guarantee that their home is going to close just like you when you list your own home. Making an offer contingent on the sale of your home is going to make your offer the least competitive even if you are offering more money than other buyers.
In a strong seller's market, contingent offers that actually get accepted are just plain rare. It is very likely that the only sellers who are willing to accept one are for the homes that nobody else wants and are sitting on the market. They're probably the homes that you don't want either. Even in a balanced buyer market, most sellers will not entertain these kinds of offers.
Even if you are successful in getting a contingent offer accepted you risk the potential of being bumped by a non-contingent offer. The seller retains the right to accept a better offer from a different buyer and can force you to waive the contingent component of your offer. Agreeing to do so can be risky as you are now agreeing to buy the home no matter what happens with the sale of your own home.
Buying a home contingent on the sale of your own home is a complicated process with lots of potential hurdles to navigate. Plus it's a non-starter in a competitive residential real estate market.
Financing the gap between your old and new home when buying first.
If you have sufficient cash and/or Amazon/Microsoft/Facebook/latest Unicorn stock that you can sell, then you might be able to purchase your next home with 100% cash. If not, you will need a short-term loan. It is critical to speak with a lender or mortgage broker BEFORE trying to buy your next home so you know in advance what type of loans and how much you can qualify for.
Depending on your finances, if you are buying and then selling and reliant on an interim loan for the new home then you could potentially end up carrying three loans for a short period of time:
The mortgage on your current home.
The mortgage on your new home.
The short-term loan to cover the gap between the two.
If your new home is significantly more affordable than your old home, then you might have enough equity in your home to not need a mortgage for the new home. You would just pay off the short-term loan from the proceeds of the sale of your home.
Bridging Loans.
A bridging loan, as the name suggests, helps you bridge the financial gap between buying your next home and selling your current home. These are short-term loans that allow you to borrow up to 80% of the current VALUE (not equity) of your current property. You would use this money to put toward the downpayment and closing costs of your new home or potentially pay for the home in full.
Although you can borrow up to 80% of the value of your home (based on an appraisal), any current liens on the home must be deducted first.
For example, say your current home is worth $750,000 and your mortgage balance is $300,000, then you would have $450,000 to use to purchase your next home. So if your next home is more than $450,000, then you'll also need a mortgage in addition to the bridging loan.
Since this is a short-term loan, the lender needs to make some money in a hurry and will charge a significantly higher interest rate compared to a conventional mortgage. These loans are usually for a maximum of 6 or 12 months with a balloon payment at the end.
One major limitation of going this route is that your home needs to be already listed for sale before you can qualify for a bridge loan. So basically you are reliant on the perfect new homecoming on the market in the week you list your own home and hope that you can close on the new home before your own home closes.
You would need to be able to qualify for carrying your current mortgage, the bridging loan, and the mortgage to buy your new home all at the same time.
Overall, bridging loans are not worth the hassle!

Home Equity Line of Credit...a more flexible option?
A home equity line of credit, or HELOC for short, allows you to tap into the EQUITY you have in your home to use for the downpayment and closing costs for your new home. Again this is a short-term loan for which you pay a higher interest rate.
You will need to plan well in advance of listing your home because it can take up to 40 days to get approved for these loans.
The major advantage of a HELOC versus a bridging loan is that your current home does not have to be already on the to qualify for a loan. You can buy your next home, close on it using the HELOC and then list your old home.

When selling first, where are you going to live after selling?
If you are planning to sell first, purchase later, then you need to plan in advance as to where you're going to live after closing. This can be a very stressful part of the process.
Rent-back: you can try and buy yourself some time by asking the buyer of your home if they are willing to give you a rent-back. This is where you get to stay in "your" home after closing and become a tenant in the home that you used to own. The buyer becomes your landlord. This gives you some additional time to either move into a rental or try and look for a home to purchase.
In a competitive market where buyers are desperate to get homes, some will be willing to grant the sellers a rent back and may even allow you to stay in the home for free for a couple of months. However, even if a buyer is willing to grant your wish, there was no guarantee that you will find your next home during that time.
Short-term rental: If you had an offer accepted on a new home before your old home will close then you are probably going to need some temporary housing. You can either do an Airbnb for a couple of weeks or do some sofa-surfing with your friends or family.
You will probably have to put all your stuff into short-term storage waiting to close on the new home. You could use something like pods which will put your possessions into movable containers will stick them in storage and then deliver them to your new home when you're ready to move in.
Longer-term rental: sometimes it's just better to get a longer-term lease and give yourself plenty of time to find your next home. This is particularly true if you are relocating to an area that you are not overly familiar with. Spend some time getting to know your new location first and then buy.
To summarize, trying to perfectly time the sale of your current home and purchasing your next home is not an easy endeavor. It is very likely that you will either have to buy first and then sell, or sell and the buy. Plan well in advance no matter which route you decide to go and have a plan-B in place just in case.
Here are some additional resources that you may find helpful.
27 Tips and Tricks When Moving Homes from Luke Skar has lots of advice including saving money on packing materials, how to get rid of stuff you just don't need anymore and protecting valuables.
How to Buy Your Next Home Before Selling Yor Current One from Bill Gassett looks at the pros and cons, including the risks, of buying your next home before selling your current one.
How to Get Your Home Ready to List For Sale from Karen Highland including preparing both the interior and exterior of the home, which updates are worth doing, and pricing your home properly.