How competitive is Ballard in Seattle for single Family homes and condos?
In the current strong sellers' real estate market, home buyers are having to compete to buy a home. The housing inventory is, and has been for a few years, acutely low. Home buyers will probably feel like every home is getting multiple offers and selling for well above list price. Some buyers will give up trying to buy a home and feel like they will never get their foot in the home ownership door.
Are all homes for sale in Ballard Seattle WA really selling for above list price with multiple offers?
So, what is the reality of the current Ballard Seattle WA real estate market?
I looked at sale statistics for Ballard single family homes (houses and townhomes) and condos that sold over the 3 month period up to the middle of January 2018.
All data was pulled from the Northwest Multiple Listing Service (NWMLS). Data was combined for the area covering Ballard, Loyal Heights, Sunset Hill and Whittier Heights neighborhoods.
Note that is the middle of winter when the market is usually "slower" than the spring and summer months. In this market, slower is a relative term.
Ballard single-family homes:
I looked at the sales of single-family homes in 3 different price ranges:
Less than $750,000
Between $750,000 and $1,000,000
Above $1,000,000
The percentage of homes that sold for above, below and for list price for the 3 different price ranges is shown below: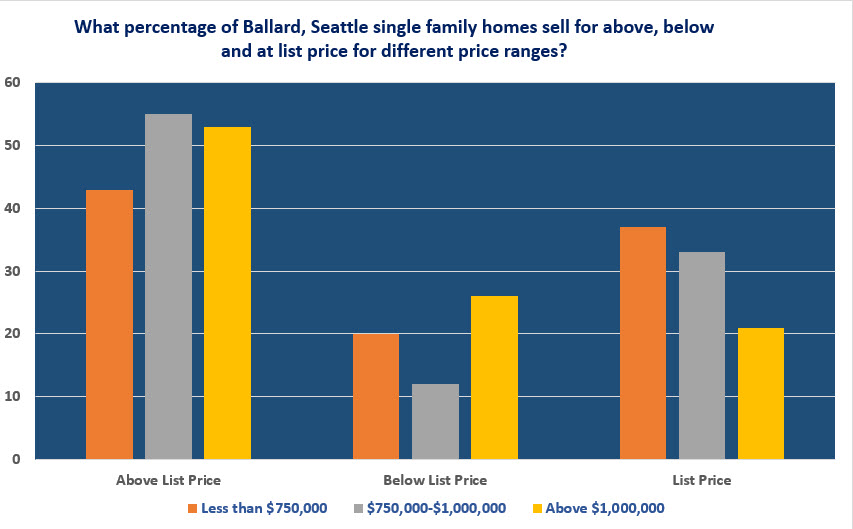 When you look at the ratio of the sale price to the list price...