The real answer to "how much is my home worth" is by actually listing it for sale.
Everything else is just a guesstimate of varying degrees of accuracy and believability.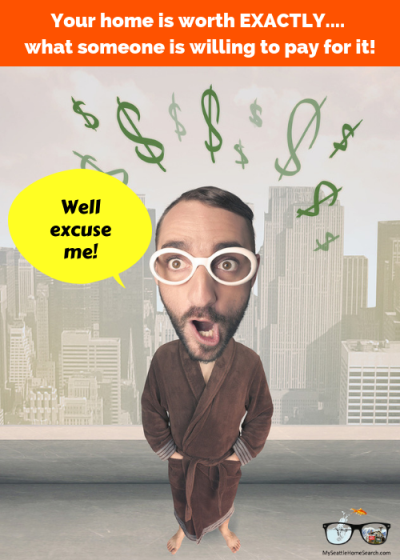 So, how much IS your home worth?
The short answer is that it's worth whatever a buyer is willing to pay for it.
The longer answer is that your home is worth...
What someone is willing to pay for it.
If listed for sale on the open market.
Will depend on how well your home has been prepared for market, the marketing exposure it gets and whether you selected a competent Realtor or not.
The prevailing market conditions at the time your list your home.
And potentially on whether it's an all-cash offer or not.
Pretty simple, huh?
Obviously, putting your home on the market just to determine it's current market value is a little extreme.
So, how can a homeowner find out how much their home is "worth"? And what are their limitations?
(1) Online home evaluations.
The granddaddy of these is the infamous Zestimate from Zillow.
Simply enter your address and within a few milliseconds, voila, up pops the current market value of your home. So easy and convenient, right?
Easy and convenient it might be but it's about as reliable as the Seattle Marines making the playoffs!
Zillow has never set foot in your home, has no idea if your kitchen is original, if your roof and furnace need replacing or if you remodeled the kitchen and bathrooms...