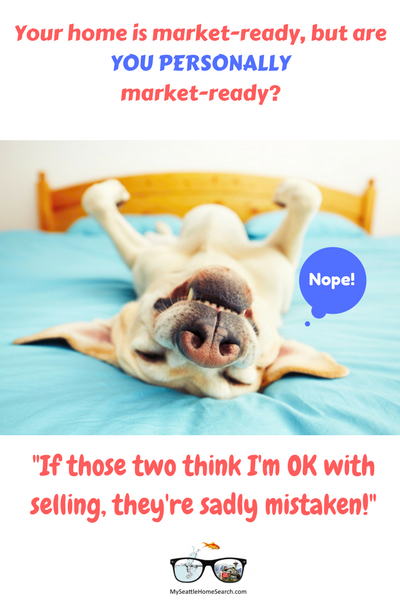 Your home is about to hit the market. You did your homework and chose a really good Realtor who knows their stuff. Your home is looking the best it has looked in years. It looks so good now, you joke with your Realtor that you've changed your mind about selling.
You've decluttered, you've scrubbed and cleaned until the inside is Q-tip clean, you serviced the furnace and cleaned the roof and gutters. You've focused on the most important things to fix before listing a home. Fido and his GI issues are safely sequestered at Aunt Ellie's. Your home is priced perfectly and those photos, in your humble opinion, are worthy of the front cover of Architectural Digest!
Your home is most certainly ready for prime time and the heaving masses of eager buyers.
The question is: are YOU PERSONALLY ready?
Obviously, getting your home ready is critical. However, you, yourself must also be prepared for the market and what is about to happen over the next few days, weeks and months.
Are you sure you really want to sell your home?
Yes, it's getting a little late in the game but are you 100% committed to selling your home? What's the real reason you want to sell?
People sell their homes for many reasons. Some have to sell because they are relocating for a new job and some have to sell because they lost a job. Some sell because the home has grown too small for their growing family and some sell because they have become empty-nesters and the home is now too...