With the real estate market starting to show some signs of slowing down, some home sellers are starting to offer incentives to home buyers to encourage them to buy their homes.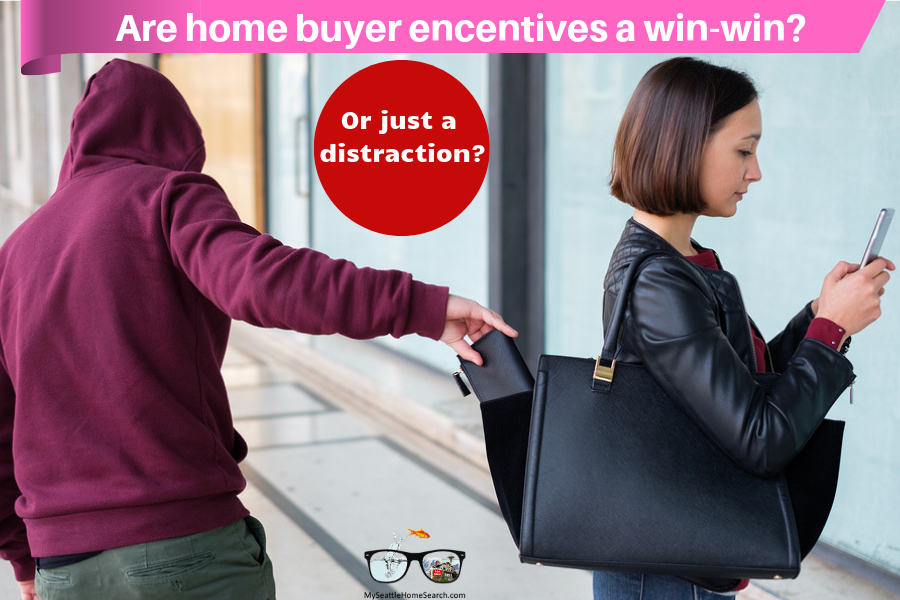 First time home buyer incentives and home buyer incentives in general, can be tempting. However, buyers should be asking themselves.
Why is the seller offering that incentive in the first place?
What exactly IS the incentive and are there restrictions as to whether I get the incentive or not?
If I accept the incentive, what might I be giving up instead?
Well, the answer is sometimes incentives really are a win-win for the buyer but sometimes it's just a distraction from something else.
Why do sellers offer homebuyer incentives?
The short answer is that sellers don't offer them when they know the home will sell quickly.
If the seller and their agent think that the home might struggle to sell, then they will consider the option of dangling some incentive in front of the buyers to make the purchase more enticing and grease the wheels of industry towards a closing.
Examples of homebuyer incentives.
The are lots of different home buyer incentives and the type of offer might depend on whether the home is a resale by a homeowner or if the home is brand new construction and the seller is a builder/developer.
Work with the builder's lender for a discount.
Many builders require that homebuyers get pre-approved by the builder's preferred lender, even if the buyer has been pre-approved with their own lender already. Also, some builder's lenders will offer some incentives like $3,000 paid towards the buyer's...