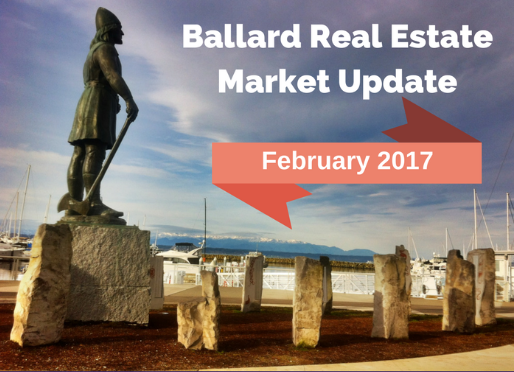 Time to take a look at how the Ballard Seattle real estate market fared during the month of February 2017. February is usually a month where the market is starting to emerge from winter hibernation. Or at least that used to be the case. Because of the chronic low inventory of homes for sale, Ballard and other Seattle neighborhoods are staying competitive all year round now.
The market remains very strong and for the past few months, Seattle has been either occupying the top spot or near the top as the hottest real estate market in the country. The low number of homes for sale remains the main factor driving prices upward.
The major difference between different times of year is the variation in the number of homes for sales that naturally cycles through the lowest number in winter and then builds up to peak activity in the spring and early summer months.
The graphic below shows how homes for sale in Ballard Seattle compared in February 2017 versus 12 months earlier in February 2016.

Data summary:
In February 2017, there was a total of 76 new listings (single family and condos combined) which was 11% lower than a year earlier.
There was a big drop of 57% in the number of homes that sold.
The average...