Debt is one person's liability, but another person's asset - Paul Krugman.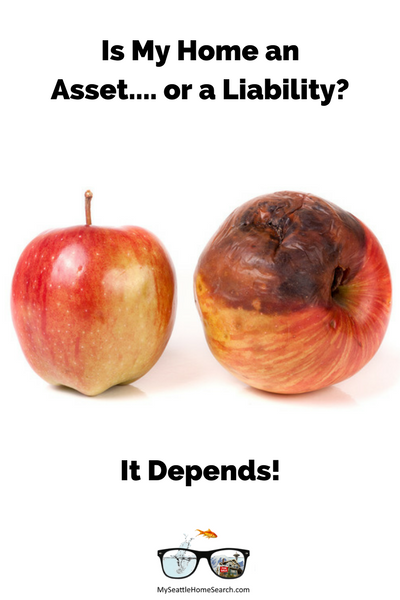 The US real estate market is currently booming and Seattle real estate is top of the heap. At the time of writing this, Seattle home prices are up close to 13% year-over-year and a whopping 47% above the previous highs of 2007.
If you own a home, you might be gleefully looking at those newspaper headlines detailing the latest market surges, dwindling inventories and desperate buyers fighting it out trying to buy a home while driving prices upward. While sipping your morning coffee, you'll be silently pondering "I wonder how much my home is worth now?'
Yes indeed, times are great and homeownership is a great investment!
Or is it?
No, this is not an article about whether we are in the midst of another real estate bubble, but rather a look at how the biggest purchase of your life can be an asset or a liability, or neither. Also, even if you walk away with $200,000 in your checking account after the sale of your home, was your home really an asset / good investment in the strict sense of the word?
A home can be a potential asset or quickly spiral into a financial albatross around your neck. Alternatively, your "investment" can just sit there and do nothing. Some things, like sudden economic changes, are out of your control, but others like taking too much equity out of your home to buy a speedboat are within the realm of human stupidity.
Historically, home prices have gone up in value but it's not a smooth, linear upward trend. Here's the Case-Shiller US home price index, adjusted for inflation, starting way back in 1890. Note that the index measures the changes in the sale price of single family...