My prediction for the 2019 Seattle real estate market
Posted by Conor MacEvilly on Tuesday, February 5, 2019 at 7:25 AM
By Conor MacEvilly / February 5, 2019
Comment
What will the Seattle real estate market do in 2019?
My guess is as good anyone else I suppose, so I might as well have a crack at it.
I'm only predicting what the median sale price will do over the course of 2019. And home prices are what homeowners, sellers, buyers (and Realtors) usually obsess over the most.
I will revisit my prediction every quarter to see if I end up being anywhere near what actually transpires over the year.
Few people foresaw the way the market turned on a dime last spring and I definitely wasn't one of them. So with that in mind...
Here's my 2019 prediction: The Seattle and Eastside median price will increase by 4 to 6% between now and spring / early summer and then drop back down to current levels by the end of the year.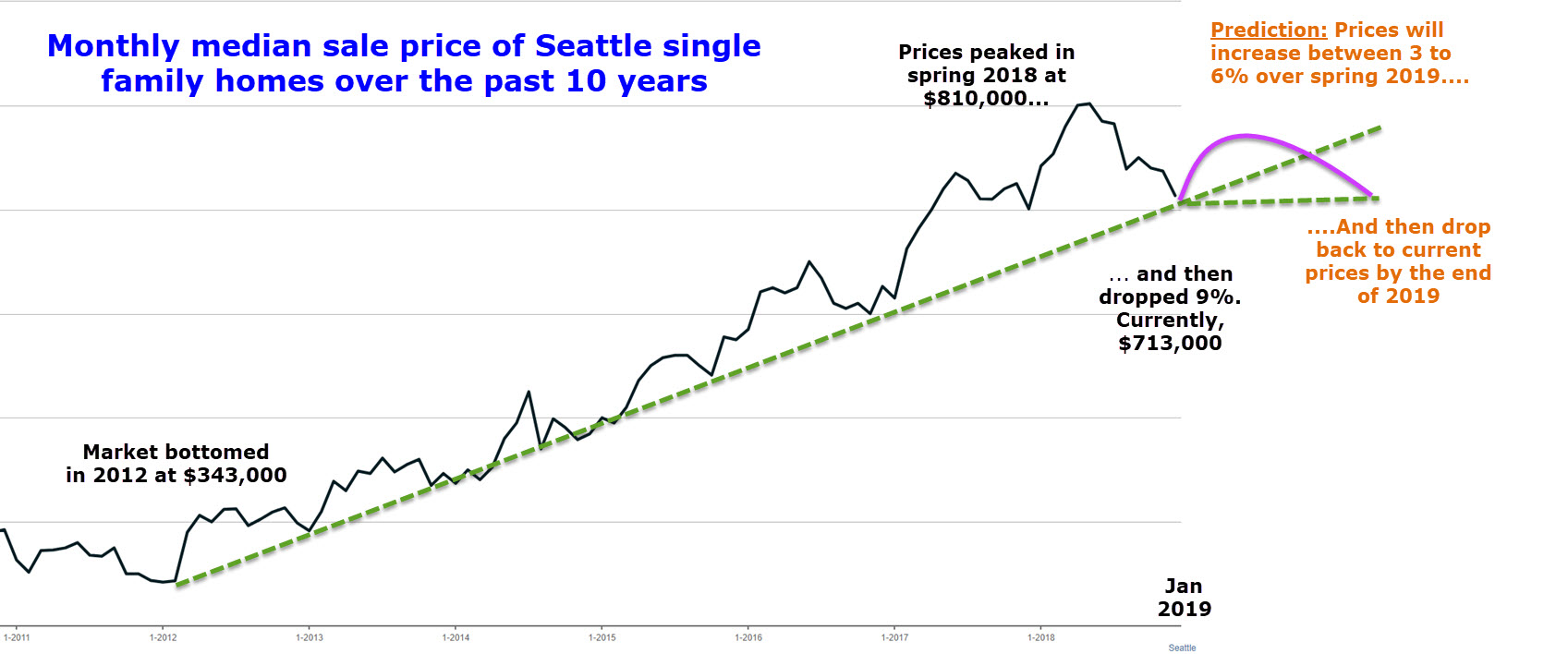 Why I think Seattle home prices are going to go back up:
Prices peaked in May at $802,000 and fell to $713,000 by January, a drop of 9%.
This price drop is likely going to attract more buyers back into the market who gave up last spring when the market was in manic mode and buyers were constantly getting into bidding wars and forced to pay well over list price to get a home. Buyers got fed up being manipulated by the housing market and just stepped back en mass. Now they are seeing homes taking longer to sell, price drops and sales contingent on inspections.
Prices have finally hit the Conor Trend Support Line drawn (manually) under the lower prices of the upward trend. I predict that prices will bounce back up off that support price.
Prices will finally break BELOW the trend line by the end of 2019.
We are coming out of the winter/holiday hibernation season and will soon be entering the (usually) most active time of the year...the spring and early summer months. Also, this just happens to coincide with prices hitting the price trend support line.
Just in the past 3 weeks, I'm starting to see homes selling more quickly and starting to get a few offers. Plenty of homes are still sitting on the market and having to cut their prices, but for those homes that are being listed in January 2019 and not considered "2018 stale" by buyers, those 2019 homes are selling at a faster pace.
Seattle and the Eastside are still booming. Despite HQ-2, Amazon will still be doubling it's current local footprint between now and 2022, plus all the other big players like Google, Facebook and Apple and lots of other companies have big expansions plans.... all of which means more people continuing to move to the area over the next few years.... and looking to buy homes.
Home prices are still going up in more affordable areas outside the more spendy Seattle/Eastside hub.
Housing inventory has started to drop again.
All of this, of course, comes with the giant caveat of what happens the US economy in general, trade wars with other countries, government shutdowns, the over-influence of the fear/greed cycles and palpitations of the stock market, and will builders start pulling back on building new homes and outbidding home buyers for build-able lots/properties?
As I heard some "real estate guru" stating on the radio recently, Seattle and the Eastside have become like San Francisco, New York, and LA...expensive cities. And once you hit that category, you stay an expensive city.
Time will tell. Stay tuned.