Questions to Ask When Selling a Mortgaged House
Posted by Conor MacEvilly on Monday, May 2, 2022 at 11:40 AM
By Conor MacEvilly / May 2, 2022
Comment
The majority of people buy their home using a mortgage and eventually, those owners want to know about selling a mortgaged house.
If you are selling a mortgaged house you will need to take into consideration the type of loan you have, how much equity you have in the home, and if you have any additional loans like a home equity line of credit (HELOC). If you owe more than your mortgage (negative equity), you might not be able to sell your property.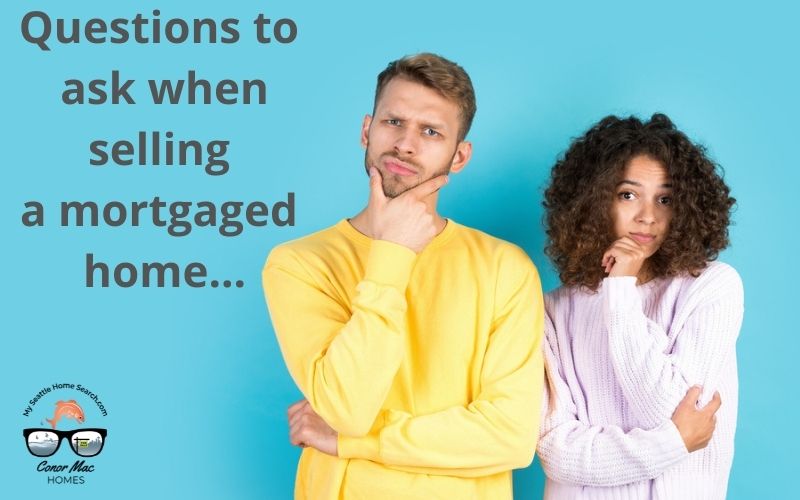 This article will answer many of the questions homeowners have about selling a home that has a mortgage or additional active loans in place.
Can You Sell A Home With A Mortgage?
The short answer is, yes, absolutely! You are completely free to sell your home before paying off your mortgage. Most home buyers get a 30-year mortgage and very few of those buyers stay in the home for a full thirty years. Therefore it is really common for homes listed for sale to have an active mortgage in place.
When you sell your home the outstanding balance on your mortgage will be paid off from the proceeds of the sale and the remainder is your equity in the property that you will receive in cash after closing.
However, whether you can sell your home will depend on whether you have any equity in your home.
What is equity in your home?
Equity is your financial stake in the property you own. It's the dollar amount you earn on your home when you sell it, after paying off your mortgage and deducting other selling-related expenses.
Say your home is worth $800,000 and the current balance on your mortgage is $400,000 then you have approximately $400,000 in equity in your home.
However, when you decide to sell your home and list it on the market, there will be additional fees and closing costs that will need to be subtracted from the proceeds of the sale at closing. These include title and exfrow fees, Realtor commissions, and potentially capital gains tax.
How much Do you have left on your mortgage?
If you are thinking of selling your home then it is a good idea to find out how much is remaining on your mortgage. You will need to take this into consideration when determining how much equity you have in your home and how much you will walk away with a closing. Payoff refers to the total amount of money that must be paid off in order for a mortgage to become fully satisfied.
Contact your mortgage lender and ask them for a copy of a payoff quote well in advance of listing your home. And don't forget any secondary loans like a HELOC as well. I'm often surprised when I meet sellers and they fail to mention or remember that besides their primary home loan, they also have a second mortgage on their property. The second loan will be listed on the title report for their home. Both of these loans need to be taken into consideration when determining the payoff amount.
Besides your outstanding mortgage balance, your payoff quote will show the interest that'll be paid off between the date the payoff estimate was created and the expiration of the estimated payoff date. If you still have a mortgage insurance policy associated with the loan, then you'll need to pay that off too.
Do you have additional loans and liens to pay off?
Besides your primary mortgage, you also need to remember that you may have an active home equity line of credit (HELOC) when you tapped the equity to remodel the bathroom and kitchen. Also potentially there might be a lien on your property. For example, you failed to pay the contractor who put that new roof on your home and they put a lien on your property to make sure they get paid. All of those would have to be paid off when you sell your home.
What are my Net Proceeds? Show me the money!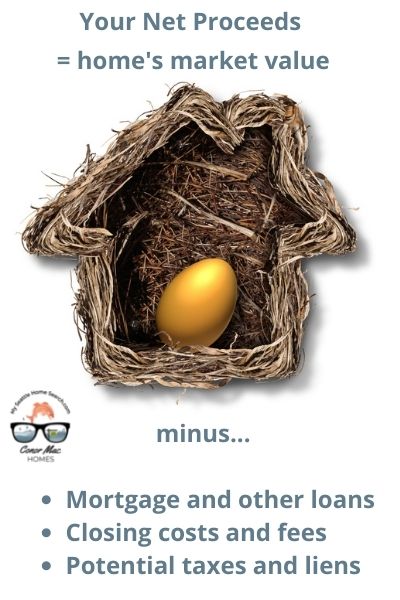 When selling a mortgaged home, every owner wants to know how much money they will walk away with at closing after paying off their mortgage.
Home sellers should ask their listing agent to estimate their net proceeds from the sale. Net proceeds are basically the sale price of the home - (loans + selling costs and fees).
Before listing your home, right at the very start of the process, you want to do a net proceeds calculation to see if you will actually walk away with a net profit.
The initial net proceeds calculation is just an estimation and the actual amount you walk away with at closing will depend on the final sale price of your home. When you get closer to closing day, escrow will give you an exact number.
What happens to your mortgage when you sell your home?
Assuming you have sufficient equity in your home, and when you sell it the proceeds from the sale want to pay off your mortgage. Any remaining funds would go to you. If you have a second loan like a HELOC, then the primary mortgage gets paid off first, and then the secondary mortgage.
Basically, after closing and after those loans have been paid off from the proceeds of the sale then those mortgages don't exist anymore and you are free to move on with your life. It's as simple as that and you have no further obligation to those lenders.
What happens to my equity when I sell my house?
As mentioned earlier, the equity in your home is what you get for the home for selling it minus all the expenses including paying off your mortgage. When you close on the sale and after all the various expenses have been paid off then the remaining funds will be wired to your bank account within a day or two of closing.
The closing agent will ensure that those funds go to you directly to you and you can sleep soundly knowing that nobody's going to run off with your money.
Does my mortgage have an early pre-payment penalty?
One thing to be aware of, particularly if you bought a home fairly recently, is to check if your loan has a prepayment penalty. Some loans will have a condition that if you sell the home within a few years of closing that you are then liable to pay a penalty to the lender.
The penalty fee is a way for lenders to encourage borrowers to repay their loans over a longer period of time, which means they can charge them more interest. The penalty will apply if the owner refinances the loan or sells the home.
Both the way the penalty fee is applied and how much that fee is will depend on the loan and the individual lender. The fee might be a certain number of months of interest payments, a percentage of the remaining balance, or maybe a preset specific dollar amount.
Can I sell my home if I have Negative Equity?
If you have negative equity, you owe more on your home than its worth. This is sometimes called being underwater on your home.
The real estate market may have dropped and now your home is worth less than it used to be or you extracted too much equity via lines of credit and now your total loans are more than the market value of your property.
If you are in this situation, you have three options:
Wait to sell until you have positive net equity
Bring cash to closing to cover the gap between the mortgage loan and your current equity.
Sell your home via a short sale. The latter can be a complicated process, you will need to get permission from your lender plus it will have a major negative impact on your credit rating.
Can you sell a home with a Reverse Mortgage?
A reverse mortgage allows homeowners to convert their home's equity into a lien, allowing them to receive monthly payments.
But yes, homeowners with reverse mortgages are completely free to sell their homes. You still own the home, the title to the home, and can do with it as you please. However, if you do decide to sell then you need to make sure sufficient equity to cover the balance of the loan.
What if there's a special assessment for my home?
Although not a loan per se, if your Home Owners Association (HOA) has a current or upcoming special assessment for your home, then that will probably need to be paid off at closing unless you can find a buyer willing to inherit it.
These assessments can be very expensive and potentially either eat up a large portion of any equity you have in a home or worse, lead to net negative equity, and need to cover the difference in cash at closing.
Do I have to notify my lender that I am selling the home?
Not critical, but it doesn't hurt to do so.
As part of the sale and closing process, escrow, aka the closing agent, will contact your lender(s) to ask for a payoff statement. On closing day, escrow will make sure to extract that payoff amount from the proceeds of the sale and pay off the remaining balance of your mortgage.
Likewise, escrow will pay off any additional loans such as a HELOC. If you forget that you have additional loans, don't worry, they will all be listed on the title report for your property. There is no escape!
So, even if you don't personally notify your lender that you are selling, the escrow team will alert them.
To summarize regarding selling a mortgaged house: having a mortgage does not limit your ability to sell your home and you are free to sell whenever you want. However, you do need to confirm that you have sufficient equity to pay off any loans on the home, including any secondary loans plus the closing costs, and fees associated with selling a home.