Seattle home prices are bouncing sideways but going up in more affordable nearby cities
Posted by Conor MacEvilly on Saturday, August 22, 2020 at 9:38 AM
By Conor MacEvilly / August 22, 2020
Comment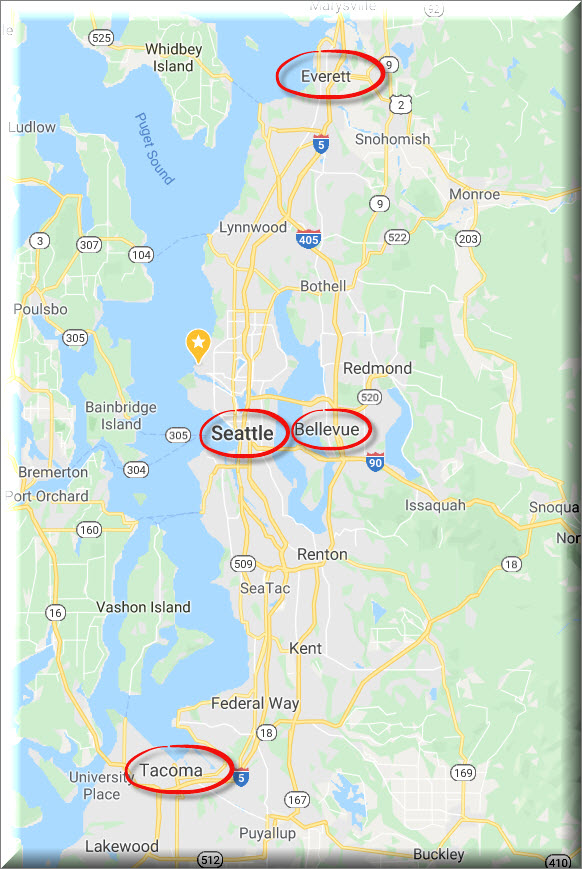 Despite the worldwide COVID-19 pandemic and the devastating impact on national and local economies, the Seattle and other local real estate markets are currently in a hot sellers market.
Homes are getting multiple offers, buyers are waiving contingencies (inspections, appraisals, etc), and many homes are selling for well over list price.
If you area buyer trying to get your foot in the home ownership door, it can seem like Seattle home prices are hitting new highs and will forever climb out of reach.
One reason for the current hot market are the historically low interest rates which increases buyer's buying power. Buyers don't want to miss out on those great rates.
So what's the reality? Are Seattle home prices higher than ever?
I looked at the monthly median sale price trends for homes (single family homes plus condos combined) for the following Puget Sound area cities as displayed on the map above:
Seattle
Bellevue
Tacoma
Everett
The graph below shows how the monthly median sale price of homes in these 4 cities has varied over the past 3 years. All data was drawn from the NWMLS as of August 2020.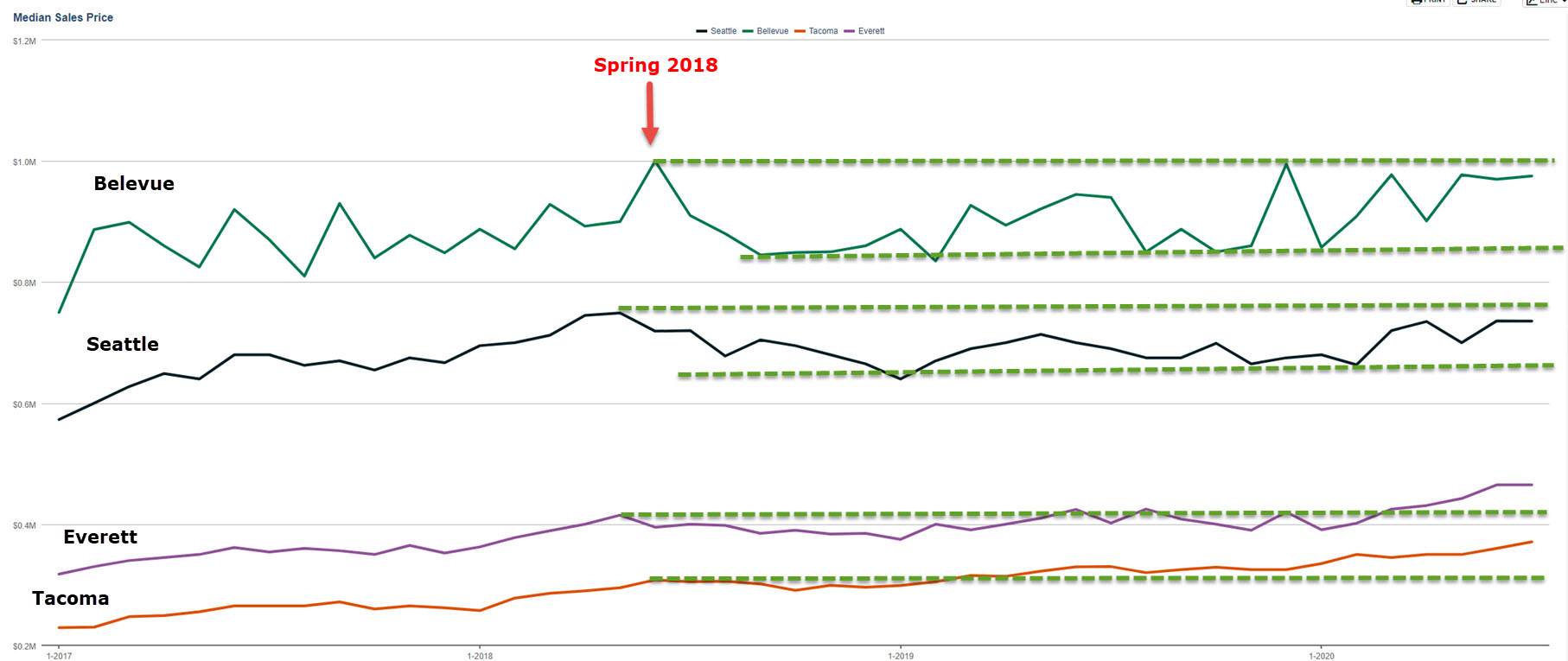 Back in May of 2018, after a strong seller's market throughout the previous 2 years, buyers appeared to step back en masse and the market actually dropped by over 10%.
Seattle dropped from a median sale price of $749,000 in May 2018 to $640,000 in January 2019, a drop of 14.6%.
For homes in Bellevue, prices dropped by 16.5% by February 2019.
And basically, ever since May 2018, home prices in both the higher priced cities of Seattle and Bellevue, have essentially been bouncing sideways between those two price points. Prices might be going up at the time this article was written (summer of 2020) but they still have not broken above the previous highs seen in spring of 2018.
Seattle homes price are currently at 98.2% of previous highs and Bellevue home prices are at 97.5% of previous highs.
Homes prices in further out, more affordable cites are seeing new price highs.
For those willing to tolerate a longer commute, both Everett to the north and Tacoma to the south are considerably more affordable housing options, particularly for first time buyers. Both of these cities are currently seeing new pricing highs.
After the spring of 2018, Everett home pries dropped from $415,000 to $375,000 (-9.6%) but currently are at $465,000 which is 12% above 2018's high prices.
Tacoma home prices only dropped by 4.2% but now the median price is $371,000, a whopping 20.1% above previous highs! In May 2019, Tacoma WA was one of the hottest real estate markets in the whole of the US.
A wee observation: Seattle home prices also bounced sideways for about 3 years post bubble at the bottom of the market before surging upward starting in 2012. It remains to be seen if the current sideways move will be followed by prices breaking upward or.... in the opposite direction as the effects of COVID-19 further impact economies.
As with all predictions, take them all with a healthy pinch of salt. After all, few, if anyone, predicted that we would be experiencing the current market when we all went into lock-down in our sweatpants in March.