Seattle house prices versus the number of bedrooms
Posted by Conor MacEvilly on Wednesday, June 22, 2022 at 2:16 PM
By Conor MacEvilly / June 22, 2022
Comment
Unless you are downsizing to a smaller home, most buyers want to get as much space and as many bedrooms as their budget will allow for, particularly buyers with growing families.
So, how much are those extra bedrooms going to cost you when buying a Seattle house?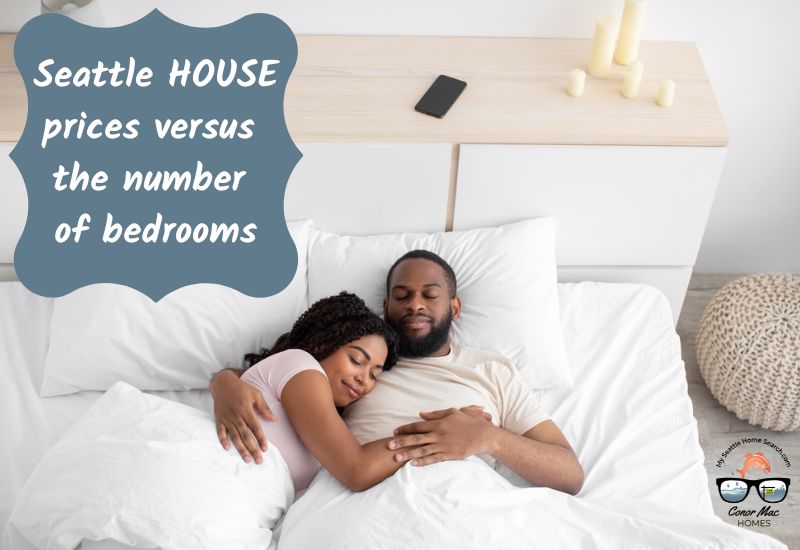 I crunched the data for Seattle single-family homes, specifically houses (excluding townhomes), and looked at the correlation between the sale price and the number of bedrooms. I focused on NW Seattle for the 3 month period between mid-April and mid-June in 2022. Note that this spanned a very strong seller's market before increasing interest rates started to cool the market.
The NW Seattle area covers Wallingford, through Ballard up to the North Beach and Broadview neighborhoods. These sale statistics look at houses with 2, 3, 4, and 5 or more bedrooms.
The table below shows the following data for Seattle house sales:
The median sale price in relation to the number of bedrooms.
The average size of homes per number of bedrooms.
The average price per square foot.
How much, on average, you would have to pay for an additional bedroom.
The number of houses with 2, 3, 4 and 5 of more bedrooms.

Graph showing how the sale price of NW Seattle houses varies with the number of bedrooms.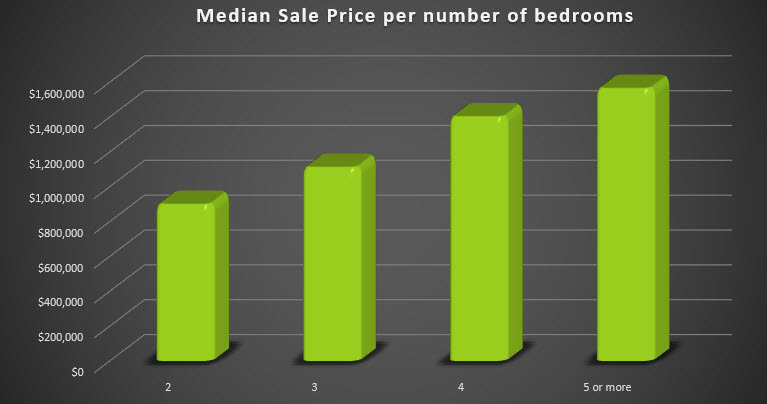 Graph showing how NW Seattle home sizes vary with the number of bedrooms.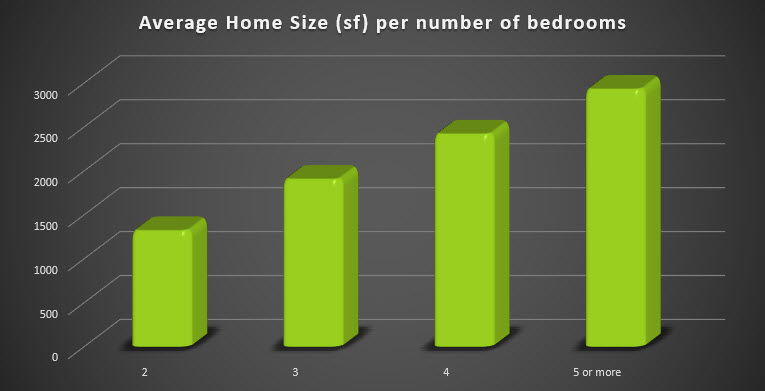 Some observations on the effect of the number of bedrooms on Seattle house prices.
Not unexpectedly, houses with more bedrooms sell for more, with median sale prices ranging from $900,000 for 2-bedroom homes up to $1,565,000 for houses with 5 or more bedrooms.
Likewise, the average size of the homes increases from 1,321sf for 2-bedroom homes up to 2,930sf for houses with 5 or more bedrooms.
Homes with just 2 bedrooms were the more expensive in terms of price per square foot at $681/sf whereas homes with 3 or more bedrooms ranged between $534 and $583/sf.
On average, moving up to a home with an additional bedroom added a significant amount to the price tag.
Going from a 2 to a 3-bedroom home costs $212,000 more.
Going from a 3 to a 4-bedroom home costs $290,000 more.
Going from a 4 to a 5 or more bedroom house increased the price by $162,000.
Not shown in the data table, but 3-bedroom house sales were the most common making up 45% of sales, followed by 4-bedroom at 25%, 2-bedroom at 18% while houses with 5 or more bedrooms made up just 12% of the market.
Before you look at the data and say to yourself...I have a 4-bedroom house so my home should be worth around $1.4M, remember that these are median prices and some homes will sell well above that price and some well below. There are a lot of other factors that determine the sale price of a home beside the number of bedrooms plus there is a lot of overlap in sale prices for each category. For example, one of the 2-bedroom homes sold for $1,650,000!
Will adding an extra bedroom increase the value of my home?
Based on the data above, on average, homes with an extra bedroom sell for more. So, does that mean that if you add another bedroom to your home, the value will automatically jump up to the next price level?
The short answer is that not all bedrooms are created equally!
Here are some factors that can affect the value of adding a new bedroom:
Is it a legit, conforming bedroom? For tax and appraisal purposes to be able to state that a home has, say 4 bedrooms, then all 4 of them must have (1) a built-in closet and (2) egress, i.e. a window escape route that is large enough to exit the home in the event of a fire.
Note that a lot of homes in Seattle have finished basements with bedrooms and many of them are non-conforming because they don't have adequate egress. To fully comply with egress codes requires increasing the size of the basement bedroom window plus adding an exterior window well.
The size of the bedroom. Do you need a shoe-horn to squeeze a bed into the room or is it a new primary bedroom with an ensuite bathroom? If you do a major model including an extension you need to be aware of the potential return on your investment.
Are you adding the bedroom to the existing space in the home or is it part of a new extension to the home?
The location of the bedroom. For example, are you adding the bedroom to a previously unfinished basement versus the main floor or upstairs. Appraisers will give less weight to basement bedrooms.
The number of bedrooms in relation to the size of the home. If you are trying to wedge in a 4th bedroom in a 1,300sf home then those bedrooms are all probably going to be on the small side and you might be better off with 3 decent-sized bedrooms instead?
For homes that are on septic systems, you need to be aware of the number of bedrooms that the system is approved for. Let's take the example of a home that when originally built where the septic was approved for a 3-bedroom home. If you add a 4th bedroom, when it comes time to sell, you could only advertise it as a 3-bedroom house with a bonus room, not as a 4-bedroom home. To sell as a 4-bedroom house, you would have to upgrade the septic system which might cost more than adding that bedroom!
In summary, regarding how the number of bedrooms affects the sale price of Seattle houses, on average, a house with more bedrooms will cost you significantly more but not all bedrooms are equal.