Seattle one story homes are more affordable but cost more per square foot
Posted by Conor MacEvilly on Saturday, August 19, 2023 at 11:30 AM
By Conor MacEvilly / August 19, 2023
Comment
Seattle one-story home listings are popular with many buyers. The classic rambler has just one floor and there's no flight of stairs to negotiate and usually just a couple of steps at most to the front door. All living spaces are on the same floor including the bedrooms. Seattle 1-story homes are sought after by older buyers looking to downsize and avoid steps & stairs and by buyers who just like simple one-floor layouts.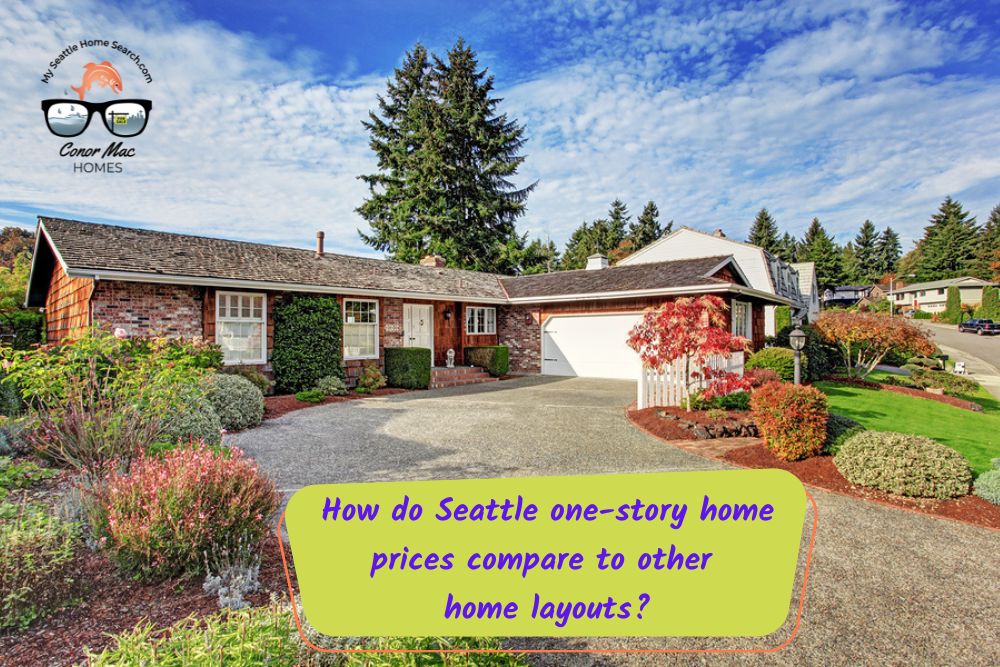 And yes, before we go any further, "affordable" is a relative term and Seattle is not exactly one of the more affordable cities in the US to buy a home.
How do Seattle single-story homes prices compare to other types of houses?
I compared sales data for the following three types of homes for the city of Seattle. All data was pulled from the Northwest MLS (NWMLS). Note that the data is specifically for HOUSES and excludes condos.
Seattle 1-story homes.
Seattle 1-story homes with basements.
Seattle 2-story homes.
Note that data was not available for 2-story homes with a basement which are not uncommon in Seattle including my own home, a 1932 brick Tudor.
Here's the 5-year monthly median sale price trend for all three types of homes. From the graph below it is pretty obvious that the median sale price of single-story homes in Seattle is significantly and consistently less than the other two types of houses.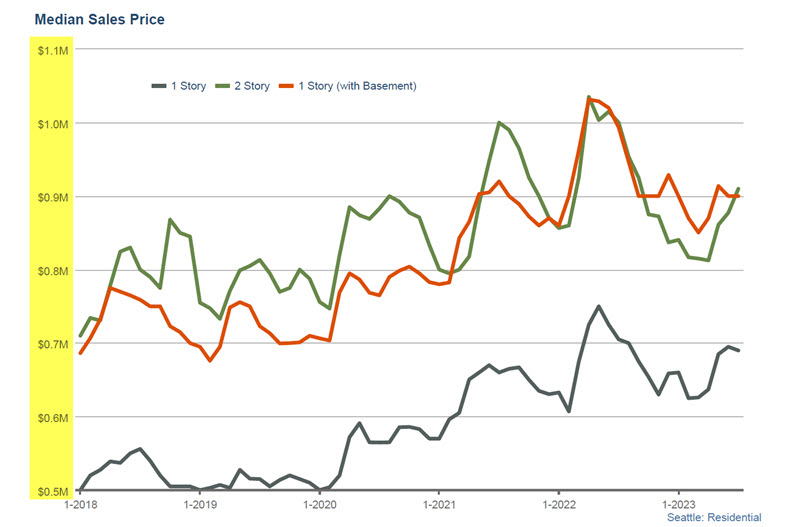 This data was pulled in August 2023 the median sale prices were as follows:
1-story homes: $690,000.
1-story with a basement: $900,000.
2-story homes: $910,000.
So, one-story houses in Seattle sold for about 24% less. The main reason that single-story home prices are lower is that, in general, these properties are just smaller homes with less square footage because they don't have a second story or a basement. The Seattle area does not have large, sprawling 1-story homes like other parts of the country. The majority of homes in Seattle were built prior to the 1950s and so we never got around to sprawling large one-floor homes. Plus lot sizes in Seattle are usually 5,000sf and under.
Here is the average living space (square footage) for these 3 different layouts when I looked at houses that sold in the NW Seattle area over the 3 previous months:
1-story houses: 1,140sf (35 sales).
1-story with a basement: 1,757sf (81 sales).
2-story homes: 2,130sf (41 sales).
2-story with a basement: 2,754 (75 sales).
So yes, not unexpectedly, Seattle rambler homes are significantly smaller and similar to 2-story homes, there are about 50% fewer of them listed for sale compared to houses with basements (for the NW Seattle area at least).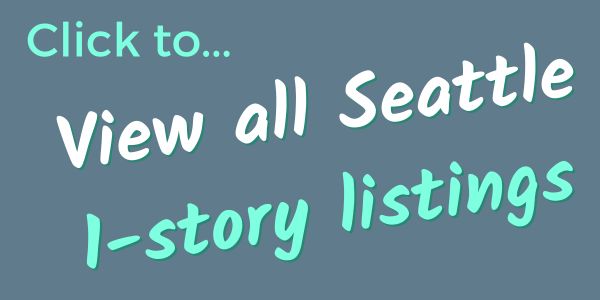 What about the price per square foot for Seattle 1-floor houses?
Although ramblers are the more affordable of the three types of layouts, they are significantly more expensive on a cost per square foot basis as shown in the graph below.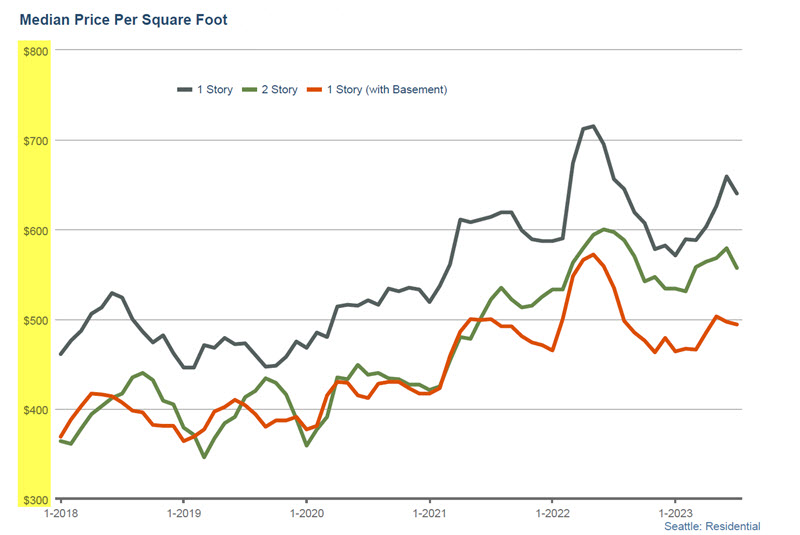 For the same time point in August 2023 here are the price per square foot for the three different types of homes:
1-story homes: $640/square foot.
1-story with a basement: $494/square foot.
2-story homes: $557/square foot.
Ramblers is consistently higher than the other two homes. This implies that buyers are willing to pay a premium for homes with a one-story layout... and no stairs!
Do one-story homes sell for more Above ThE price compared to other Seattle houses?
This plot shows the five-year trend for the ratio of the sale price of a home to the corresponding original list price. This ratio is usually a good indicator of how competitive the market is. For example, in a strong seller's market homes will sell for significantly above the original asking price, and in a slower stronger buyer's market, it will drop below the 100% mark. So, how does that ratio look for different house layouts?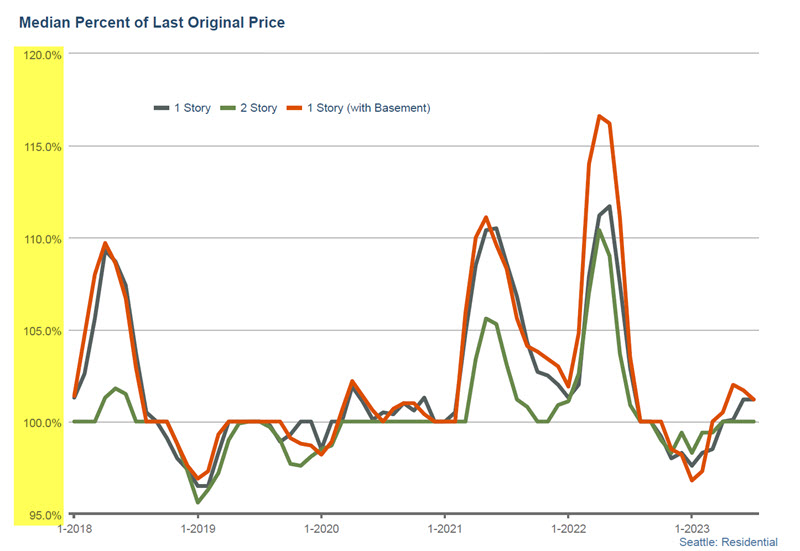 There's no obvious indication that Seattle 1-floor houses sell for a greater percentage of the list price compared to the other two home layouts.
To summarise regarding Seattle single-story home prices:
One-story homes in the Seattle area, although more affordable compared to two-story homes or one-story homes with basements, they are significantly more expensive on a cost-per-square-foot basis. The NW Seattle area at least had about 50% fewer one-story homes that sold compared to Seattle houses with basements so the competition for true 1-story homes with no basements homes might be a little higher.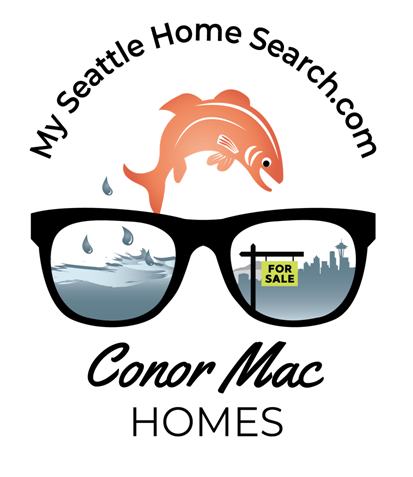 This article was written by Seattle and Eastside Realtor Conor MacEvilly who has been in the business since 2008. I hope you enjoyed the post and thanks for visiting my website. If you have any questions about Puget Sounds area residential real estate feel free to contact me. I'm happy to help. My direct line (cell) is 206-349-8477.