Selling Your House to an iBuyer? Better Examine the Offer Closely.
Posted by Conor MacEvilly on Thursday, October 24, 2019 at 7:12 AM
By Conor MacEvilly / October 24, 2019
2 Comments
The pros and cons of using an iBuyer to sell your home.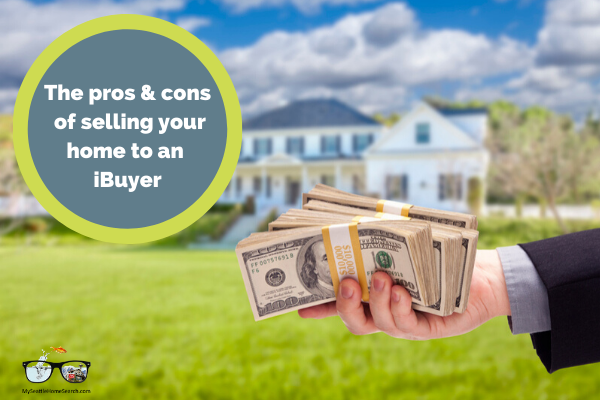 As a homeowner these days, you have many options when it comes to selling your house. Aside from the traditional route of picking a reputable realtor and putting your home on the open market, you can also go FSBO (For Sale By Owner) or sell it to an investor or company. These have been the standard choices for a while now, with the recent addition of what is known as an "iBuyer." So what does selling your house to an iBuyer look like?
An iBuyer is loosely defined as "a company that uses technology to make an offer on your home." Which simply means they rely on the data of an algorithm to come up with a price for your home, versus the traditional way of comparing similar recently sold properties. Zillow isn't the only company that keeps track of home prices, and other companies have leveraged the data in order to start purchasing homes in certain markets. These companies look for houses that are in good shape or need quick fixes in order to purchase them, take short term ownership of the home, make any needed repairs and sell them quickly.
Who are iBuyers?
The four main iBuyer companies are OpenDoor, Offerpad, Zillow Offers and Redfin Now. OpenDoor has been at it the longest (since 2014) and has the biggest market share. According to Zillow's ATTOM data Solutions, OpenDoor purchased just over 10,000 homes in 2018. Currently, none of these companies operate in the Seattle real estate market – even though Zillow and Redfin are both Seattle startups.
So why do they not yet operate in Seattle? The goal of many of these companies is to go nationwide at some point. But Seattle's variable housing landscape – where you can find multi-family apartment buildings next to million-dollar mansions in neighborhoods like Queen Anne and Capitol Hill – makes automating a pricing strategy difficult. The markets they currently operate in, such as Phoenix, are more homogenous so pricing homes are more reliable. However, don't rule them out for the future.
Why sell your home to an iBuyer?
iBuyer startups were allegedly borne out of a desire to make the home-selling process easier and more seamless. Anyone who has bought and sold a house at the same time knows how stressful and tricky that process can be. You have to juggle multiple dates and deadlines and – sometimes – you may even have to find temporary housing in between two closing dates. Not to mention all the work and preparation that goes into the home before listing it. In addition, in a seller's market, trying to buy your next home contingent on the sale of your current home does not make for a very competitive offer.
For people who need to sell fast, such as when they're taking a job opportunity in a new city, don't have a lot of funds to fix up their house, or are facing a financial problem, an offer from an iBuyer may help reduce the stresses of selling. The main benefits advertised when selling your house to an iBuyer are getting a near-instant offer on your property, avoiding the costs of repairs and staging, and not having to deal with open houses or coordinating private showings. For some, these reasons alone may make it worth it for them to accept a slightly lower offer than what a realtor might fetch them.
How Does This Process Work?
You fill out a form on their website with your address and contact information requesting an offer. Their algorithm comes up with an initial price for your home, and you typically get a written offer within 24-48 hours. While this is not exactly "instant," it is a lot faster than the traditional home sale process, where waiting for a buyer can take weeks or months. The offer may be slightly below what your home could get if you listed traditionally and this is because the company is "taking on the risk" of having to fix up your home and resell it later.
The next part of the process is where it gets a little less straightforward – the inspection process. In fact, it may be a common misconception that the whole process with iBuyers is that once you have an offer, you pick a closing day and the net proceeds appear in your bank account! Boom! You're done, right? That's how the process is marketed, yet that's not exactly how things work.
There is an inspection process built into most of these offers, where an inspector will review your house in person to make sure there are no major repairs that you already didn't disclose. A Reddit user posted about his experience in a post on r/realestate, disclosing how Zillow Offers initially offered him $6k more than what a realtor would sell his house for, only to turn around at every opportunity and lower the price. After the inspection, they asked for nearly $7,500 in "repair credits" (just a fancy way for them to say they're deducting the costs of repairs needed from your original offer price.)
Turns out, many home sellers don't find this part of the process to be very customer friendly. OpenDoor and Offerpad have enough bad reviews on sites like reviews.io and SiteJabber, touting a "less than impressive" selling experience. Complaints range from outlandish repair estimates to outright fraudulent repair estimates, and even some shady attempts to further reduce the price after closing documents have been signed. While any company can have bad reviews, the disgruntled reviews for OpenDoor and Offerpad seem to follow a common theme about how they're not up-front about their sales process.
Additionally, depending on the company, they may offer you the opportunity to fix the repairs yourself. Which begs the question… if you're going to repair the house yourself, why not just get a realtor?
And Then There are the Fees…
OpenDoor also charges a Service fee of between 6-12% depending on the market and individual house. Other iBuyer companies charge similar fees – all are more than the traditional realtor commissions of 5-6%.
If you're a home seller in a tough situation needing to sell your house in a pinch, it's unlikely that these fees are going to be very palatable. This is especially true if you're already getting a lower offer than you would if you sold traditionally. When you're considering an offer from an iBuyer, take a look at the net proceeds. You may find out that it doesn't make financial sense to sell to one of these companies.
Is It Worth it?
Earlier this year, MarketWatch investigated several of these transactions and concluded that people who sell their homes this way end up receiving 11% less than if they had sold their homes with a Realtor, when all costs and fees are factored in. That can add up, especially in a market with more expensive homes.
The article also states the findings "revealed uncertainty around the transactions — the scope of inspections, for instance — than the iBuyer model purports to offer consumers who are looking for ease."
That last sentence is worth some further consideration. Consumers do pay money for ease and convenience, but an old adage also applies here: If it seems too good to be true, it probably is. While iBuyer companies have shaken the real estate landscape, they haven't outdone the traditional agent.
The basic conclusion here is that if you're not in a hurry to sell, putting a little bit of work into your house to fix it up and selling it the traditional way is still the clear winner.
However, there are also plenty of local investment companies that will purchase your house sans the high service fees and repair credits. Beachworks LLC is one such company operating in the Seattle area. They offer a similar service with a more straightforward purchase option and don't add hidden charges – such as a cancellation fee. If you need to sell your home fast, they're a better option to go with.
In conclusion, for some home sellers under the right circumstances, selling their home to an iBuyer might be a convenient match made in real estate heaven....after a thorough reading and understanding of what exactly the iBuyer is offering (and taking). For the vast majority of home sellers, they need to weigh up whether they are giving up a lot of hard-earned equity via high iBuyer fees and the likely lower sale price their home will get compared to if they had listed it the open market with a Realtor.
This post was written by Melissa Saling, marketing manager at Beachworks LLC.
Here are some additional useful resources on the subject from other real estate bloggers:
Alternatives to selling your home to iBuyer companies from John Cunningham.
What you need to know about selling your home to house flipping companies from Bill Gassett.
Why you should run from discount agents from Glenn Shelhamer.