Should I Remodel My Home Before Selling? 10 Reality Check Questions
Posted by Conor MacEvilly on Monday, May 9, 2022 at 2:22 PM
By Conor MacEvilly / May 9, 2022
Comment
Many sellers will ask if they should remodel their home before selling or just sell as-is. If the home is renovated then it will sell for more money. Right?
While a remodel should increase the sales price when selling your home, the question is whether you will get more money back than you put into the remodel? Will your net sale price and return on your investment be any better compared to just selling it as-is or doing needed repairs?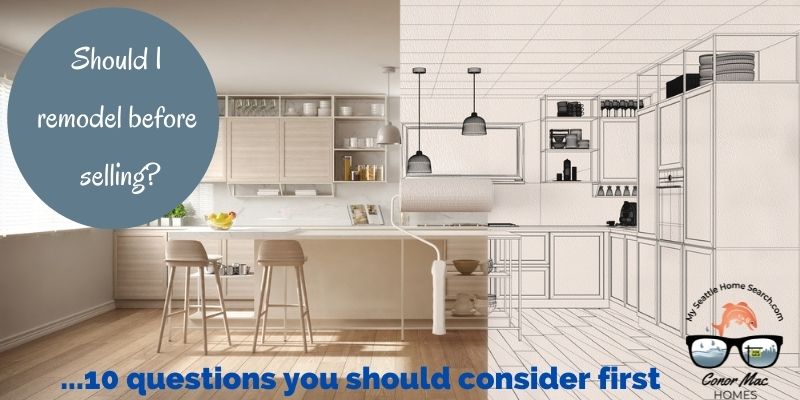 This article lists the questions every home seller should consider before jumping on the phone to hire that remodel contractor. Also looks at data for the potential ROI for different interior and exterior renovations.
But first, what's the difference between remodeled, renovated, updated, and selling as-is?
Realtors are infamous for fluffy euphemisms when describing the condition of their listings. Let's take the kitchen as an example to demonstrate what certain terms actually mean,
Studs-out remodel: this is where you literally stip everything out including the walls, leaving exposed wall studs, remove the old wiring and plumbing, throw out all the old cabinets, and rip up the floors. And then basically replace everything. This is more of the domain of property investors and flippers and fixer-upper homes.
Remodel or Renovate: this is a step down from a studs-out remodel, but in the case of a kitchen, all the existing cupboards, appliances, lighting fixtures, and floors would end up in a dumpster and be replaced with all new finishes.
Updated: this one gets used a lot by real estate agents and can mean anything from just changing out the countertop or adding new cupboard handles and a light fixture.
"Recently updated" and/or "newer": where the time period can mean anything from 10 years (newer roof) or 3 years (recently painted). When a home hasn't had any recent major updates, listings agents will be frantically grasping at stuff that they can highlight.
Selling As-Is: when a seller says they are selling a home as-is, this means that they want to sell their home in its current condition without doing any repairs and that they are not willing to negotiate on doing repairs after they accept an offer on the home. The reality might be otherwise and just because the seller specifies AS-IS on the listing, will not prevent a buyer from negotiating for repairs or a price reduction. Some sellers will get quotes from contractors before listing so prospective buyers have an idea of how much the repairs will cost.
OK, it's time to ask yourself some questions and determine whether you should renovate your home before selling it.
Do you have the time to do a remodel before listing your home?
If you want to list your home for the peak spring market months and it's already January, realistically are you going to be able to get a few contractor quotes, pick one, get them scheduled and get the work completed by March?
Even if you could lock down a contractor, whatever timeline they quote you, just add 50% to that.
Do you have the money to pay for the renovation?
A big kitchen renovation or bathroom remodel is not cheap and getting more expensive with supply chain issues. Most owners will underestimate how much a real remodel will cost and contractors are not willing to get paid after the home sells. So, do you have the cash in hand to cover the costs or would you need to take out a home equity line of credit, HELOC, or another home improvement loan?
Also, more than likely, your final bill is going to be higher than the quote you get on day one due to unforeseen issues once the work starts or you change your mind as to what finishes you want.
Can you actually find a (competent) contractor?
In a booming economy, it can really difficult to find a contractor, especially if you need one in a hurry. It's currently gold-rush time for contractors and the good ones are booked out for months already. Also, many contractors just want the bigger juicer jobs and might turn their noses up at a $50,000 job.
The risk is going with a cheaper, "I can start next week" company and end up paying in more ways than one. Choose carefully before you hire a contractor.
If you are hoping to do the work yourself with the help of your best friend "just buy me a few beers and we're good" Joe, will the quality of the work be good enough to enhance the appeal and value of the home? Buyers are really good at picking up on badly done and unpermitted seller DIY projects.
Do you inhale HGTV?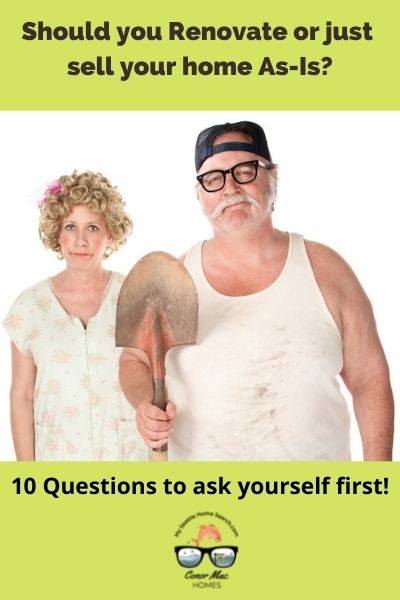 Yes, it can be entertaining, and seeing people weeping looking at their freshly remodeled homes is, umm, just fantastic. However, these shows give the impression that remodeling projects are fun, can be done in 30 minutes, and are relatively affordable. The reality, however, is a long way from that.
Likewise, when you see homes in your area that were purchased by investors, remodeled, and flipped in 4 months, and generating big profits, the temptation is to think you can do the same.
The big difference is that the professional property flipper can do those remodels for about half the cost you will pay a contractor plus complete the work in half the time. They have dedicated teams of plumbers, electricians, and carpenters that they can call on plus pay less for materials than you will.
Their focus is to get the work done ASAP so they can list the home and extract their profit. When you hire a contractor they will probably be juggling a few different projects at the same time.
Does your home need critical repairs?
While a brand new deck will appeal to buyers, there's no point in adding one if your roof is leaking and needs to be replaced. Updates and remodels will help sell your home, but critical repairs will scupper your home sale.
Does your home have any of the following issues:
An old roof that needs replacing.
An attic with mold and moisture issues or a pest infestation.
A crawlspace with standing water and a pest infestation
Foundation issues suck as significant cracks and settling.
A sewer line with blockage issues or an old failing septic system
Siding that needs replacing
Water getting into the basement.
A leaking water heater or a furnace on its last legs.
If you answered yes to any of those, you would be better off fixing them before listing rather than adding a new kitchen. It's the lipstick on a pig scenario! Fixing a damp basement is not as sexy as a new bathroom, but fixing that basement might be the difference in determining whether your home sells or not. It's a good idea to proactively avoid the most common home inspection issues when selling your home.
How does your home compare to recent sales in your neighborhood?
If most of the homes in your neighborhood have similar kitchens and bathrooms, pumping a bunch of money and time into renovating your home is probably not worth it.
For example, in the Olympic Manor area in Seattle which is a post-WWII time capsule, loads of homes still have really old kitchens and pink tile bathrooms and that's how they're listed for sale. And they still sell like hot cakes for well over $1M.
What if most of the homes in your neighborhood are a lot more updated than yours, then you have to decide whether to do some remodeling or just list it as-is and price it accordingly.
Don't you want to enjoy that remodel a little yourself before selling?
If you do remodel that ensuite bathroom with heated floors and a jetted tub or add that basement family room right before you go on the market, then the only one to get to enjoy them will be the new owner.
Personally, I think, if you do decide to do a renovation, it is a lot better to do it a few years in advance of selling, say 5 years. That way you can allow yourself plenty of time to decide on a design, screen contractors, and get the work completed... and then you can have a few years of enjoying your home before selling.
That remodel will still be fresh after 5 years and attract buyers' eyes. Unless of course, you went for some crazy short-lived trend you saw on Houzz after a could of glasses of wine.
What's the real estate market doing?
In a hot market, almost all homes will sell and that includes newly updated homes, the dated ones, and yes, even homes that have a list of needed repairs that the new owner will have to pay to fix post-closing.
In a buyer's market where homes are selling more slowly and there are more ones for sale than buyers, then the condition of the home can have a big impact on whether it sells or not. If your home has expensive needed repairs like a pest-infested crawlspace with standing water, it is likely to just sit on the market.
In a slower housing market, it is definitely a wise decision to take care of needed repairs before listing your home for sale. If you don't be prepared not to sell or just get low ball offers all day.
As to whether you should invest thousands of dollars to finish your basement to add more living space in a slow market is debatable. If it's a good renovation, it will make your home more appealing to potential buyers but the question again comes back to what your potential ROI will be, particularly in a slow market.
And speaking of which...
The most important question: what's your potential return on investment?
If you decide to get out your checkbook and go for a significant remodel like adding a new kitchen or renovating a bathroom, then you need to be aware of the potential return on the money you pump into your home. What's your ROI?
The basic question becomes which of these two scenarios gives you the greater net profit at closing:
(1) Sell your home as-is or do needed repairs?
or
(2) Remodel (money) + Time + Stress?
Let's look at the latest numbers from the National Association of Realtors (NAR) 2022 Remodeling Impact Report. You can download a PDF of the report by visiting the NAR site.
Here are the results for interior remodeling projects: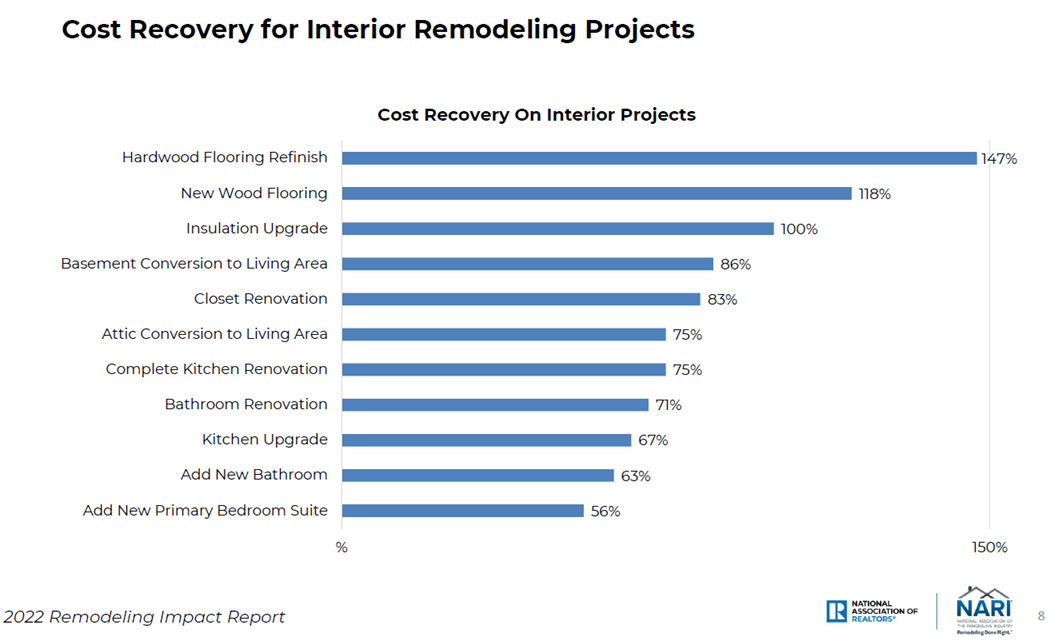 The only 2 interior projects that gave a net positive return on investment were refinishing existing wood floors or adding new floors.
However, for the most common remodels, kitchen and bathroom renovations failed to recoup a lot of the money poured into them.
A complete kitchen remodel has a 75% ROI.
A bathroom renovation has a 71% ROI
Adding a new bathroom has a 63% ROI.
All of these are expensive projects and definitely enhance the appeal of your home (if done properly), but based on this national study, none of them are recovering anywhere near all their costs.
And here are the results for the ROI for exterior renovations: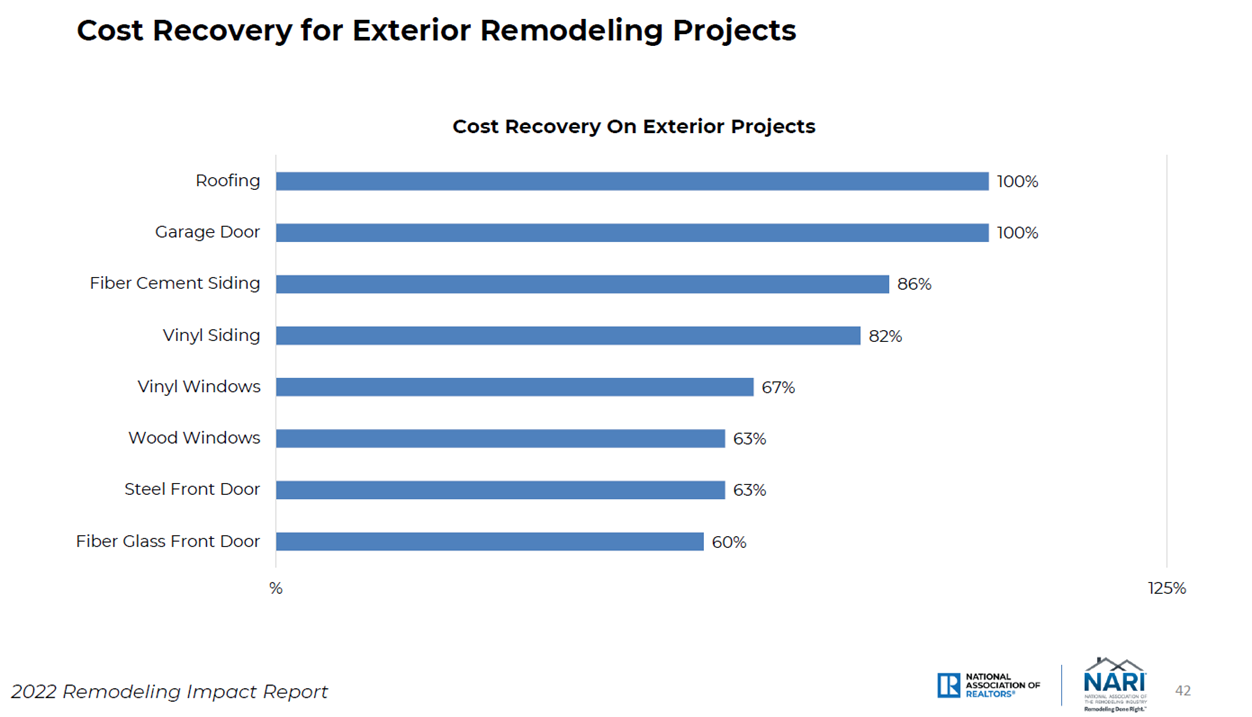 For exterior projects, both adding a new roof and a new garage door recouped all the costs.
However, other projects had a lot lower return on investments:
New vinyl or wood windows have a 63% ROI
Fiber cement siding has a 86% ROI
A new steel front door has a 63% ROI.
For both interior and interior projects, the return on investment will vary for different parts of the country and based on the local real estate market conditions.
So, what should I focus on?
The main objective when selling your home is trying to get the most money possible and just as importantly, making sure it actually sells in the first place.
For homes that have needed repairs, particularly critical repairs, the best course of action is to fix those items before going on the market. Known issues such as old leaking roofs, infested crawl spaces, dying furnaces, and damp basements are all worth addressing. If you don't fix them you will be required to disclose those issues to buyers.
Although you may not get every penny back doing these repairs, not doing them can potentially prevent your home from selling or just ending up sitting on the market followed by price drops. Both adding a new roof (100%) and new siding (86%) have really good ROI and massively improve the structural integrity, and saleability of your home.
Also, focus on small projects that can have a subliminal impact on how buyers perceive your home like improving your curb appeal, a fresh coat of paint, refinishing the hardwood floors, or a few new light fixtures.
If you do want to remodel, there's no need to splash out on the latest and greatest, most expensive finishes. Mid-range appliances will do just fine!
And if you are determined to do major renovations, then do it a few years before selling so you get to enjoy it too before passing it to the new owner. That studs out remodel kitchen will still be new in five years.
To summarize regarding, Should I remodel my home before selling, do your homework, crunch the numbers, and weigh that against the money, time, and stress required to get the work completed. What is the return on your investment?