12 best parks in Seattle
Posted by Conor MacEvilly on Thursday, August 6, 2020 at 4:47 PM
By Conor MacEvilly / August 6, 2020
Comment
Although not the biggest city in the US, but like like any metropolitian area, Seattle can be a little overwhelming at times. And the best cure for that is visiting one of Seattle's many great parks. Here's a guide to a dozen of the best parks in Seattle. Relax and exhale or run around and burn some calories. There's a Seattle park to fit everyone's needs and likes.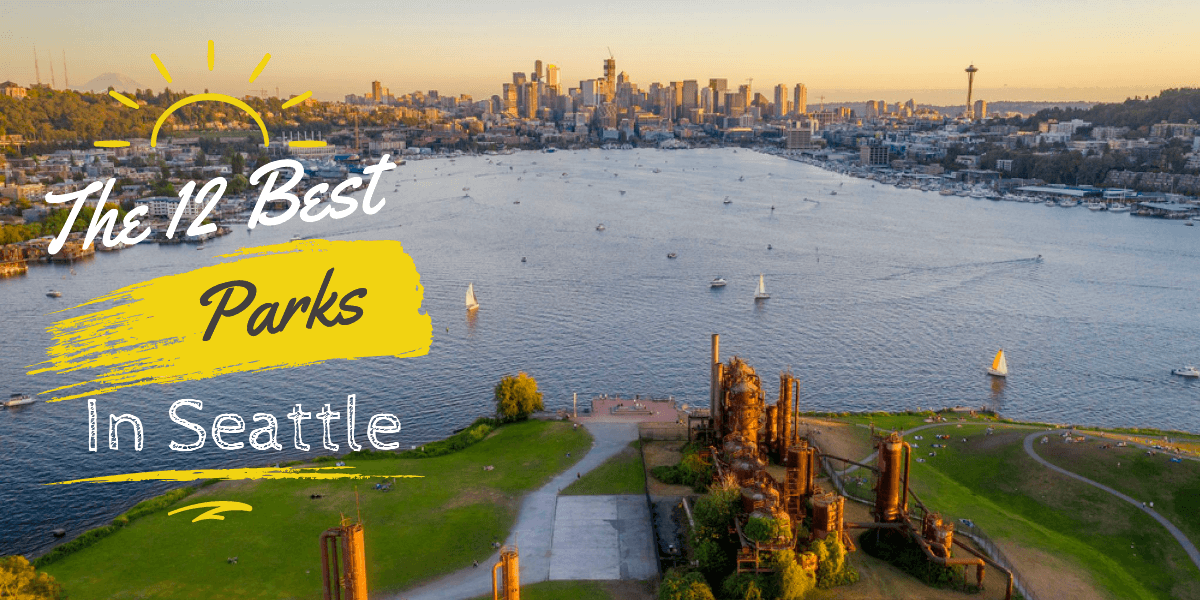 1. Golden Gardens.
Golden Gardens is a special one, and it has the foot traffic to prove it. From intense volleyball games to it's thriving snack shack, Golden Gardens holds a special place in Seattle natives' hearts. Located in Ballard, the park was named and created in 1907 by Harry Treat. Treat deemed it as an "attraction" at the end of the new electric car lines that realtors had installed as a way to encourage townsfolk to get out of town on Sundays.
With sweeping displays of the Puget Sound and Olympic Mountains, Golden Gardens offers extraordinary views of sailboats sailing out onto the horizon, the opportunity to stroll along the water or the loop trail or sun bathe on the sandy beaches, swimming and paddleboarding in the Sound, roasting marshmallows in the fire pits, fishing on the pier, or playing fetch with your dog in the off-leash area.
The Golden Garden Bathhouse might be just what you're looking for when it comes to hosting your next special event. With rusted red brick covering the building, the waterfront building is the cherry on top of this essential Seattle park.

2. Ballard Locks.
You may know about the Ballard Locks, as it represents a fundamental part of Seattle's history. What you may not know is the semi-hidden park attached to it, the Carl S. English Jr. Botanical Garden. The locks were completed in 1911, and in 1931, the Army Corps hired English to tend the gardens. For 43 years, English used his horticulture and botanist talents to transform them. Today, there are approximately 500 species and 1,500 plants from around the world including a variety of roses, rhododendrons, and more.
The main attraction however, is watching between lowered and raised as thye trantion betwen the salty waters of the Puget Sound and the fresh water of Lake Washington. You can expect to see lots of summer tourists. Another not-to-miss atrraction is watching salmon migrating through the fish ladders. How many many major cities can boast having that!

3. Volunteer Park.
Volunteer Park is located in the heart of Capitol Hill. It can be difficult to imagine a thriving park in the middle of a large city, but this one is different. It's in the middle of a city but doesn't feel like it. It feels like you and your crew are the only ones there, along with the occasional dog fetching its ball. In 2011, the park was deemed a Seattle Landmark by the Landmarks Preservation Board.
Both the Volunteer Park Conservatory and Seattle Asian Art Museum are located within the park. In 1876, the City of Seattle purchased 40 acres of land. In 1893, six acres were cleared of timber to produce what is now known as Volunteer Park. Today, it's features include gardens, a lily pond, children's wading pool, and music pavilion.... and the famous Black Sun sculptute where everyone takes a photo with the Space Needle in the middle.

4. Olympic Sculpture Park.
As downtown Seattle's largest, and newest, green space, the Olympic Sculpture Park occupies nine acres of green, art and beach. Created and opened by the Seattle Art Museum in 2007, the park is located at the northern end of the Seattle seawall and the southern end of Myrtle Edwards Park.
Sculptures include Bunyon's Chess and the Eagle, both of which can easily be viewed from the Space Needle. The park also has a sweeping view of Elliott Bay.

5. Seward Park.
Seward Park is a big one, occupying 300 acres of lush forest, a 2.4 mile bike and walking path, an amphitheater, a native plant garden, an art studio, multiple boat launches, beaches and more. In 1911, the City of Seattle bought the park area and named it after William Seward, who was responsible for America's purchase of Alaska.
Located on the south end of Lakewood, Seward Park is well-known for containing 120 acres of old-growth forest, the last old-growth in Seattle. The park takes up the entirety of Bailey Peninsula, which extends into Lake Washington. Visitors claim that it's the perfect spot for swimming, boating, hiking, and makes for a nice, flat spot for picnicking.

6. Discovery Park.
When it comes to Seattle parks, Discovery Park is nothing short of incredible. Located in Magnolia, there are several different access points to the park. Developed in the early 1970s, it actually serves as Seattle's largest public park! With 534 acres, Discovery has 11 miles of trail, a lighthouse, open meadow lands, sea cliffs, a variety of wildlife, and the most magnificent view of Shillshole Bay.
The park is built on Fort Lawton, a United States Army post, which officially closed in 2005. It's an eerie feeling as you walk along the trail, seeing what once served as the second largest port for ships destined for the Pacific War. It holds a significant piece of history not only within the park but of Seattle.

7. Alki Beach.
Located in West Seattle, Alki Beach features a long beach strip, picnic tables, a bathhouse, and an art studio. Most visitors go to enjoy the beach life, as well as the swimmers who brave the cold waters of Puget Sound.
In November 1851, Alki Beach was the site of landing by settlers who were on their way to Seattle. In 1907, the park was completed. Today, many visitors enjoy grabbing food from the ever-so-popular Salty's to enjoy at the park with views of the Puget Sound and Olympic Mountains.

8. Arboretum and the Japanese Gardens.
Acting as a 3.5 acre urban sanctuary, the Japanese Gardens provide guests with winding paths full of stones, water, lanterns, bridges, buildings, plants and animals. The park is one of the most highly-renowned Japanese-styled gardens in North America, and well deserved. It's been operating since 1960, all thanks to landscape genius, Juki Lida. Lida personally selected nearly 600 granite rocks from Snoqualmie Pass to decorate the park. It might not be exactly what you think of when visiting a park for the day, but it will surpass those expectations.

9. Magnuson Park.
Formerly a military base and now serving as Seattle's second largest public park, Magnuson Park has more than four miles of trails, Art Deco-style architecture, sports fields, a community garden, a community center and more. Magnuson Park sits along Lake Washington's shoreline in Sand Point.
In 1975, a large portion of land was given by the Navy to the City of Seattle and the NOAA (National Oceanic and Atmospheric Administration). Ever since, the park has been transformed into what it is today. It boasts a few impressive facts: it provides a home for the second richest bird habitat out of all Seattle parks, it has Seattle's largest playground, and the large sport's fields allow parachutes to land!
10. Gas Works.
Gas Works might be small compared to other Seattle parks but hosts one of the coolest hangouts spots in Seattle. Located in Wallingford along Lake Union, Gas Works is a 19-acre park that sits on the former Seattle Gas Light Company's gasification plant. Due to this, the park has remnants of the last coal gasification plant in the United States! The towers make for great backdrops in pictures.
The park officially opened in 1975 and serves visitors with a large play area and a popular hill for flying kites. It's a great place for a summmer ecening picnic (while avoiding all the goose poop). Watching sea plans taking off just overhead with the Seattle downtown in the background never gets tired. A truely unique public park!

11. Green Lake.
Green Lake Park surrounds Green Lake, where else but in the Green Lake neighborhood. The park serves an essential purpose in the middle of a dense urban neighborhood - to give visitors a green space to sprawl and relax. In 1905, the park was developed and over the years has undergone many changes. No matter what, it remains a place of solitude for walkers, runners, bikers and skaters.
The lake's stillness serves paddle boarders and kayakers with the perfect place to get movement in, while the sports fields serve soccer and baseball players with a place to let off steam. Oftentimes, you'll see University of Washington rowers getting their workouts in on the lake. The park really does serve people from all around the city.

12. The Seattle center
Last but not least, there's the always entertaining Seattle Center which is home to the iconic Space Needle. However, as impressive as it is, there's a lot more to see and in this Seattle park than just riding to the top of the space needle.
There's the fabulous Chihuly Garden and Glass with stunning glass sculptures and there's the international fountain which you can dart between shoots of cold water on a hot summer's day. Great local independent radio station KEXP has it's home here and hoys free outdoor concerts.
Check out the Seattle Children's Museum, The Pacific Science Museum and if you love music the Museum of Pop Culture (MOPOP) is a must see. There's lots of placs to sit and eat ot just grab some food, sit outside and just watch Seattleites and tourists having fun.
As you can see, there are some great parks in Seattle. You definitely find one to match your pesonal tastes and/or energy levels. Have fun!