The 3 critical P's when selling your home. Everything else is just cherries on top
Posted by Conor MacEvilly on Monday, March 27, 2017 at 6:20 AM
By Conor MacEvilly / March 27, 2017
Comment
It's easy to get overwhelmed with information and advice from all directions as to the things you need to do when selling your home. You read an article that details the 27 must-do items. They couldn't come up with a nice round list of 30?
Selling your home is not rocket science. Do the fundamentals and do them well and your home should do really well too.
In my personal opinion, these are the 3 critical, non-negotiable action items you need to focus on when selling your home. If you don't do these 3 properly, then you are just leaving money sitting on the table or your home might not sell (even in a hot market). What you add in blood, sweat and hard cash will come back to you in shovelfuls at closing.
Critical-P #1: Preparation
Stage your home inside AND out. By staging, I don't mean just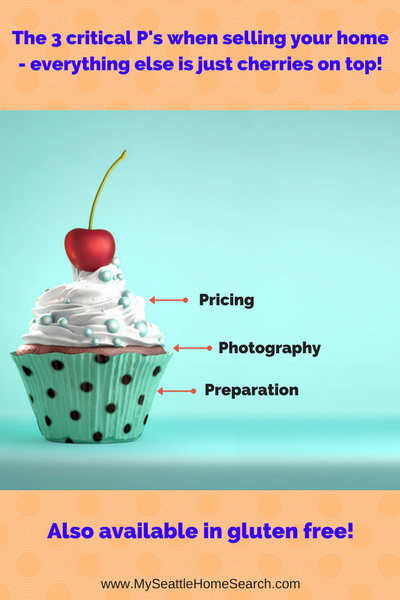 rearranging your furniture or hiring a staging company who bring in a few sticks of furniture and "voila, it looks simply daaaaarling darlings!"
By staging I mean, you make every square inch of your home and property (both inside and outside) look its very best. Yes, it's a lot of work and is something you should start planning at last 6 months, or even better, a whole year before you intend to put your home on the market. Plan ahead and avoid stress overload later. Procrastination is over rated!
Here are some home preparation items to focus on. Preserve your sanity and hire some help rather than trying to do it all yourself.
Declutter and start getting rid of stuff you haven't used on years. One word: Goodwill!
Make sure to focus on the most important things to repair before listing your home. A coat of new paint can works wonders. You don't need to put in a whole new kitchen. Just make sure the one you have looks the best it possibly can.
Hire professional cleaners to make sure your home is Q-tip clean particularly the kitchen and bathrooms. These areas get the most attention from buyers.
Hire a landscaper to spruce up your yard. Get your roof and gutters cleaned. Great curb appeal is really important for grabbing buyers' attention and making then want to get out of their cars. Plus you want to make sure the primary listing photo for your online listing leaps off the page. The front of your home is usually the primary photo. Make it count.
Make sure the entry way is nice and welcoming. I love strong colored front doors to add some pop. Grubby entryways will have buyers expecting an equally grubby interior.
If your home is vacant, don't list it empty and soulless. Get it professionally staged. Staging helps buyers visualize the flow of your home, makes it look way better in listing photos and can help the home sell for more, and more quickly. Staging an empty home is not cheap but sometimes the Realtor will cover the cost or they will ask you to split the bill with them. Regardless, it's definitely money well spent!
If your will be occupying your home while it's listed for sale, you don't need to hire a staging company. Here's some great budget-friendly staging tips that can help transform your home for very little out of pocket.
Basically, get your home ready like you'd get yourself all spruced up if you were heading out on a hot first date and were determined to make a great first impression. While obviously, preparation covers a lot of different things that you need to take care of before listing your home, if you break it down into smaller tasks, give yourself plenty of time and hire some help, it will become a lot more manageable.
Critical-P #2: pricing
Pricing and pricing strategy are CRITICAL! I'll say it again, pricing and pricing strategy are CRITICAL!
There is no point spending all that effort getting your home ready for market and then turn around and list it for 10% above what it's actually worth. You could be forgiven for feeling like you have the right to do just that because of all the hard work you have put into Preparation-P.
The correct listing price for your home needs to be based on reality, not subjective gut feelings or personal bias. And ignore the stupid pricing you see on Zillow and other guesstimate websites. Did the Zillow bot walk through your home, climb into your crawl space and attic and know about those upgrades you did to the home. No, he didn't, because he's a line of code stuck on a server!
In a hot market, you will see homes in your neighborhood selling for well above asking but you will also see a small set of homes that take a lot longer to get an offer. Shouldn't you just list high in the first place since your home looks so fabulous now? However, you need to ask yourself, what's the difference between those 2 sets of homes?
For those homes that sold quickly, got multiple offers and sold above asking price, it happened for a reason. Those homes come on the market using a sound pricing strategy. They were listed at prices that were in keeping with the current market prices in your neighborhood. Sometimes they might have been priced a little conservatively (intentionally) to attract more buyers, create competition between buyers to drive the price up and generate cleaner offers with fewer contingencies (for example, offers not contingent on inspections or appraisals). Your objective is to get the best price for your home with the best chance of a smooth, successful closing.
Even in a hot market, over-priced homes will sit there and not get offers....until they get with reality and cut the price. Buyers are very price savvy these days and are loaded to the gills with data, statistics and price guesstimate apps including the aforementioned Zesstimate.
It may sound counter-intuitive, but you can get more for your home by listing it at close to "market value" than by listing it for 5% more than it's worth. Let the strong prevailing market do the work for you!
In a slow market or strong buyers' market, pricing is even more critical. Push the price and you will most definitely sit and decay and then have to chase the market down.
Critical-P #3: Professional photography
You probably weren't expecting this to be one of the top 3 critical items when selling your home. Seems like such a small item but in my opinion, it is also a really important one. Great photos sell homes! It's THE most bang for your (Realtor's) buck. Insist on professionally taken real estate photos.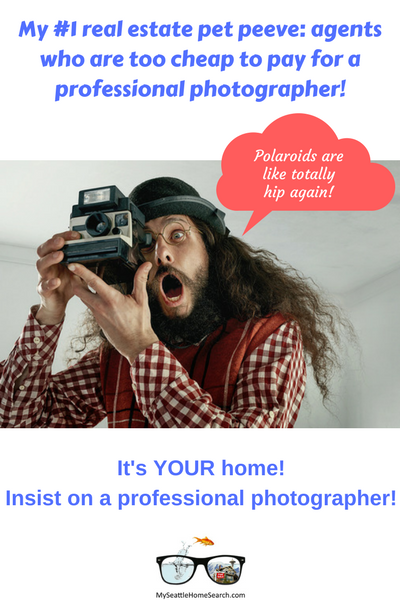 Today, 90+% of buyers look for homes online. They jump on their apps as soon as a new listing alert buzzes in their pockets. They go straight to those listing photos before ever reading the listing description. You need to grab a buyer's attention like the cover of a glossy magazine and make then want to call their agent to go for a viewing.
Now excuse me while I climb up on my high horse for a few minutes! My top real estate pet peeve is those real estate agents who are too tight-fisted to spend $200 to $400 on professional photos while still insisting on being paid the maximum commission. They resort to taking cringe-worthy photos with either their iphone or some camera they have no idea how to operate properly. They probably think white-balance has something to do with the KKK!

I have seen million dollar listings with stupendous views but stupid photos. The listing photos look like the agent was using a disposable camera and had hit the pub for a few before heading over to take the photos. Frankly, I think it is a complete insult to the sellers. And yes, if those agents ask for feedback on their listing I am more than happy to tell them that their photos suck! Unless my buyer wants to buy the home, then I'll tell the agent after closing.
I know, it's exhausting being this self-righteous. We all have our own real estate crosses to bear! Thanks for listening.
Whoever you hire to sell your home, make sure you ask them to show you some of their listings so you can see if they skimp on professional photos. Also, your home should be photographed by someone who specializes in real estate photography, not someone who makes most of their income from taking family portraits. A picture is worth a thousand words and great listing photos are worth thousands of extra dollars. Your home is a product, competing with all the other products on the market. Make sure it looks great online!
You get one chance to make a great first impression and great photos highlighting the best aspects of your home will get buyers in the door. Bad photos will get buyers in the mindset that they will be able to haggle the price down while great photos will have the buyers thinking they are going to have to compete if they want to get your home.
OK, maybe a 4th critical-P: Procure a proficient purveyor of personal properties (Realtor).
If you hire the right Realtor, who knows your neighborhood and has your best interests at heart, then the two of the three critical-P's are a breeze because (1) they will know how to price your home correctly and (2) most likely they will use professional real estate photographers. Plus, a good Realtor will be able to link you up with landscapers, professional home cleaners, staging companies, window cleaners and gutter cleaners etc.
You'll still have to dive in and take care of decluttering and getting rid of the usual mountains of accumulated stuff you have collected over the years since you first moved in but you will have someone who knows what they are doing, guiding you along and holding your hand.
Hiring the right agent will make the whole process way more tolerable and you will do better financially once you finally get to closing. Spend the time and learn how to choose a great agent.
So, there you have it. As I mentioned earlier, selling tour home is not rocket science. Focus on the 3 critical P's of preparation, pricing, and professional photography and you are 95% of the way toward a successful home sale.
Here's some additional helpful advice from other real estate bloggers:
Killer Tips for Staging Your Home to Sell from Anita Clark
Over-Pricing Your Home and the Disastrous Effects It Can Have from Kevin Vitali
What to Clean Up When Preparing Your Home For Sale from Paul Sian