The Resale Certificate: A Crucial Document for Condo Buyers
Posted by Conor MacEvilly on Monday, January 23, 2023 at 2:00 PM
By Conor MacEvilly / January 23, 2023
Comment
The resale certificate is your best friend when buying a condo. It's up there with the home inspection. It's a bit of a slog to get through, and pretty boring but it's a critical document that you need to review thoroughly as part of your home purchase due diligence. When buying a condo, it is important to be aware of all the nuances that come with buying a home that is part of a Home Owners Association (HOA).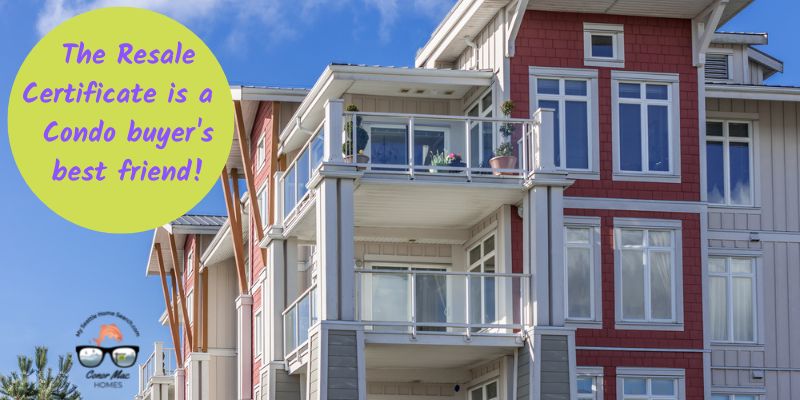 This article will explore the importance of having a resale certificate when buying a condo, as well as the information it contains. We'll also look at the risks and potential consequences of not obtaining one, and how to actually get a copy. Finally, we'll look at the critical nuggets that buyers need to look for while reviewing the document. By the end of this article, you'll have a better understanding of why a resale certificate is essential in protecting your investment when purchasing a condo.
What is a resale certificate?
A condo resale certificate is a collection of documents that provides detailed information about a specific condo unit plus the condo development as a whole. It includes critical information such as any outstanding issues with the building, special assessments, meeting minutes, a copy of the Reserve Study, rules and regulations, and any other relevant details related to its operation, management, and financial status. The buyer requests this document during the buying process and it is put together by the Homeowners Association or the property management company. This document helps provide potential buyers with important information they need to make an informed decision on whether to purchase a particular condo or not.
Why is reviewing the condo Resale Certificate so important?
When you buy a condo you essentially just own everything from the paint on the wall inwards and the homeowner association takes care of everything else including the exterior siding, the roof, the decks, the driveway, and all that stuff.
It's critical to determine the overall health of the condo development and association, how well it is run, and whether the HOA has the financial reserves for any major repairs that are needed in the near future or will you might end up writing a big check a couple of months after moving in.
For example, you will want to learn about the financial health of the HOA. Do they have a history of special assessments and do they have the funds to cover known upcoming repairs? Are you allowed to have a dog or a cat and are you allowed to rent your unit if you decide to go travel the world for a year? Very little of that information will be available in the listing description on the MLS and even if some of it is, you still need to confirm it independently by getting that information directly from the HOA, not from the listing agent or the seller.
It's too late after closing to look into all that stuff and you can end up with a massive dose of buyer's remorse because you didn't do your homework or due diligence. Your real estate agent should guide you through the process and make sure that you get all the required documentation to make an informed decision.
What documents does a resale certificate contain and what do they reveal about the condo development?
The resale certificate is a collection of different documents providing different information about the property. Here is a list of the most likely documents you will get when buying a condo in Seattle and Washington State and an explanation of what they cover and their importance.
The Resale Certificate, aka From-27.
This can be a little confusing. Although the whole package of documents is referred to as the resale certificate one of the individual documents within the package is also called the resale certificate, aka Form-27
This form is a summary questionnaire that is filled out by either the HOA or the Property Management Company and is signed off by the unit owner. It is one of the most important documents within the package and lists critical details related to both the specific unit the buyer is interested in purchasing and the condo development as a whole.
Some of the details covered in this form include:
Are there any current special assessments and if so, how much remains to be paid by the seller? This is one of the most important pieces of information that you will find in a resale certificate. You do not want to buy a condo and then get dumped with an expensive out-of-pocket special assessment after closing. If there is a special assessment in place at the time of making an offer you want to know if the seller will be paying off the remaining balance at closing. If not you may want to start looking elsewhere or leverage it for a big price discount.
Is the HOA involved in any current litigation?
Is the development self-managed or run by a professional property management company?
What are monthly HOA dues for the unit and what's included in those dues?
Does anyone individual own more than two of the units in the building?
Are there assigned parking spaces and is the parking space deeded to the unit?
The percent owner occupancy, which means the percentage of units that are owner occupied. The remainder will be rented.
Does the condo association have a rental cap and if so, is it currently at that maximum? Some condominium developments will have no limits on the number of units that can be rented whereas others will set a limit of say 25% of units. If you are looking to buy a condo with the option to be able to rent it then being aware of any rental restrictions is critical. Also, some HOAs will have a requirement that you live in the condo for a minimum amount of time before you are allowed to rent it.
Is the condo development FHA approved? Many first-time buyers rely on lower downpayment FHA loans to get their foot in the real estate door. However, a condo association has to be FHA approved in order for a buyer to buy one of those units if relying on an FHA loan.
The HOA's Covenants, Conditions, and Restrictions (CC&Rs).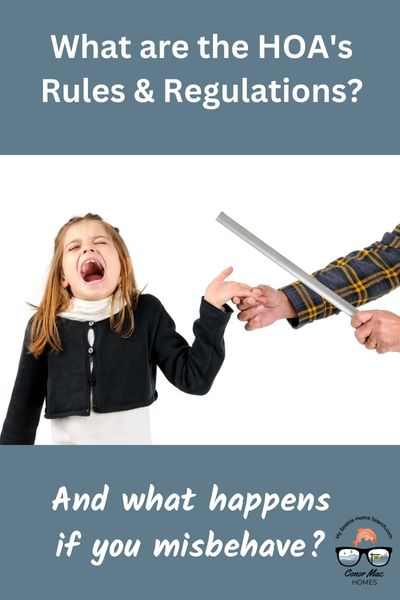 Homeowner associations often have a set of covenants, conditions, and restrictions (CC&Rs) to govern the use and maintenance of properties within their communities. These CC&Rs are legally binding on all homeowners, outlining their rights as residents and the responsibilities of the HOA. They cover rules related to architecture, parking, landscaping, pets, rentals, occupancy limitations, and use of the property for commercial purposes. Additionally, they provide information on how the HOA functions internally such as conducting meetings and resolving disputes.
It will also explain what you can expect in the event that you break any of these rules like falling behind on your monthly does or renting your unit without getting HOA's approval. You can expect to hear from the HOA president or the management company. Knock, knock!
It is essential for buyers to read and understand the CC&Rs before purchasing a condo in order to be aware of all relevant regulations. As soon as they become a member of the association, they will be expected to adhere to all rules outlined in these documents. So if you own three dogs and love them dearly but the pet limit is just one, then this is not the condo for you.
Meeting minutes.
Well-run homeowner associations will usually have regularly recurring meetings where the HOA board of directors meets up to discuss items such as upcoming repair issues, how much money they have in their reserves and current operating expenses, which units are in arrears on their dues, and other stuff related to running a condo building. The secretary for the board will then write up a report of that meeting detailing all the topics that were discussed.
These reports can be a gold mine of information about the condo development that is not available elsewhere in the report, particularly in relation to the potential for upcoming special assessments. For example, if the meeting minutes discuss getting bids for a new roof new, new siding, and/or deck repairs then you know they're going to be big ticket expensive items. You need to ask yourself whether the association has the current funds to cover those or if there will be a special assessment.
Larger condo developments which are usually run by property management companies are more likely to have consistent monthly or quarterly meetings. However, smaller developments can be a lot more inconsistent and sometimes may just have one annual meeting so meeting minutes from those developments are not as reliable. In those cases, you need to contact the HOA directly to get up-to-date information.
A copy of the Reserve Study.
Condo associations are legally required to conduct a reserve study every few years. They pay an independent third party to come and look at the condo development and write up a report detailing all the currently needed repairs and updates that will be needed over the next 5, 10, and 20 years.
The report will compare the cost of those repairs/updates to how much cash the HOA currently has in its reserve fund. It is common to see a large gap between the recommended reserve funds and the actual amount sitting in the bank account, with only 25% of funding not being uncommon. The larger the gap between the two the greater the potential for special assessments particularly if there are big upcoming repairs that need to be addressed.
Note that for the Seattle area at least condo, buildings with 10 or fewer units are not legally required to do reserve studies and they frequently decide not to do one. In these cases, you are often taking a leap of faith because you do not have a detailed report on the overall condition of the building and the potential risk of unknown expensive repairs.
Also, self-managed communities are famous for their resistance to increasing their HOA dues because Joe in unit #8 is completely against it and is butting heads with the HOA president who lives next door in unit #7 okay. A portion of monthly HOA dues usually goes towards the rainy day reserve fund so if the HOA is not increasing their dues as needed their checking account going to shrink over time.
Many times smaller condo buildings pay for emergency repairs as needed because they don't have a healthy bank account for when the "unexpected" happens, like a new roof. It can be a case of scrambling from one emergency to the next.
Copy of the HOA's financial statement and annual budget.
These documents provide an overview of the financial standing of a Homeowners Association (HOA). They give buyers a sense of the HOA's financial health, including information on its reserve fund, any outstanding debts or assessments, the annual budget, and how much cash they currently have in their reserve account.
This information is important to consider because it can indicate how well-managed the HOA is and whether or not it will be able to cover unexpected expenses which may affect the value of the property. The statement can also give buyers an idea of what to expect in terms of HOA fees, special assessments, and overall building and community maintenance.
The building's insurance policy.
When buying a condo, it is important to review the HOA's insurance policy. This will provide information on the types of coverage, limits of liability, and deductibles in place. By understanding what is and isn't covered by the insurance policy, buyers can know what financial liabilities they may have in unexpected situations. It should be noted that the HOA master policy does not cover the contents of individual units, so condo owners must get separate condo insurance to protect their personal property.
Articles of incorporation.
The articles of incorporation, also known as a certificate of incorporation or corporate charter, is a legal document that establishes the existence of a corporation and outlines its purpose, structure, and governance. This document must be filed with the state government in order to obtain a corporate charter allowing the corporation to conduct business and enter into legal contracts. The articles of incorporation serve as the foundation for the corporation and dictate how it will be structured and run. Don't be surprised if the documents are hard-to-read photocopies of documents with fonts that haven't been popular in 50 years.
How does a buyer get a copy of the condo resale certificate?
When you are purchasing a condo in Seattle the seller must provide you with a copy of the resale package within 10 days of accepting your offer (mutual acceptance).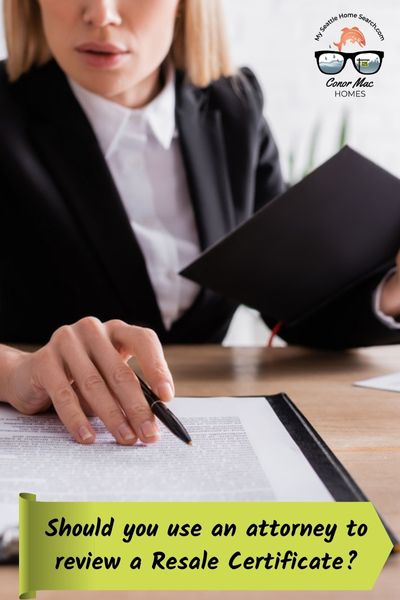 Sometimes, if the seller is trying to sell a condo quickly, they will already have a copy of the certificate before you make an offer but you can still make your offer contingent on reviewing it. The seller is responsible for ordering the required documents through their HOA or the property management company and paying for them. It usually takes 10 days to be delivered as a giant PDF after being ordered.
Make sure you are getting an up-to-date version of the certificate. Sometimes a condo has been sitting on the market for a few months and the certificate ordered at that time is now out of date. It's important to get a version that's got all the latest information, particularly in relation to financing and potential special assessments.
How do you review a resale certificate?
Like your life depends on it! Once you receive a copy of the resale certificate the clock starts ticking and you usually have about 5 business days to review it. You need to jump on it immediately. If you have questions about anything in the document first step is to address them to the listing agent or the buyer but many times when it comes to issues related to the whole development you will need to direct your questions to the HOA or the property management company.
Both homeowner associations and management companies can be notoriously slow to respond and it can be stressful trying to get answers before your review deadline elapses. If you don't get the answers to critical questions within that 5-day review period then request more time. And if the seller says no, you might want to consider walking on the sale.
Should you have an attorney review a resale certificate for you?
The answer is that it's completely up to you, the buyer. However, you should be aware that reviewing the resale certificate is your legal responsibility and not that of your real estate agent. A good real estate agent will also read the document and point out potential issues but they are not attorneys and are not legally responsible to digest the resale certificate for you. That onus is on the buyer's shoulders.
Hiring an attorney to review the resale certificate can be a smart decision for buyers, especially if they are not familiar with the legal and financial aspects of buying a condo. They can help to identify potential issues and risks and help buyers to understand the complex legal language and terms used in the resale certificate. It will cost you a few hundred dollars but the attorney will review the document over the phone with you so you feel safe moving forward with the purchase.
Can I get out of the purchase contract if I don't like what I see in the resale certificate?
Absolutely! Yes, you can get out of a contract to buy a home. The resale certificate is similar to the home inspection contingency. If you don't like what you see or are not getting all the information you need, you are completely free to get out of the contract and get your earnest money back. You do not have to give the seller a reason why you are not approving the certificate.
Should you buy a condo without getting a copy of the resale certificate?
The short answer is NO!
In conclusion regarding the importance of the resale certificate for condo buyers:
Don't buy a condo without getting a copy and make sure to review it thoroughly before deicing to move forward with the purchase or not. It's not the most exciting thing you will ever read and can be a bit of a slog getting through it but it can save you from making a big financial mistake. It's worth noting that requirements for the resale certificate may vary depending on the location, state, and association, so it's important to verify what exactly is required and expected when obtaining one.