What percentage of Seattle area homes sell for cash?
Posted by Conor MacEvilly on Monday, March 21, 2022 at 7:02 PM
By Conor MacEvilly / March 21, 2022
Comment
In the competitive Seattle area real estate market many buyers who get outbid on homes will suspect that they are losing out to cash buyers. Sometimes that is actually the case. However, in reality, how many Seattle area homes actually end up selling to all-cash offers?
Let's look at the numbers.
I looked at the sales of houses, townhomes, and condos in Seattle and the eastside cities of Bellevue, Redmond, and Bothell. In mid-March 2022, I looked at house sales over the previous 90 days and the prior 180 days for condos. Condos sales make up a smaller portion of the market so you need to look at a bigger time window to get more reliable data. All sales were extracted from the NWMLS data.
Note that townhomes only make up a significant part of the market in Seattle so I'm only providing data for the city of Seattle for these types of homes.
Below is a map showing the percentage of houses and condos that sold for cash in four different Puget Sound cities.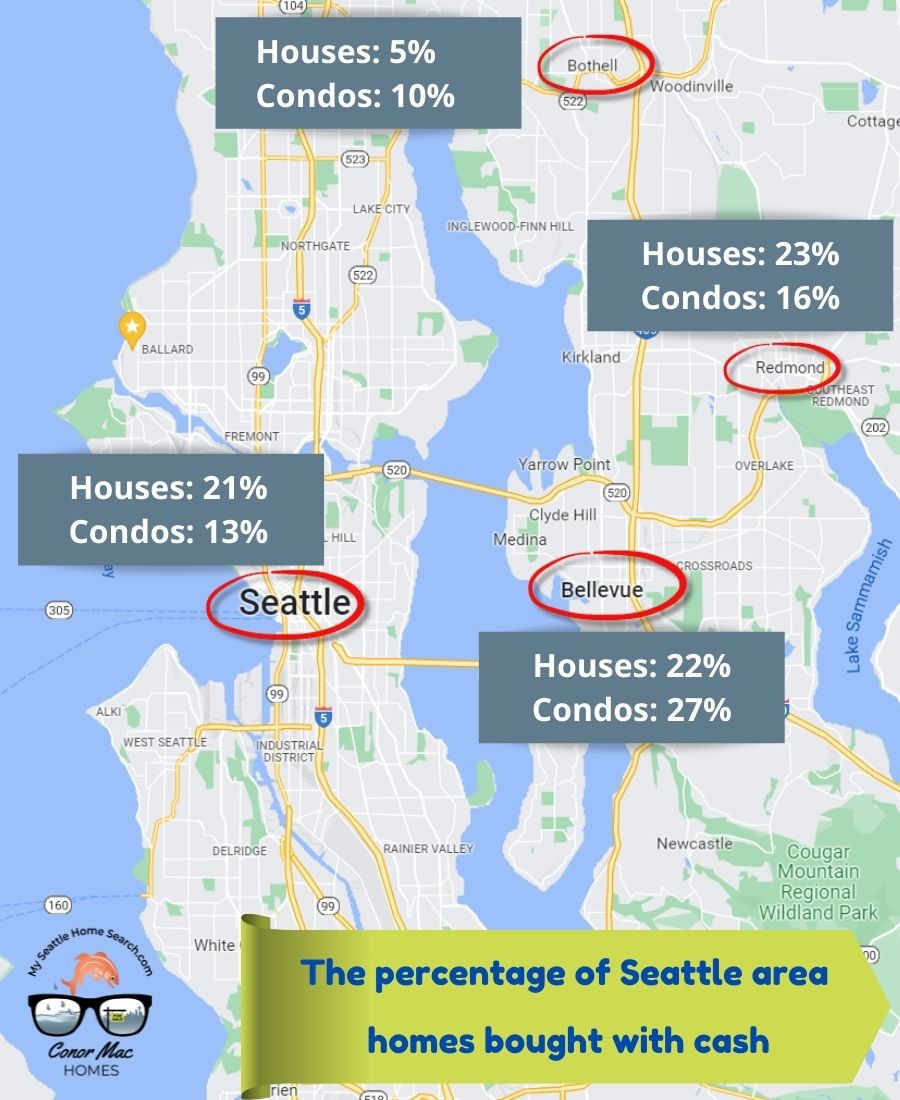 And here's the same data in a table format: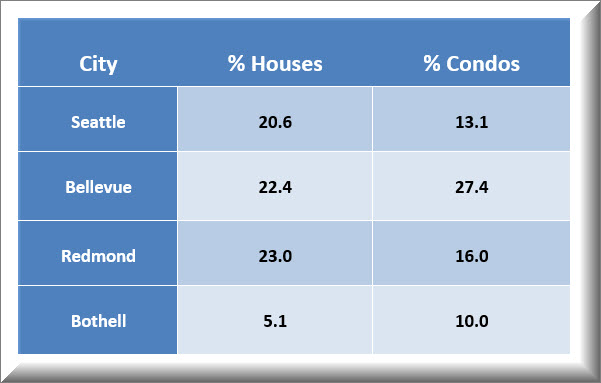 So, what do the results show?
In the spring of 2022, for Seattle, Bellevue, and Redmond between 20% and 23% of HOUSES sold for cash, so homebuyers in those cities have about a one in five chance of being beaten by an all-cash competing offer. For Bothell houses, however, only about 1 in 20 (5%) are bought with cash.
Fewer condos sell for cash, with Seattle, Redmond, and Bothell having between 10 and 16% but 27% of Bellevue condos were bought without lender financing.
For townhomes in Seattle, 6.7% are bought with cash (not showing in the table).
So overall, although there is a significant percentage of all-cash homebuyers in the Seattle area, the vast majority of homes are purchased using a mortgage. So yes, buyers can be forgiven for being a little paranoid about cash-wielding competitors but they shouldn't lie awake all night worrying about it.
In general, Seattle home sellers, like all sellers, love cash offers because the is no lender appraisal that might scupper the deal, plus all-cash transactions can close more quickly.
However, cash offers are not always the best offers and savvy sellers will look at the whole offer package before picking the best offer on their homes. Plus in the current market, many buyers who are relying on a mortgage will waive their financing completely including the appraisal so that their offers are "almost" as good as a cash-only buyer.
Good luck out there!