What to know about permits when buying a home in Seattle - including a home inspector's perspective
Posted by Conor MacEvilly on Tuesday, September 28, 2021 at 7:16 AM
By Conor MacEvilly / September 28, 2021
Comment
Many home remodeling projects and upgrades require that the owners get the necessary permits but not all upgrades require permits. However, even when permits are required, many homeowners have the work done without getting them.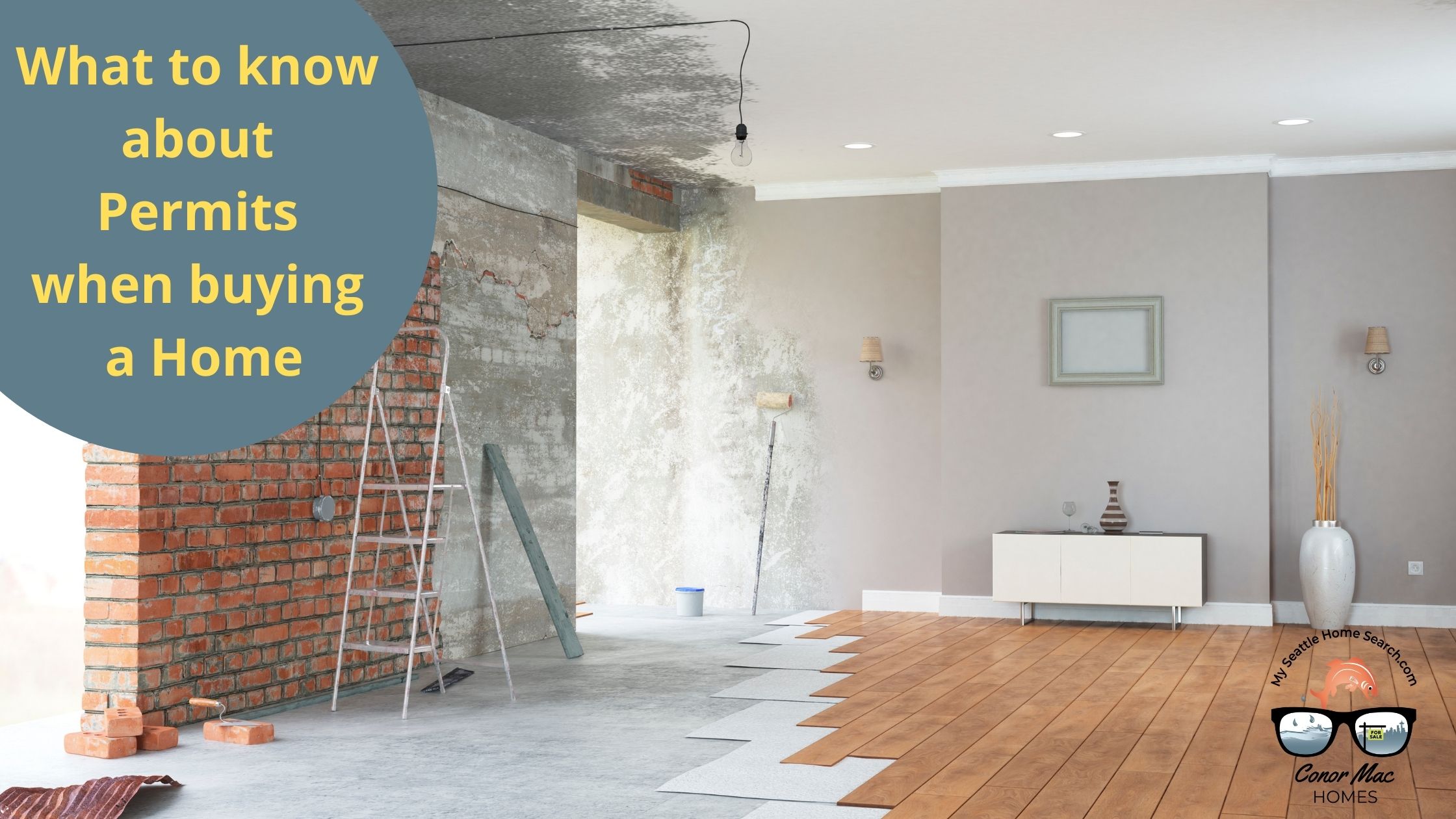 Potential buyers will always feel more comfortable buying a home if they know permits were obtained for the completed work. Then again, as a Realtor, in my experience, most buyers tend to get so enamored with a home that they rarely even ask about permits in the first place. Might be more of a case that most buyers are not aware that permits are required for some projects.
So the question is: when buying a Seattle home, should you be concerned about whether permits were obtained by the property owner for that remodel and those upgrades?
The answer is that it depends on the particular job and how the work was completed. Just because a permit was not pulled for the work does not mean that the work was not done properly or to code. Likewise, just because the seller got a permit does not mean that the work was done to perfection.
In this article, I provide an overview of permits in relation to both the seller's and buyer's sides of the fence. This article also has some advice from an experienced Seattle home inspector as to what's actually important when it comes to permits, particularly for the home buyer.
First of all, what is a building permit?
A building or remodeling permit is an official authorization issued by a local government agency that allows the homeowner or their contractor to do a construction or remodeling project. The purpose of the permit is to ensure that both the project plans and the completion of the work comply with local standards and building code requirements. These codes are intended to ensure the safety of the current homeowner and whoever buys the home.
The likelihood of whether permits are obtained for a particular job will depend on whether the contractor is licensed, bonded, and insured or not.
How can the home buyer find out if permits were obtained?
To find out if a remodeling project obtained the proper permits or not, the buyer will need to get copies of any permits, if they exist that is. So how do you get copies?
Ask the seller: the seller is required to fill out a Seller Disclosure Statement in which the seller answers a bunch of questions bout their ownership of the home. Some of those questions relate to any remodeling and upgrades and whether permits were obtained for that work.
Some sellers will be super-efficient and have copies of the necessary permits available to buyers while an amazingly high percentage of sellers will check the "Don't Know" box on the seller disclosure questionnaire.
Search the city records: homebuyers can just search through their city's online records to see if the home they are interested in pulled any permits in the past. For example, for homes in the Seattle area, buyers can search by entering the address on the King County Parcel Viewer site and clicking on Property Report and then Property Detail. Any permits pulled for that property will be listed at the bottom.
Note however that many permits are not available due to age or filing issues. Some of that is due to digitizing records with many jurisdictions not having the funds to enter previous permits and only have online accessible records for those permits that were issued since taking their systems online.
Will your insurance company protect you if the work was not permitted?
It's three months after the buyer closed on their lovely new home and then the first big rainstorm of the year arrives... and the roof over the addition to the home is leaking and has damaged the ceilings, walls, and wood floors.
The buyer calls their insurance company.
After a few questions, the insurance guy at the other end of the line asks if the addition to the home was done by a licensed contractor who pulled permits for the work?
If the answer is a "no", then the new homeowner might be in for a big post-closing expensive "gift" from the previous owner. The insurance policy is probably not going to cover those needed repairs.
Similarly, if an unpermitted/uninspected new electrical panel causes fire damage to the home, your hazard insurance policy will probably not cover that either.
FOR SELLERS: CAN UNPERMITTED WORK AFFECT THE SALE OF A HOME?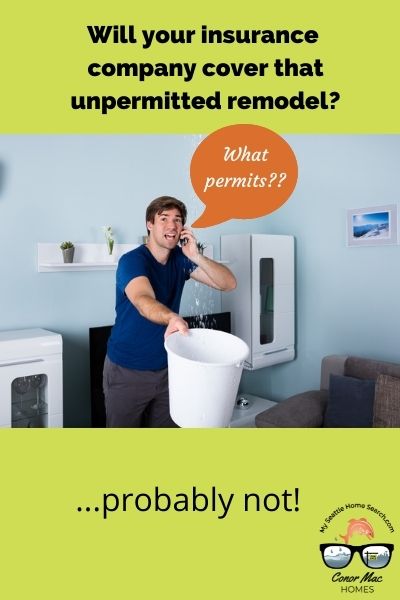 Do homebuyers care if work is unpermitted or not?
The short answer is that it depends on the prevailing real estate market at the time and on the type of work that was done. Buyers competing for your home in a multiple offer situation will be different than a home sitting on the market in a recession.
If it was a major remodel such as adding an extension, a dormer, or converting the garage into living space, then yes, most buyers would be very wary of buying the home if the work was unpermitted.
If not done properly and to current building code requirements, then the buyer could be inheriting years of leaks and dodgy workmanship. Plus, if the city finds out about it, the new owner might be required to remove the unpermitted structure or spend thousands of dollars bringing it up to code.
In a hot real estate market, buyers who are desperate for a home will overlook a lot of imperfections in a home and knowingly buy a home with work that was done without permits.
Buyers should be aware that although they might be personally willing to overlook unpermitted remodels, down the road when it comes time to sell the home and the market is not as hot, will other buyers be as willing to overlook that same unpermitted work?
Sometimes, when sellers list their home on the market it will catch the eye of the city inspector who notices the unpermitted addition and the extra square footage. A few years ago, in the Shoreline neighborhood (just north of Seattle), I personally saw two homes listed for sale in the same week with a notice from the city slapped on the front door stating that the homes could be not be sold because of unpermitted work. Maybe the city inspector was having a bad week or just more time on their hands than usual.

A Seattle home inspector's advice on permits when buying a home.
I asked Steve Bryan of MyHouseAndYours.com, a Seattle home inspector since 1991 and involved with Seattle construction for over 45 years, for his advice as to what is actually important for buyers when considering homes and permits.
Here are Steve's two cents on the subject.
When it comes to permits, the older the home, the more unpermitted work I tend to find. I have always thought that well over half the work I see has not been permitted.

1. The quality of the workmanship is more important.
It's not the permit, it's the workmanship! If the work has been done professionally and is safe, I don't get overly worked up about most projects. Most code requirements are safety-related, like deck railings and structural fasteners, stairs, and venting.
If all work has been done with a good understanding of how things work, like the drainpipe venting, the proper outlet wiring, and the ceilings aren't sagging where the wall used to be, then I don't see big problems, regardless of whether plumbing permits and electric permits were pulled or not. But if dad and Uncle Joe did the work and hadn't a clue what they were doing, no permit was ever going to make a difference.
2. What kind of work requires permits?
Technically, all plumbing and electrical work need permits, unless you're just changing out faucets, switches, light fixtures, and outlets. Electrical panels always need a permit and you usually need to have Seattle City Light replace the meter seal. So as soon as you run any new wire or new pipe, then permits are needed.
All structural work and additions also require permits, like removing that load-bearing wall between the kitchen and dining room or taking out some of the basement posts to create a usable space.
If it can be referred to as maintenance work, like replacing decayed/rotted sill plates or sub-flooring at that leaking toilet, then no permit is required. But most jurisdictions want deck permits due to the amount of non-conformity to setbacks and newer safety and structural requirements.
Sewer line work requires permits as well as a specialty contractors license, but I think you get a foot or two outside of the foundation with just a plumbers license.
3. Over-the-counter permits.
There is a whole class of "over-the-counter permits" that are required and typically include items like a new furnace, water heater, small electrical upgrades, oil tank retirement, new roofs, security alarm systems, etc. This helps the city make sure licensed contractors are performing the work and collect funds. It also helps them keep track of the type of work being done to local homes. Over-the-counter permits typically don't require site inspections.
Most of the work that gets "flagged" by a city inspector for lack of a permit, is called in by a neighbor. So no longer do we see additions getting added on-the-quiet since there's always someone in every neighborhood ready to report suspicious remodeling activities.
However, it's not too unusual in the Seattle area to see the old enclosed back porch becoming part of the kitchen, which for 1940's homes and before still occurs frequently without a permit. Kitchen and bath remodels are rarely permitted.
4. Can the City come after the new home for unpermitted work done by the seller?
Rarely as far as I'm aware. I've only heard of stories and have never, in over 45 years In Seattle construction, actually had any first-hand knowledge of this happening. Usually, they don't pursue after a property has changed hands. Possibly if there's a real egregious infraction.
Every time I've heard of a permit official following up on a non-permitted project from a previous owner, they've documented it with no consequences to the new owner and provided advice regarding safety corrections.
5. And, just because the seller got a permit doesn't mean...
I regularly tell clients that some of the very best work I've seen done has not had a permit and some of the worst has been permitted, so the proof is in the pudding, or should I say in the workmanship.
Here are some additional sources of information on the topic of buying a home and what you need to know about permits.
How To Avoid Home Buyer's Remorse from Luke Skar provides advice on how not to wake up the day after closing in a home that is too small for you, you don't like the neighborhood and your checking account is empty.
Dealing with Unpermitted Work When Buying or Selling a Home from Bill Gassett. This article provides advice to both home sellers and their potential buyers on the risks and drawbacks involved in selling/buying a home that has unpermitted work.
The Pros and Cons of Buying a Fixer-Upper Home from Petra Norris. Speaking of permits, you're likely to need some of them if you decide to go this home-buying route. The article has advice on the reality of buying these types of homes.
A Home Buying Guide for Young Adults from Joe Boylan. These kinds of buyers are more likely to be competing for homes at the lower end of the market. This article has advice about planning for the longer term and planning for some home renovations (and maybe even some permits!).