Your home is market-ready, but are YOU market-ready?
Posted by Conor MacEvilly on Wednesday, February 22, 2017 at 6:48 AM
By Conor MacEvilly / February 22, 2017
Comment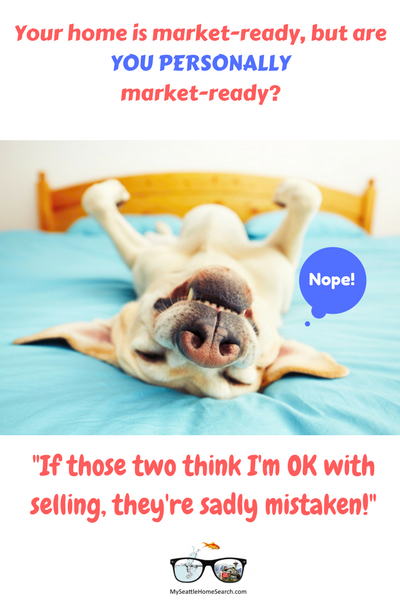 Your home is about to hit the market. You did your homework and chose a really good Realtor who knows their stuff. Your home is looking the best it has looked in years. It looks so good now, you joke with your Realtor that you've changed your mind about selling.
You've decluttered, you've scrubbed and cleaned until the inside is Q-tip clean, you serviced the furnace and cleaned the roof and gutters. You've focused on the most important things to fix before listing a home. Fido and his GI issues are safely sequestered at Aunt Ellie's. Your home is priced perfectly and those photos, in your humble opinion, are worthy of the front cover of Architectural Digest!
Your home is most certainly ready for prime time and the heaving masses of eager buyers.
The question is: are YOU PERSONALLY ready?
Obviously, getting your home ready is critical. However, you, yourself must also be prepared for the market and what is about to happen over the next few days, weeks and months.
Are you sure you really want to sell your home?
Yes, it's getting a little late in the game but are you 100% committed to selling your home? What's the real reason you want to sell?
People sell their homes for many reasons. Some have to sell because they are relocating for a new job and some have to sell because they lost a job. Some sell because the home has grown too small for their growing family and some sell because they have become empty-nesters and the home is now too big.
When the reason for selling is clear-cut, it can be an easier process for the owners. But when the reason is something more indefinable or subjective, then the seller can be less committed to seeing the process through to completion. You don't want to wake up the day before your home goes on the market, sit up in bed and mutter "what the hell am I doing?" Worse yet, waking up with the same reaction after accepting an offer.
You have to decide well in advance if selling your home is the right move for you. Does it make good financial sense? Are you OK with moving away from you friends and neighbors? Maybe you could just remodel instead of buying something newer?
For those sellers who still have doubts, a good Realtor who is not solely focused on getting the listing will sit down with you and help you determine if listing now is the best option for you personally.
Are you ready to look at your home as a product, competing with all the other products?
We're only human and most homeowners think their home is the best home in the neighborhood. And maybe it is. However, when you put your home on the market, it becomes just another property for sale. To you, it's still your home but to the buying public, it's just another listing. Different buyers will look at your home with completely different sets of eyes. At the open house, some will be in and out in 30 seconds flat and some will linger for 30 minutes or more.
By spending all that time preparing your home before hitting the market, hopefully buyers will view you home as a top-shelf product rather than a lower-shelf generic. However, when you get viewing feedback from your agent, don't take the comments personally. Many buyers will have no emotional attachment to your home and are more than happy to give your agent their unfiltered opinions.
You probably already know which aspects of your home will get buyers excited and which elements you wish you could hide or improve upon. Whatever you do, resist the temptation to try and hide any know issues. No home is perfect, not yours, not mine, not Bill Gates's place. Well, maybe Bill's.
Acknowledge that it will be a stressful process and a little chaotic
Rushing and fretting to get your home ready for prime time can be physically and emotionally draining and stressful. It's a LOT of hard work! Now your home is finally hitting the market but you're not done yet. Unless you have moved out of the home and it's vacant, you are going to feel like you are living in a glorified storefront window.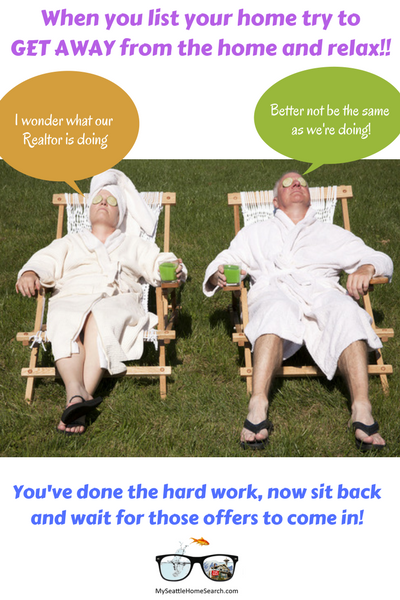 If you and your agent have done a good job, you will have plenty of interested buyers who want to come view your home. You can control the hours when buyers and agents can visit the home but you also want to make it as accessible as reasonably possible. You need to be prepared for multiple viewings per day, be that during the day or evenings after work. If you have kids and pets you might have to shuttle them out of the home every time the phone rings. This can get boring quickly. Plus you will have those open houses with buyers stampeding through the home. Hang in there, just need to keep this up for a week or less.
You are going to have to keep the place looking spic and span: make the beds every morning, keeps the bathrooms and kitchen looking spotless…almost as if no one actually lives there. It's a dance, but hopefully a short-lived one. Have a routine down and stick to it. Console yourself with the thought that most sellers go through this same process, but because your home is prepared so well, you will have multiple offers to choose from in a few days' time. Selling a home can be a stressful process and learning to deal with extended periods of waiting will help keep you sane.
What's the best thing to do? GET OUT OF THE HOME!!!
If at all possible, the best plan is to treat yourself and your family to a well-earned vacation and get the hell out of the home for that first week or so. Go on a skiing holiday, go camping beside a lake (within cell phone reach of course!) or just book into a hotel with hot tub and a spa. You deserve it. And don't worry, your Realtor can take care of everything while you escape. It's what they're paid to do.
Where are you going to move to when your home sells?
All going well, your home will garnish lots of attention, lots of offers and sell quickly. Within about 4 to 5 weeks after accepting an offer, the home will no longer be yours. This can be a very emotional transition for many sellers, particularly those who have lived in a home they have loved for many years. However, the reality is, you have to move on and plan for your next abode.
If you are lucky enough and can swing it financially, buying your next home before you even list your current home is always a nice option. If you need proceeds from the sale of your current home before buying, you will either have to wait for the sale to completely close before making an offer on a new home or you could try to buy a home contingent on the sale of your current home.
In a hot real estate market, sellers will be very hesitant to accept offers that are contingent on the sale of the buyer's home since they are taking a risk that the buyer's home will not close. Why accept your offer when they can go with a comparable offer without that contingency? Even if your own home is only a week from closing and a 99% sure thing, there will still be a 3 to 4-week overlap between your current home closing and getting the keys to your new home.
Where are you going to stay? One solution is to ask the buyers of your home if they are willing to give you a rent back. A rent back allows you to stay in your home for a specified amount of time after the sale closes. You are legally now a tenant and the new owners are now your landlord. In a competitive market, where the sellers are in control, it can be relatively easy to get a rent back when buyers are desperate to win the bidding war.
If you can't get a contingent offer accepted or the right homes doesn't come along while your home is listed, then you have to decide if you are going to get a short term rental. Plan accordingly.
However, if your intent is just to stick your stuff in storage and go sail around the world, well, then good on ya! Have a blast!
Do you have a Plan B?

In a strong seller's market, almost all homes will sell. Those that do not are either over-priced or have something seriously wrong with them. If you picked the right Realtor and did all the right things including pricing your home correctly then you are 95%+ sure to sell. If you got a little greedy and pushed the price too high and are unwilling to drop it, then good luck with that! Buyers are savvy and know over-priced listings when they see it.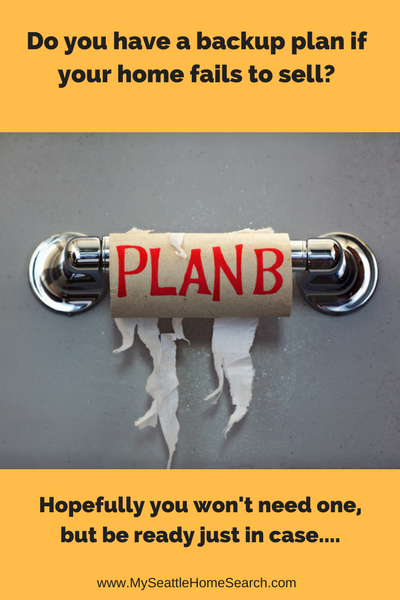 In a slower market, there is no guarantee that your home will sell, despite your best efforts. So, say your home doesn't get an offer or at least an offer that you are willing to accept, do you have a backup plan in place to handle that situation?
Obviously, if every buyer and their agent are screaming at you that your home is way overpriced or has some major issues, and you are unwilling to adjust to that reality, then your options are limited to keeping the home and adapting to your keeping it longer than you had anticipated. If you weren't 100% committed to selling in the first place, then you might almost feel a little relieved at failing to sell.
However, say you have to move for a new job, do you have a plan for what to do with the home? If you are lucky enough that your new employer has provided you with a lavish relocation package, sometimes the contract will include a clause that states that the employer will buy your home in the event that it fails to sell.
Will you be able to rent out the home and will it cover all your expenses including mortgage, taxes, insurance and maintenance costs? Are you OK with being a long distance landlord or willing to pay a property management company? If you own a condo, do the HOA rules allow you to rent your unit?
If you are going to stay in the home but can't afford to cover all your expenses, are you open to renting out part of the home or becoming an Airbnb-er?
Every seller's situation is different and the future is always unpredictable so it's good to have a backup plan, just in case. But if you do your due diligent and eliminate as many unknowns as possible ahead of listing your home, you are probably not going to need a Plan B.
Here are some great additional resources that will help you plan and be market-ready:
5 stress relieving tips for moving to a new city or state from Kyle Hiscock.
How to blow up your home sale in 7 easy steps from Kevin Vitali