Great places to escape the city for a few hours, a day, or more.
Wanna get away?
Like any bigger city, sometimes you just want to escape the hustle and bustle. Fortunately, Seattle is surrounded on all sides by easily accessible places to get away from it all, whether just for a few hours or for a few days.
Hiking, backpacking, and car camping. The Pacific Northwest is an outdoor enthusiast's paradise and Seattleites are truly spoiled for choice. Get a quick hiking introduction with the nearby Tiger Mountain and Mount Si trails but be prepared to share with other locals furiously Instagramming the whole hike.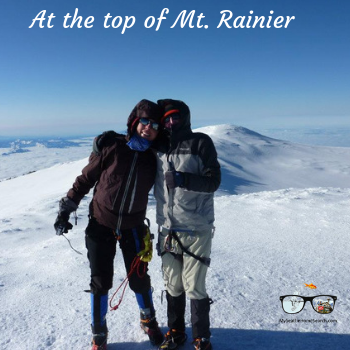 Drive a little further and you'll hit one of my favorites, Granite Mountain with a fire lookout at the top and wow views of Mt. Rainier. Or you can go the whole hog and climb Mt. Rainier itself which I did a few years ago and have only mentioned that fact 827 times since summiting!
You can also head west, jump on a ferry and head over to Olympic National Park where you can choose from wild beaches with miles of driftwood and few humans, or hike moss-covered rainforests or wide open hot-n-sweaty panoramic view trails in the Olympic Mountains.
The Washington Trails Association is a great organization and their website has lots of useful information on all trails including trip reports from people who have hiked the trails recently.
If you would prefer to just sit around the campfire, sup some brews, east smores and tell tall tales, (not that there's anything wrong with that!), there are plenty of places to do that too.
Alpine skiing and snowboarding near Seattle. While Seattle itself doesn't get much snow, you are still within easy reach of some great skiing.
The Summit at Snoqualmie Pass and Alpenthal are less than an hour from Seattle. For longer ski runs and usually better snow, it's under 2 hours to Steven's Pass on Highway-2 or try Crystal Mountain ski area next to Mount Rainier with panoramic views of the mountain. If you are snowboarding purist, take the longer trip to Mt. Baker ski area.
Cross country skiing. For those of you who prefer the tranquility of self-propelling your skis without gravitational assistance and fussing over which wax to use, (if in doubt, go with Klister!), there are some lovely cross- country ski areas near Seattle.
Going eastbound on I-90, just after Snoqualmie pass, take the first exit for Hyak snow park. It's a long, flattish, wide trail that runs along Keechelus Lake plus it has a sledding area for kids. Drive another 15 mins east you'll hit Cabin Creek, home to the Kongerberger Ski Club which has real live Norwegians with funny accents among the members.
And if you really love cross country skiing, treat yourself to a few days in the fantastic Winthrop-Mazama area which is one of the top cross country skiing areas in the US in a beautiful setting.
Weekend getaways from Seattle.
Jump on a ferry and check out some of the nearby tranquil islands including Bainbridge, Vashon or the San Juan Islands. Exhale!

Escape to small towns like Roslyn whoes main street was used for the TV series Northern Exposure, check out Bellingham to the north, or the artisan town of Port Townsend over on the Olympic Peninsula. Alternatively, if you want a slightly kitsch Bavarian experience for the weekend, consider Leavenworth. And yes they do have an Oktober Fest.
Love tulips...then make sure you check out the Skagit Vallet Tulip Festival each April. Makes a great day trip.
Love wine? Want to stay closer to Seattle and let someone else be the designated driver for the day? Well, how about a winery tour in the Woodinville area, 30mins from Seattle? Click here for some wine tour options where somebody else does the driving.