Steps to buying a home in Seattle.
As they say, all real estate is local, and buying a home in Seattle and Washington State will be a slightly different process compared to parts of the country. Whether you are a first-time home buyer or somebody who bought a home years ago and needs a refresher course, this step-by-step guide will help clarify how the whole process works.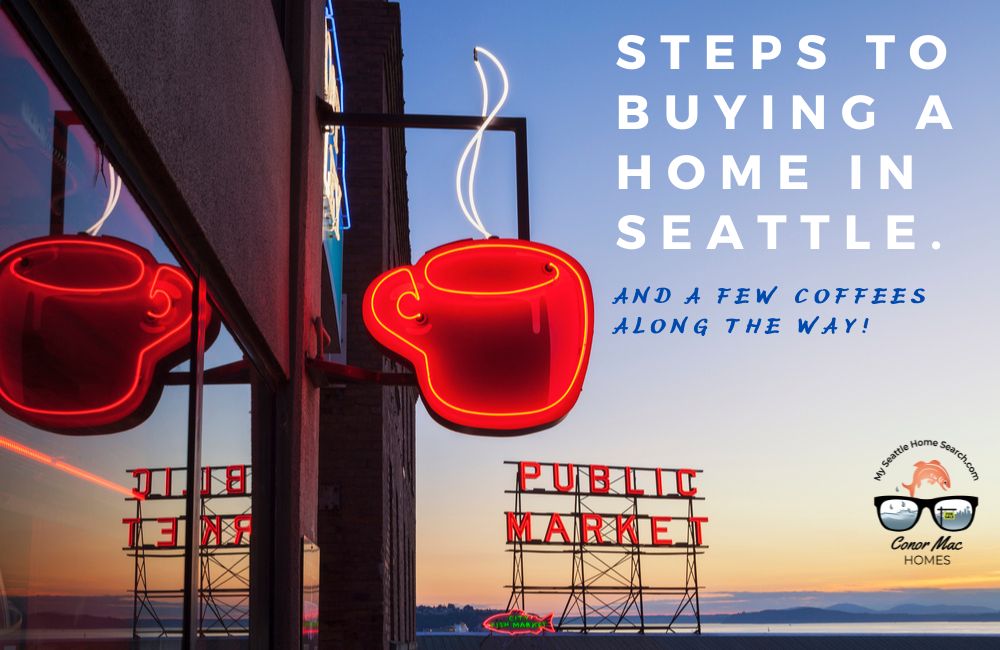 The Seattle and Eastside areas have experienced significant change over the last couple of decades and are now home to big companies like Amazon, Expedia, and Microsoft plus a lot of other tech companies. And don't forget Boeing. Despite all the recent boon times, Seattle is still a great place to live in a beautiful setting. So whether you're moving to Seattle or you already live here, let's go through the steps of how you to purchase a home in Emerald City.
Who are all the different players involved when you buy a home?
If you haven't purchased a home before you probably just think it's the buyer the seller and the two agents but there are a lot more people involved in the whole process.
The buyer. That's YOU!
The seller.
The buyer's agent represents the buyer and is sometimes confusingly referred to as the selling agent.
The seller's agent represents the owner and is also called the listing agent.
The lender or mortgage broker arranges the home loan for the buyer.
The home inspector inspects the home for the buyer or sometimes does a pre-listing inspection for the sellers.
The appraiser is hired by the bank to do a market analysis of the home's value.
The Title Company provides a copy of the title report for the property and the title insurance policy.
The Escrow Company acts as a neutral third party to coordinate the transaction and closing of the sale.
Note that Realtor is essentially the same thing as a real estate agent. The former are members of the National Association of Realtors (NAR). Sometimes you might hear agents referred to as Brokers which can be a little confusing because mortgage brokers tend to be referred to as Brokers as well.
OK, so where do I start?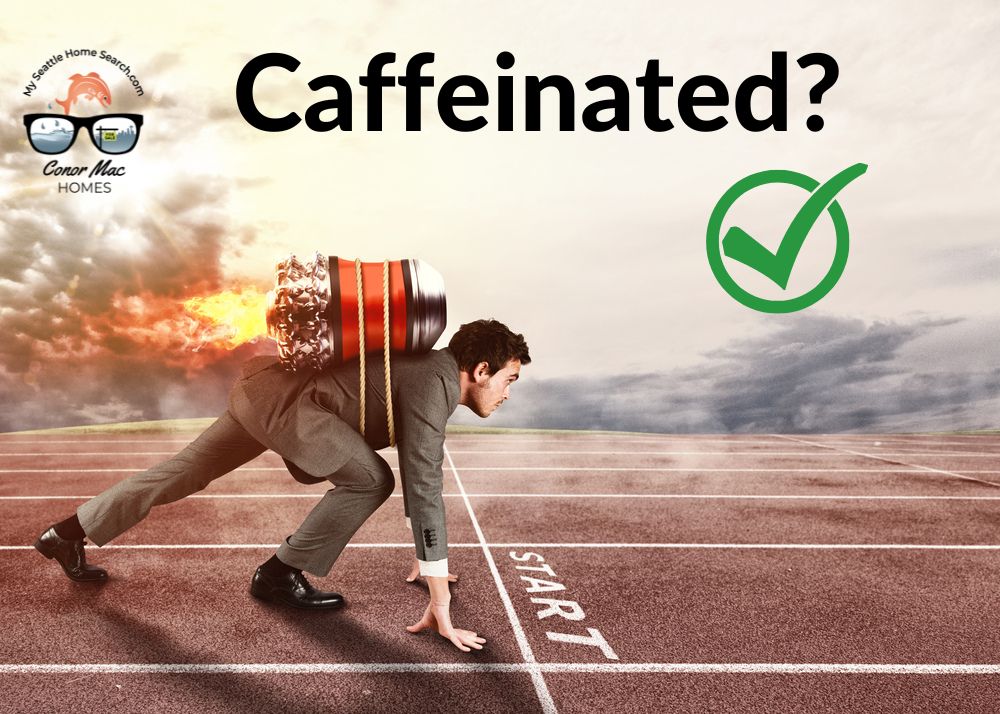 Getting your finances in order.
Unless you are going to be buying the home with cash you will need to qualify for a mortgage from a lender. I always recommend that the best early first step for a buyer is to chat with a mortgage broker. You don't have to get pre-approved at this stage of the process but it will give you an indication of your current financial status:
Your credit rating.
An answer to the not-so-simple question of whether you can afford to buy a home in Seattle or not or the type of home your budget can buy - condo, townhome, or a house?
Are there any issues with your credit that you need to be cleared up that will help improve your credit rating and hence the mortgage rate you qualify for?
Approximately how much you will need to save for a downpayment and money for closing costs?
Advice about any Seattle first-time home buyer mortgage programs that might be available.
It is good to take this step as early as possible well ahead of when you intend to buy so if there are any issues or if you need to save more money you will know what to aim for.
Save for a downpayment, closing costs, and pre-paids.
Many people who are looking to purchase a home think that they only need to come up with the money for the downpayment and are unaware that there are additional costs associated with closing on a home.
The downpayment.
The downpayment is the amount of money you put down on purchasing a home with the rest of the money being provided by a lender via a mortgage. The size of the down payment will depend on the type of loan you get and will also depend on how much you can afford to put down. The ideal amount is 20% because going this route allows you to avoid paying mortgage insurance.
Seattle can be a competitive buyer's market and in general, the more you put down the more competitive your offer will be. Obviously, not every buyer can afford to put down 20% especially since homes in the area can be higher than in other parts of the country.
Closings costs.
Closing costs are one-off fees associated with buying a home and include fees such as title insurance, escrow, appraisal fees, and any costs your lender might charge such as the loan origination or underwriting fees. These fees can add up quickly, so it's important to plan ahead of time and budget accordingly before making an offer on a home.
Pre-paids.
When you buy a home the lender will require that you prepay in advance certain recurring monthly charges to establish a base escrow fund. For example, you usually have to prepay six months of property taxes and one year of home (hazard) insurance. If you're buying a condo you may have to pay a few months of HOA fees in advance.
Work with a mortgage broker who will explain all this to you and familiarize you with these fees and costs, and not just some online app that auto-generates a quote for you.
For a lot more detailed information about a downpayment and closing costs, please see this article.
A good mortgage broker is (almost) as important as a good Realtor!
When I bought my own home my Realtor was okay but my mortgage broker was terrible and left a sour taste after closing. You need to find yourself a highly competent and responsive local realtor AND mortgage broker if you hope to have a smooth(er) home purchase process.
A good mortgage broker will ideally be local, be highly responsive, have competitive rates and closing costs, and just as importantly, be willing to answer your calls and emails on the weekends. Real estate is not a Monday-to-Friday gig! If you are looking to make an offer in a hurry and need a pre-approval letter or have financing questions, don't expect the big Banks or credit unions to pick up the phone for you on weekends and holidays.
Ask your friends or agent for lender recommendations and speak to at least three different mortgage brokers. Do this upfront, not right before you want to make an offer on a home. Obviously besides being a good match for you personally it is important that they have competitive rates and closing costs.
For more information on the differences between big bank lenders and independent mortgage brokers, please see this article.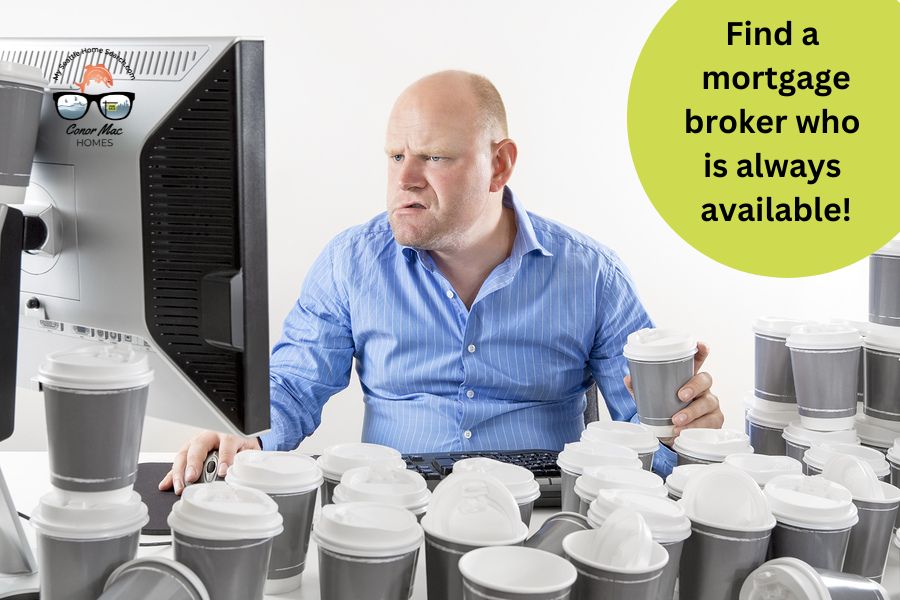 Do an apples-to-apples, mortgage-broker-to-mortgage broker comparison.
Those interest rates that you see advertised online or meaningless and pure, unadulterated clickbait that most people will never qualify for. The best thing to do once you have three mortgage broker recommendations is to send them the SAME property on the SAME day and ask them to quote you their best interest rate on closing costs for the property.
Tell all three of them that you are shopping around and comparing rates which will "encourage" them to be competitive and potentially reduce some of their fees and rates. That way you can do a direct side-by-side comparison of those three lenders and see how their rates compare and closing costs.
Interest rates fluctuate from day to day, sometimes wildly. Although you might be quoted a particular interest rate when you get pre-approved, by the time you have an offer accepted on a home, the rate you qualify for might be different. I can be higher or it can be lower. Once you have an offer accepted, then you have the option of locking in the interest rate so you don't have to worry about rate fluctuations.
Why and how to get pre-approved or a mortgage.
The three main reasons to get pre-approved for a mortgage are:
You will know how much home you can afford to buy.
You have to be pre-approved to make an offer on a home.
It's unlikely a Realtor will be willing to work with you if you're not pre-approved.
Getting pre-approved for a mortgage is a critical step in the home-buying process and involves you submitting various information including your income, debts, and assets to your mortgage broker who then runs your credit. The broker will let you know (1) if you qualify for a mortgage and (2) how much you qualify for.
If you want to make an offer on a home you will have to include a pre-approval letter from the lender to prove to the sellers that you can qualify for a mortgage. If you don't have that letter that they will never accept your offer.
A lesser version is called getting pre-qualified but this just involves you chatting on the phone with a mortgage broker without them running verification of your financial status. Savvy sellers and listing agents will not accept an offer with just a pre-qualification letter.
Note that just because you are pre-approved for a mortgage does not guarantee that you will actually get the mortgage. A pre-approval just approves you for a hypothetical home. Once you have an offer accepted now both you AND the home have to go through approval and underwriting. Although your finances might be great the property can impact whether the mortgage gets approved but more on that later.
How much home can you REALISTICALLY afford or WANT to pay?
The short answer to this is at the prevailing real estate market and home prices, your income, your savings, and your credit score will all affect how much home you can afford to buy.
If you are a first-time buyer, like me when I bought my own home, you will be scraping together every last penny you have to get your foot in the real estate door.
Alternatively, just because you can afford a $1 million dollar home doesn't mean that you have to buy a home for that price. You might be completely fine with a home in the $750,000 range. There's more to life than being house rich and cash poor.
Sit down and open up a spreadsheet and enter in all your monthly expenses including how much you put into your 401K, car insurance, money for food and dining, your hobbies and travel etc.
Now ask yourself how much are you willing to spend on those monthly home payments which will include the mortgage + property taxes + insurance and potentially private mortgage insurance and HOA dues.
It will be a balance between going all-in and putting as much as possible towards the mortgage and maybe having to cut back on some of your lifestyle spending or going for a balance between the two.
Don't forget, ideally you will need to keep 6 months of rainy day funds in reserve. For example, if you lose your job and need to cover those mortgage payments and other expenses.
Finding a GREAT local Realtor.
A good real estate agent can make the home-buying process a lot more enjoyable and less stressful. A bad one can mean you will miss out on multiple homes and have a terrible experience. Ask your friends for recommendations for who they worked with and screen three different agents and find the one who feels like the best fit for you.
Or just go with the Seattle agent who wrote this informative guide (yup, me).
A good real estate agent will spend time with you in advance of going to see homes and cover the following items:
Meets with you and talk about your home-buying wish list, needs and wants plus the timeline that works best for you.
Goes over the home-buying process with you and explains how everything works particularly if you are a first-time home buyer.
Reviews how to write an offer on a home and go over all the contract paperwork and contingencies. If the first time you see a copy of a real estate contract is the day you make your first offer, that is not good.
Finding a responsive Realtor is critical. Before you choose who you going to work with, test them with a few text messages, emails, and calls. If they are slow to respond, you may want to look elsewhere. The number one complaint about agents is tardiness in replying to calls and correspondence in general which can be really frustrating for buyers. Don't end up with one of those!
Do I have to pay to work with a Realtor?
This is a common question from first-time home buyers and the answer is a No and a Yes.
Your agent only gets paid if you close on a home. There is no monthly retainer and you could potentially work with an agent for 3 years, view 1000 homes, never make an offer, and still wouldn't owe them a penny.
When the sale closes, both the buyer's agent and the seller's agent get paid a commission from the proceeds of the sale.
Since the buyer is the only one bringing money to the table as part of the transaction (downpayment + loan), and since the buyer's agent gets paid from that pool of money, then yes, the buyer is paying for their Realtor service.
What you REALLY need versus what would like to have.
When it comes to buying a home, it is important to differentiate between wants and needs. Wants are features of a home that are desirable but not necessarily essential. These might include a large backyard, a luxurious kitchen, or a home theatre. Wants are often a reflection of personal preferences and lifestyle.
On the other hand, needs are features of a home that are essential for a comfortable life. These might include a certain number of bedrooms and bathrooms, adequate storage, good local schools, or easy access to public transportation. Needs often depend on the individual's life situation, such as the size of their family or the kind of lifestyle they lead.
Many real estate brokers will ask their buyers to list their top five must-have items that they really want in a home. However, the reality is that the vast majority of buyers will not get all five of those and will need to compromise a little. If you end up with four of those five you're doing really well. Also as you start looking at homes in person it's likely that your wish list will change as you see features in homes and neighborhoods that you may have not considered previously.
How to Search for homes for sale.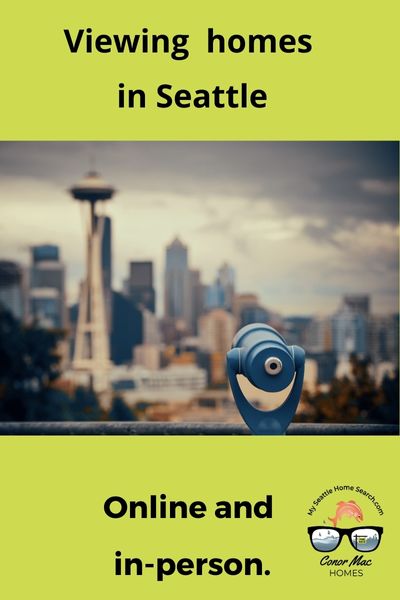 The fact that you are reading this long guide probably means that you are already mildly addicted to looking at homes online.
Compared to "back in the day" when the manager at the real estate brokerage controlled buyers' access to real estate listings it's so much easier now when everything is on your phone. On this site, you can search for homes in Seattle neighborhoods and surrounding cities like Bellevue and Bothell.
In the Seattle area, most real estate websites have feeds from the Northwest Multiple Listing Service (NWMLS) and they're all displaying the same properties. You can set up automated searches so that any properties that match your search criteria or email to you as soon as I hit the market. On this site, listings are updated every 5 minutes and emailed out to you.
Remember that when viewing homes online they're usually shown in their best possible light and it helps to become proficient in picking out small clues as to what the listing agent might be trying to hide. You want to avoid jumping in your car and rushing 45 minutes to see a home with giant power lines overhead or one that is next to a garage or freeway. For more information on how to review online listings please see this article.
Here's a quick explanation of what different listing statuses mean:
Homes listed as ACTIVE (A) means that they have not accepted an offer yet are open to offers.
Homes tagged as PENDING INSPECTION (PI) means the homeowner has accepted an offer that's contingent on the buyer doing an inspection. These homes may or may not come back on the market depending on what the buyer decides after completing the inspection.
PENDING (P) means that the buyer has already completed an inspection (or waived the inspection). However, the sale might still be contingent on appraisal. About 95% of these will continue all the way to closing.
Occasionally you will see homes tagged as CONTINGENT (CT) which indicates that the seller has accepted an offer from a buyer contingent on the sale of the buyer's own home. These sales make up a very small part of the overall market, and even less so in a strong seller's market.
Viewing homes: open houses versus private viewings.
There are two main ways to get access to listings in the Seattle area.
The best way to go see a home is a private viewing with your real estate agent. Pick a day and time that works for you and your agent will reserve that time slot. You will usually have the home all to yourself for 30mins which allows you to take a good look at the home.
The other way to see homes is via open houses and here you are reliant on the listing agent holding the home open. If the home is popular, then you will be butting elbows with other buyers and it can be hard to see the home where there are a lot of people in there.
In case you didn't know already, the main reason Realtors like doing open houses is not to sell the home per se, but it's a way for them to nab new buyer clients. You'll notice that as soon as you walk in the front door of an open house you're likely to be descended upon by the listing agent trying to endear themselves to you in the hopes of getting you to work with them. "Are you working with a Realtor...?"
Another word of warning. If you walk into an open house, and fall in love with it but haven't already signed up with your own agent then DO NOT make an offer using the listing agent. This is referred to as Dual Agency and it is a complete conflict of interest with the listing agent representing both the seller and you, the buyer. It's impossible for the listing agent to remain neutral in the situation. It's illegal in some US states but not in Washington State and it needs to be gotten rid of! The moral of the story is to get your own independent representation.
Making an offer on a home.
Becoming familiar and comfortable with the real estate contract paperwork and how it works is really important!
If you are seeing a purchase contract for the first time the day you want to write up an offer it will be way overwhelming and you won't feel comfortable signing on the dotted line. By going over the contract in advance you can educate yourself on how to structure an offer for different situations based on how competitive the home may or may not be. Once you've gone over the contract a couple of times you will feel a lot more comfortable as to what you are agreeing to.
First of all...How much should you offer on a home?
This is a bit of a wide-open question and the answer depends on a number of factors. Your Realtor should do a competitive market analysis (CMA) of the home's current market value so at least you know starting off is the listing price in the correct ballpark.
Having said that, depending on the prevailing housing market the listing price may be irrelevant. There is no golden rule as to what to offer and you need to weigh up the individual factors for that particular home.
For example:
Is it a buyer's or seller's market?
How long has the home been on the market? Has it been sitting there for 2 months or just come on two days ago?
If the seller has set an offer review deadline and the home is very popular then you know you will be competing for the home and likely will be paying more than the list price.
If you know the home is going to need a lot of repairs and the seller is not going to take care of them before closing then just offer what you think the home is worth and be willing to walk.
Has the seller demonstrated that they are motivated to sell? Some sellers will cut the listing price if the home is not getting offers while delusional ones are happy sitting on the market for 4 months without cutting the price once. The former will be open to negotiating but the latter is likely to be flexible. It never hurts trying though!
And sometimes it comes down to just how badly you want that home and what you are willing to do to get it. If you have been outbid on other homes in the past then that might dictate how you feel about going all in on a particular home.
The purchase agreement and contingencies.
In the Puget Sound area, when you make an offer on a home everything must be in writing. Verbal agreements are meaningless and are not legally binding. Your offer will be submitted on standard forms that are used for all residential transactions in Washington State and we will be written up by your real estate agent.
As mentioned previously, it is important to familiarize yourself with the purchase contract well in advance of making your first offer so you feel comfortable knowing what you're signing.
An offer on a home is made up of two main parts:
The Purchase and Sale agreement (PSA).
The contingencies.
The Purchase and Sale agreement:
This six-page form is the most important part of the contract, is always present in contracts, and serves the following purpose:
Identifies the buyers and sellers and the property that is being sold.
The purchase price and when it will close.
The appliances and other items that stay with the home.
Details what happens in the event of one party defaulting on the contract.
Identifies the title and escrow companies.
How much earnest money the buyer is putting down.
Identifies the listing agent and the buyer's agent.
Contains a list of the contingencies that are included in the contract.
Contract contingencies are your friend!
Contract contingencies, (aka addenda) are the conditions under which the buyer is willing to buy the home. In general, the way the process is designed to work is that the contract is there to protect the buyer via these contingencies. For example, it protects the buyer from buying a lemon of a home, being forced to buy without getting approved for a mortgage, and ending up with a home with multiple liens on the title that cannot be cleared before closing.
The greater the number of contingencies in the agreed to offer the greater the protection for the buyer. Conversely, the fewer, the less protection the buyer has which usually happens in multiple offer situations.
Here are the most common contingencies found in home offers in Washington State:
The Financing contingency states that the buyer is purchasing the home via a mortgage and that their purchase is contingent on (1) being approved for the loan and (2) the home passing an appraisal.
The inspection contingency gives the buyer the right to conduct an inspection of the property which may also include the sewer line.
The Title contingency states that the buyer is buying the home contingent on reviewing the title report to the property and a guarantee that the buyer will be delivered a clean and marketable title at closing.
Home Owners Association (HOA) review which applies to condos or other homes run by an HOA. The buyer's offer is contingent on reviewing the Resale Certificate and any other documentation associated with the community they are buying into.
In an ideal scenario, the buyer's offer will contain all of these and other contingencies so the buyer has optimal protection. However, the reality is that the market dictates the type of offers that the buyer might have to submit to get the home. If it's a slower buyer's market then the buyer has a lot more leverage and can usually include all of these addenda. However, in a competitive market where lots of buyers are interested in the same home then the buyer is likely going to have to remove some conditions to win the home.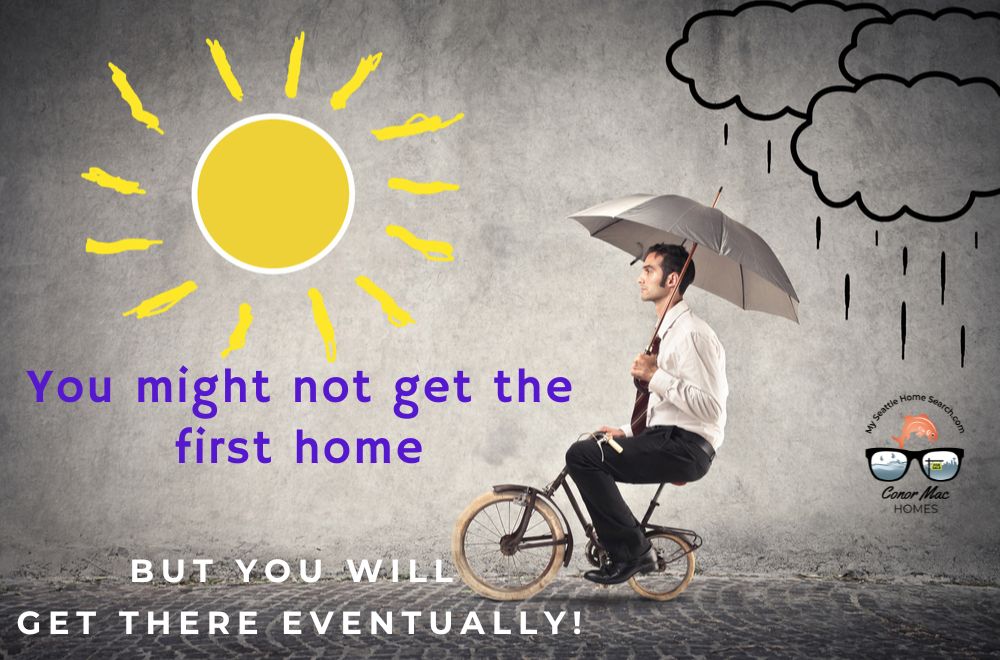 Making offers in competitive situations.
If you want to make an offer on a home that you know is generating a lot of interest and you're not going to be the only offer, then you have a decision to make. If you come in with the standard offer with all the contingencies in place, it is likely that your offer will be at the bottom of the offer pile.
For example, if your offer is contingent on doing the inspection and three other buyers have done a pre-inspection of the home then your offer will be a lot less competitive. Likewise, if other buyers are waiving the appraisal and your offer is contingent on an appraisal that may weaken your offer.
You will become familiar with the market through your personal experience of maybe missing out on a couple of homes and through that you will then become more familiar with the types of offers that win these listings. Your agent will likely tell you what's needed to win in competitive situations but sometimes you need to experience it for yourself to realize that there are rules of the game in those situations unfortunately. And sometimes you just go all in early with a bully offer and try and get rid of the competition.
Congratulations, your offer was accepted. Now what?
Now you can exhale! But just for a little while.
If you the buyer and the seller come to an agreement and both parties sign the offer then now you have what is called Mutual Acceptance.
First-time buyers often worry that the seller can continue to market the property and entertain other offers. But no need to fear, once you have mutual acceptance the owner cannot accept any other offers and bump you out of the contract. The one exception is buying the home contingent on the sale of your own home but most buyers don't have to worry about that.
Getting your offer accepted is just one stage of the whole process and you've only cleared that first hurdle but it's a great first step. And now the clock starts ticking and you need to become really focused on doing your due diligence and completing them on time. Most contingencies have a time limit within which you need to complete that task and if you fail to do so, then your forfeiture right to that part of the contract.
Here are the main things most buyers will need to focus on once they have an offer accepted.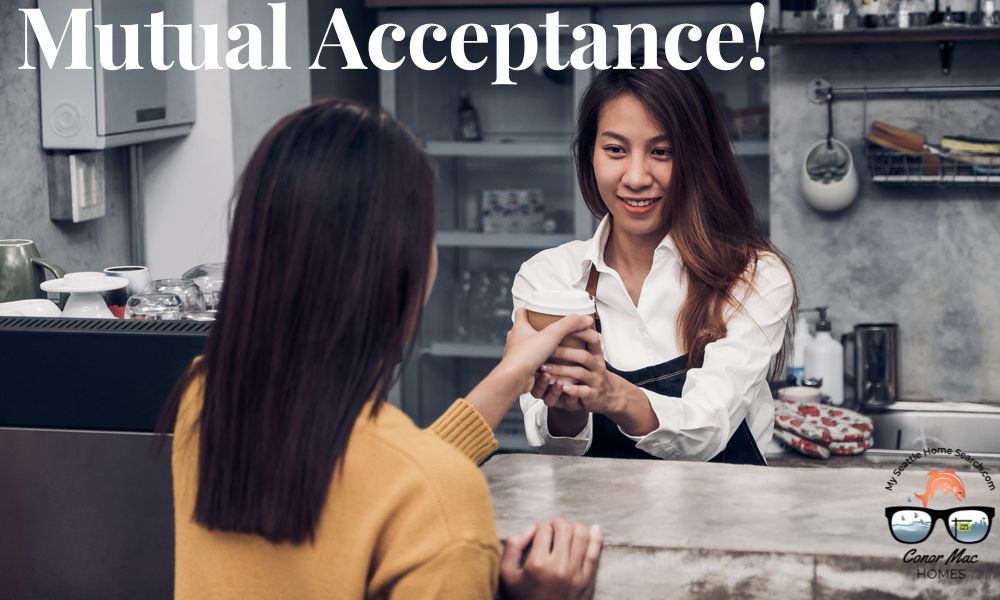 Apply for a mortgage for THAT home.
Wait, I thought I had applied for a mortgage already?
No, you were just pre-approved.
When you were pre-approved for a loan that is just based on a hypothetical home in the greater Seattle area. However, once you have an offer except on a home the lender will now want to delve into your credit rating a bit more and also want to look at the home that you are buying to make sure it is worth the money they're giving you.
Your listing agent will send a copy of the contract to your mortgage broker and your broker should reach out to you immediately to get the process started. You will usually have about 5 business days after mutual acceptance to start the process of applying for a mortgage. During this period, you can shop around for a different mortgage broker but you cannot change the type of loan you're getting nor the amount you were putting done without the seller's written consent.
Deposit your earnest money.
One of the first steps after having an offer accepted is to deposit your earnest money. Earnest money is a statement of your serious intent to buy the home and is sometimes referred to as a good-faith deposit. According to the purchase contract, it is money that you are willing to forfeit in the event that you break the contract without any recourse.
In general, the earnest money will be between 1 and 5% of the agreed-to sale price and you have about 3 business days to deposit it to escrow. Make sure you have that money available in cash in your checking account.
If the sale proceeds all the way to closing then this earnest money will be part of your downpayment on the home. In the event that you walk on the contract, say for example after disapproving the inspection then you will get your earnest money back. The only way you can lose your money is by walking on the contract when you do not have the right to do so and in that situation the seller keeps the deposit.
Do the home inspection.
If your offer is contingent on doing an inspection of the property then you will need to schedule that as soon as possible to ensure you complete it within the allocated time. You will hire a licensed home inspector who will go through the home with you and give you their two cents on any needed repairs or major issues with the home. If the home is on a sewer line you might also need to pay for a sewer scope. If it's on a septic system then the home seller is required to schedule, and pay for, an inspection of the system.
The great thing about having an inspection contingency (from the buyer's perspective), is that it is contingent on the buyer's subjective satisfaction with the property which means that the buyer is completely within their rights to walk on the sale if they don't like what they see or even if they find nothing wrong with the property. If the buyer does want to continue with the sale then they have a number of options including buying the home as-is or negotiating for a price drop and repairs.
Depending on the size and type of the home, the property inspection will cost between about $300 and $600 and the sewer scope will be $250 to $300. It's money well spent if you want to avoid buying a lemon.
The Appraisal:
If you are purchasing the home using a mortgage then part of that process will involve the lender sending an appraiser to the home to determine the home's current market value. The lender wants to ensure that in the event you default on the mortgage, they will be able to repossess the home and sell it and get their money back.
Ideally, you would schedule the appraisal after completing the home inspection because you don't want to waste $700 on an appraisal if the home is not going to pass an inspection in the first place. Nine times out of 10 the appraisal will pass and you're good to go. But if the appraisal does come in below the sale price then you are going to have to negotiate with the seller to drop the price. If the seller is not willing to budge, you will have to decide between bringing extra cash to closing to make up the difference or walking on the sale and getting your earnest money back.
The appraisal process can be slow and take up to 2 weeks as both the buyer and seller anxiously wait for the report to come in. Real estate is full of waiting times.
Tile Review:
The seller is required to provide you with a copy of the title report for the property and you will have around 5 days to review the document. As described in more detail below, the title report covers the history of ownership of the property and lists if there are any current issues with the property including unpaid liens and taxes.
HOA and Resale certificate review:
If you are buying a home that is part of a homeowners association (HOA) like a condo or some townhomes, then the seller must provide you with a copy of the Resale Certificate within 10 days of mutual acceptance. The resale certificate contains all the information you need (hopefully), to make an informed decision as to whether you want to buy into that community. It will contain information on the association's finances, if there are any current special assessments, their financial reserves plus a list of rules and regulations for living in that community. This is a critical document and one that should be reviewed thoroughly.
Title and Escrow when buying a home.
What is escrow when buying a home?
Another player you will encounter on the path to purchasing a home is the Escrow Company. Escrow is a neutral third party that essentially operates as a traffic cop, directing the transaction and ensuring that everything goes smoothly all the way to closing.
Escrow companies are responsible for collecting and distributing funds from the buyer and holding them until all agreed-upon conditions have been satisfied. This can include payments such as earnest money deposits, down payments, and final mortgage payments.
Once all conditions are met, the escrow company will transfer the funds to the appropriate parties and close out the deal. Escrow professionals also provide extra layers of protection throughout the process ensuring that everything remains fair for both sides of the transaction.
You will have to pay a one-off escrow fee as part of your closing costs which will be in the $1,000 to $2,000 range.
What are Title and Title Insurance when buying a home?
A title is effectively the legal ownership of your property. It contains a description of the property, the names of all owners, and other documents related to any problems or liens on that property.
Before a Seattle home seller puts their home on the market, they will usually order a copy of the Title Report from a Title Insurance Company like First American.
The title report will provide information about the legal owners of the property, any liens which may be been placed on your property, if there are any unpaid taxes owed on it, and other items such as rights of way and easements.
Title insurance is a type of insurance that protects the buyer, lender, and sometimes the seller from defects in a property's title. When you purchase property, you assume ownership of all rights to it. That includes any legal issues caused by previous owners that may cloud your title. Title insurance can protect you from financial losses in case of hidden risks such as undisclosed liens, bankruptcies, judgments against past owners, false impersonation of an owner, and more. It also typically covers certain costs associated with defending your claims such as court costs and attorney fees.
Title insurance is part of your closing costs and is a one-time fee. You do not need to renew it annually. It's not cheap and will cost you on average between $1,200 and $2,000.
Can a buyer get out of a contract to buy a home?
Sometimes buyers get cold feet and sometimes the home is not as good as the buyer expected when they submitted an offer and after they completed the inspection. As mentioned previously, the more contingencies the contract has, the greater the buyer protection and hence the easier it is for the buyer to get out of the contract.
There are a number of ways the buyer can walk on a purchase agreement and get their earnest money back but will be on a case-by-case basis depending on the purchase agreement. For a lot more on this please see this article.
Almost there! What happens in the week before closing?
Once your loan has been approved by the lender's underwriter, you are 95% of the way to getting that home. You've cleared all the hurdles and now it's mostly a case of taking care of the clerical stuff.
Review the Settlement Statement:
A few days before closing the lender will send you a document called the Settlement Statement. It provides an itemized list of all costs associated with buying the home including all your closing costs, your pre-paids, and how much money you need to bring to closing. It is also known as the Closing Disclosure or HUD-1 form and the buyer must be given a minimum of 3 days to review it for any errors.
Buyers should carefully review the Settlement Statement to ensure that all amounts are accurate and match what was agreed upon during negotiations. Any discrepancies or errors should be addressed with the lender before signing. In fact, call your mortgage broker and have them review it with you so you know exactly what you are signing.
The signing appointment
After the buyer has approved the settlement statement:
The lender will send the loan documents to Escrow.
Escrow will prepare the Signing Documents.
Escrow will call you to schedule an appointment to come into their office to sign all the paperwork confirming your purchase of the home. These typically include a deed, promissory note, mortgage loan agreement, truth-in-lending statement, and miscellaneous forms required by your lender and state laws.
Before the appointment, Escrow will inform you of the exact amount of funds you need to bring to closing. This includes your downpayment (minus your earnest money) plus all your closing costs. In the Seattle area, most buyers wire the funds to Escrow.
The signing appointment usually takes place a day or two before the closing date.
You will be signing a LOT of forms but the Escrow officer should explain each one before you sign it. The most important form is the NOTE which details the term of your loan including the rate. Make sure you review that one like a hawk! Once you have signed all the forms, make sure to ask for a copy before you leave.
Note that if you are too busy with work to get to the Escrow office, you can arrange for a mobile notary to come to your home or workplace to sign the paperwork. You will pay a fee for this convenience.
Pre-closing walkthrough.
The purchase contract allows you to do a final walkthrough of the home before closing day. MAKE SURE YOU DO ONE!
It might be three weeks since you were last in the home and you want to make sure that you are getting the home in the same condition as when your offer was accepted. You want to ensure that the seller has completed any repairs they agreed to and that they have removed all their possessions. You also want to make sure that no new issues have cropped up that need to be addressed before closing.
The buyer and their agent do the walkthrough a day or two before closing and ideally, the sellers have moved out of the home by then.
Contact the utility companies.
Before moving into your new home, it's important to ensure that all of your utilities are set up and ready to go. Your purchase agreement will have a Utilities Addendum that lists all the utility companies that service your new home including water & sewer, electricity, gas, and garbage collection. You'll want to contact each of these utility companies and provide them with your move-in date so that there is no interruption in service.
Note that one of Escrow's responsibilities is to ensure that all of the seller's utility bills are paid off up to the day of closing. That way when you move in you're starting with a clean slate and all the bills paid off.
What happens on closing day? Woohoo!
OK, the big day has arrived. You've been very patient and but now it's a case of "Just Give Me Those Keys!".
On closing day the buyer is not required to do anything besides some last bit of waiting. until about 5:00 pm however escrow will be busy coordinating the closing on your behalf.
Sometime in the morning, Eccrow will send out an email stating that funds have been released which means that the buyer's lender released money to Escrow to fund the loan.
Sometime around noon, Escrow will send out a second update saying Released to Record. This means that escrow has sent an electronic notification to the county where the sale will be recorded.
Sometime before 5:00 p.m., Escrow will send out a final notice saying that the sale has been recorded and is officially closed.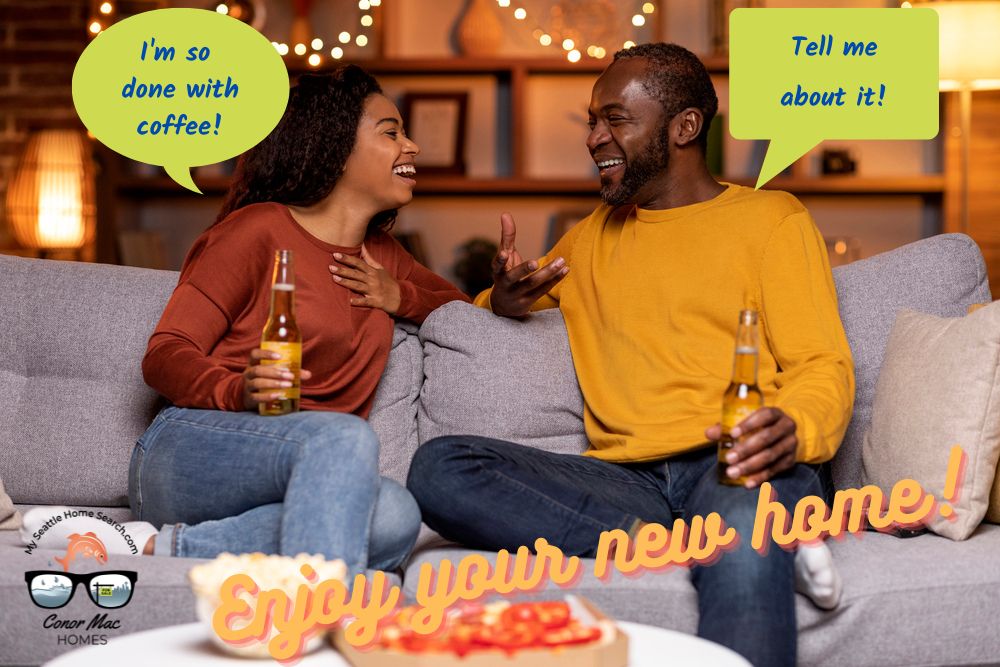 Taking possession of the property.
Once you get that magic third email from escrow the home is all yours and you can run over to meet your Realtor at the home who will hand you the keys and hopefully, some gifts housewarming gifts.
Note that in Washington State the seller has until 9:00 p.m. on closing day to vacate the property but the vast majority of times the seller will have moved out before closing so that you can get the keys directly after the official closing is recorded.
Now you can do what I did when I bought my own home. I sat on the empty floor and cracked a celebratory beer or two. They were probably the best beers I've ever had. Cheers.
Enjoy your new home!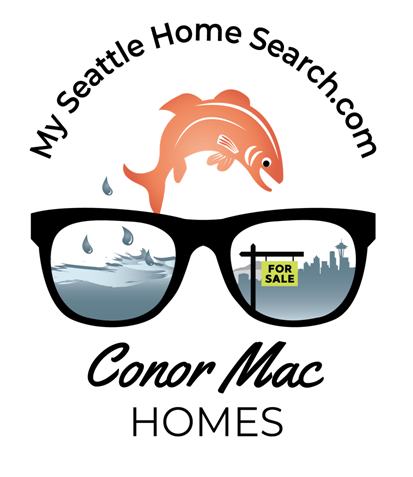 This guide was written by Seattle and Eastside Realtor Conor MacEvilly who has been in the business since 2008. I hope you enjoyed the post and thanks for visiting my website. If you have any questions about Puget Sounds area residential real estate feel free to contact me. I'm happy to help. My direct line (cell) is 206-349-8477.