Capitol Hill Seattle Homes for Sale
Capitol Hill Real Estate
Search an updated list of all homes for sale in the Capitol Hill area. If you would like more information on any of these Capitol Hill real estate listings, just click the Request More Information button when viewing the property details. And, if you haven't already, be sure to register for a free account so that you can receive email alerts whenever new Capitol Hill homes for sale come on the market. Read more...
Capitol Hill Seattle, all you need to know.
Capitol Hill is the hip center of the city of Seattle with a vibrant nightlife, dining, and entertainment. This bustling area is known for its inclusiveness, specifically for the LGBTQ and counterculture communities, and is a citadel for music-lovers and techies. It's also a hub for Seattleites whose wardrobes consist primarily of black items of clothing. The well-heeled comingle with the not so well off and a sizeable collection of struggling artists.

Capitol Hill's vibe is a mix of vibrant and bustling or quiet and tranquil depending on which part of the neighborhood you live in or choose to hang out in. If you're looking for a lively and upbeat environment, this is the place for you. Perhaps the best feature of living in this area is its self-sufficiency and proximity to everything you need; cafes, bars, restaurants, grocery and curiosity stores abound. Plus it's really close to downtown. You can even walk to downtown Seattle if you like, and it's all downhill!
Location-wise, the Capitol Hill neighborhood looks upon I-5 to the west; past I-5 sits South Lake Union. Other major surrounding neighborhoods include Eastlake to the north, First Hill to the south, and Central District and Madrona to the southeast.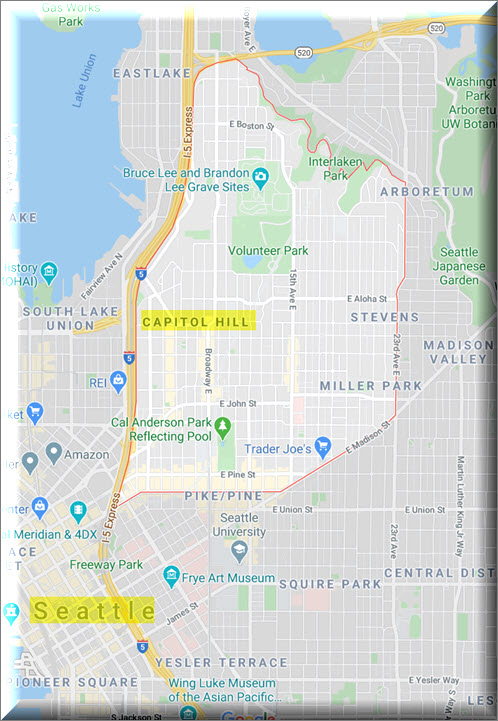 Capitol Hill doesn't necessarily have sub-neighborhoods, yet there are three distinct portions. Noted as the low-key side where the older folks tend to live, 15th Ave E (connected directly to E. Mercer St) leans more to the residential part and leads you straight to the Kaiser Permanente Capitol Hill Campus.
Upper Broadway may be the most fascinating. With some of Seattle's oldest mansions, you could probably spend half of a day just exploring the stunning architecture (and prices). Pike/Pine is lively and busy. This is where you're more than likely to see hoards of college students roaming around who attend Seattle University and Seattle Central College.
The median age of Capitol Hill Seattle residents is around 36 and is recognized as one of the younger and wealthiest neighborhoods in Seattle. While you might think Queen Anne hosts the steepest hills in Seattle, Capitol Hill's highest grade boasts an extravagant 21% on E. Roy Street, along with several other treacherous inclines that people will still try to drive down when it snows.
A (very) BRIEF HISTORY OF CAPITOL HILL.
In 1901, James Moore bought and named Capitol Hill (previously named Broadway Hill). Up until the 1980s, Capitol Hill was often referred to as Catholic Hill for its previously large Roman-Catholic population. There are two stories to how it got its name: James named it after Capitol Hill, Denver, where his wife came from, and/or named it in hopes the capital of Washington would transfer from Olympia to Capitol Hill. No such luck there.
THINGS TO DO IN The CAPITOL HILL NEIGHBORHOOD.
If you can't find something to amuse, enlighten, pique your curiosity or satisfy your nutritional tastes in Capitol Hill, then you might want to reconsider living in a city. Although it's right next to downtown, you'd be forgiven for doing all your living within the neighborhood itself.
NEIGHBORHOOD BARS, CAFES, RESTAURANTS, AND STORES.
Are you in for something a little moody, a little dark and disco-y? Foreign National is your place. Located on E. Pike and Asian-inspired, reviewers rave about this cocktail bar. In for something a little more light-hearted? Rose Temple, on E. Olive Way, is energized with tiki-drinks (reviewers say, "Take a jello shot!"). Have you ever been to the fairgrounds? No need to. There are two carnival-themed bars, Unicorn and Narwhal. Grab a drink, play some Skee Ball, and eat a corn dog. You can even walk around in circles and pretend you're riding a carousel.
With 4,000 spirit labels (and counting), Canon was voted #6 on The World's Best Bars list by Drink's International. Rhein Haus is quite possibly the most entertaining of them all. It's spacious, there are bratwursts and bocce! As you can see, the bar list goes on and on.
After waking up the next day, you might be looking for a little pick-me-up. With an abundance of thriving cafes, you're sure to find your caffeine fix. Victrola has two locations in Capitol Hill and is quoted to be the "living room of Capitol Hill." Independent and locally-owned, Caffe Vita has been in the coffee business since 1995, originating in Queen Anne and expanding to 12 other locations. They must have some pretty good espresso. Espresso Vivace, which translates to "the caramel coffee" is best known for its dedication to the research of espresso and the multiple techniques of preparing the perfect cup of coffee. With many other options, you won't be stranded when trying to recover from your previous night out.
Following coffee, you'll most likely be in search of some mouth-watering food. If you're not quite to that point, take a walk around the neighborhood; you'll get there. Harry's Fine Foods, serving American fare, intrigues guests with its delightful history. As a preschooler, Julian, owner of Harry's, would bring smoked oysters, capers, stoned wheat thins and Pellegrino in his school lunchbox. No wonder his restaurant became successful. Cascina Spinasse, serving Italian fare, is most known for its comforting hand-cut pasta dish, Tajarin al Ragu, made with beef and pork meat sauce. Yum. Manao, Thai street cuisine, features common Thai dishes. Grab a seat in an open, casual atmosphere. Finally, Bateau, which came into existence because of Boat Street Café (their first restaurant) is known for its renowned, flavorful, hearty steaks and burgers.
Some Unique Stores to browse.
For the finale of your day, consider hopping into a specialty store. The Capitol Hill neighborhood has lots of unique stores to while away the hours. Elliott Bay Book Company, founded in 1973, is one of Capitol Hill's book stores, holding over 150,000 new and bargain books. Buy a book, grab a comfy seat, and enjoy a coffee from their cafe, because you'll probably be feeling a little sluggish after your meal. Ada's Technical Books offers science literary books. Butter Home is a home decor and knick-knack shop.
As with many Seattle neighborhoods, there are plenty of thrift and clothing stores, each with their own vibe and culture. Notable ones include Bait, Rove Vintage, Pretty Parlor, and Stock and Pantry. If you've spent a fortune on the cliche record player, you can find records at Everyday Music. If you're looking for a new hobby, you can snag quality art supplies at Blick. To end the day, pick up groceries at Trader Joes, Whole Foods, Safeway, City Market, or Central Co-op.
PARKS IN CAPITOL HILL.
Don't miss the wonderful Volunteer Park. It's actually a Seattle Landmark - and well-deserved! Lily ponds, swings, and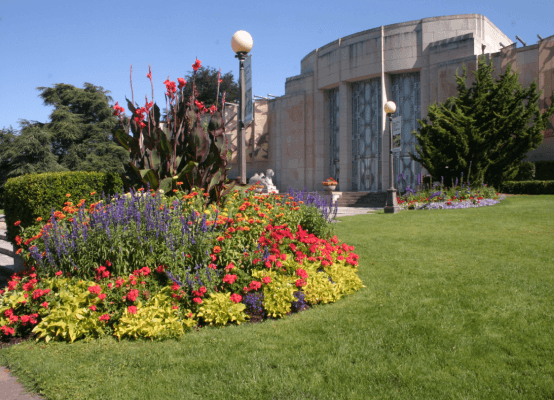 plenty of grass are scattered throughout the park, and the activities are endless. They've held bike races including Criterium, and it has also been a passing point for Seattle's Naked Bike Ride. If that's not your style, live music can be enjoyed throughout the summer. Volunteer Park used to host Seattle's Pride Parade until it outgrew the park's capacity and is now held downtown.
The park is also home to recently remodeled Seattle Asian Art Museum which shows off more than 2,000 pieces of art from all major cultures of Asia. Visitors are encouraged to come often, as the artwork is rotated. General admission is $15; however, if you're into Asian artwork, you can consider becoming an annual member and attending the gallery for free. Also, check out the beautiful Victorian-style glass conservatory which houses lots of interesting plants.
Also check out the more urban feel of Cal Anderson Park which has basketball, tennis and dodgeball courts. Other parks include Louisa Boren Park, Interlaken Park, and Roanoke Park.
SCHOOLS IN CAPITOL HILL.
The busyness of Capitol Hill more than likely comes from the two college campuses, Seattle University and Seattle Central College, both of which have more than 7,000 students. The majority of the students attending the universities attend in-person.
Besides universities, there are plenty of schools for your kiddos, including your choice of private or public. Private schools include St. Joseph School, a Catholic school serving K-8; Seattle Hebrew Academy Elementary, an Orthodox Jewish school serving early childhood - 8th; Seattle Academy of Arts and Sciences serving middle and high schoolers; Seattle Preparatory serving high schoolers (get out your pocketbook); Holy Names Academy, a Catholic girls' school; and O'Dea High School, A Catholic boys' school.
As for public schools, Capitol Hill has two elementary schools (Stevens Elementary and Lowell Elementary), two high schools (Garfield and Nova) and one middle school (Washington Middle).
HOMES IN CAPITOL HILL.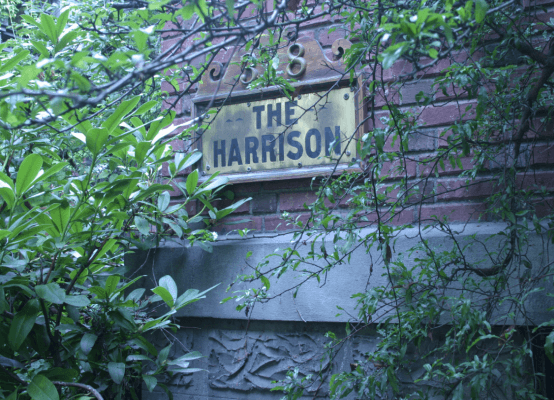 This Seattle neighborhood is known for having some stunning, graceful older homes. For a quick taster, take a stroll on E. Aloha Street between 15th and 23rd and you will see some beautiful old Craftsman and Tudor homes. Capitol Hill also has lots of old red brick condo and co-op buildings all mixed with modern equivalents. This area has everything to multi-million houses to first time home buyer studio condos and rental apartments. Click here to view homes that are currently for sale in this part of the city.