Green Lake Seattle Homes for Sale and Real Estate.
Included below are homes for sale in the Green Lake area in Seattle updated as soon as homes come on the market. If you would like more information on any of these Green real estate listings, just click the "Request More Information" button when viewing the details of that property. We can provide you with disclosures, past sales history, dates and pricing information for Green Lake homes recently sold nearby, and more.


Green Lake Seattle - around and around we go!
Green Lake is snug. Green Lake is tidy. It's a tranquil little oasis of a neighborhood. While not known for its nightlife, Green Lake is magnetic for other reasons. On any given day, you might find a plethora of people walking, running, jogging, rollerblading, pram-pushing, and dog walking around the 2.8-mile loop or playing on the adjacent grassy fields. Some will be going clockwise and some with be going counter-clockwise, but whatever you do, make sure you stay in the correct land or you can expect some looks of disapproval.

The vibe of Green Lake is vibrant but at the same time serene and a little bit fancy, but not too fancy. More importantly, it's friendly. Smiles are exchanged. The hangout spots are plenty, the homes near the lake are really nice, and you'll see more Australian Labradoodles and Corgis than one might think existed.
Green lake is one of Seattle's smaller neighborhoods with most of it taken up by the lake, playfields, and Woodland Park. The 17,000 or so Green Lake residents occupy the remainder. The neighborhood has many access points, mainly at different spots around the lake. If you see a jogger/runner within 10 blocks of the lake, they are either headed there or just left the lake. You don't have to be a runner to live In Green Lake, but it definitely doesn't hurt.
There's a good mix of older couples, families, and young adults in the area. The average age of residents in Green Lake is 34. Houses are upscale, pricey, and well cared for. They are more than likely owned by older couples and families and rented out by young adults. On a map, Greenwood is located to the northwest, Northgate to the northeast, Roosevelt to the east, Fremont to the south, and Phinney Ridge and Ballard to the west.
To get downtown by car, you'll more than likely grab I-5 and end up downtown in 20 minutes. By bus 26 and 45, expect an average of 40 minutes and by bus 62, expect an average travel time of 50 minutes. By bike, put your helmet on, because you're in for a 40-minute endurance effort via Dexter Ave or Roosevelt Way.
A brief history of Green Lake.
In 1855, the Green Lake neighborhood was surveyed by David Phillips, and in 1869, the first settler, Erhart Seifried established his homestead on the northeast shore of the lake. In 1891, the trolley system extended from Fremont to the northern end of Green Lake. That same year, Green Lake officially became a part of Seattle.
Now, onto the lake. The freshwater lake is said to have been gouged out 50,000 years ago by the Vashon glacier which also developed Lake Washington, Lake Union, Lake Bitter, and Haller Lakes. Way to go Vashon! Phillips, the original surveyor of the Green Lake neighborhood, gave the lake its name. The surface area is 259 acres with an average of 13 feet in depth and maximum depth of 30 feet.
Back in 1911, as part of Seattle's beautification project, the lake was lowered by 7 feet to increase the shoreline. Previously, the lake drained into Lake Washington via Ravenna Creek, which subsequently dried up and became what is now Ravenna Boulevard. It was cosmetic surgery gone wrong. The lake became stagnant and foul-smelling with frequent algae blooms and in later years, pollution from heavy industry bordering the lake. Over the past few decades, public and government intervention have cleaned up the lake and it now looks a lot better now than it must have back in the "good old days".
The lake lacks water inflow and outflow, therefore it's main supplies of water are rainfall, storm runoff, and Seattle's municipal water supply. Now, although it's called a freshwater lake and swimming is allowed, the algae is definitely something to beware about. During the late summer, swimming is sometimes banned due to the bacteria.
More recently, in 2008, three-foot metal spikes were found at the bottom of the lake. The spikes are said to be from a forgotten pilot program that was going to take control of a plant species growing in the lake. Don't worry - they've been removed!
Things to do around Green Lake.
Well, obviously, get your walking shoes on and start walking around the lake or just sit and relax. It's a great spot for people and pet watching.
If you're looking for a non-expensive and interactive way to spend a weekend or after-school afternoon, take your friends or kids to Pitch-n-Putt, a nine-hole round of golf for $9 ($7 for seniors).
The Green Lake Aqua Theater, which is along the lake loop, was built in 1950 to accommodate the Aqua Follies, an entertainment group who participated in the first Seattle Seafair. The Aqua Follies put on "swimusicals," a combination of aqua ballet, dancing, and comedy. The theater used to look slightly different than it does now with its round stage and floating orchestra pit; however, the stands still hold 5,600 seats. Another fun fact: Led Zeppelin hosted a concert at the theater in 1969! Today, the theater is mostly used for watching rowing races, fishing on the pier, and for those brave enough to run the stairs as cardio.
Also along the loop, the Seattle Public Theater uses Green Lake's historic bathhouse to create socially relevant theater. While both the theater and bathhouse seem small and can easily be passed by, they both hold significant relevance to Green Lake's history.
Sit on the banks, cast a line, and see if you can snag a fish.
As if Green Lake doesn't sound compelling enough already, during Christmas time, there's a "Pathway of Lights" event, where community members are invited to walk around the glimmering lake and listen to live musicians. Decking your dog with festive lights is encouraged.
Cafes, bars, and restaurants in Green Lake.
The bar scene in Green Lake isn't extravagant. However, the options are praiseworthy. Locals enjoy Leny's Place, a dive bar floating with the latest neighborhood gossip in the most choice sort of way and cheeseburgers stacked to right below your chin. Other bar choices include Shelter Lounge and Greenlake Grill.
For Green Lake being as small as it is, the coffee options are impressive. Retreat, a Green Lake favorite, offers so many delicious food and beverage options, it's overwhelming to choose. To name a few: luscious morning glory muffins, sweet potato pesto bowls, avocado toast, and salted maple chocolate smoothies. Yes, I just wrote that. A little further down the street, you'll find the basic Starbucks as well as another niche coffee shop, Revolutions Coffee. Even further down, Chocolati serves up the best chocolate [drinks] that you aren't likely to find anywhere near. If you want to include an acai bowl along to your coffee run, Kitanda has got you covered.
Probably the most famous restaurants in Green Lake is Mkt. which serves Italian fare, and part of the Ethan Stowell Restaurants chain. Mkt., along with Eight Row, are two of the fancier fares in the area. Right across from mkt., you'll find Tsui Sushi Bar. For the best Greek food you'll ever taste and the largest gyros you'll ever experience, Mykonos Greek Grill is the perfect choice for a quick grab right after your evening stroll around the lake. For another fast dinner option, Frelard Tamales, an order-in window, supplies the neighborhood with heavenly tamales. You'll often see a line of five or more waiting for their filling of fresh corn-based dough. Your dessert options include Menchie's, a frozen yogurt spot, and Ben & Jerry's.
Green Lake stores.
Local institution, Gregg's Cycles, a bicycle shop offering bike fit and service and repair, and incredible customer service. Opened in 1932 by R.V. Gregg, it is now owned by third-generation Stan Gregg. Gregg's Cycles has expanded into Bellevue and Lynnwood. Across the street, there are two running stores including Road Runner Sports and Title Nine, as well as Super Jock & Jill down the way. That in itself should inform you about the type of people that live in Green Lake - they're active.
As for convenience/grocery stores, there's PCC Community Markets (which has the best carrot cake slice you'll ever have), Bartell's, and 56th Street Market.
Parks in Green Lake, besides the lake.
As mentioned previously, Green Lake Park is what makes Green Lake, Green Lake. Without it, the area wouldn't be the same. The 2.8 mile loop features a wading pool and vantage points for watching water activities such as paddle boaters and intense rowing sessions, as well as multiple areas to fish.
After playing golf at Pitch 'n' Putt, take your picnic lunch to the grassy fields around the loop and watch people juggle while running, pecking geese, roller-bladers tearing up the raceway, dogs playing fetch, and young adults impressively playing frisbee. There's also basketball courts, a baseball field, soccer fields and a dirt track. If none of that is appealing, no one's judging the person who's laying underneath the Seattle sun to get their tan on. The park also has a playground and hosts the Green Lake Community Center, where you can be a part and/or watch ping-pong tournaments, participate in fitness classes, take your kids to summer camp, and even make pottery.

Green Lake schools.
Green Lake has three schools including Green Lake Elementary School; the Little Explorers School; and La Escuelita Bilingual School, a dual-language program.
Homes for sale near Green Lake Elementary School.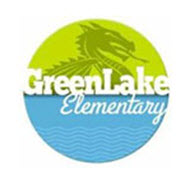 View all homes currently for sale near the Green Lake Elementary School in Seattle including houses, townhomes, and condos. Listings are updated as soon as they come on the market. Click on the green Refine Results button to select your preferred type of home and price range and other features.
And, if you haven't already, you can register for a free account so that you can receive email alerts whenever new listings near Green Lake Elementary come on the market. Happy browsing!
Here's how Green Lake Elementary school is rated: GreatSchools.org | SchoolDigger.com | Niche.com.