Greenwood Seattle; a neighborhood guide.

A BRIEF HISTORY OF GREENWOOD.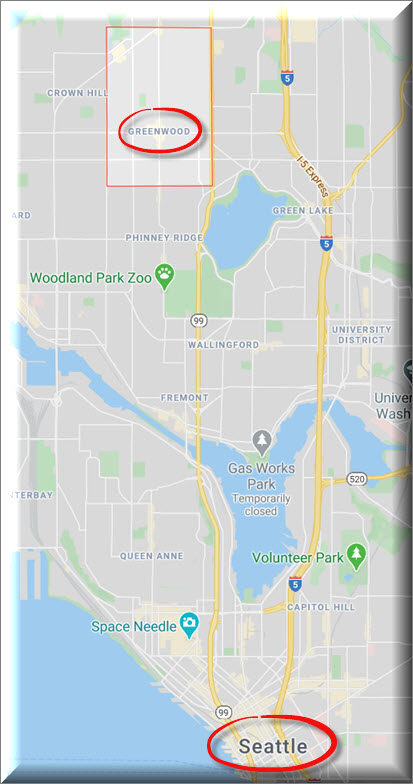 In 1891, David T. Denny outlined the Woodland Cemetery and in 1903, it became the Greenwood Cemetery. In 1097, the cemetery's parcel of land was sold to the former state governor Henry McBride. Not long afterward, McBride turned the land into residential lots. Don't worry, your home is not buried above a bunch of bodies. While the land was a cemetery, few bodies had been buried, making it an easier feat to transfer them to the nearby Crown Hill cemetery.
In 1906, the process of building the Seattle-Everett Interurban Railway began. By 1910, routes had been established from Greenwood all the way into the heart of downtown and because of the ease of travel, Greenwood's population began seeing growth. However, many depended on the railway system as their main transportation method due to Greenwood's notoriously boggy marsh, unsuitable for cars and even buildings. In the 1920s, businesses began building brick and stone buildings to withhold the less-than-ideal terrain; and many remain standing today
In the 1940s, Greenwood's "Miracle Mile" was born - a stretch of businesses along Greenwood Avenue that included bakeries, appliance shops, restaurants, grocery stores, doctors' offices, and other life-sustaining businesses.

THINGS TO DO and SHOPPING IN GREENWOOD.
Though small, Greenwood has some hidden treasures. The Taproot Theatre is located in the heart of Greenwood. Founded in 1976, the theatre is truly one of a kind, inspiring the community's imagination and conversation through theatre experiences. If you're looking to get involved at Taproot, there are ample opportunities including internships and becoming a volunteer, and if you're looking to use your talents to the max, you can even participate in acting classes.
Did you ever dream of becoming an astronaut as a kid? The Greenwood Space Travel Supply company sells everything space-related including scientific theory, non-toxic consumables, entertainments suitable for zero-gravity, and soft fiber garments. Your dream of being an astronaut may never come true, however, this is the closest you'll get! The building is also used as an outreach center for a non-profit writing and tutoring center, The Greater Seattle Bureau of Fearless Ideas.
To add to Greenwood's eclectic mix of stores, Beats and Bohos is a one-stop-shop for all your antique needs including vintage clothing, vinyl records, small vintage furniture, and home decor and local handmade gifts.
Locally-owned with stores in Greenwood Seattle, Kenmore, Redmond and Issaquah, Snapdoodle Toys & Games offers new and classic toys and games for literally everyone in the family, from infants to adults. Now that's a wrap.
Lucky Dog Clothing has a hearty history. Two cousins studying at Western Washington started the thrift store after they had made their way through college selling vintage clothing on E-Bay. Their Greenwood location is now one of the owners' childhood homes!
GREENWOOD festivals.
Seafair, one of Seattle's largest events, started as a way to boost foot traffic to the Seattle area. Now, don't get ahead of yourself. Greenwood doesn't host the entire Seafair weekend, however, it plays a large role by putting on the Greenwood Seafair Parade every July. Thousands of people line Greenwood Ave to watch floats, marching bands, and of course, lots of marauding pirates...some of them more inebriated than others.
The other big annual event is the Greenwood Car Show, held on the last weekend of June. Originally, the show started when car enthusiasts and local business owners thought a classic car show might draw foot traffic towards Greenwood. They were right! Loads of people come to see some beautiful classic cars and trucks and the weather usually cooperates.