Greenwood Seattle Homes for Sale and Real Estate
Browse all homes for sale in the Greenwood area in Seattle, always up to date! Please click the Request More Information button when viewing listings if you would like more details on any of these Greenwood homes for sale. We can provide you with disclosures, past sales history, dates and prices of homes recently sold nearby, and more.

And, if you haven't already, be sure to register for a free account so that you can receive email alerts whenever new Greenwood real estate listings come on the market.
Greenwood Seattle; a neighborhood guide.
The Greenwood neighborhood is perfectly rectangular, but definitely not square!
Previously known for its large graveyard and milky swamp, the modern-day Greenwood neighborhood in Seattle WA is now the epicenter of charm. Greenwood is laid-back and community-driven - what one might think of as the opposite of downtown Seattle. A life in Greenwood typically draws in families, those who want to live in "a neighborhood" and who enjoy the casual nightlife. Its vibe is tranquil and friendly.

The neighborhood is acclaimed for its antique and specialty stores, bars, cafes, theaters (specifically, Taproot Theatre), and highly-rated schools.
On a map, Greenwood is literally a chocolate bar of a rectangle. I even resisted the temptation to run along with diagonal Holman Road. It shakes hands with Northgate to the northeast, Greenlake to the southeast, Phinney Ridge to the south, Ballard to the southwest, and Crown Hill to the west. Its eastern edge runs directly along Aurora Avenue North.
You may even hear Greenwood referred to as PhinneyWood, which is the overlapping of Greenwood and Phinney Ridge neighborhood just below it. Greenwood's center, where you'll find the most action, is located at the intersection of Greenwood Avenue North and North 85th Street.
Commute time to downtown is manageable but, at times, but as with any Seattle neighborhood, it all depends on our fabulous traffic. By car, it can take anywhere from 20-40 minutes in rush hour. By bus, you'll either take bus 5 or the E-Line, and that can take up to 45 minutes. If you plan on biking, buy bike shorts, because you're in for the long haul via Dexter Avenue, which will get you there in 45 minutes.

A BRIEF HISTORY OF GREENWOOD.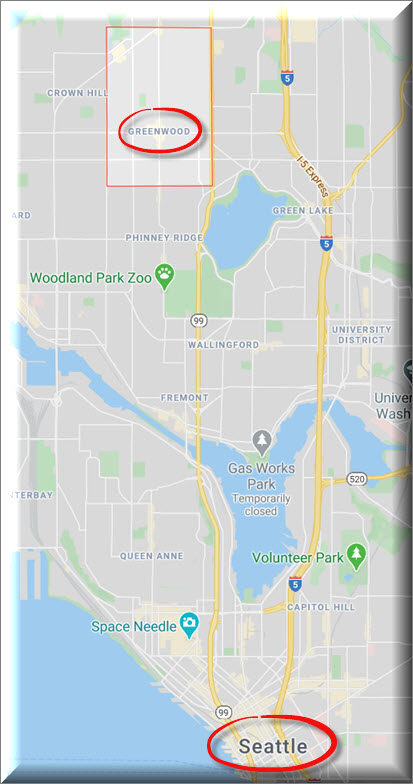 In 1891, David T. Denny outlined the Woodland Cemetery and in 1903, it became the Greenwood Cemetery. In 1097, the cemetery's parcel of land was sold to the former state governor Henry McBride. Not long afterward, McBride turned the land into residential lots. Don't worry, your home is not buried above a bunch of bodies. While the land was a cemetery, few bodies had been buried, making it an easier feat to transfer them to the nearby Crown Hill cemetery.
In 1906, the process of building the Seattle-Everett Interurban Railway began. By 1910, routes had been established from Greenwood all the way into the heart of downtown and because of the ease of travel, Greenwood's population began seeing growth. However, many depended on the railway system as their main transportation method due to Greenwood's notoriously boggy marsh, unsuitable for cars and even buildings. In the 1920s, businesses began building brick and stone buildings to withhold the less-than-ideal terrain; and many remain standing today
In the 1940s, Greenwood's "Miracle Mile" was born - a stretch of businesses along Greenwood Avenue that included bakeries, appliance shops, restaurants, grocery stores, doctors' offices, and other life-sustaining businesses.

THINGS TO DO and SHOPPING IN GREENWOOD.
Though small, Greenwood has some hidden treasures. The Taproot Theatre is located in the heart of Greenwood. Founded in 1976, the theatre is truly one of a kind, inspiring the community's imagination and conversation through theatre experiences. If you're looking to get involved at Taproot, there are ample opportunities including internships and becoming a volunteer, and if you're looking to use your talents to the max, you can even participate in acting classes.
Did you ever dream of becoming an astronaut as a kid? The Greenwood Space Travel Supply company sells everything space-related including scientific theory, non-toxic consumables, entertainments suitable for zero-gravity, and soft fiber garments. Your dream of being an astronaut may never come true, however, this is the closest you'll get! The building is also used as an outreach center for a non-profit writing and tutoring center, The Greater Seattle Bureau of Fearless Ideas.
To add to Greenwood's eclectic mix of stores, Beats and Bohos is a one-stop-shop for all your antique needs including vintage clothing, vinyl records, small vintage furniture, and home decor and local handmade gifts.
Locally-owned with stores in Greenwood Seattle, Kenmore, Redmond and Issaquah, Snapdoodle Toys & Games offers new and classic toys and games for literally everyone in the family, from infants to adults. Now that's a wrap.
Lucky Dog Clothing has a hearty history. Two cousins studying at Western Washington started the thrift store after they had made their way through college selling vintage clothing on E-Bay. Their Greenwood location is now one of the owners' childhood homes!
GREENWOOD festivals.
Seafair, one of Seattle's largest events, started as a way to boost foot traffic to the Seattle area. Now, don't get ahead of yourself. Greenwood doesn't host the entire Seafair weekend, however, it plays a large role by putting on the Greenwood Seafair Parade every July. Thousands of people line Greenwood Ave to watch floats, marching bands, and of course, lots of marauding pirates...some of them more inebriated than others.
The other big annual event is the Greenwood Car Show, held on the last weekend of June. Originally, the show started when car enthusiasts and local business owners thought a classic car show might draw foot traffic towards Greenwood. They were right! Loads of people come to see some beautiful classic cars and trucks and the weather usually cooperates.
Bars in GREENWOOD .
At the western edge of the neighborhood sits Chuck's Hop Shop is a beer lover's nirvana. Self-described as The Land of a Thousand Beers, is a craft beer bottle shop and tap house. Its home-y vibe makes it the perfect place to go meet friends plus its kids and dog friendly. The best part? One of Seattle Food Trucks' usually has one of their many trucks right outside. Depending on the day, you can get everything from cookie dough to poke. The owner of this website goes there every Christmas Eve for a pre-Santa libation or two.
If you're tired of over-paying for foo-foo cocktails, try The Baranof, a nautical-themed dive bar and restaurant with strong pours, pool, karaoke an and nare a window. The bar, and some of the regulars, look like they have been there forever, hidden at the back behind the restaurant. Despite that, the clam chowder and turkey sandwiches are the next best thing to sliced bread. The slightly more windowed 74th St Ale House was Voted by Seattle Magazine as an alehouse with some of the best food options, has everything from seafood tacos to black bean burgers.
The Cozy Nut Tavern is another Greenwood Seattle classic. Its English-village atmosphere might not seem surprised by the sound of it, but wait until you walk in and the first thing you see is a big-horned sheep's head dangling from the wall. The Yard Cafe, a Latin and American pub, is a hip tavern with patio space and TVs to watch the games, plus it does some really good cocktails. The most poppin' of them all is definitely Coindexter's Bar - an arcade bar with pinball, arcade games, cocktails, and of course, beer.
Greenwood cafes and restaurants.
The Greenwood neighborhood has some great places to chose from. Preserve and Gather is well-lit and open, perfect for a small group gathering or spot to read the book you've been meaning to open for a year. Their brunch and the special-treat menu is out of this world. Herkimer Coffee not only provides the ultimate coffee experience at their three retail locations but is also a wholesale coffee roaster. Diva Espresso brews some of the finest, hand-crafted espresso beans, right from North Seattle's Highlands Coffee Company. Talk about the community. Monkey Grind Espresso Bar is not the place you go to get work done - they actually don't have wifi. So, bring your journal or actually enjoy your friend's company!
Greenwood has some impeccable eateries as well. Gorgeous George's serves tempting Mediterranean and boasts their chef special and homemade desserts. As a "pocket-sized" restaurant, Opus Co. stands out from the crowd with their custom wood grill and oven, creating meat, fish, and vegetable bowls galore. These techniques influence a sensational char and smoky taste.
If you are craving a really good burrito, then you have to go to Gorditos, "home of the baby burrito," is truly a fan-favorite, serving healthy Mexican food. They are completely trans-fat free, the beans are made without lard or oil, the rice without chicken stock, all meats are grilled versus fried, and salsas are made from fresh tomatoes and chiles. It could not get any better than that. Or could it? If you're looking for something a little fancier, FlintCreek Cattle Co. and Gainsbourg are both great options for getting dressed up and spending an arm and leg on a bottle of wine.

PARKS IN GREENWOOD.
The Greenwood Park, previously a commercial nursery and greenhouse, is one of few parks in the neighborhood. As if Greenwood couldn't get any more pleasant, the Greenwood community was incredibly involved in the development of the park. Sandel Park, a bit larger in size, features a children's play area, walkways, a large open meadow, basketball hoops, and a wading pool. What was once a surplussed Seattle City Light substation is now 6th Ave NW Pocket Park, a modest and cozy gathering place.
SCHOOLS IN GREENWOOD.
Voted as some of the best schools in Seattle, Greenwood's school scene doesn't disappoint. Schools include Greenwood Elementary (one of Greenwood's first buildings), Viewlands Elementary School, St. John Catholic School (preschool - 8th grade), Seattle Amistad School (preschool - 8th grade), and MMSC Day School (preschool - 8th grade),
Homes for sale near Greenwood Elementary School.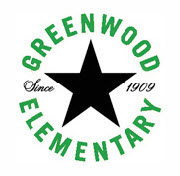 View all homes currently for sale near the Greenwood Elementary School in Seattle including houses, townhomes, and condos. Listings are updated as soon as they come on the market. Click on the green Refine Results button to select your preferred type of home and price range and other features. This school is located in the Greenwood neighborhood.
And, if you haven't already, you can register for a free account so that you can receive email alerts whenever new listings near Greenwood Elementary come on the market. Happy browsing!
Here's how Greenwood Elementary school is rated: GreatSchools.org | SchoolDigger.com | Niche.com.