Magnolia Seattle Homes for Sale and Real Estate.
Included below are homes for sale in the Magnolia, area in Seattle, updated as soon as new homes come on the market. If you would like more information on any of these Magnolia homes for sale, just click the Request More Information button when viewing the details of that property. We can provide you with disclosures, past sales history, dates and prices of homes recently sold nearby, and more.

And, if you haven't already, you can register for a free account so that you can receive email alerts whenever new listings come on the market so you can keep up to date on Magnolia real estate Seattle. Read more...
Magnolia Seattle, a guide to the neighborhood.
This guide was written by long-time local resident Neal Starkman, who is a sharp-witted blogger for the Seattle PI newspaper. Click here to read his latest articles.
Magnolia, Seattle. It's got the reputation of being a haven for the old rich, but really, it's a haven for younger people, too. Bottom line: Magnolia is gorgeous! You've got views of the Olympics, the Cascades, Mount Rainier, downtown, and even Bainbridge Island. You've got the largest and arguably the most beautiful park in the city of Seattle. You've got everything you could possibly want in a community that's less than five miles from downtown.

Magnolia is south of Ballard, north of downtown, and west of Queen Anne and pretty much everything else. You can get there by the Magnolia Bridge, by Dravus, and by Fisherman's Terminal. That's it. Other than that, you have to take a boat or swim. Okay, you can take a train, too, but you'd have to jump off because passenger trains don't stop in Magnolia.
Magnolia is out of the way; people don't accidentally happen to end up there. That's a good thing. It's not crowded, the traffic is bearable, and the lines at stores are manageable. Several bus lines—the 24, 31, and 33—help you to go downtown and other places.
Magnolia is without a doubt a wonderful place to live. You can drive—or climb—up any number of hills to get great views of all sorts of stuff. You can settle on a quiet street and never be bothered by anyone except the person who throws your newspaper by your front door early in the morning. You can get a place near The Village so that you don't need a vehicle to get whatever you want. Or you can buy one of those rich houses and feel that you've achieved everything you've ever wanted in life.
Bars, Cafes, restaurants, and stoRes in Magnolia.
Magnolia has a downtown of sorts; it's called The Village, which is centered along McGraw Street. Here you'll find a few restaurants (including pizza, Thai, Chinese, Greek, and Mexican), a post office, several banks, a church or two, clothing stores, and more than one place to get a latté (actually, three on the same corner). The Village is only about two or three blocks long, but there's usually plenty of parking available.
Magnolia is stocked with places to get a latté, or an Americano, or even a drip (if you're okay with saying, "Please get me a 12-ounce drip"). Caffé Appassionato is right by Fisherman's Terminal, has plenty of seats, provides some parking opportunities, and its "day-old" pastries sell for a dollar. Plus, they roast their own coffee! Finally, they used some of their profits to add an "f" to their name. Also, check out Petite Pierre Bakery on McGraw in The Village for some delicious pastries to go with your caffeine delivery device.
Fisherman's Terminal features the seafood restaurant called Chinook's, and if that's too big for you, there's also a smaller seafood restaurant called Little Chinook's.
Magnolia has many different kinds of restaurants, but if you want to spend a lot, go to the south side of Magnolia and eat at the Palisade. Given the appropriate table, you can gaze out at rich people's yachts, order a fine wine, and sup on all kinds of high-class entrées. Compared to that, refinancing your home is nothing. And if you don't want to spend as much but still get a nice meal, go to the north side of Magnolia and eat at Chinook's. Given the appropriate table, you can gaze out at fishing boats, order a decent wine, and sup on all kinds of middle-class entrées. And keep your home!
If you crave something less sophisticated, then grab a pint and some nosh at the Village Pub.
What else does Magnolia have? There's a Metropolitan grocery store if you don't mind spending $6 for a box of cereal, and an Albertsons if you do. I believe that the Metropolitan will serve you only if your vehicle is worth over $75,000; valet service is extra. There are excellent schools, ball fields, a pool, and places to park your boat. On the 15th Avenue West side of Magnolia, which, perhaps paradoxically, is the eastern border of the neighborhood, you'll encounter "Interbay", which includes a golf course and driving range, a Whole Foods shopping center, and a huge store that contains approximately a zillion types of beer, wine, and liquor.
Parks and outdoor spaces in Magnolia.
Fisherman's Terminal is home to Seattle's commercial fishing fleet, has hundreds of boats, and is a great place to visit. You can drive around Fisherman's Terminal and see not only the fishing boats but also the industry that backs the fishing boats. And yes, some of the boats from the TV series Deadliest Catch make this their home. That's all on the north side of Magnolia. On the south side you'll see even more boats, a fancy restaurant called Palisade, and a marina with all kinds of boaty things going on. Did I mention that there are approximately a dozen places in Magnolia to get a latté?
But the highlight of Magnolia is undoubtedly Discovery Park. It's over 500 acres, the largest park in Seattle, and it's incredible: paths that go through virgin forests; a Visitor's Center that will tell you all you want to know—and more—about the land; an outlook of the Sound; a loop trail that will take you around the park and also near the United Indians of All Tribes Foundation building. You can see flora and fauna unlike anything else around here; why, in the early fall, you can even pick blackberries. Don't miss West Point Lighthouse and the serenely quiet beaches.
Homes in Magnolia.
The homes in Magnolia vary, but they're all pretty darned nice. You can go on the high end; those are the ones with views of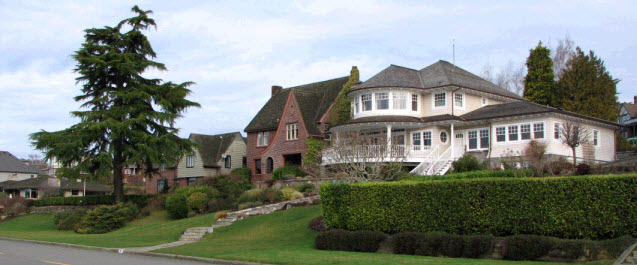 the Bay, downtown Seattle, and the Space Needle. Believe me, if you have to ask how much they cost, you can't afford them. But there are modest homes, and apartments, and condos, too—all throughout Magnolia. They differ in size, in age, and in amenities—sort of like humans. Here's a selection of some of the homes you can find in the Magnolia neighborhood.
This is Magnolia.
Here are some additional local resources for more information on Magnolia: