Magnolia real estate boasts some magnificent homes, particularly along its south and southwestern sections, overlooking the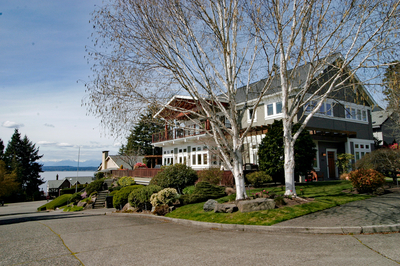 stunning Puget Sound and the Olympic Mountains. The most sought after, and hence most expensive homes in Magnolia, are located either high along the top of the bluffs along Magnolia Boulevard or down below on Perkins Lane that are only a few yards from the water.
Towards the eastern end of Magnolia Boulevard, homeowners are further spoiled with views of downtown Seattle and Mount Rainier. The land rises up from Magnolia Boulevard with every house clamoring for a view of the water.
There are many other fine residential streets in Magnolia, particularly Viewmont Ave, and you pretty much can't go wrong no matter where you live in this community. Architectural styles include colonial, Tudors, Victorian, Cape Cod, Spanish, craftsman, ramblers, bungalows as well as contemporary design homes.
Magnolia has seen an increasing number of condos and townhomes in recent years, attracting younger buyers. Many of these are concentrated along Gilman and Thorndike Avenues and around the Village area. If you have any questions regarding homes for sale in Magnolia or would like to view a particular property, please click here to contact me.
Finally, if you are interested in learning more about the Magnolia area and what it's like living there, here's a guide to Magnolia written by a local (with a sense of humor!). Also, click here to learn about homes for sale in Seattle Washington.