Queen Anne Seattle neighborhood guide
Queen Anne Seattle sits on the highest named hill in the city at over 450 feet and peers down upon the city below and those stunning views of the Puget Sound and the Olympic Mountains. If you like hills, you'll love Queen Anne, but don't worry, it's similar to the Phinney Ridge neighborhood, with the main neighborhood located on the flat top section. Along with the Magnolia neighborhood, Queen Anne forms a peninsula budding off from downtown that is surrounded on three sides by water.

Queen Anne has a laid-back, relaxed style where you are likely to come across families taking afternoon strolls, friends headed into cafes for an infusion of caffeine, dogs being walked (and rubbed), business people grabbing a bite to eat at their favorite restaurant, tourists taking selfies at Kerry park and of course, people walking around pointing at some of the beautiful local homes and architecture.
The neighborhood is, as they say, "well to do' and makes for comfortable living - and locals are very happy to call Queen Anne their home. One of the major pluses of living in Queen Anne is that it is so close to downtown Seattle. Just freewheel down the hill on a bike and you're there in 10 minutes.
About 30,000 people live in the neighborhood with the median age being around 33. Queen Anne is a big neighborhood taking up a significant chunk of Seattle so there are differences in the vibes between each sub-neighborhood within Queen Anne.
A brief history of Queen Anne.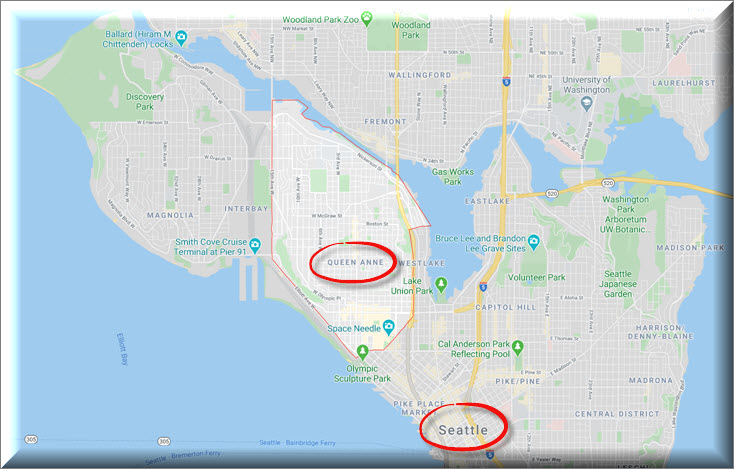 More than 13,000 years ago (pre-Amazon Prime), the Vashon glacier began to melt, ultimately doing its duty in contributing to the creation and splendor of what is now the hilly Queen Anne neighborhood. With the development of the Northern Pacific Railway, the Seattle, Lake Shore and Eastern Railway, the disastrous Great Seattle Fire of 1889, as well as the opening of three cable car lines to the top of the neighborhood, Queen Anne began to take off.
Another transformational event for the Queen Ane neighborhood was the Century 21 Exposition (also known as the Seattle World's Fair), where nearly 10 million people attended. Unlike many other World Fairs, the Century 21 Exposition made a profit, contributing to the success of Queen Anne, including the development of the Space Needle and Key Arena, along with other major Seattle icons and landmarks.
Contrary to what you might have guessed the area is not named after a certain queen of England. Rather this Seattle neighborhood got its name from a large number of homes that were being built in the Queen Anne style of architecture in the 1880s as the steep hills were finally getting developed.