Queen Anne Seattle Homes for Sale and Real Estate.
Included below are homes for sale in the Queen Anne area in Seattle, WA updated as soon new listings hit the market. If you would like more information on any of these Queen Anne real estate listings, just click the Request More Information button when viewing the details of that property. And, if you haven't already, be sure to register for a free account so that you can receive email alerts whenever new Queen homes for sale come on the market.
Queen Anne Seattle, all you need to know.
Queen Anne Seattle sits on the highest named hill in the city at over 450 feet and peers down upon the city below and those stunning views of the Puget Sound and the Olympic Mountains. If you like hills, you'll love Queen Anne, but don't worry, the main neighborhood is located on the flat top section.

Queen Anne has a laid back, relaxed style where you are likely to come across families taking afternoon strolls, friends headed into cafes for an infusion of caffeine, dogs being walked (and rubbed), business people grabbing a bite to eat at their favorite restaurant, tourists taking selfies at Kerry park and of course, people walking around pointing at some of the beautiful local homes and architecture.
The neighborhood is, as they say, "well to do' and makes for comfortable living - and locals are very happy to call Queen Anne their home. One of the major pluses of living in Queen Anne is that it is so close to downtown Seattle. Just freewheel down the hill on a bike and you're there in 10 minutes.
About 30,000 people live in the neighborhood with the median age being around 33, and the average household income is around $125,000. Queen Anne is a big neighborhood taking up a significant chunk of Seattle so there are differences in the vibes between each sub-neighborhood within Magnolia.
A brief history of Queen Anne.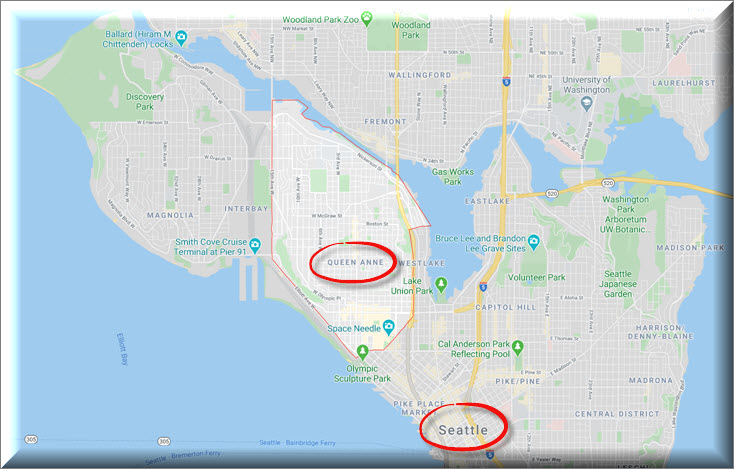 More than 13,000 years ago (pre-Amazon), the Vashon glacier began to melt, ultimately doing its duty in contributing to the creation and splendor of what is now the hilly Queen Anne neighborhood. With the development of the Northern Pacific Railway; the Seattle, Lake Shore and Eastern Railway; the disastrous Great Seattle Fire of 1889; as well as the opening of three cable car lines to the top of the neighborhood, Queen Anne began to take off.
Another transformational event for the Queen Ane neighborhood was the Century 21 Exposition (also known as the Seattle World's Fair), where nearly 10 million people attended. Unlike many other World Fairs, the Century 21 Exposition made a profit, contributing to the success of Queen Anne, including the development of the Space Needle and Key Arena, along with other major Seattle icons and landmarks.
Contrary to what you might have guessed the area is not named after a certain queen of England. Rather this Seattle neighborhood got its name from a large number of homes that were being built in the Queen Anne style of architecture in the 1880s as the steep hills were finally getting developed.
Queen Anne's Sub-Neighborhoods.
West Queen Anne.
West Queen Anne, told by locals, is the perfect place if you're looking around the area for a place but want to be away from tourist activity, as the neighborhood is predominantly occupied by locals. In addition, West Queen Anne is known for its historic taste in buildings - there are not many new establishments. Not to mention, many spots in West Queen Anne have incredible sweeping views and, if you're lucky, you may even find street parking.
East Queen Anne.
East Queen Anne is split in two, cut into chunks by Aurora Avenue and Highway 99. On the west of Aurora, you are quite literally on the hill. On clear days, people living on the hill have a view of the Cascade Mountains and Lake Union. West of Aurora offers more single-family homes and small apartment buildings, where you'll find young professionals and families. On the east of Aurora, close to South Lake Union, you'll find it to be a popular location among Amazon employees. More professionals than families occupy this region.
North Queen Anne.
Deemed the quiet side of the neighborhood, North Queen Anne offers some of the more affordable housing in the Queen Anne area. As you may have guessed, the north side is more shaded than the others, so keep this in mind when viewing potential places.
Schools in Queen Anne.
Along with many Seattle neighborhoods, Queen Anne is no different when it comes to offering exceptional schools. Located in North Queen Anne is Seattle Pacific University, a private Christian university with around 4,000 students. Its small campus (which is easy to miss) doesn't crowd the neighborhood and offers college students open lawns and easy access to downtown.
As for everything below college-level, Queen Anne has an abundance of options: Coe Elementary, John Hay Elementary, Queen Anne Elementary, St. Anne School (Catholic; pre-K through 8th grade), Seattle Country Day School (Christian; pre-K through 8th grade), McClure Middle School, The Center School (high school focused on recent educational research and college-preparatory practices), The Downtown School: A Lakeside School (high school; high-quality education to academically talented students), Seattle Waldorf (preschool-12th grade; recognizes and teaches academics, artistic capabilities, and practical worldly skills in an experiential curriculum).
Things to Do in Queen Anne neighborhood.
Yes, yes, Queen Anne is home to that can't-miss Space Needle thing, but before we get to that Seattle icon, here are some other great things to keep you amused.
Restaurants.
A few stand-out restaurant establishments in Queen Anne include How to Cook a Wolf, an Ethan Stowell restaurant featuring sophisticated Italian-Mediterranean fare; Toulouse Petit, offering New Orleans and cajun creole cuisine; and Canlis, a restaurant serving Pacific Northwest-inspired cuisine. All three of these exceptional places are highly rated and offer reservation options. Other great options include El Mezcalito, Via Tribunali, and Eden Hill Provisions.
Aside from restaurants, grabbing groceries has never been easier. Queen Anne hosts Trader Joe's, Safeway, Metropolitan Market, and PCC. There is also a Whole Foods, QFC and Fred Meyers nearby.
Bars
Bars.
Highest rated bars in Queen Anne include Targy's Tavern, where you'll find pool tables, darts, and trivia nights; Streamline Tavern, including a circular bar and darts; and Rooftop Brewing Company, a brewery with rooftop access - the perfect spot to perch on a warm spring afternoon. Other spots around the Queen Anne area include Holy Mountain Brewing Company, Hilltop Ale House, and McMenamins.
Queen Anne Cafes.
Queen Anne has some of the quaintest little cafes in Seattle. Some well-known coffee shops include Storyville Coffee, Queen Anne Coffee Company and El Diablo. With so many options in this arena, you really can't go wrong when it comes to picking where you get your caffeine fix for the day. Other spots you might try include Caffe Ladro, Uptown Espresso, and Cafe Zingaro.
Outdoor spaces and parks.
Kerry Park is a small public park on W. Highland Drive with sweeping views of the city, the Puget Sound and yes, the Space Needle. On a clear day, Mount Rainier makes for a stunning backdrop. At Marshall Park and Parson gardens further west along Highland Dive, you can sit, have a picnic and get even more stellar views of Puget Sound.
The truly unique 74-acre at Seattle Center just south of Mercer Steet is a vibrant place with a mix of spaces and events and a great gathering place in the core of Seattle. The center is home to 30 cultural, educational, sports and entertainment organizations that have their headquarters on the site. Every year there's a smorgasbord of public and community programs generating create thousands of events and attracting 12 million visitors. And, not all of them are there just to see the Space Needle!
Ah yes, the Space Needle, probably the most iconic thing in the city and the "thing" that pops into most American's heads when you say the word "Seattle", besides "rain" that is. Nine out of 10 tourists can't be wrong! Recently renovated, the Space Needle has an all-glass floor and a 360-degree view air-deck at the top. Its tip stands 605 feet into the air, with the open saucer for tourists standing 520 feet above planet earth. To no one's surprise, the Space Needle is one of the most photographed architectural objects in the world.
The Seattle Center has LOADS of other attractions including the Pacific Science Center, a non-profit science center even your high-schooler will enjoy; McCaw Hall, which is shared among its two performing arts tenants (the Pacific Northwest Ballet and Seattle Opera). Check out the Instagrammers paradise that is Chihuly Garden and Glass, a glass museum opened by a native Tacoma resident. The International Fountain is a great place on a hot day as kids (and adults) dodge shooting water accompanied by a musical score.
There's also the Museum of Pop Culture, a nonprofit museum for contemporary popular culture, Key Arena (soon to be renamed) that is undergoing a major remodel to accommodate a new NFL team and maybe someday the return of the much-beloved and bemoaned Sonics (NBA). You'll also find KEXP, Seattle's best (listener-supported) radio station nearby. Go in and say Hi and watch the DJs and free concerts.
Or just buy yourself an ice cream, sit down, relax and do some people watching!
Homes in Queen Anne Seattle.
Strolling around the neighborhood you will see some stunning high-end luxury houses plus a mix of other single-family homes, townhomes, and condos. Depending on their location within the neighborhood, some homes will have panoramic vistas of downtown Seattle and/or the water and mountains.
Most of the original Queen Anne architecture style homes that gave the neighborhood its name have long gone and been replaced by newer and larger homes. You can still see a few remaining examples at the Ankeny house at 912 2nd Ave W, the Riddle home at 153 Highland Drive and the Marble house at 520 W. Kinnear Place. The Queen Anne architectural style lasted less than 30 years and subsequently was replaced by Colonial Revival and other styles in the early 1900s. Queen Anne has lots of lovely homes and is a great place to buy and live.
Homes for sale near Queen Anne Elementary School.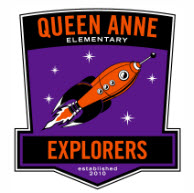 View all homes currently for sale near the Queen Anne Elementary School in Seattle including houses, townhomes, and condos. Listings are updated as soon as they come on the market. Click on the green Refine Results button to select your preferred type of home and price range and other features. This school is located in the Queen Anne neighborhood.
And, if you haven't already, you can register for a free account so that you can receive email alerts whenever new listings near Queen Anne Elementary come on the market.
View Queen Anne Elementary school ratings: GreatSchools.org | SchoolDigger.com | Niche.com.