Steps to Selling a Home in Seattle WA
All the steps you need to know from deciding it's time to sell through to closing day and opening the door of your next home.
This guide focuses on selling a home in Seattle and the greater Puget Sound area in Washington state but many of the steps will be similar in different parts of the US. All real estate is local and the process for selling your home will vary from area to area.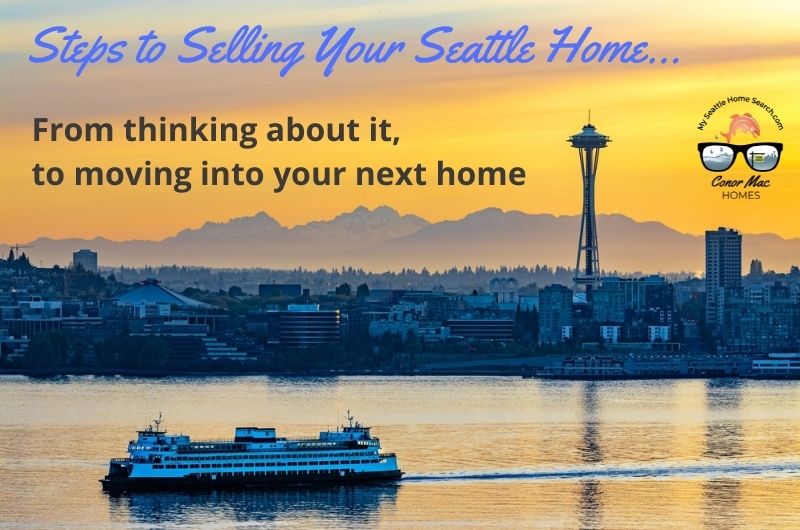 You don't sell a home every day of the week and it can seem like a complicated and stressful process. But if you break the whole process down into manageable bite-sized chunks and choose the right people to help you then you will have a successful and stress-minimized outcome.
It's your home and you get to decide to what extent you want to be involved in the whole process. Do you want to just throw your keys to a Realtor you really trust or do you want to be intimately involved in every step of the process? Regardless, it is critical that you familiarize yourself with the home selling process. Too many sellers fail to do so and are then surprised when the whole process goes sideways in the end.
This article is going to help you understand all the different steps to selling your Seattle home. You need to know what your responsibilities are and what the responsibilities are of the real estate agent that you hire.
Develop a plan and a REALISTIC timeline to sell your home
Once you have decided that you are ready to sell your home, the next critical thing to do is start planning and establishing a timeline. Plan from when you want to be in your next home and work backward from there.
Most home sellers way underestimate how long the who process will take. All the more reason that the first thing to do is talk with a Realtor, even if you are months away from being ready to sell. A real estate agent can give you a reality check and help you plan out a calendar of steps to get ready on time. Stick that calendar on your fridge door!
Many home sellers get overwhelmed because they did not plan sufficiently in advance and allow enough time to take take care of everything. The listing date is fast approaching and they are running around like headless chickens trying to get their home ready. It's stress overload time that could easily have been avoided.
If you know that you will be selling your home this year then start planning at least six months in advance, not causally one month before. There are a lot of items to take care f before the for-sale sign can be planted in the grass out front. Working with an experienced Realtor can really help you and your home be prepared on time.
Break everything down into manageable smaller chunks and the whole process will be a lot more achievable and less stressful. You can reward yourself with little treats as you complete each stage. You deserve it!
When is the best time to sell your home?
Historically, spring and the early summer months are the most active times of year for home buyers and sellers and prices tend to be higher in those months because of buyer competition. Plus, it's when families are out looking for homes so they can get their kids into a new neighborhood and school for the following fall. This applies particularly to house sales.
However, a home will sell at any time of year and the best homes will always attract a lot of buyers regardless of the season. At the same time, you don't want to list your home over the holidays like Thanksgiving and Christmas. The best time to list your home is the month that works best for your needs and everything else that you are trying to balance like moving for a new job.
Reasons to Use a Realtor When Selling Your Home
With the caveat that you are reading this on a Realtor's website and I'm naturally biased, there is a long list of reasons as to why using one to sell your home is a good idea.
Although yes, you will have to pay a commission if you hire a real estate agent, a good one will ensure you get the maximum price possible for your home.
By advising you on preparing your home for the market, setting a pricing strategy, taking care of all the paperwork and legal aspects, and negotiating on your behalf you should have a fruitful outcome.
And don't forget, even if you list the home yourself without a Realtor, the agent for the buyer will still expect to get paid a commission.
And yes, a bad agent can potentially lose you thousands of dollars. All the more reason to make sure you pick a good one for your home.
How to find and hire a good Realtor.
Researching and finding the right agent can have a big impact on the sale of your home. Choose the right Seattle Realtor for your home. Going with the wrong agent and not doing your homework could result in you leaving thousands of dollars on the table by not getting the full potential value for your home. It's amazing how many sellers will go with the first agent they see without properly screening them. You need to do your due diligence. It's your home.
In fact, 85% of sellers go with the first agent they interview or meet what day will spend weeks researching the next microwave they want to buy which explains why some sellers end up with an agent that fails to meet their expectations.
You should thoroughly interview an agent and ask them a lot of questions, You want to make sure that they are a good fit for your home and ideally, they are a good personality fit for you, and maybe even your pets!
What about selling your home via For Sale By Owner (FSBO)?
Can you sell your home without using a Realtor and going the FSBO route? Absolutely.
It's not easy, but if you educate yourself enough on the home selling process and get help with stuff such as the contract paperwork and listing your home online, then it is doable. Here's a guide to improving your chances of a successful FSBO.
The main incentive for sellers to go this route is to save on agent commissions however don't forget that:
You probably still have to pay the buyer's agent a commission.
90% of FSBOs end up listing their home with a Realtor in the end
FSBOs sellers get less for their homes than those who use a Realtor.
The best piece of advice is to price the home properly. Most FSBO sellers over-price their homes.
So, how much is my home worth?
The first thing every home seller wants to know is how much their home will sell for. And for many sellers, the answer they get might influence the agent they go with.
Most owners will already have plugged their home address into free online evaluation sites and being human, we usually tend to believe that the highest one is the correct one.
To determine the current market value of your home, your Realtor will do a comparative market analysis (CMA) looking at comparable recent sales in your neighborhood and making adjustments for your specific homes. Obviously, the agent needs to visit your home and ask you a bunch of questions about upgrades and any known issues, etc that should be taken into account in the evaluation.
The CMA for your home should include the following:
Recommended listing price
Potential sale price range
Online evaluation tools are algorithms that have no idea what the inside of your home looks like, what updates you have done to your home, and if your home has any major issues that might affect the value of your property. Take them with a huge pinch of salt. At the end of the day, your home is worth what someone is willing to pay for it on the open market.

Preparing your home for the market and for maximum potential sale price.
When you list your home for sale it becomes a product competing with all the other products on the market. I know that might sound a little clinical but that is the reality. You need to make sure your home looks like its absolute potential best and that involves committing time, elbow grease, and maybe some money you get the home ready. Focus on the 3-P's when selling your home.
The effort and time you invest in getting your home looking great will pay dividends when your home is listed for sale. Again, planning well ahead in advance and breaking tasks into manageable smaller projects will make the whole process just a series of molehills instead of a giant mountain.
Here are some of the critical stuff to focus on:
Decluttering and getting rid of junk and STUFF! Goodwill is your friend.
Fix known issues (or decide to just disclose them?)
Focus on curb appeal including the landscaping.
Clean your home so that it's Q-tip clean.
Professional staging.
Professional photography.
When hiring your Realtor, make sure to ask about what services are included in their commission fee. A good agent should cover some of the above items. A discount brokerage will not. You get what you pay for. When I list your home I cover the cost of these services...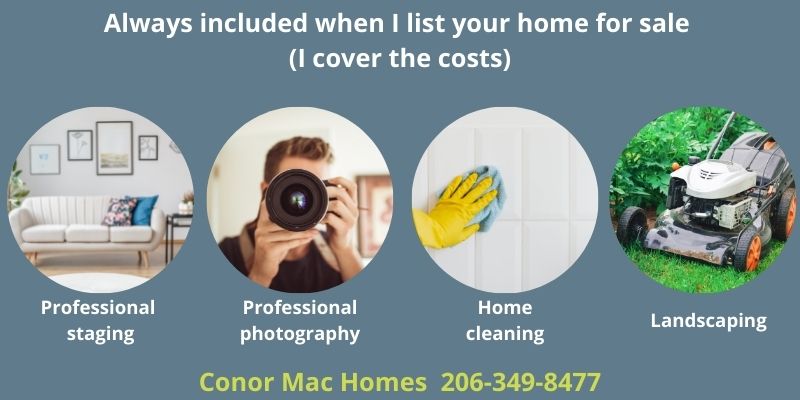 Should you get a pre-listing home inspection?
Part of the process of getting your home ready for the market includes taking care of any needed repairs. You want your home to look at its best and discover in advance of going on the market any issues that might kill a sale. In a hot market, where buyers are desperate to win a home, they will overlook all types of issues except for maybe major ones like cracks in the foundation or homes with significant slopes.
There are pros and cons to having your home inspected before going on the market. One benefit is that you can catch issues early that might otherwise fail a home buyer's inspection and take care of them before going on the market. On the downside, you may discover a major issue that could cost thousands of dollars to repair and now you have to fix that problem or disclose the issue to buyers.
After the pre-sale home inspection, you can decide which repairs you want to address and which you will just disclose to the buyers. Items such as code violations or a leaking roof are definitely worth repairing in advance while smaller items like a malfunctioning window may not be worth the hassle. It all depends on what the market is like at the time.
Many sellers also decide to share a copy of the inspection report with prospective buyers as a marketing tactic. There are pros and cons to doing this.
What does marketing your home mean?
Most sellers think that "marketing" just means the printed flyers, the for-sale sign out front, and posting the listing on the Multiple Listing Service (MLS).
However, marketing is a combination of a lot of different actions, all of which lead up to the product that you present to the market, how you promote that product, and how you leverage your home to get the best price. These include:
Prepping your home for the market.
Professional staging and photography/3-D tours to make your home look its best online. More than 90% of home buyers start their search online and your home needs to grab attention.
Setting a pricing strategy, not just a list price! How you price position your home can have a big impact on how much you walk away with at closing. Or potentially, not closing at all.
Online promotion including social media and a personal website for your home.
Open houses so the public gets to see your home.
Deciding in advance on whether to set an offer review date or review offers as they are submitted.
Deciding in advance how you want to handle and negotiate multiple offers (if you are listing in a hot market).
All of these influence how your home is perceived by potential buyers and ultimately what you get for your home. A good Realtor just doesn't stick a for sale sign in your front yard and use their iPhone to take listing photos.
The paperwork stuff!
In Washington State, when it comes to real estate transactions, verbal agreements are meaningless and everything needs to be in writing to be legally binding.
When you list your home for sale using a real estate agent, you will sign a listing agreement between you and the agent's real estate brokerage. The paperwork is completed by your listing agent, not a real estate attorney although your agent is held to the same standards of practice as an attorney.
The listing agreement will cover the following items:
Identify the property and the sellers.
The listing price.
The commission/fees the owner is willing to pay to both the listing agent and the buyer's Realtor.
When the home will be listed for sale and how long the agent has to sell the home.
The Listing Input Sheet details all the different aspects of the home. This information included online listings and is available to the public.
A Seller Disclosure Statement is a 6-page questionnaire completed by the seller detailing their ownership of the home and any known issues that must be disclosed to potential buyers.
Speaking of paperwork, the sellers should also familiarize themselves with the paperwork and forms that buyers use to make offers on homes. Sellers should ask their agents to go over a sample offer with them so they know what to expect when they receive an offer.
Main costs when selling your home and how much will I walk away with?
Besides knowing how much their home is worth, the next biggest question for home sellers is how much is it going to cost to sell their home. What are the fees and costs associated with selling?
There are a number of different fees when you sell your home and some of these are standard regardless of whether you list your home with a Realtor or try and sell your home yourself.
Yes, when you use a realtor you will have to pay commissions both for the agent who lists your home and for the agent who brings a buyer, but there are additional fees such as escrow and title insurance, federal excise tax, and potentially, capital gains tax.
Ask your agent to generate a net proceeds sheet that will list all of the expenses and how much you should walk away with at closing. The latter will depend on how much your home sells for in the end.
For a lot more information and a breakdown of all of your costs and expenses, read this detailed post.
It's showtime! Going on the market.
Okay, you and your agent have done all the hard work getting your home ready for sale and it looks great! Now it's time to put it on the market and let everyone know it's available to buy.
In general, for the Puget Sound area, new listings come on the market Wednesdays and Thursdays followed by open houses at the weekend. The following Tuesday or Wednesday is usually set as the offer review deadline for when buyers will submit their offer on the home, however, it is completely up to you to decide how you want to handle offers.
Your agent will add a lockbox to the front door which allows agents to access and show your home to interested buyers. Your agent will probably do an open house either on Saturday or Sunday when the general public can come and see the home including, yes, nosy neighbors. However, serious buyers will come with their own agents and not wait for the open house.
This can be a stressful time for sellers with lots of people coming in and out of their homes and, to be honest, the best thing to do is to get out of town or move into a hotel for the weekend and have your agent take care of the place. Also if you have pets like dogs it's a good idea to take them out of the home as well during that time.
Listing your home for sale does involve some short-term inconveniences but it's worth the hassle in the end.
Decide in advance how you want to review offers. What's important to you?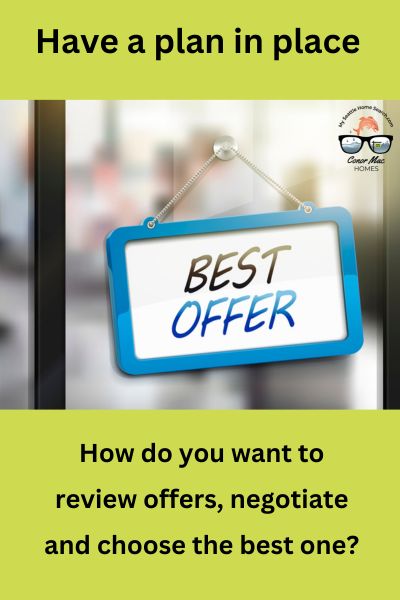 Depending on the prevailing real estate market conditions when you list your home, you might get a tsunami of offers or just one or two. In a hot market, sellers will typically set an offer review date for offers but in a slower market, sellers will look at offers as they come in.
If you are expecting multiple offers, then it is important to sit down with your agent and discuss how you want to handle those offers. Do you want to set a day and time to review offers or are you open to accepting an early offer? Also, discuss whether you want buyers to just submit their highest and best offers or if you are OK with offers with escalation clauses.
Also, what's your plan-B if you don't get any offers?
What is important to you? Is it solely the sale price and how much you walk away with or are other factors important to you such as the closing date, maybe getting to stay in your home for a few weeks after closing, or hoping that somebody who appreciates your home as much as you do will be the new owner? Money is not always the number one thing for sellers but frequently is.
If net proceeds are your number one priority then discuss with your agent how they are going to leverage and negotiate with those multiple offers to get you the best sale price.
The type of offer that you accept will dictate what happens next between mutual acceptance and closing. For example, did the buyer waive all the contingencies, or is the offer contingent on the buyer doing a home inspection and an appraisal? The fewer the contingencies the better for the seller. And remember that the best offer might not be the highest offer.
What happens after accepting an offer on your home?
Once you have accepted an offer on your home (mutual acceptance) a number of things kick into place. The sequence of events will depend on the type of offer that you accepted.
In general, it will be 4 to 5 weeks after mutual acceptance when the sale closes and you need to be out of the home. During this time the buyer will do their due diligence including property inspection and appraisal and you will get ready to pack and move out of the house.
If the offer is contingent on a buyer inspection then potentially be prepared for having to do some repairs before closing or renegotiating the sale price.
After mutual acceptance, an escrow account will be opened and the title company would be notified of the sale. More on that below
If everything goes smoothly and the buyer does not get cold feet then your main focus will be I'm getting ready for moving. Ideally, if possible, you will already have moved out of the home and be in your next home already.
Opening escrow. And what is Title Insurance?
Once you have accepted an offer on your home, your agent will open an escrow account. Escrow, aka the Closing Agent, is a neutral third party that coordinates the real estate transaction and ensures the title to the property is transferred from the seller to the buyers and that the seller gets paid at closing.
When you sell your home you and the buyer are required to get title insurance from a Title Company. A title company will research the history of your home and ensure that the buyer gets a clean title at closing. Title will look for potential issues such as whether there are any unpaid liens on the property or whether your property is encroaching on your neighbor's lot.

Your agent should order a copy of the Title Report for your home well in advance of going on the market. That way, if there are any issues in the report, they can be addressed and corrected upfront rather than potentially killing the sale once you have accepted an offer.
Both escrow and title fees will be part of your total closing costs.
The buyer's property inspection
If the offer you accepted is contingent on the buyer doing an inspection of your home then that is probably the main hurdle to clear before closing (that and the appraisal, see below).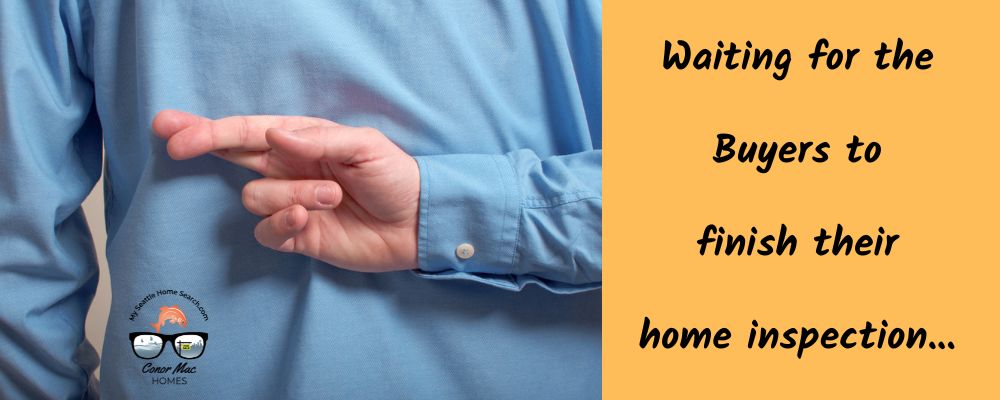 In WA state, the buyer's inspection is contingent on their SUBJECTIVE SATISFACTION with the condition of your home and includes them running a sewer scope if they want to.
Although your home might be perfect in every respect, the inspection contingency allows buyers to get out of the purchase agreement if they get cold feet or just change their minds and there's nothing you can do about it.
The inspection contingency is the buyer's Get Out Of Jail Card and the reason why sellers love offers where that part of the contract has been waived and they are purchasing the home as-is.
After completing the inspection, the buyer has 3 options:
Approve the inspection and continue with the sale.
Disapprove the inspection, terminate the sale, and get their earnest money back.
The path your home takes will depend on the prevailing market, the condition of your home, and how much that buyer likes your home.
The buyer's appraisal, well actually, the lender's appraisal.
After the inspection, the last major hurdle a home sale faces is the appraisal step. The buyer's lender wants to ensure that the home they are lending money for is worth the agreed to purchase price. In the event that the buyer stops making mortgage payments, the lender wants to know that they can repossess the property, sell it and get their money back.

The appraiser visits the home and writes up the appraisal report, comparing your home to recent comparable home sales in the area (aka comps). The buyer pays the appraisal fee and the process can take about 2 weeks. For both the home buyers and the seller, this can be an extended and anxious wait. But if the buyer waived the appraisal as part of their offer, the buyer will be the only one with sweaty palms.

If the appraised value of the home comes at the sale price or above, great, you can move on to closing. However, if the valuation comes in low then you have a problem. Here are some possible outcomes:
The buyer agrees to make up the difference between the lower appraisal value and the sale price with extra cash at closing.
The seller agrees to drop the sale price to the appraised value.
The seller agrees to meet in the middle somewhere between the agreed-to sale price and the appraised value in which case the buyer would bring extra cash to closing.
Or the seller can just refuse to drop the price and if the buyer walks, puts the property back on the market.
In a strong sellers' market, it is very common for buyers to either completely remove the appraisal contingency or be willing to cover a portion of a low appraisal. When reviewing multiple offers you need to ask yourself whether that super high offer will pass an appraisal, especially where the buyer is not waving their financing and the appraisal contingency.
Lender appraisals are the main reason why home sellers love offers that waive the financing contingency, or even better it's an all-cash offer!
What's different when selling a condo?
There is one major extra step when selling your condo compared to when selling a house. All condos, and many townhomes, are part of a Home Owners Association (HOA), and the financial health of that association can have a major impact on the sale of your home.
Before you put your condo on the market it is a really good idea to order a copy of the Resale Certificate. This is a collection of different documents covering the governance of the condo association, including its financial reserves, rules and regulations, meeting minutes, and a copy of the most recent Reserve Study. You will be required to share a copy of the resale certificate with a buyer who makes an offer on your home
With a buyer makes an offer on a condo they will include an additional contingency that covers a review of the Resale Certificate. Some sellers will wait until they get an offer before ordering the resale certificate but it is a lot better to have it available in advance so that buyers can see a copy BEFORE they make an offer.
A poorly run HOA has an increased risk of having a current or upcoming special assessment because they lack the funds in their reserves to take care of needed repairs. Special assessments can have a major impact on the saleability of your condo and most buyers will avoid such homes.
Just like the inspection addendum, buyers are completely free to walk on the sale if they do not like what they see in the resale certificate
Closing time!
All going well, the sale of your home will close on the date specified in the Purchase and Sale Agreement. A few days before closing escrow will call you to make an appointment to sign all your closing documents. The buyers will usually sign a day or two before closing.
Also, within 5 days of closing the buyers will probably do a pre-closing walkthrough of your home to make sure the home is in the same condition as when they had their offer accepted.
Make sure to notify various utility companies that you are selling your home and will be out of there on a certain date so you don't get billed for any additional days after the sale closes.
On closing day, escrow will coordinate the transfer of funds from the buyer and their lender to pay off the remaining balance of your mortgage and transfer any excess funds to you after your closing costs are covered. Escrow will also coordinate the transfer of the title to the property from the seller to the buyers.
Sometime before 5 p.m. on closing day, the sale will be recorded with the county, and the property will officially now belong to the buyers. Sellers have until 9 p.m. on closing day to vacate the property but most settlers have moved out well before that. The two agents will coordinate the exchange of the keys as you move on with the next phase of your life.
A big balancing act for most sellers is coordinating where they are going to live after the sale of their home. Trying to so purchase a new home at the same time as selling your current one is not easy, especially in a hot market. You are probably going to have to buy your next home first then sell your current home or sell your home and then find a new home after closing.
This guide to Selling a Home in Seattle was written by Seattle and Eastside Realtor Conor MacEvilly who has been in the business since 2008. I hope you enjoyed the post and thanks for visiting my website. If you have any questions about Puget Sounds area residential real estate feel free to contact me. I'm happy to help. My direct line (cell) is 206-349-8477.