Wallingford Seattle Homes for Sale and Real Estate.
Browse all homes currently for sale in the Wallingford community in Seattle, WA. If you would like more information on any of these Wallingford homes for sale, just click the "Request More Information" button when viewing the details of that property. We can provide you with disclosures, past sales history, dates and prices of homes recently sold nearby, and more.

And, if you haven't already, be sure to register for a free account so that you can receive email alerts whenever new Wallingford homes for sale come on the market.
Wallingford Seattle, a neighborhood guide.
The Wallingford neighborhood in Seattle is nice and laidback. It's a piece of Seattle that doesn't feel crowded. But at the same time, it has everything you need, from great restaurants to one of the most unique urban parks in the whole of the US. Wallingford is comfortable with itself and doesn't need to be the self-proclaimed Center of the Universe like its immediate neighbor Fremont.

Wallingford is bordered by Greenlake to the northeast, University District to the east, Fremont to the southwest, and Phinney Ridge to the northwest. Basically, if you live here, you're a quick hop to lots of other neighborhoods. The main hub, where most businesses operate is along N 45th Street and down along Stone Way N. The whole Wallingford neighborhood is one big slope, starting with the highest point at the north end and then working its way down to the ship canal at Gas Works Park and the Burke Gilman Trail.
With a population of around 16,000, Wallingford is one of the lesser affected Seattle areas by the recent boom in condo, townhome and apartment construction. Then again, it's all relative compared to areas like Ballard. Wallingford is still mostly occupied by single-family homes and 2-3-story buildings. Its reputation leans toward being safe, reserved, and quiet; it is generally known as one of the nicer neighborhoods but not extra fancy or thinks too highly of itself. It's just a down to earth kind of place.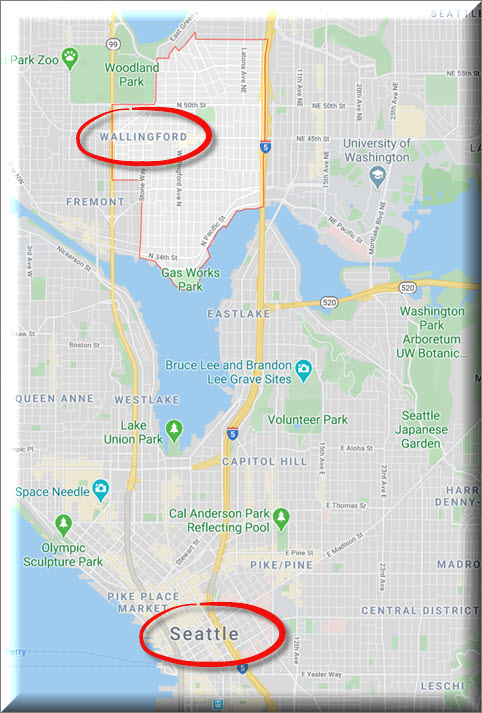 To get downtown, driving, busing, and biking are all viable options. By car, I-5 is usually going to be your quickest option, averaging around 20 minutes. By bus, you'll take either bus 26 or the E-Line. If traveling by bike, the safest route is via Dexter Ave, which will take you a little over 30 minutes. Save that ride for a nice and sunny spring day.
A very brief history of Wallingford.
John Noble Wallingford Jr. moved to Seattle in 1888. He was a real estate developer, a Seattle City Councilman, and a two-time Seattle Police Commissioner. Before Seattle, he served in the Civil War on the Union side, as well as ran a general store in Minnesota. There's no big story about how the area got its name. John Wallingford owned most of the area at the time, and ta-da, the neighborhood was named. I told you it would be brief!
THINGS TO DO IN WALLINGFORD NEIGHBORHOOD.
Wallingford isn't the party scene, but it's not sedate either. You come to Wallingford for that laid-back, cozy community vibe. If you're looking to get involved or learn about the neighborhood, there are plenty of opportunities. The Good Shepherd Center is now the community center. For over 60 years it provided shelter, education, and training to young women. In 1975, the City of Seattle bought the property and turned it into the community center; and in 1984 it became a Seattle Landmark.
If you and your new friend are into gardening, The Tilth Association, located on Sunnyside Avenue is a community organization that works with Washington farmers, gardeners, and consumers (so basically everyone), by offering educational courses on soil and water, gardening, sustainability and more, as well as connecting farmers with their peers to support their business endeavors.
If you're interested in getting politically involved, the Wallingford Community Council meets monthly to discuss land use, transportation, and park usage. As for children, the Wallingford Boys and Girls Club offers over 100 programs for boys and girls, with the help of volunteers and tutors.
If your child (or even yourself) is interested in taking music lessons, Off the Wall School of Music, offers classes in piano, guitar, violin, and more; and your first 30-minute class is free. Learn how to read and write music, sing, play, and become an entertainer of sorts.
BARS, RESTAURANTS, CAFES, AND STORES IN WALLINGFORD Seattle.
In the mood for some humble, dive-bar food? The Pacific Inn Pub on Stone Way has got you covered with their fish and chips and great burgers and fries. Speaking of burgers, the original Dick's Drive-In is located on 45th Street. Dick's has an almost cultist local devotion, with hungry locals lining up outside in multiple lines waiting to be served greasy food from a structure that hasn't changed much since it opened in 1954. Make sure to grab a shake while you're at it. On the other hand, if you're looking for specialty ice cream, Molly Moon's original ice cream shop is in Wallingford. From flavors like Odessa Mint Brownie to Rosie the Riveter Milk Tea, this is the ice cream shop you don't want to miss.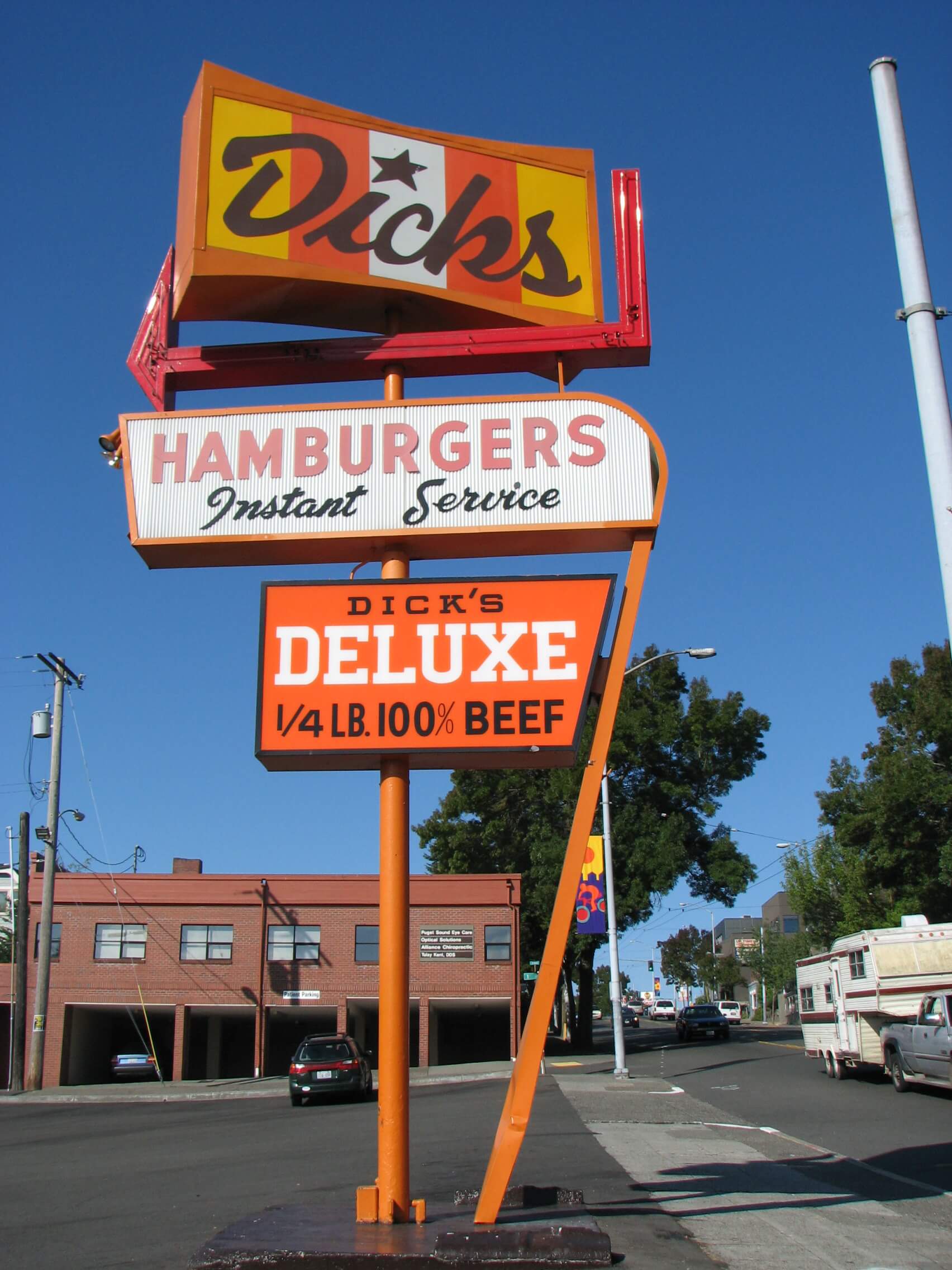 Husband and wife-owned, Murphy's Pub, is the place to watch the game and eat some Irish grub along with your favorite pals. Here, Thursday nights are for trivia, while Saturday and Sundays are for brunch. Additionally, there's the Blue Star Cafe and Pub - and they are not just any regular pub. From berry pancakes in the morning to salmon burgers and pilsners at night, they are sure to meet every craving.
If your mouth isn't watering yet, there's always The Whale Wins, an absolutely delightful Northwest-inspired dining experience. Right next to it is Joule, an Asian-fusion steakhouse. There's also Almanqal Mediterranean Grill. Their chefs have traveled and served a variety of dishes to people around the world. For your traditional pizza needs, Tutta Bella Neapolitan Pizza serves meat and cheese lovers alike.
As for your caffeine needs, of the non-Starbucks variety, there's an abundance of lovely cafes to hunker down in including Fuel Coffee, Chocolati Cafe, and Friday Afternoon (a tea shop), just to name a few.
While Wallingford may seem small, it doesn't disappoint in its store offerings and it covers all of the necessities. Local Seattle favorite novelty store Archie McPhee is filled with gag gifts, costumes, toys and more will either 1) have you buying something out of the ordinary or 2) at least give you a giggle.
In 2014, Brooks Sports moved the store's headquarters into a six-story building along the southwestern edge. It's a runner's paradise! Wallingford Galleries, the local rug store, sells imported and locally designed rugs to intensify the look of your home. If your pet has an accident on your new rug, have no fear -Wally Pets is near, as the local pet supplies store. Stoneway Hardware, the best of the best, offers all of your plumbing, electric, paint and garden needs. On the main hub of 45th, there's also Golden Oldies Records and Comics Dungeon to satisfy all your retro needs. As for your weekly grocery trip, hit up the QFC on 45th St.
Also, make sure to check out The Wallingford Center located right in the middle of the neighborhood which houses an eclectic mix of small businesses and stores that you cand spend time browsing while dodging the raindrops outside.
Public PARKS IN WALLINGFORD.
One of the best parks in Seattle and beyond is the fantastic Gas Works Park which still has rusty remnants of the only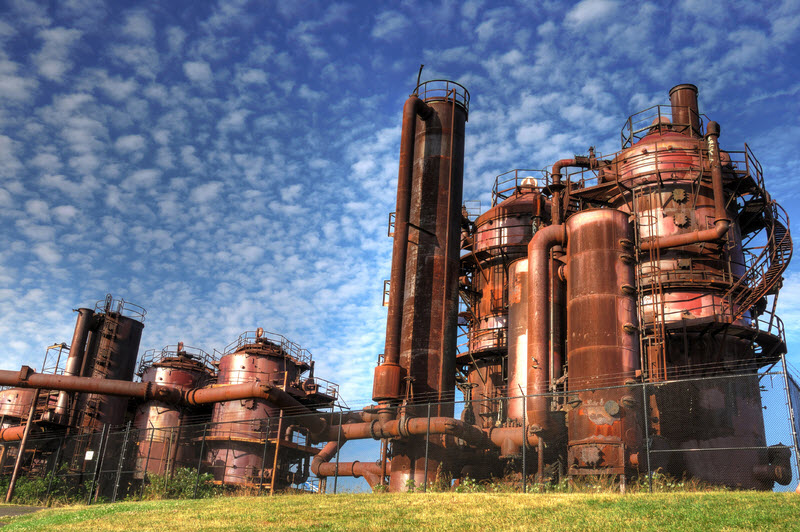 remaining coal gasification plant in the United States. Just by saying that, it doesn't sound spectacular; however, the structures are a sight to see. If you're looking for something to do on a Saturday afternoon, learn about coal-gasification, take your kids there for a small history lesson.
The park is a great location on the edge of the ship canal with great views of downtown and seaplanes taking off overhead. You'll see lots of picnic-ers, people jamming to tunes while sun-bathing, throwing frisbees, tightrope walking, flying a kite while the rest that stroll around with their dogs silently begging people to offer their compliments. Its big grassy hill invites children to roll down its side. Gas Works Park is also the main hub for 4th of July fireworks viewings. Get there (really) early to secure a spot.
Meridian Playground, right next to the Good Shepherd Center, has a playset, trails, and art scattered around. If you're in the area, it's the perfect place for a pick-me-up walk and blast of oxygen.
WALLINGFORD SCHOOLS.
Within Wallingford there are plenty of school options including St. Benedict Catholic (preschool - 8th); John Stanford International Elementary (K-5), where children learn in immersion education, spending half the day learning in either Spanish or Japanese and the other half of the day in English; McDonald International (K-5), also a part of immersion education; Hamilton International Middle (6th - 8th), also a part of immersion education; and Lincoln High School (9th - 12th), which recently reopened in 2019 and is also part of immersion education.
If your child (or even yourself) is interested in taking music lessons, Off the Wall School of Music, offers classes in piano, guitar, violin, and more; and your first 30-minute class is free. Learn how to read and write music, sing, play, and become an entertainer of sorts.
Like most Seattle neighborhoods, Wallingford has a mix of lovely older homes and newer, modern designs. Because the neighborhood sits on one big slope, some homes at the right orientation can have some stunning views of downtown and the ship can area and maybe some of the mountains. Click here to browse the current list of properties for sale in the Wallingford neighborhood.