Wallingford Seattle neighborhood guide.
Wallingford is very laid-back and unassuming. It might not be as hip as Capitol Hill but definitely not as slow-paced as say Broadview. It has just the right mix of hustle & bustle and quiet tree-lined residential streets. The neighborhood sits north of the, but a quick hop to downtown Seattle. It has water to the north (Green Lake) and south (Lake Union) and is boarded by Aurora Ave to the west and I-5 to the east. Locals would probably argue that Wallingford's true eastern border is Stone Way. The neighborhood's main hub runs east-west along N 45th Street where you will find lots of bars, restaurants, cafes, and a mix of stores.... and drivers heading for the I-5 on ramp or nearby UW. Stone Way which runs north-south also has some fine libation and food establishments.
The whole Wallingford neighborhood is one big slope, starting with the highest point at the north end and then working its way down to the ship canal at fabulous Gas Works Park and the Burke Gilman Trail.

With a population of around 16,000, Wallingford is one of the lesser affected Seattle areas by the recent boom in condo, townhome and apartment construction. Then again, it's all relative compared to areas like Ballard. Wallingford is still mostly occupied by single-family homes and 2-3-story buildings. Its reputation leans toward being safe, reserved, and quiet; it is generally known as one of the nicer neighborhoods but not extra fancy or thinks too highly of itself. It's just a down-to-earth kind of place.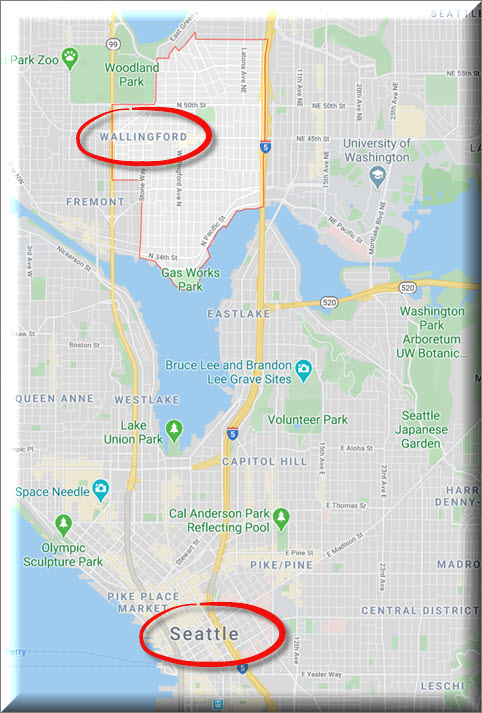 To get downtown, driving, busing, and biking are all viable options. By car, I-5 is usually going to be your quickest option, averaging around 20 minutes. By bus, you'll take either bus 26 or the E-Line. If traveling by bike, the safest route is via Dexter Ave, which will take you a little over 30 minutes. Save that ride for a nice sunny spring day.
A very brief history of Wallingford.
John Noble Wallingford Jr. moved to Seattle in 1888. He was a real estate developer, a Seattle City Councilman, and a two-time Seattle Police Commissioner. Before Seattle, he served in the Civil War on the Union side, as well as ran a general store in Minnesota. There's no big story about how the area got its name. John Wallingford owned most of the area at the time, and ta-da, the neighborhood was named after him. I told you it would be brief!
THINGS TO DO IN WALLINGFORD NEIGHBORHOOD.
Wallingford isn't the party scene, but it's not sedate either. You come to Wallingford for that laid-back, cozy community vibe. If you're looking to get involved or learn about the neighborhood, there are plenty of opportunities. The Good Shepherd Center is now the community center. For over 60 years it provided shelter, education, and training to young women. In 1975, the City of Seattle bought the property and turned it into the community center; and in 1984 it became a Seattle Landmark.
If you and your new friend are into gardening, The Tilth Association, located on Sunnyside Avenue is a community organization that works with Washington farmers, gardeners, and consumers (so basically everyone), by offering educational courses on soil and water, gardening, sustainability and more, as well as connecting farmers with their peers to support their business endeavors.
If you're interested in getting politically involved, the Wallingford Community Council meets monthly to discuss land use, transportation, and park usage. As for children, the Wallingford Boys and Girls Club offers over 100 programs for boys and girls, with the help of volunteers and tutors.
If your child (or even yourself) is interested in taking music lessons, Off the Wall School of Music, offers classes in piano, guitar, violin, and more; and your first 30-minute class is free. Learn how to read and write music, sing, play, and become an entertainer of sorts.