West Seattle Homes for Sale
A guide to living in the West Seattle neighborhood.
Some Seattleites think West Seattle is "too far away". Well, it's not, and they're missing out! West Seattle residents claim their best-kept secret is how close they are to downtown yet get to embrace the vibes of a small town. The only thing separating downtown from the joys of West Seattle is a skinny body of water called the Duwamish Waterway. West Seattle is kind of like Ballard to the north: close to downtown, separated by water, has a similar vibe, and is completely self-contained with everything you need.

"Exciting" 2020 update: the infamous West Seattle bridge which is the main access/exit from the neighborhood, and rush hour traffic can be a little bottle-necked. And then in the least fabulous year of recent history (aka 2020), the city discovered that the bridge had some structural issues and needed to be shut down until they decided what to do. So yeah, the commute is even more fun now. But hey, if you can overlook that wee inconvenience, West Seattle is a great part of the Emerald City to settle in.
Where is west Seattle located?
This neighborhood should probably be called Southwest Seattle. Downtown Seattle is to the northeast Magnolia sits to the north across Elliott Bay, to the east you'll find the Industrial District and Georgetown, White Center lies to the south, and out west, across the bay, you can see Vashon Island and Bainbridge Island.

A BRIEF HISTORY OF WEST SEATTLE.
The Denny Party originally settled in West Seattle at Alki Beach in 1851, and for quite some time, the area was lightly populated. In 1870, the area started to see some growth, and in 1902, the town decided to incorporate the area into a city. Unfortunately, West Seattle had little luck attracting a transportation company, ultimately making the decision to borrow $18,000 to build their own electric streetcar. After this, it was only a matter of time before West Seattle was annexed by the City Of Seattle. In 1907, West Seattle joined forces with Seattle gaining access to more water, electricity, and public safety services.
Things to do in IN WEST SEATTLE.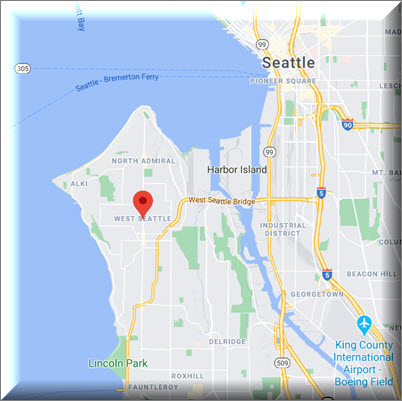 Alki Point Lighthouse, one of the main attractions at Alki Beach, has quite the history, which I'll keep brief. This is actually where settlers first arrived in 1851. They originally named the spot New York, but the area's growth was slow compared to the state of New York, and it was later renamed New York - Alki, now referred to simply as Alki. In 1982, the Alki Point Lighthouse became fully automated and was one of the last two staffed lighthouses on the West Coast.
A symbolic road among the West Seattleites is California Avenue, much like that of Ballard Ave in Ballard. It's a worthy hangout spot, especially if you're looking to embrace the Seattle experience a little differently than the normal tourist sensations (cough cough, Space Needle). Admiral way, another significant stretch of road, leads you straight from the West Seattle Bridge to the Alki Point Lighthouse.
West Seattle Farmers Market sets up on California Ave. (just like Ballard Ave.), and is open year-round on Sundays from 10 a.m. - 2 p.m. Parking is free on Sundays so there's no excuse to not get there before things sell out!
From West Seattle Fauntleroy Terminal you can jump on a ferry for a data trip to Vashon Island or Bainbridge Island. Vashon Island is known for its Sheepdog Classic, annual Strawberry Festival in July, and local agriculture. If going to Bainbridge, you might try the Bainbridge Gardens followed by some wine tasting. If a ferry ride sounds like too much, you can catch a water taxi from West Seattle to downtown and vise versa. With a travel time of only 20 minutes, this could be a viable option for your daily commute to work.
Opened in 1940, the West Seattle Golf Course is an 18-hole golf course open to the public. It's easily the best of the Seattle municipal courses and has lots of steep hills to get your heart pumping. There are several spots on the course with WOW views of Mt. Rainier, downtown Seattle, and Elliot Bay so if you're having a bad day on the course, it's just not important! Standing on the 10th tee with a view of Rainier, I've been known to say "I climbed that!" and on the 13th tee box I sometimes say (OK, boast), depending on well I'm playing that day, "I had my only hole-in-one here!" Both true stories.

BARS, CAFES, RESTAURANTS, AND SHOPS IN WEST SEATTLE.
With three popping locations, each one with their own fully operational brewery, family-owned Elliott Bay Brewery stands out with a bright red mask of a building in West Seattle. Be sure to jump in for some of their Stout Wort ice cream. When was the last time you had tortilla chicken soup? The Matador not only boasts impressive soup but the fajitas are sizzlin' too. Prost!, with locations in both West Seattle and Greenwood, is an attractive neighborhood pub with great "bier," and authentic German food. Every bier is imported from Germany and poured into its appropriate glass. You should also add The Bridge to your list of bars to visit. From brunch to cheese curds, they've got the works.
As the "best little record store, coffee bar, and diner in West Seattle," Street Records & Cafe is the place to grab your fixing of traditional eggs and hashbrowns with a side of bacon. Sound & Fog, with a glorious orange and blue exterior, is obsessed with their three staples: coffee, wine and beer. And, we are too. The white froth that drips from their fancy cappuccinos is aspiring. C & P Coffee Company, again with a dazzling orange and blue exterior offers Lighthouse Roasters coffee, locally sourced vegan and wheat-free goods, along with a rotating beer and wine selection.
There is a huge selection of coffee options in West Seattle, and it can be overwhelming. Here are some others to check out: Realfine Coffee, Hotwire Coffeehouse, Olympia Coffee, The Spot, and Lula Coffee. With that much caffeine circulating in the air, you'd think that The City that Never Sleeps would be attributed to Seattle.
Restaurant options don't disappoint on the west side. Salty's on Alki, claimed as one of the "world's greatest view restaurants," offers radical views of Elliott Bay all while you get to enjoy some of the grandest Dungeness crab and Maine lobster. Grillbird Teriyaki, fulfills all your chicken, beef or tofu teriyaki desires with beautifully displayed plates. Accredited as one of the 31 best sandwich shops in the USA, Paseo makes some of the most scrumptious sandwiches on the block. Intimate and dark-lit, Il Nido claims to be Seattle's finest Italian cuisine. Go see for yourself! Some other places to at least pop your head into include BOPBOX, Kauai Family Restaurant, Box Bar, and Buddha Ruksa.
Shops include Capers, a home decor and furnishings store; Antique Mall of West Seattle; Stop n' Shop Thrift Store; Click! Design that Fits, a puzzle lover's and hobo-styled dream store; Fleurt Collective, a soft and silky boutique; Alair, a fun little gift shop; and Pegasus Book Exchange.

PARKS IN WEST SEATTLE.
Alki Beach Park is quite possibly the most famous beach in Seattle. With an undeniable view of the city and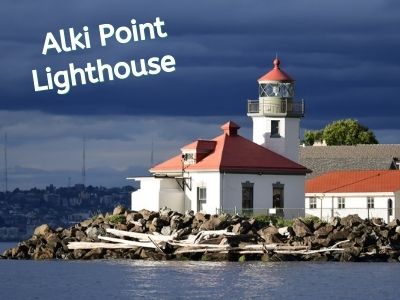 Space Needle, the beach's stretch of sand and walkway is perfect for stroller walking, jogging and running, rollerblading, volleyball, sunbathing, and bicycling. For first-time visitors, a non-negotiable is stopping to see the 2.5-ton anchor by the Nor'West Divers Club.
Lincoln Park, just north of Fauntleroy Ferry Terminal, is West Seattle's largest multi-purpose park. With nearly 5 miles of walking paths, 4 miles of bike paths, playfields, and an outdoor heated saltwater pool and bathhouse, it's the perfect place for a graduation picnic or casual weekday outing.
Hamilton Viewpoint Park, located on California Ave., projects sweeping views of the city, Elliott Bay, and the Cascade Mountains. If you've got a special ceremony coming up, this could be your place! As you can tell, West Seattle is most definitely self-sufficient and not lacking when it comes to things to do and places to be.

WEST SEATTLE schools.
There are plenty of options when choosing where to send your kids to school, including Seattle South College for those pursuing higher education. For high schools, there's West Seattle High School, Chief Sealth International High School, and Seattle Lutheran High School.
For middle schools, there's Madison Middle School and Denny International Middle School. Last but definitely not least, elementary schools include Louisa Boren STEM K-8, Pathfinder K-8 School, Roxhill Elementary School, Gatewood Elementary School, Alki Elementary School, Genesee Hill Elementary School, Lafayette Elementary School, Highland Park Elementary School, Arbor Heights Elementary School, Fairmount Park Elementary School, and Sanislo Elementary School. Religious schooling includes Holy Family School Seattle, Our Lady of Guadalupe, and Hope Lutheran School. Phew. Read more about all West Seattle Elementary Schools.
Search all homes currently for sale in West Seattle, WA updated as soon as they are listed. If you would like more information on any of these West Seattle real estate listings, just click the Request More Information button when viewing the details of that property. Also, you can register for a free account so that you can receive email alerts whenever new West Seattle homes for sale come on the market.